Yuka Kinoshita loves a good food challenge.
With a smile and an adorable little clap, Yuka Kinoshita tucks into another meal.
This time around, she's come for bánh xeo, the crispy, savory pork and shrimp pancakes that are so popular in Saigon. And yet, abundant though they may be, there may not be enough bánh xèo in the city for Kinoshita, whose appetite rivals that of the gods. Last time around, she consumed five kilograms of Vietnamese instant noodles upon request from a fan.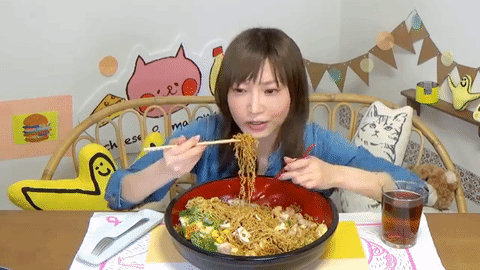 Her feast this time is much different. Late last year, Kinoshita had a vacation in Vietnam and took the chance to sample a variety of local delicacies like any common tourist. However, because she is Yuka Kinoshita, Japanese competitive eater extraordinaire, every portion of Vietnamese food was multiplied several times.
Watch the petite Japanese munch on 26 elephant fish (cá tai tượng) spring rolls and five giant sticky rice balls (xôi chiên phồng); 10,200 calories worth of noodles and fried rice; and 15 bánh xèo. Apart from wolfing down ample amounts of food, Kinoshita also took a cruise along the Mekong River and visited a cocoa plantation.
"I've found that Vietnam is full of sweet tasting foods," says Kinoshita in the video, between mouthfuls. "A lot of their foods tend to be on the sweet side."
Kinoshita has become a minor celebrity in Asia, having just hit four million subscribers this week. Her channel features videos of Japanese speed eating, known as oogui, and of mukbang, a type of live-stream wherein a host eats while interacting with viewers.
If you're up for it, Kinoshita also fields competitive eating challenges via her YouTube channel. But, if you can't casually inhale 15 bánh xèo in a sitting, then you should probably just enjoy one like a normal person.
---

Related Articles:
---