Can one long for Saigon, even when in Saigon? The metropolis' international influences and connections mean one can find cuisines, products and aesthetics from just about everywhere in the world here. This allows for a wonderfully convenient life, but sometimes it can be difficult to remember that Saigon has its own unique style and traditions. It's important to have places to immerse in those flavors and aesthetics.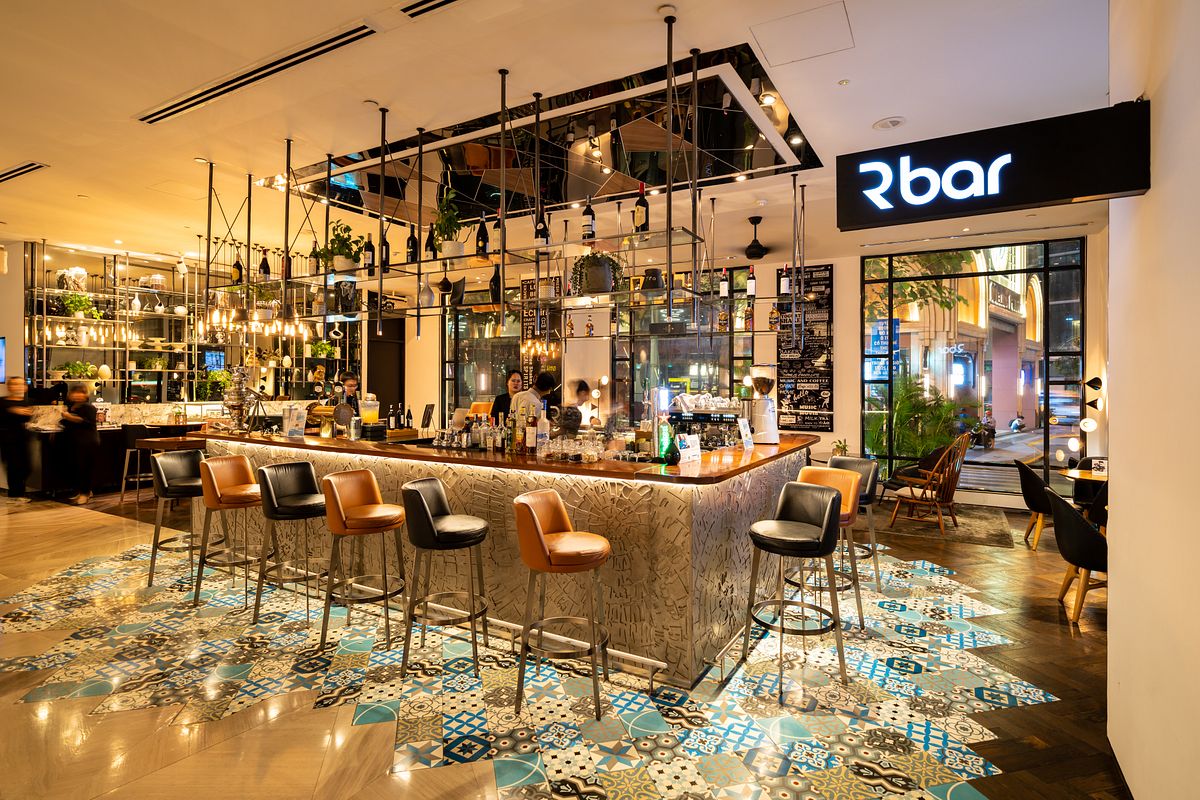 A stop in at RBar, whether staying in the downtown Renaissance Riverside Hotel or simply passing by its scenic location across from the Bạch Đằng Wharf is a great way to soak in a refreshing dose of Saigon style. The floor tiles surrounding the lobby bar are the same type that add color to modernist and art deco apartment hallways across the city. Meanwhile, Vietnam's more ancient traditions are honored on the sides of the bar itself via the motifs reminiscent of Đông Sơn drums.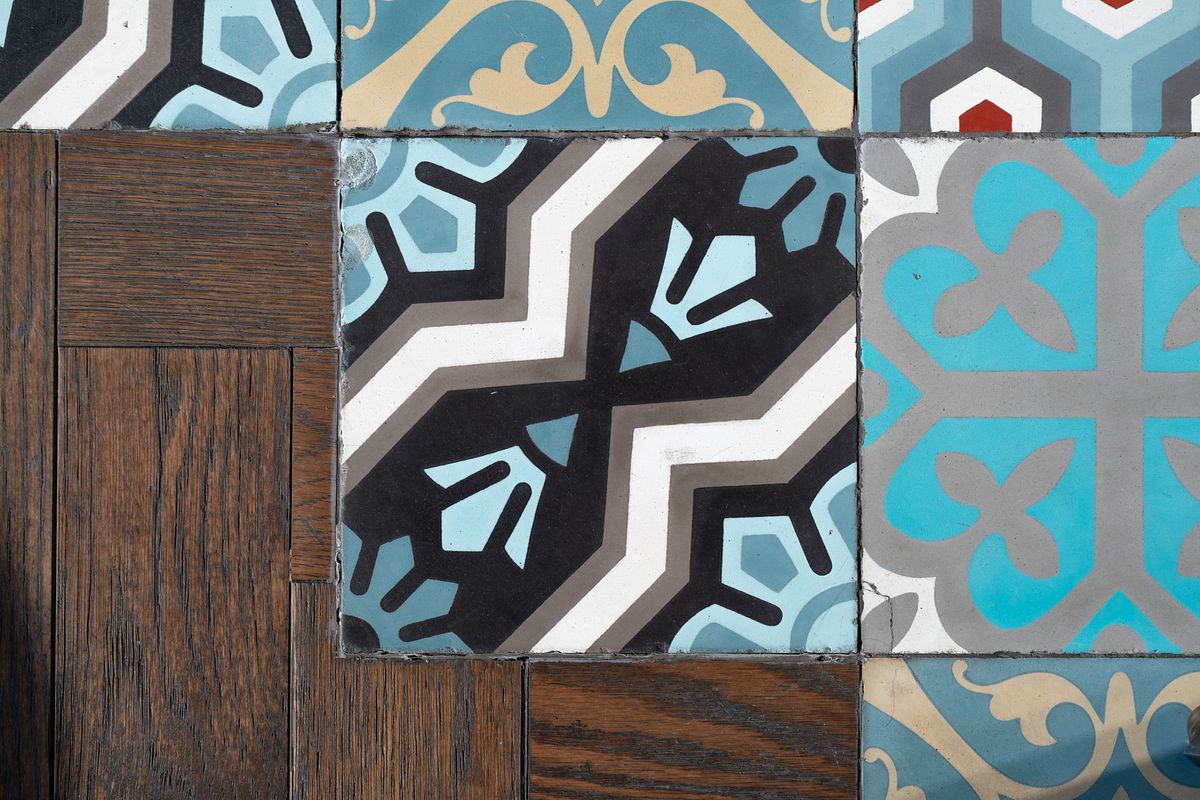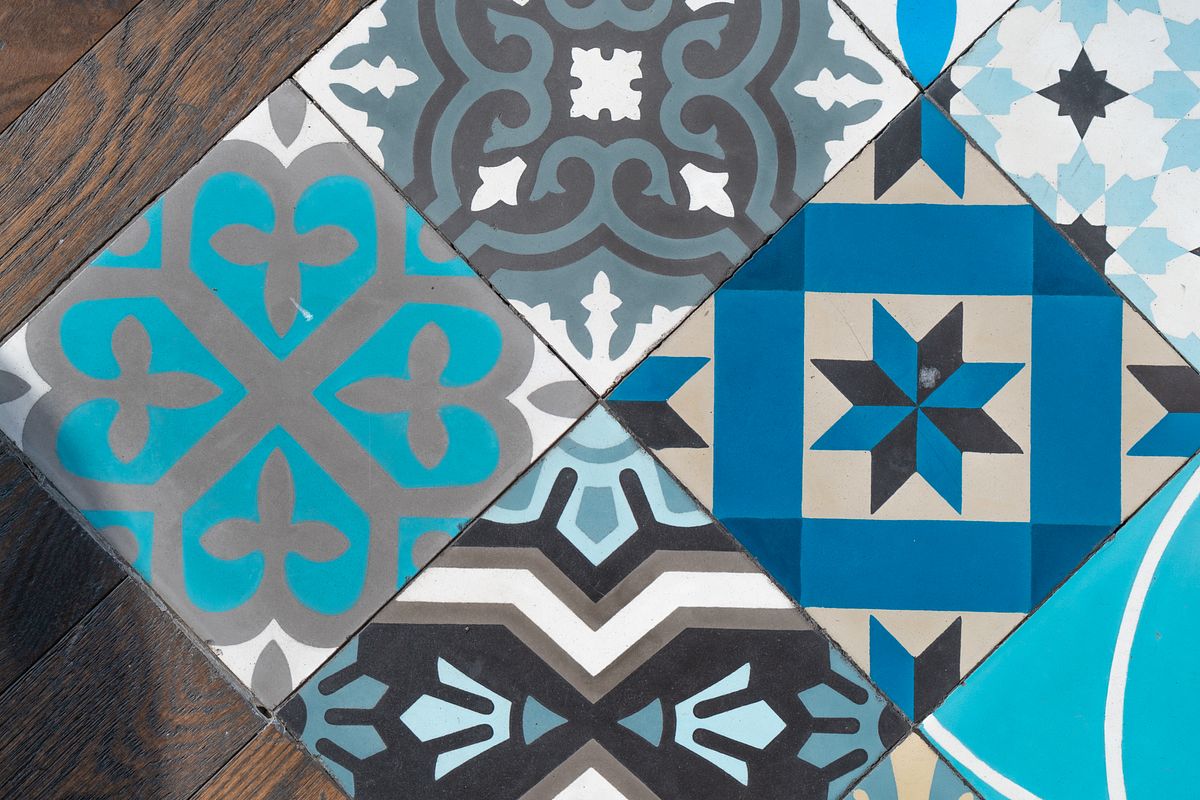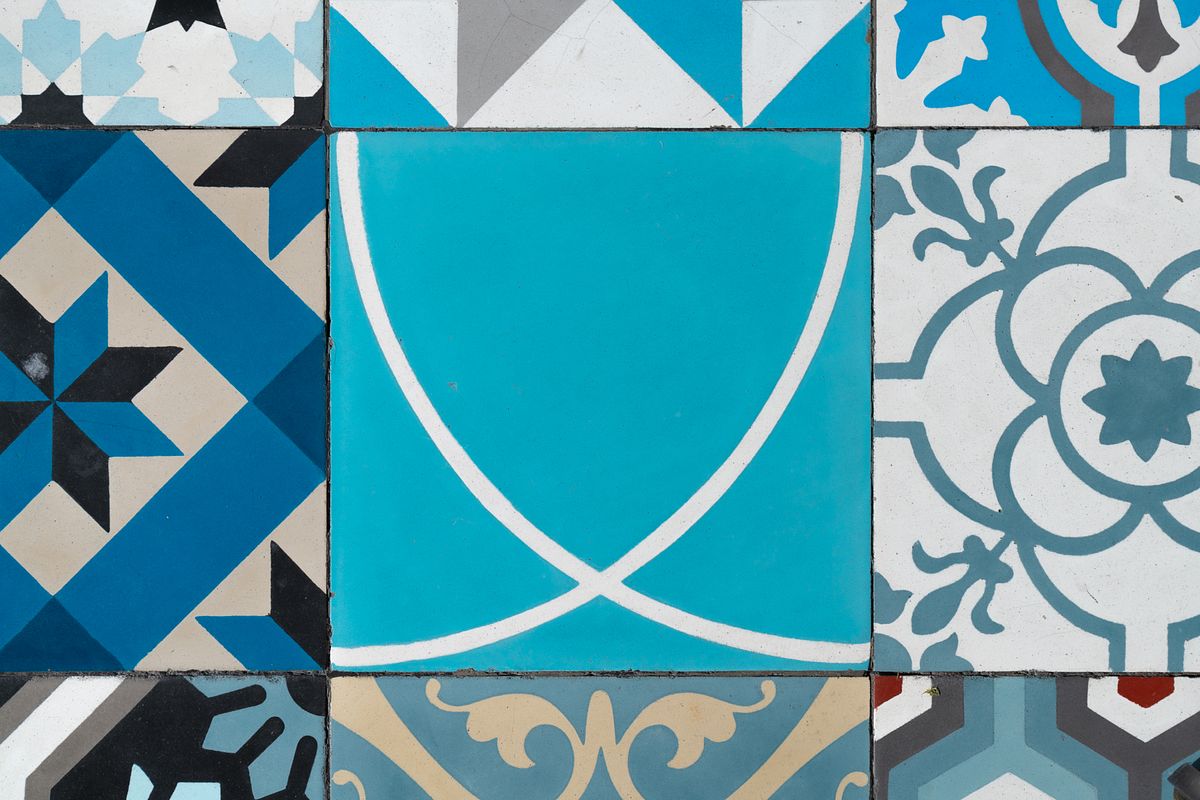 Saigon could be accurately described as bright, energetic and vibrant. These adjectives also apply to RBar's signature drinks that add tropical takes on classic cocktails. The Saigon Sling, for example, is made with passion fruit rather than the conventional pineapple juice while the mojito is made with kumquat and lemongrass. And Thursday through Sunday at seven, the bartenders prepare a special complimentary drink for guests that showcase local ingredients like pandan leaves and Phu Quoc pepper along with Vietnamese rum and gin producers. Mocktail versions are available as well and help everyone experience the country's tropical tastes, even if it's just for a few moments.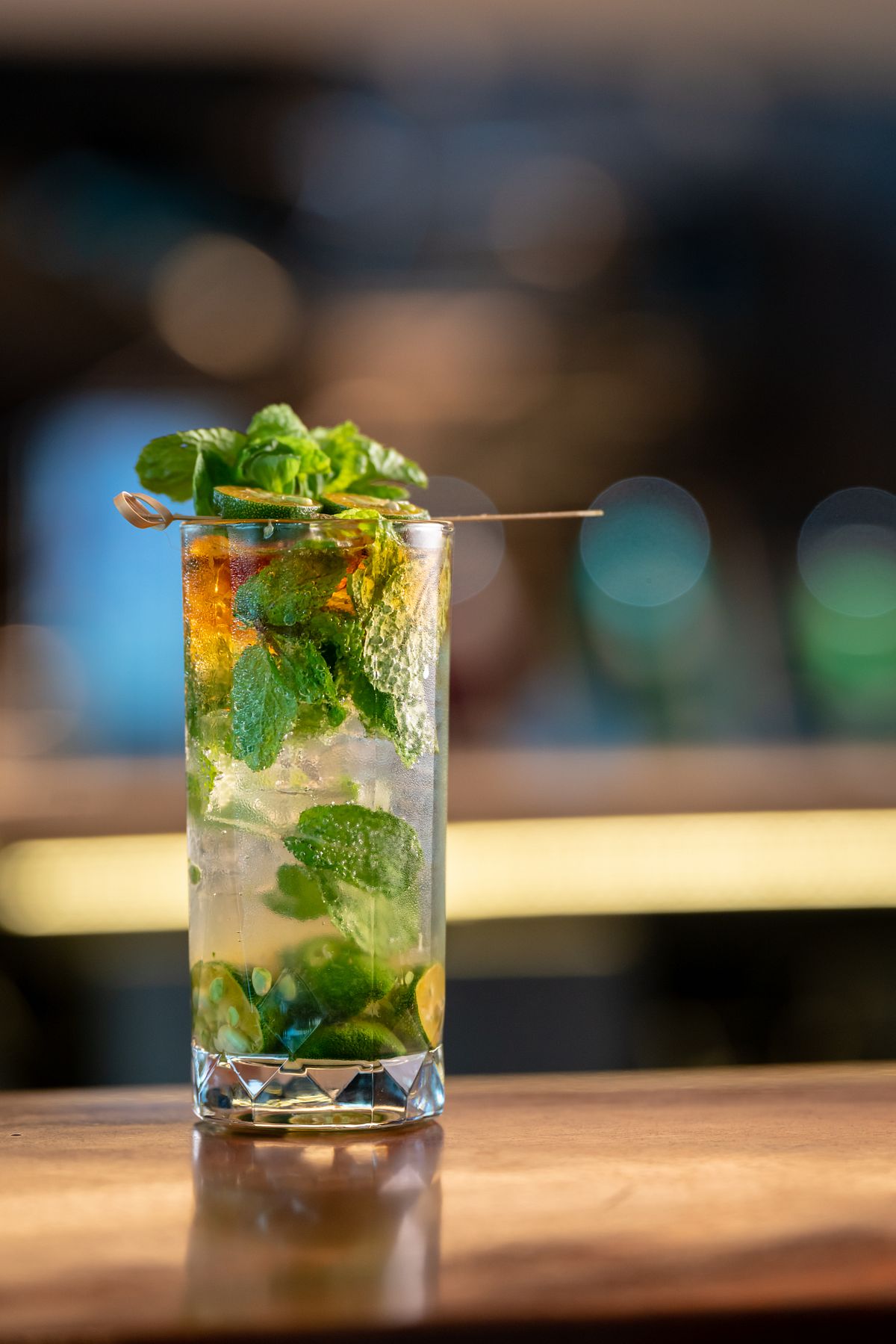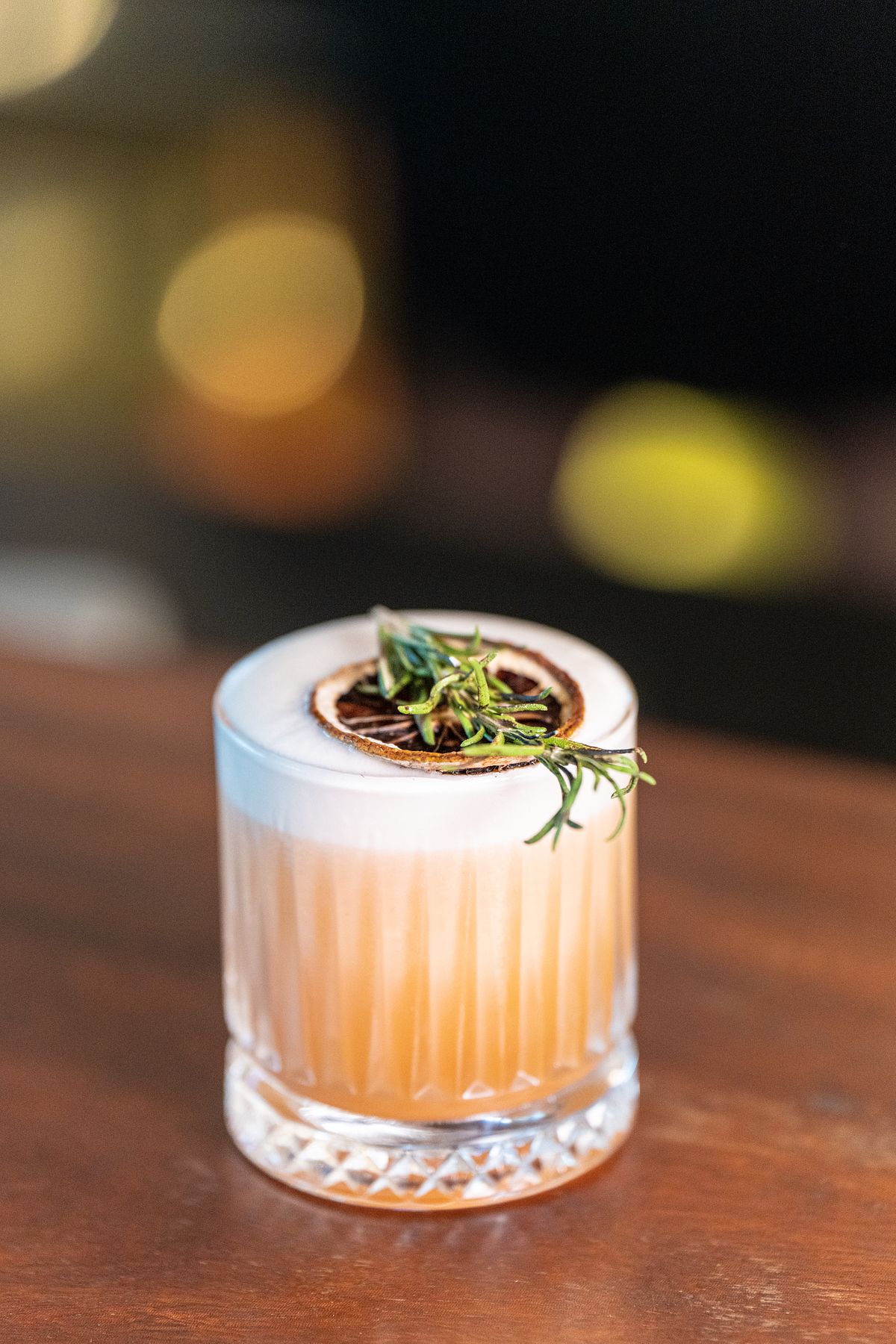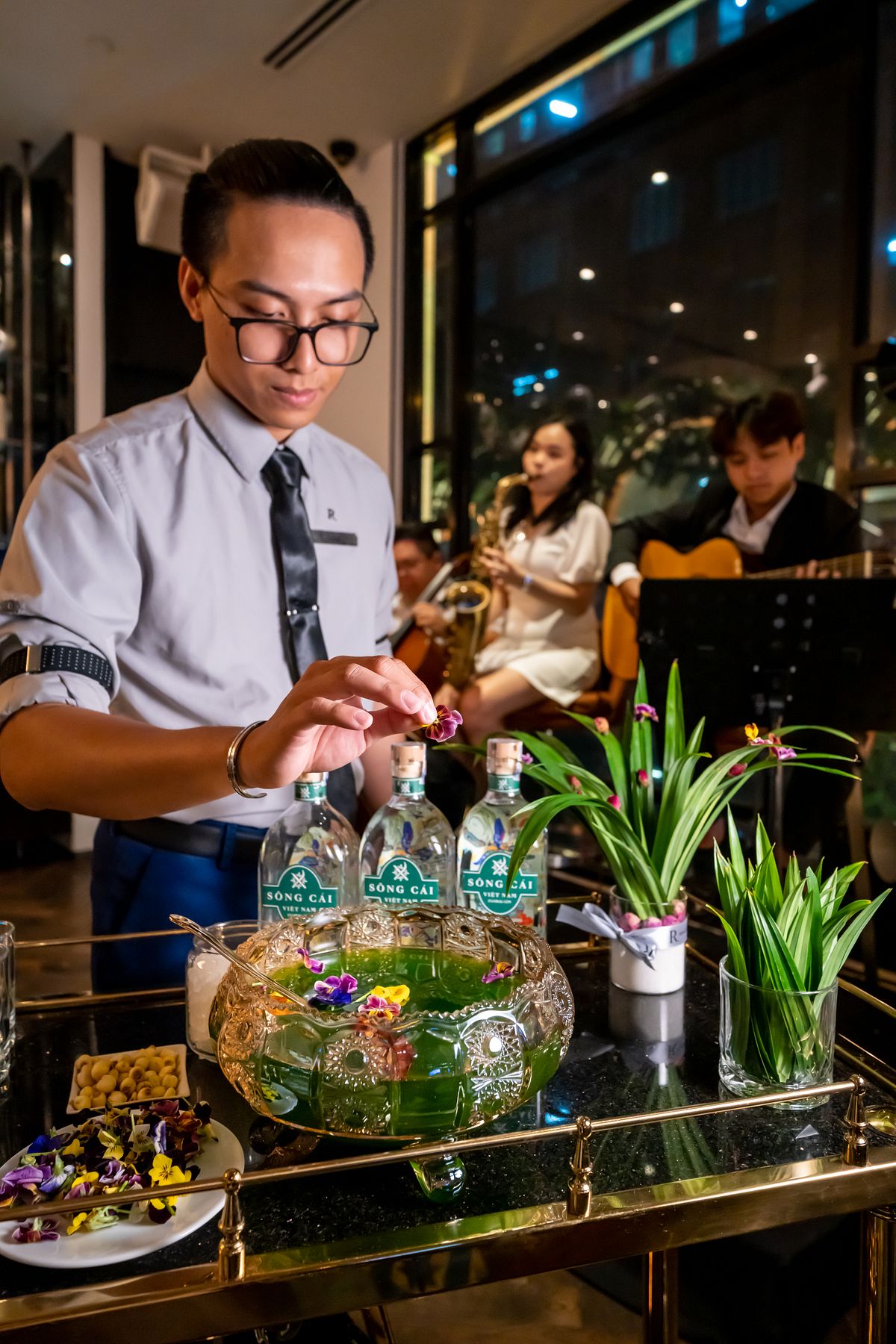 But if one does have the time to sit and rest for a bit, on Friday and Saturday Nights are ideal. A regular live acoustic ensemble plays a variety of up-tempo music that establishes a sophisticated ambiance in the modern venue. A unique element of the evenings is that sparkling wine is added to the nightly free flow on house wines and beer so one can soak up the vibes long into the evening.
At the same time on the same days, live music begins across the lobby in the Viet Kitchen as it transitions from all-day dining to its seafood buffet. Served every Wednesday through Sunday, the meal compliments freshly caught local and imported seafood with some Vietnamese specialties.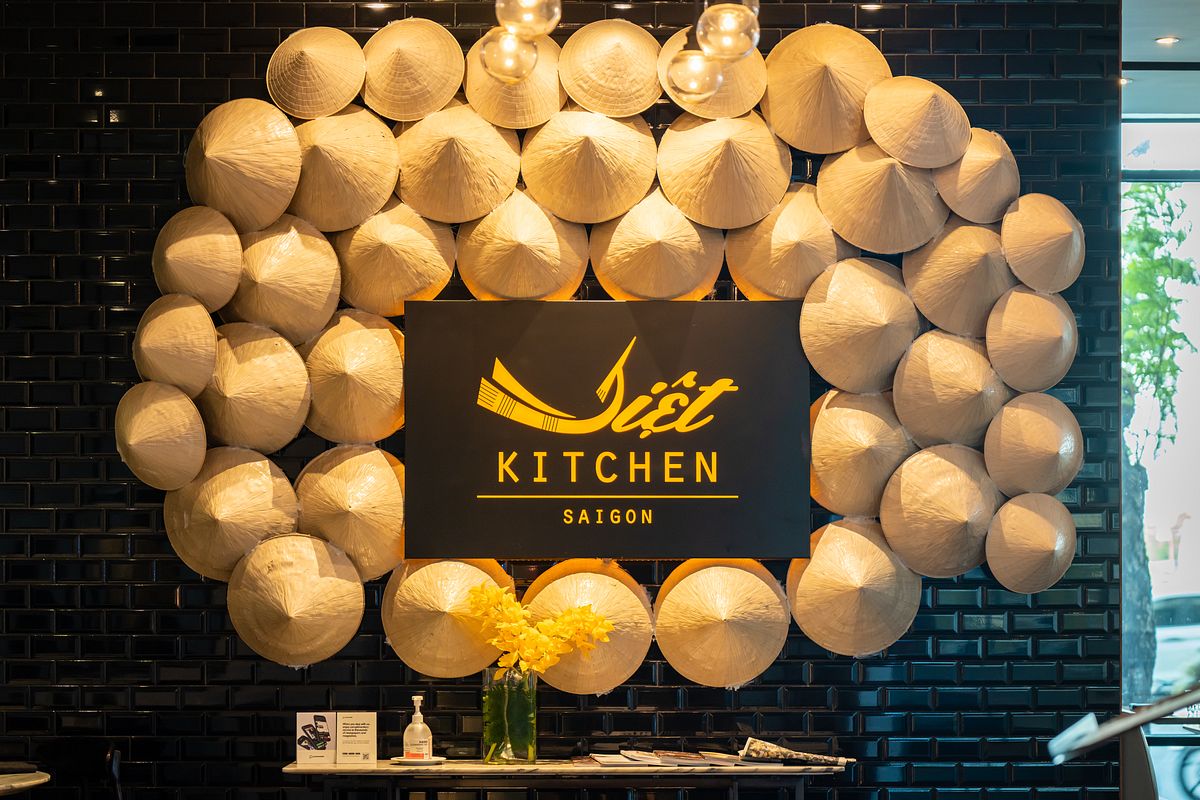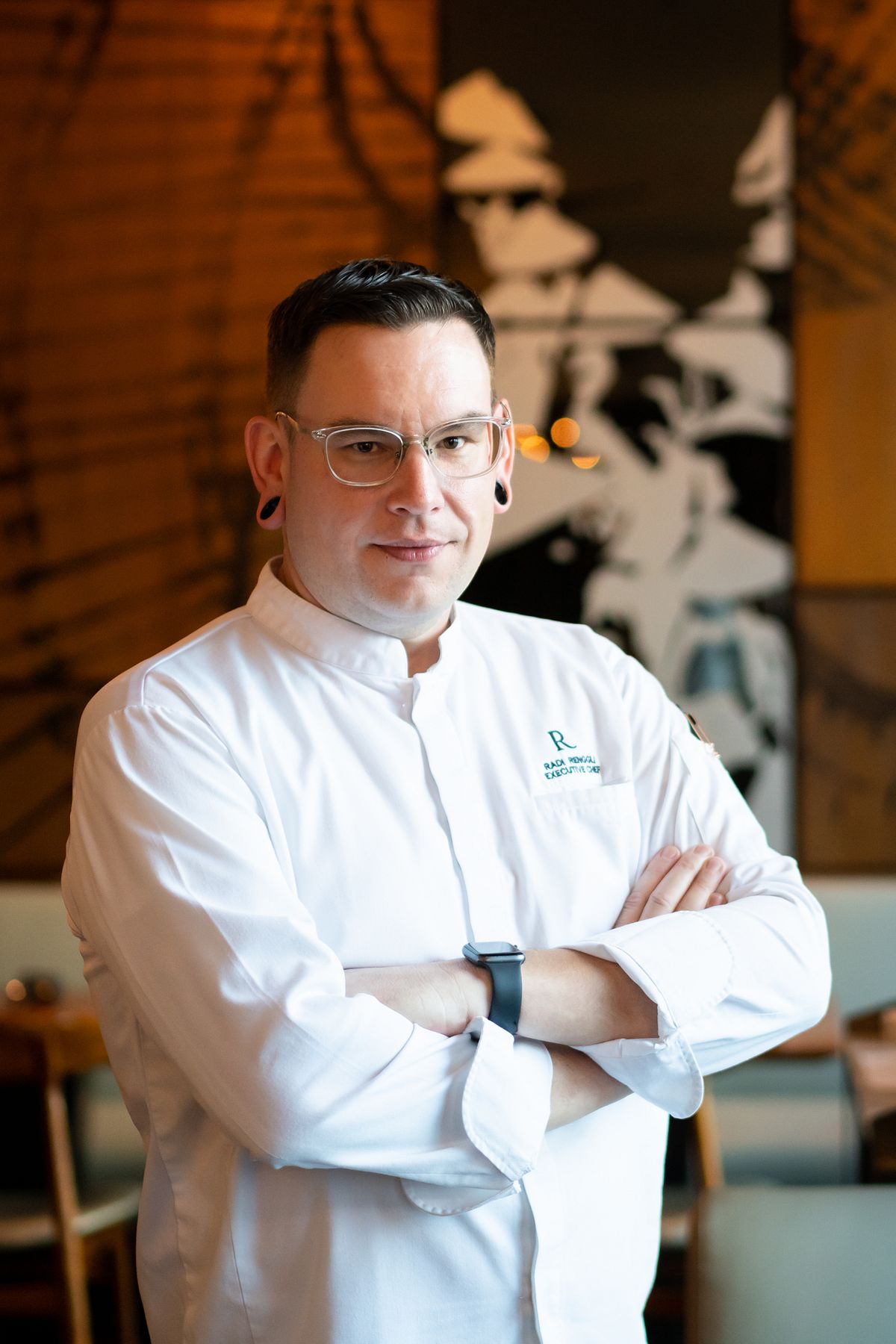 "It's all about the Canadian lobster," explained Executive Chef Radi Renggli as he showed us around the setup. Regardless of where the diners are from, they gravitate towards the fresh seafood area and are particularly excited to find the imported lobsters which are bigger and meatier than their Vietnamese counterparts when in season. Diners can pick from the spread of lobster, crab and shrimp and have them steamed, grilled or baked to their liking in the open kitchen. Fresh tuna and salmon sashimi and oysters on ice flank the display of crustaceans.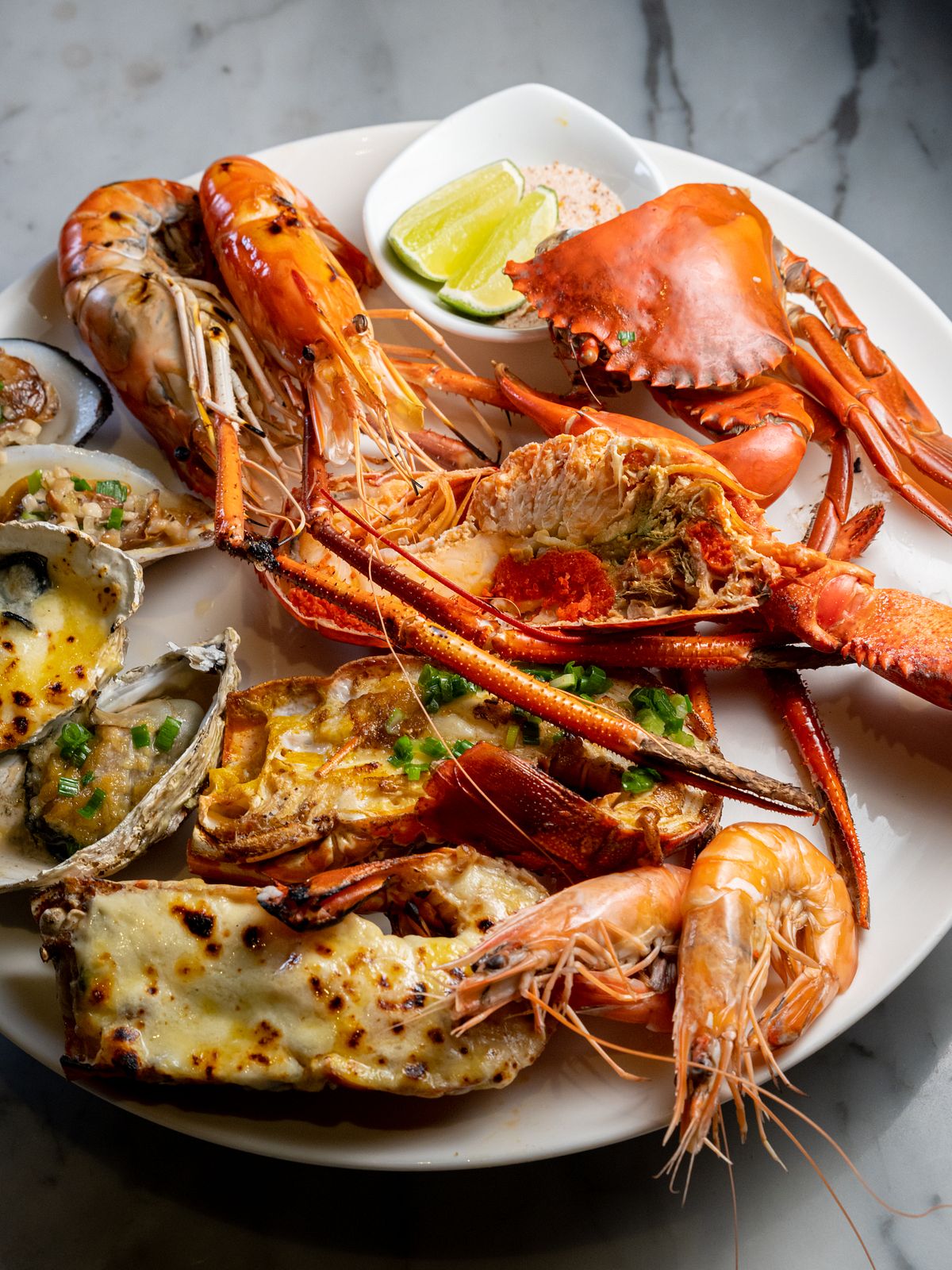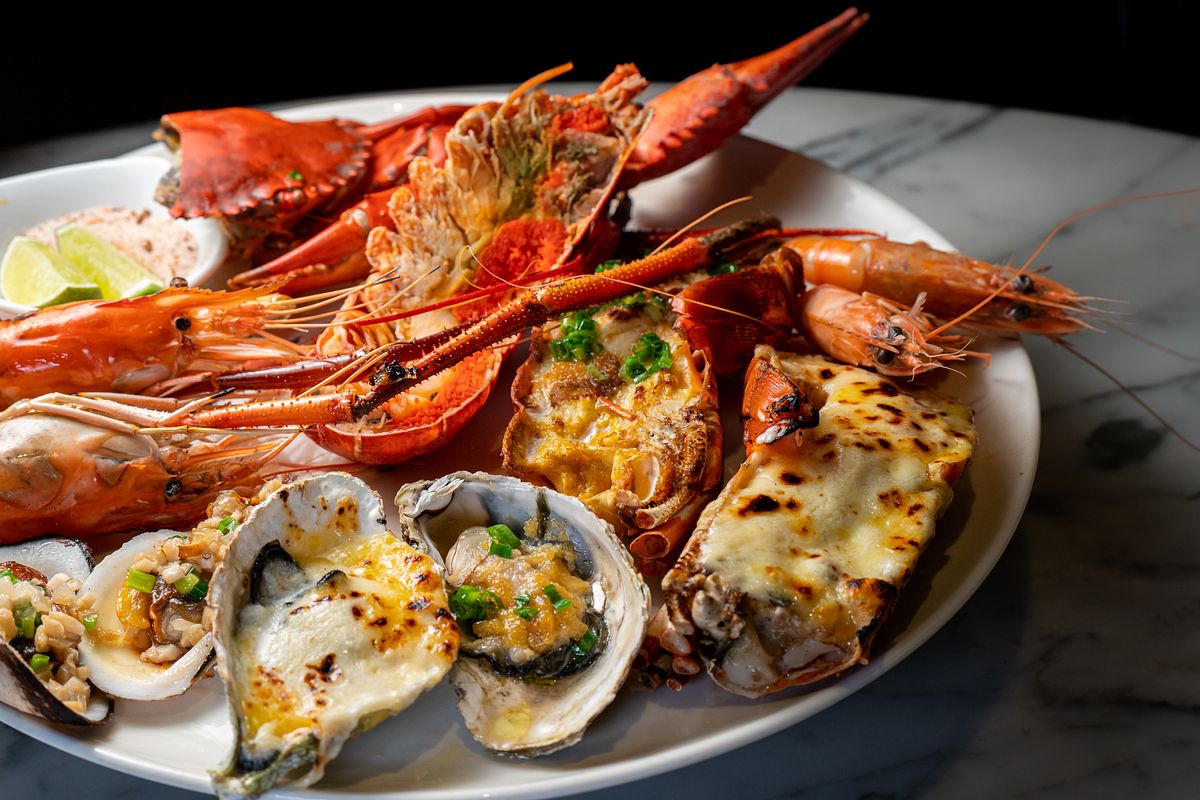 While these fairly international items may be found around the world, a separate station pays homage to Vietnam's more particular take on seafood. Freshly steamed snails prepared with local herbs and spices recall District 4's many authentic ốc joints.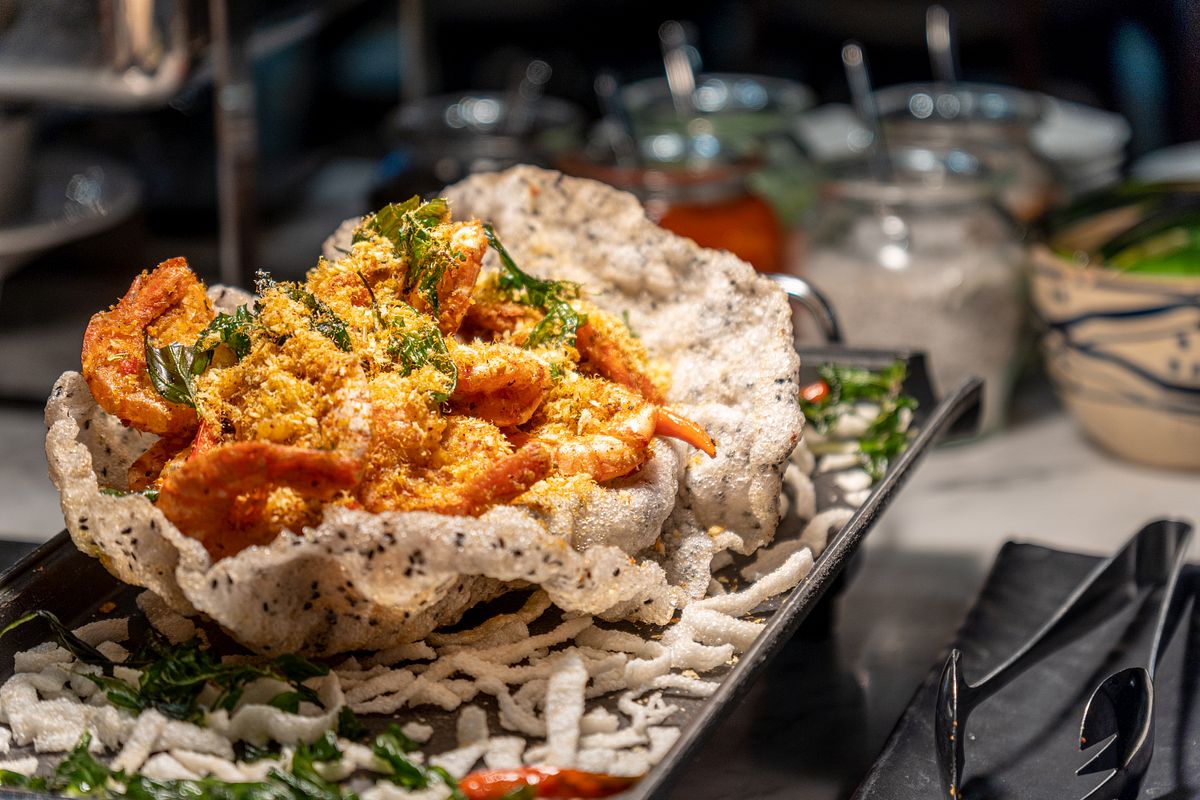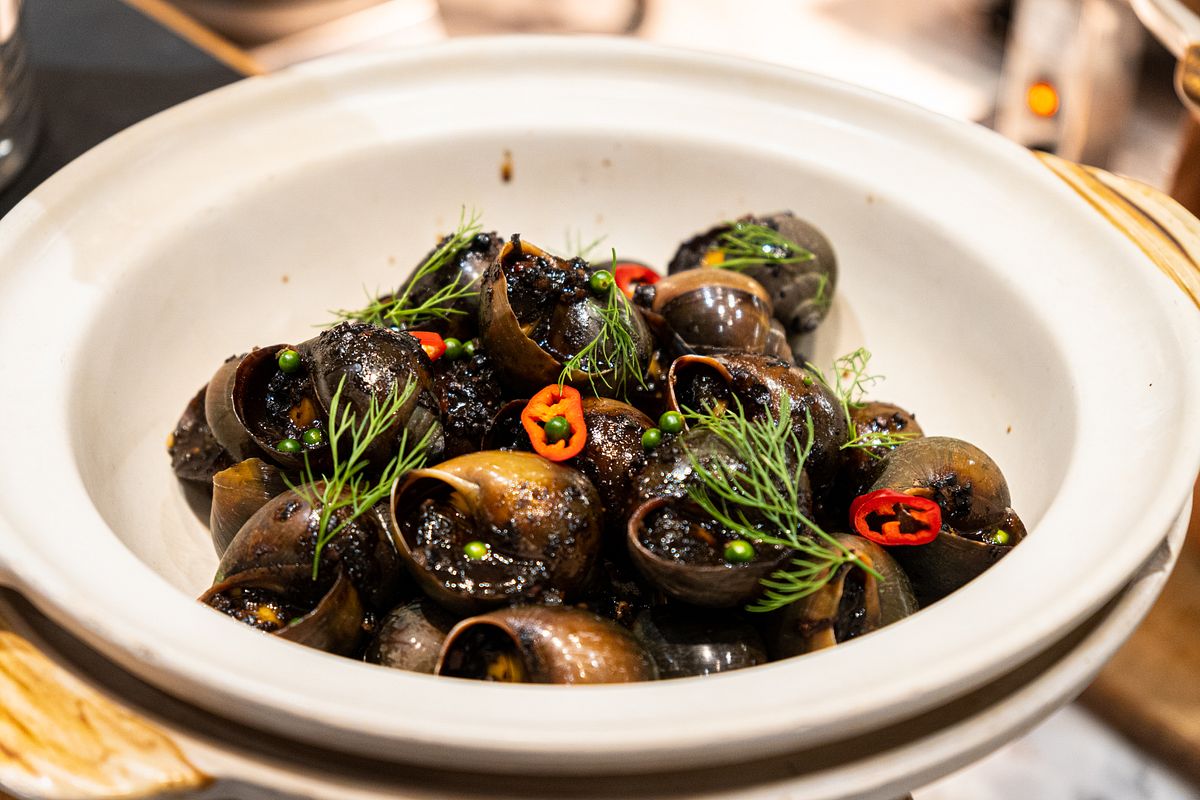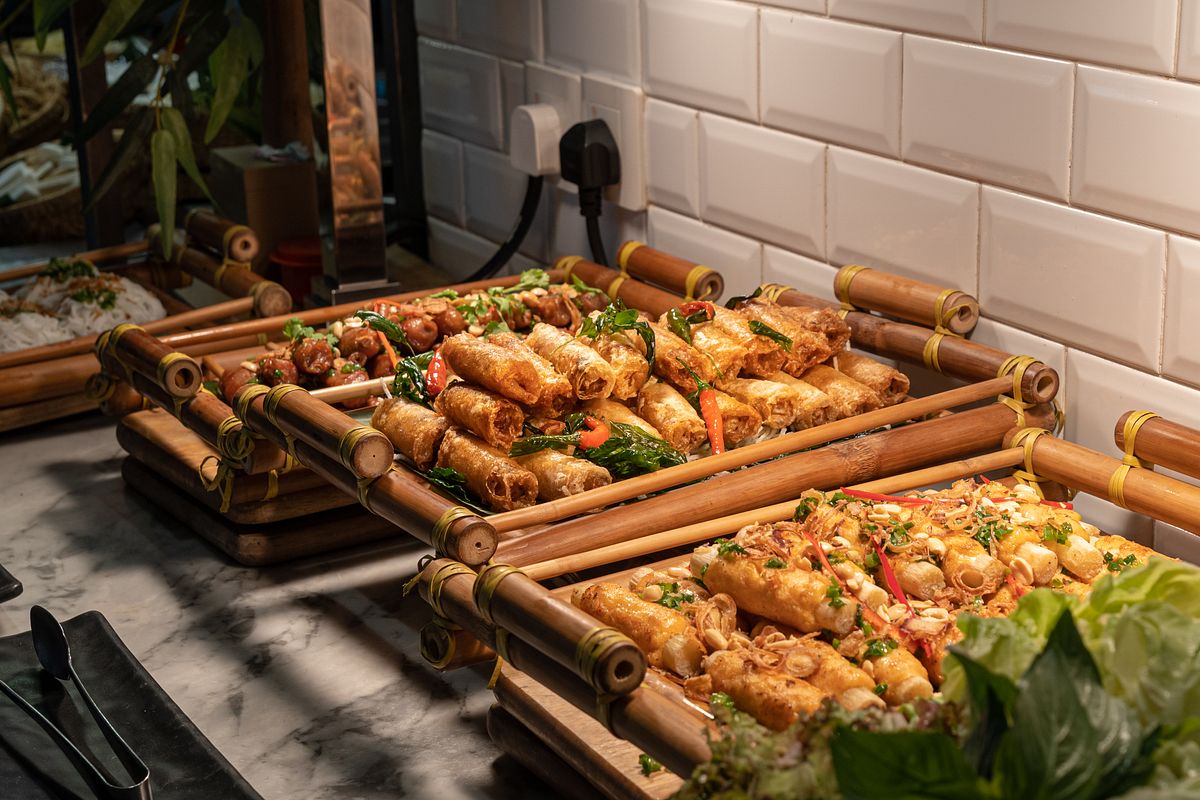 Other Vietnamese dishes abound including chạo tôm, nem nướng. Stir-fried squid, stewed lamb, grilled duck, lasagna and a rotating fresh noodle soup station as well as a plethora of salads, vegetables and cold cuts ensure that guests will find plenty to enjoy regardless of what mood they are in. Renggli notes that while people may not immediately think about desserts when comparing buffets, the sweet treats are where Viet Kitchen really stands apart. Indeed, an impressive array of cakes, pastries, mousse and other confectionery concocted with imported and local fruits demands one remember to save some room for the end of their meals.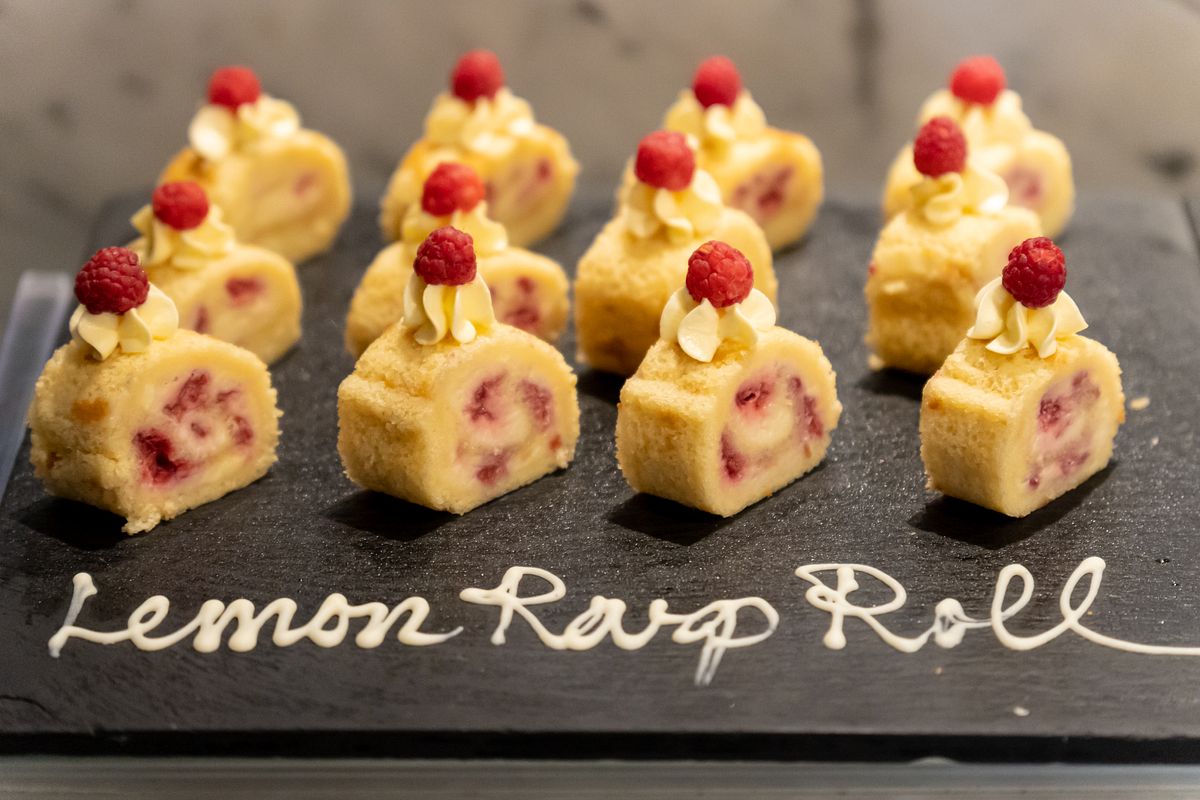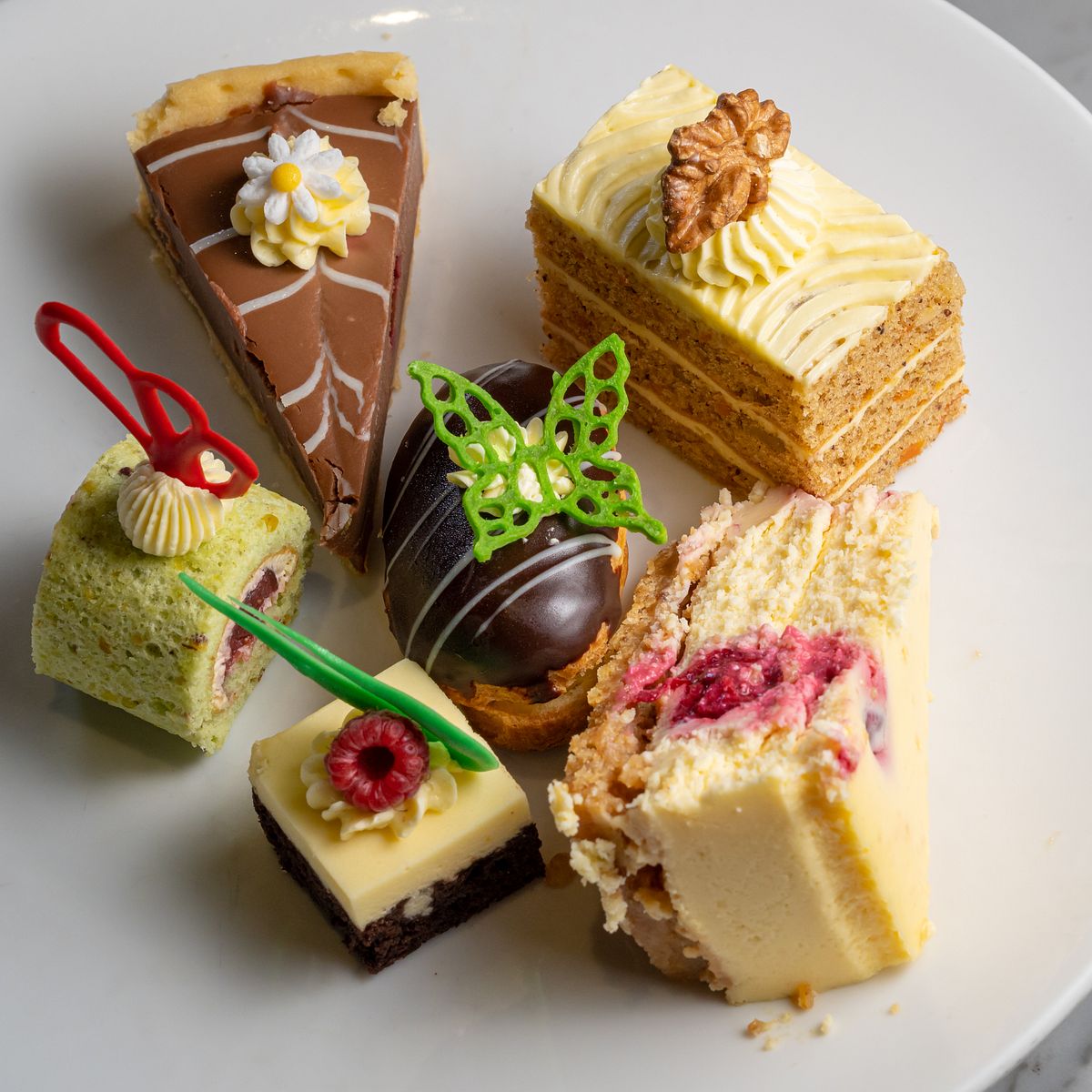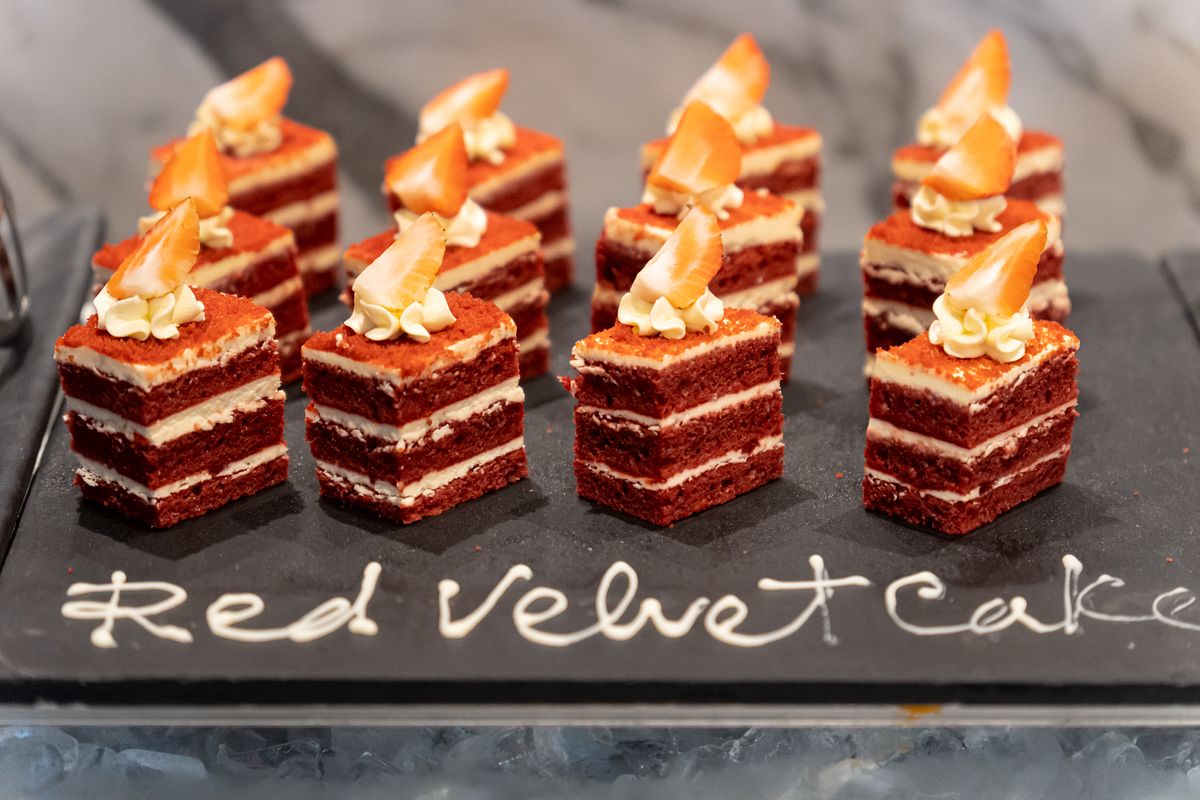 The seafood buffet's comingling of the finest international items beside classic local tastes in many ways exemplifies Saigon as a whole. Viet Kitchen's ability to capture the ethos of the city does not stop at the food, however. Key decor details ensure that one couldn't have the same dining experience anywhere else in the world. Most notably, several paintings are exact replicas of Saigon's iconic building wall textures. Weather-wearied and textured by different eras of paint and style, their commonplace character is elevated to an aesthetic that would fit in a gallery, each of the images contains the exact address where it was captured from so that especially intrepid guests can seek it out in its natural environment. Meanwhile, a more abstract piece covering an entire wall calls to mind Northern Vietnam's terraced hills, the coastal regions' fishing culture and the southern metropolis' street vendors who roam hẻms on bicycles laden with goods to sell.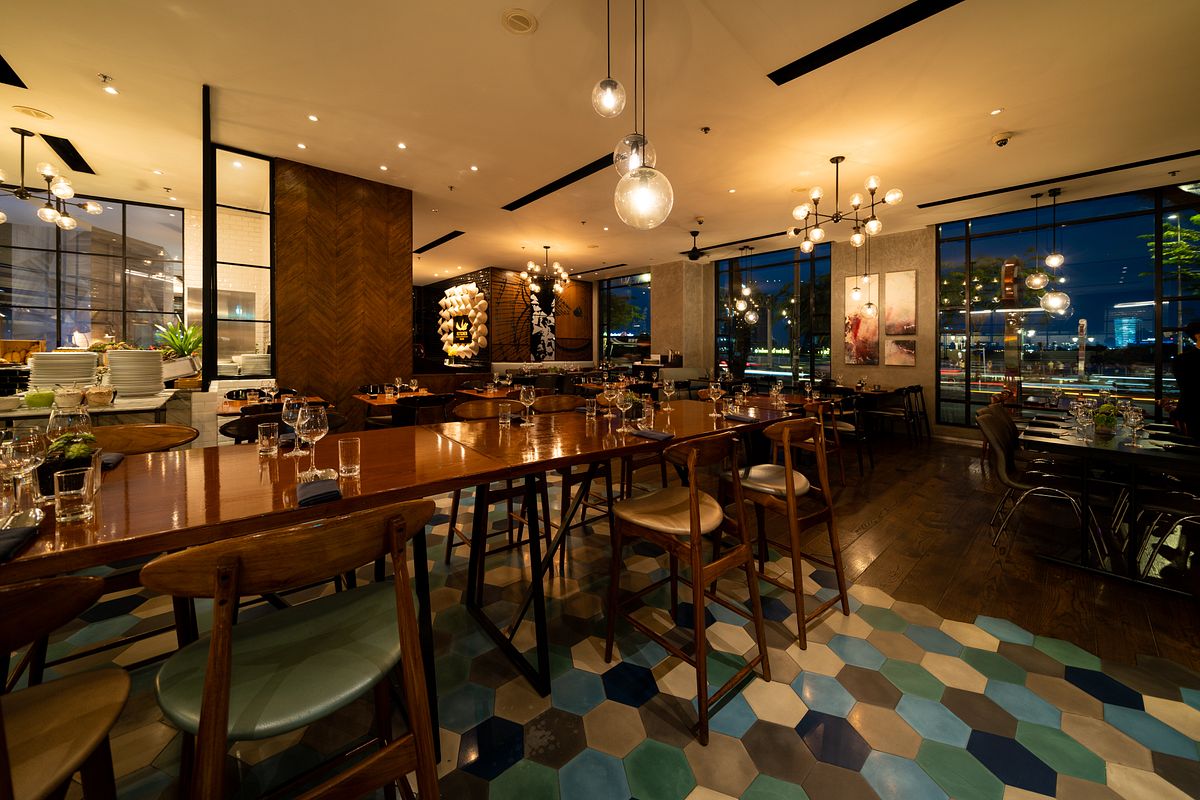 One doesn't need to look at the decorations at Viet Kitchen or R Bar to realize they are in Saigon; however, one simply has to gaze out the windows. The view from the restaurant comes alive at dusk with breaks in the traffic on Tôn Đức Thắng revealing peaceful scenes of the Saigon River behind the Bạch Đằng Wharf park. Meanwhile, the bar provides a view of the city's iconic Trần Hưng Đạo statue as the legendary general points out across the water.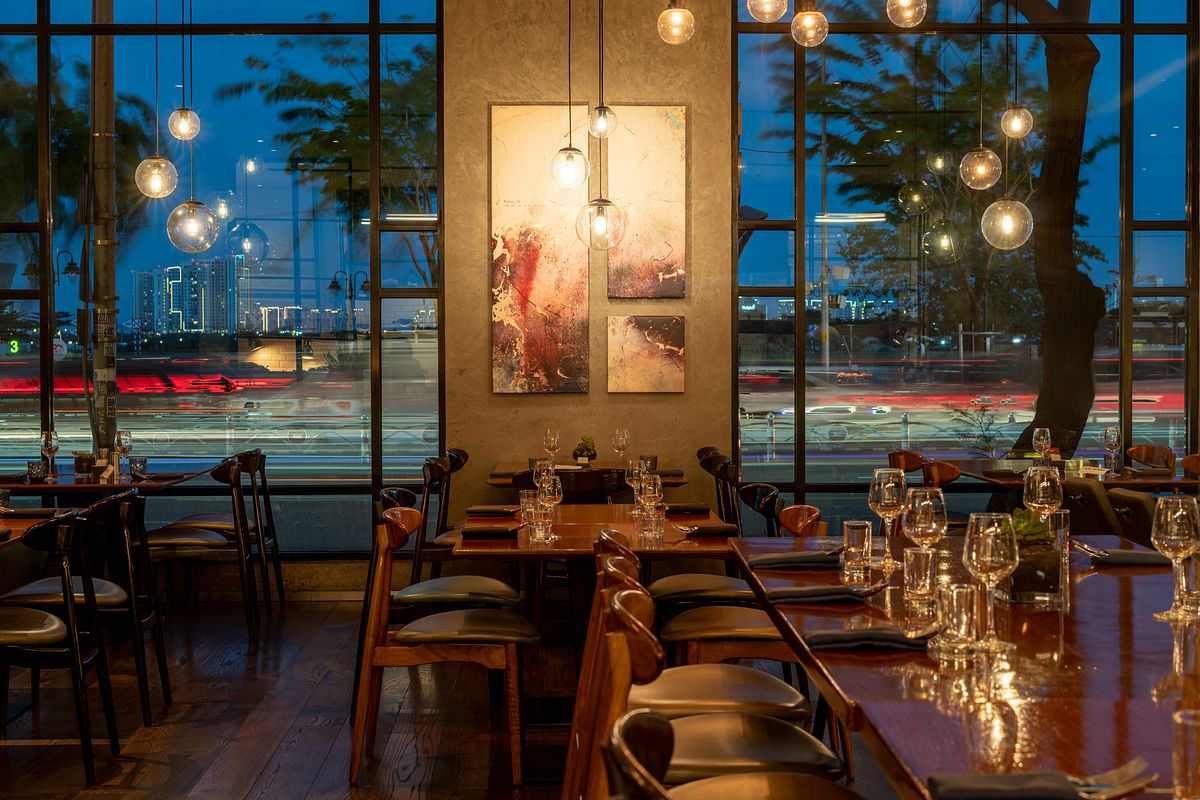 One could explore a city as charismatic as Saigon and never feel like they've come close to truly understanding its complexities. But that shouldn't stop one from trying, regardless of how long they've been here. Viet Kitchen and RBar are splendid ways to encounter Vietnam's unique foods and flavors while surrounded by typical artistic motifs.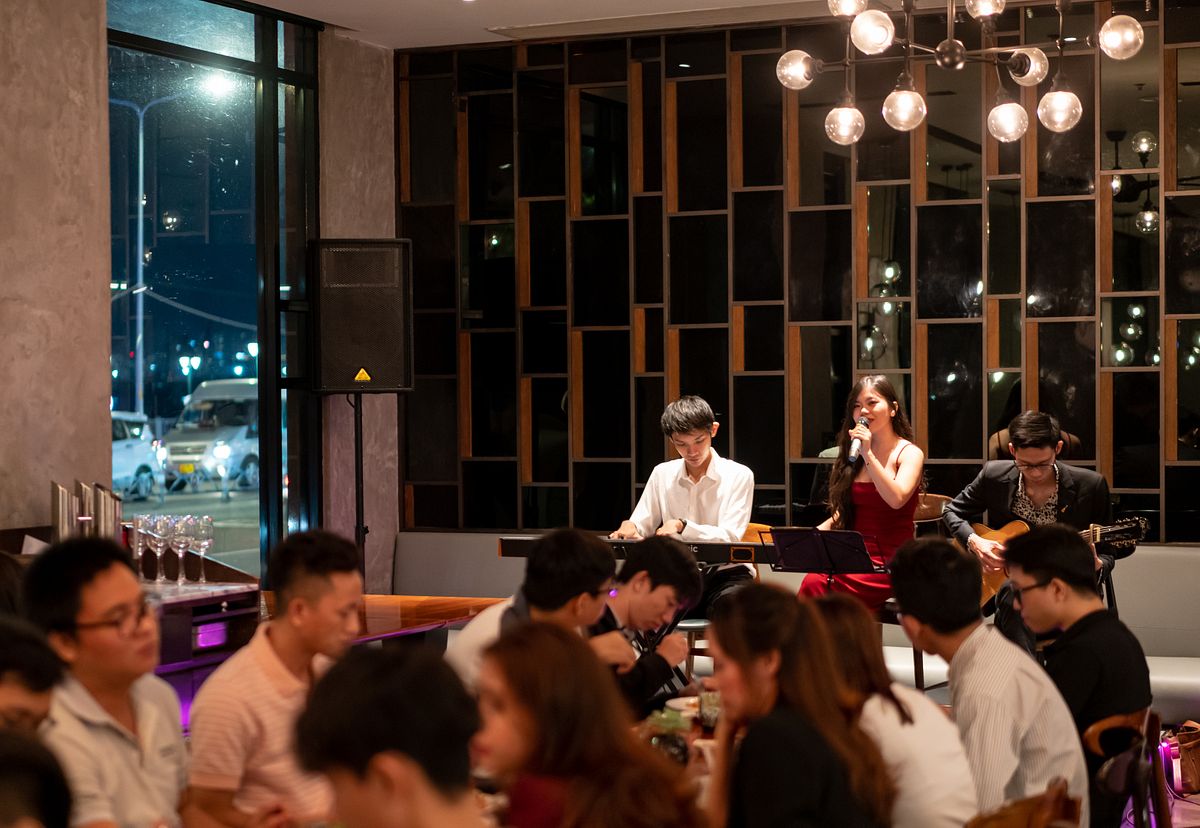 Eat Out with Marriott Bonvoy is back for a food festival so you can savor special dishes across Vietnam until August 31st. As part of the event, Renaissance Riverside Hotel Saigon has 2 limited edition offerings — discover the perfect duo of Strip Loin Black Angus steak and 1 glass of red wine (Daily for lunch and dinner at Viet Kitchen and Rbar) for VND750,000 net and a Seafood Buffet Dinner, free-flow drinks, and a bottle of red wine Tavernello Montepulciano D'Abruzzo (Wed – Sun from 18:00 – 22:30 at Viet Kitchen) for VND1,450,000 net. Advance reservation is required. Not applicable in conjunction with any other discount, voucher, or promotion.