Among the busy streets of District 6, Binh Tay, Cho Lon's central market, sits in all its hectic glory.
Here, vendors from all over the city rush in and out gathering wholesale goods and wares for their own businesses. Step inside and there is a maze of small stalls full of everything you can imagine. Dried spices, clothing, shoes, housewares and various other goods occupy every feasible nook and cranny with barely enough room to navigate through the aisles. Overwhelming? Sure. Full of gems? Absolutely. While finding a steal on whatever item you're after may be your initial goal, the real nuggets are in the stories and history of this place.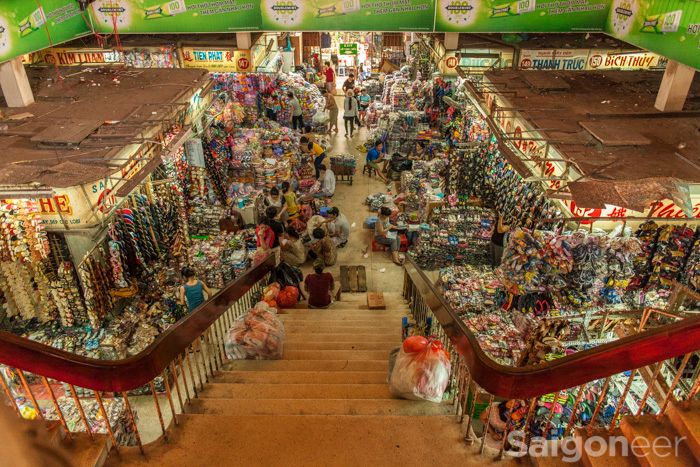 Binh Tay, in the middle of the city's historic Chinatown, houses many stalls which have been around for decades. Most have been around for over 20 years, and many have been handed down from generation to generation spanning over 40 years.
In the interior courtyard, men sit and drink coffee, smoke cigarettes and discuss business. Inside, the hustle and bustle seemingly never stops; the pulse of the market ebbs and flows like an ever-changing tide.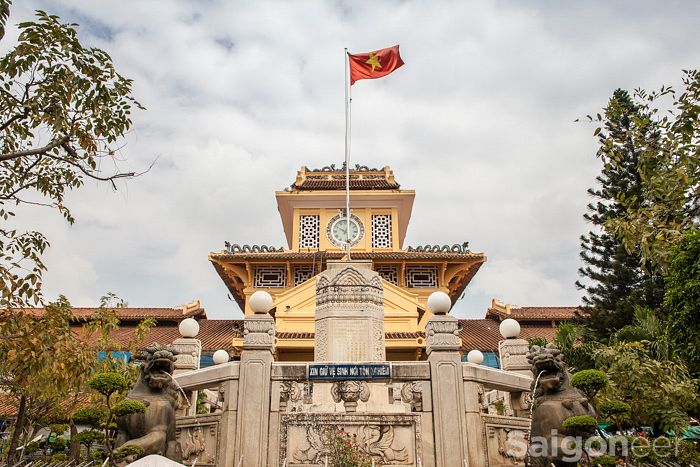 As we went on our journey to find the oldest stall in the market, Thanh, 53, eagerly grabbed our ear to explain the ways of the market and the world. He and his wife own a spice store that has been in operation for over 20 years. After six years of living in Russia, Thanh returned to help his wife with her shop. Not only eager to tell his story, he led us to one of the oldest, if not the oldest, stalls in Biinh Tay.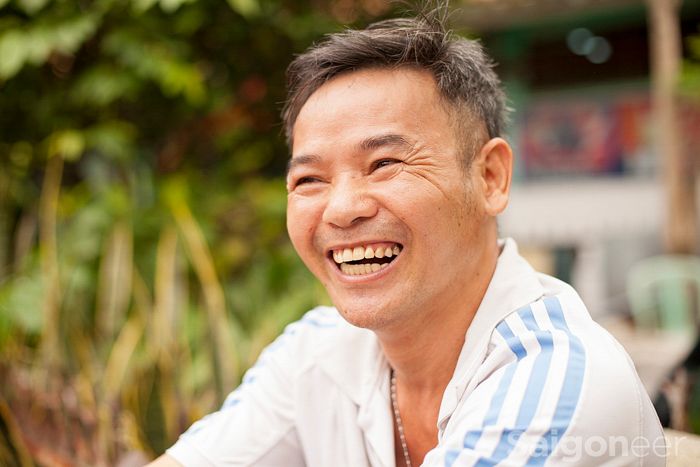 Lien's store is multicolored, lined with jams and candies of all varieties. Handed down from her mother, her shop, also named Lien, sits on a corner in the southeast bit of the market. The original hand-painted sign speaks of yesteryear while pushing forward into modernity with sweets and candies from all over the world.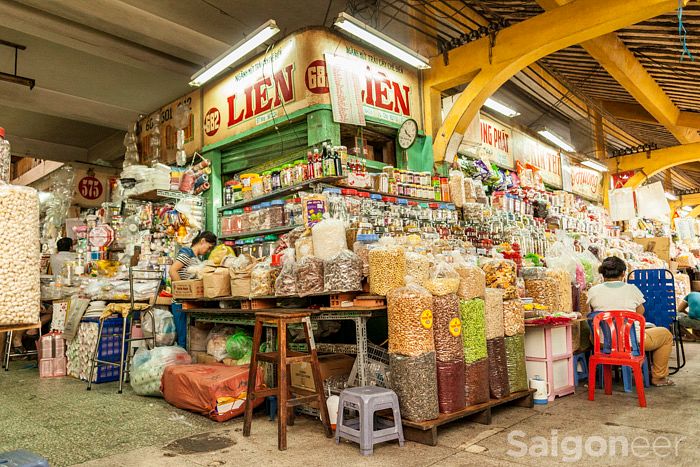 We had heard of a place serving Chu Tieu noodles that has supposedly been around forever, but no one we asked had any idea where to find it. On a whim, we asked a woman at a random noodle shop where it may be. As fortune had it, we had stumbled upon the exact place we were looking for. Unfortunately, they were all done for the day…at 9:30am. These noodles, their grandfather's recipe, usually sell out by 10am. "Come earlier tomorrow. We'll have noodles for you," said one of the two sisters, Lien and Nga, who own the shop.
"Our family has been selling noodles here for over 40 years. It has gone from our grandfather to our father and, now, to us."
With slight regret, but a little proud of our lucky find, we said goodbye. One of the sisters called along: "Hey, how do you know of us? Are you Chinese?"
Apparently, the sisters seem to be one of the few original Chinese immigrant families remaining in this market.
Though we left the market with empty hands and stomachs, we found exactly what we were after.