When the poster of Co Ba Sai Gon (The Tailor) was unveiled for the first time, you could almost hear the sound of Old Saigon fans' panties dropping all over town.
The poster was released in tandem with the first press conference for the movie back in March at Khanhcasa Tea House on Dong Khoi Street, featuring the film's two-generation cast posing in retro áo dài and vintage hairdos. Rendered in a faded, under-saturated look with 1960s lexicon and typeface, it aimed for the heart of Saigoneers, and hit a bull's eye: netizens raved about it, critics were intrigued by it and members of older generations were nodding in approval after seeing the aesthetics of their youth honored on a big stage.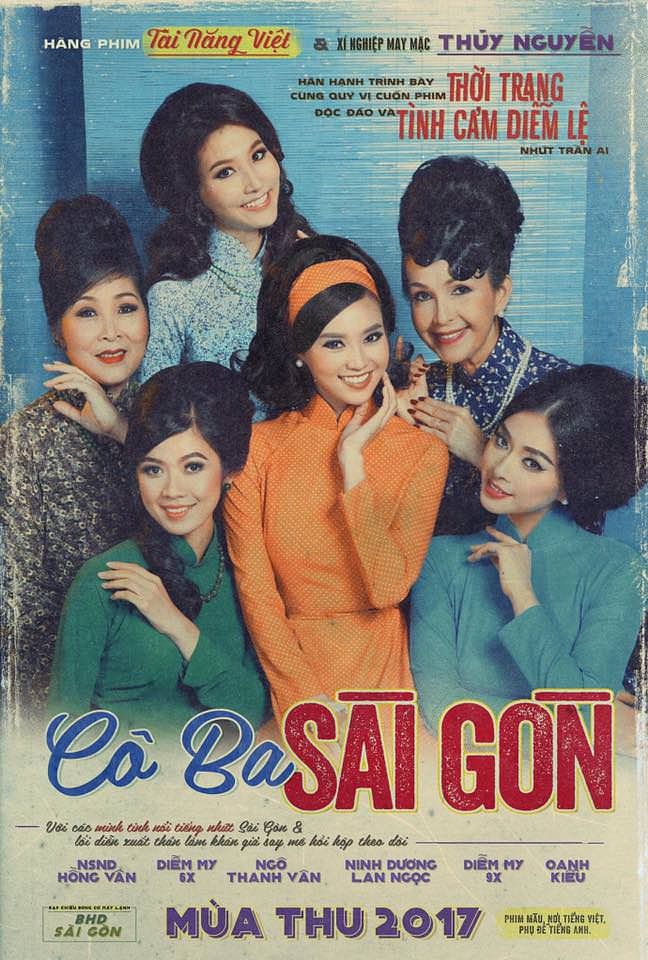 What the poster also succeeded at was building suspense: apart from the cast and the vague mention of it being a "romantic feature film", there wasn't a lot of information on what Co Ba Sai Gon was about.
Co Ba Sai Gon is a collaborative project between Ngo Thanh Van's production company, Vietnam Artist Agency (VAA), and Thuy Design House, a Saigon-based boutique owned by designer Thuy Nguyen.
The film's story follows a famed áo dài tailor, Thanh Mai (played by Ngo Thanh Van), in 1969 Saigon and her cavalier daughter Nhu Y (Ninh Duong Lan Ngoc). Mai is the 9th owner of the prestigious Thanh Nu áo dài boutique and wishes for her daughter to take up the family business; however, Y couldn't care less about áo dài and is too busy creating the best âu phục (western-style designs) to wear to beauty pageants.
"For the last 17 years, I wore an áo dài every Tet. I also choose áo dài when I attend red carpet events overseas to express my confidence in our national aesthetics," Van said at the press event in Vietnamese, reports Zing. "[During the last Tet holiday], áo dài became the center of contention, partially reducing my affection for our national costume. Therefore, I want to make Co Ba Sai Gon to honor the beauty of áo dài."
After Co Ba Sai Gon's first press event, the movie's marketing team went all-out to promote their Saigon Xua-inspired project. From a vintage Pop Art series to a cheery music video of the movie's theme song performed by pop starlet Dong Nhi and the film's premiere at the Busan International Film Festival in South Korea, Co Ba Sai Gon always stayed close to the film's Old Saigon nostalgia.
However, the main event that boosted the whole campaign's synergy occurred during Vietnam International Fashion Week in early November when designer Thuy Nguyen showcased her áo dài collection, also named "Co Ba Sai Gon".
Apart from her producer title, Thuy also served as the film's costume designer. The "Co Ba Sai Gon" collection includes many áo dài styles, as well as 1960s-inspired dresses, all tied together – as is its titular movie feature – by an array of eclectic patterns borrowed from the geometrical elements of Saigon's vintage tiles and mosaics.
Ngo Thanh Van also appeared in support of the collection and even opened the show while dressed as her character, Thanh Mai, the stern mother and tailor extraordinaire.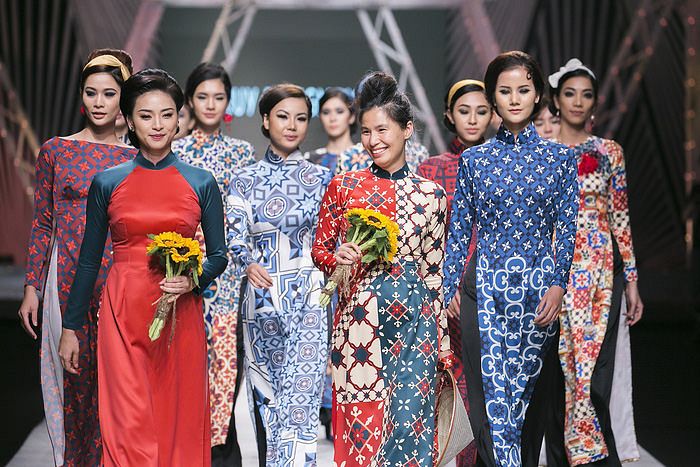 All was going well for Van and her team until November 13, when a livestream video of Co Ba Sai Gon surfaced on Phim+, a Facebook page that hosts pirated movies. As it turns out, the owner of the page, a 19-year-old in Vung Tau, had streamed the movie during a screening in the coastal town.
VAA, the production company, eventually decided to get the police involved in order to take the teenager to court. He was taken into custody, but it was unclear at the time of writing if he will face any legal consequences as Vietnam's copyright laws are still murky regarding illegal livestreaming.
Livestream scandals aside, what about the movie itself? Did Co Ba Sai Gon live up to its potential? Stop reading at this point if you still plan to see it in a theater, though it's not difficult to guess the ending from the trailer.
Apart from Ngo Thanh Van and Ninh Duong Lan Ngoc's mother-daughter duo of Thanh Mai-Nhu Y, Co Ba Sai Gon features an ensemble cast of both established actresses and relative newcomers. Theater veteran Hong Van plays Nhu Y's 2017 self after she accidentally touches a jade pendant on an áo dài and is yanked almost half a century into the future.
Ngoc is a star in Co Ba Sai Gon, but this comes as no surprise to anyone. Back in 2010, while studying to be an actress at Saigon's drama school, she landed a supporting role in a film adaptation of Canh Dong Bat Tan (The Floating Lives), Nguyen Ngoc Tu's acclaimed novel set in the Mekong Delta.
The role didn't catapult her into immediate stardom, but it revealed Ngoc's acting chops and has since opened many doors that eventually led to her collaborations with Ngo Thanh Van, first in Tam Cam: Chuyen Chua Ke (Tam Cam: The Untold); and now in Co Ba Sai Gon.
It's not a hyperbole to declare that without Hong Van and Ninh Duong Lan Ngoc, the movie would be a vacuous shell, because the duo carry the emotional gravitas of the entire story. Van's 2017 Nhu Y is a barely functioning alcoholic devastated by her failure to keep her mother's áo dài boutique in business. The actress manages to sprinkle in many of Ngoc's mannerisms and quirks, portraying a middle-aged Nhu Y who is both sassy and endearingly pitiful.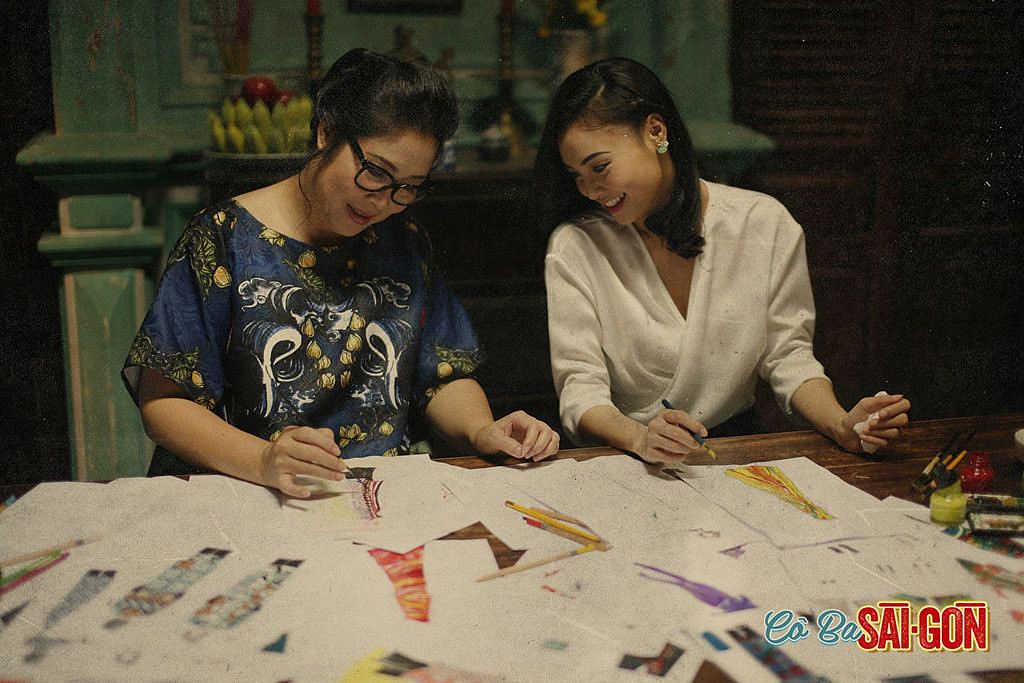 For a movie that seeks to lionize áo dài, Co Ba Sai Gon has achieved its target with aplomb. Whether intentionally or not, the movie is the perfect stage to shine a limelight on Thuy Nguyen's áo dài designs. Every time an áo dài appears on screen, it's treated with the respect it deserves. The production design is also a strong point for VAA: from the 1969 Thanh Nu boutique to a 2017 fashion designer's studio, the team knows their stuff when it comes to fashion.
This is not Ngo Thanh Van's first rodeo in film production. Her previous project, Tam Cam, was also visually gorgeous. However, the problem that plagues both of her features is unfortunately also a common disease of Vietnam's film industry in recent years: the movies look sleek and are elegantly styled, but fall short when it comes to substance.
While the acting in Tam Cam's was sub-par at best, this time that problem is rectified by strong performances from Ngoc, Hong Van, Ngo Thanh Van and even most of the supporting roles. Moreover, another commendable aspect of Co Ba Sai Gon is its predominantly female cast and empowering screenplay. In fact, the movie is one of the few local features this year that pass the Bechdel test. In order to pass this standard, works of fiction must have at least two named female characters who talk to each other about something other than a man. In this case, it's áo dài, so eat your heart out, men.

Despite its positive feminist tone, alas, Co Ba Sai Gon's weakest aspect is its screenplay. The story of a time-traveling girl is not groundbreaking, though it does have its endearing moments and a heart-warming lesson at the end of the day. Nonetheless, it's still riddled with unsolved plot holes and flimsy logic.
The jade pendant is the deus ex machina that drives the story forward. Without it, none of the time-traveling would happen, but its existence and function are never fully explained to the audience. What triggered the time travel the first time? The second time? Nhu Y was transported to the future and works as a cleaner at a fashion house, but somehow she is able to drum up enough financial resources to don a different stylish outfit every day. How do I be her?
Moreover, a scene in the movie's 2017 sequence when the employees of the fashion house scramble to get their shit together before Helen, the designer-cum-owner, arrives borrows a bit too liberally from The Devil Wears Prada for my comfort.
In a nutshell, Co Ba Sai Gon knows its stuff, namely áo dài, fashion and Old Saigon aesthetics. The rest of the movie was put together as a rickety stage for the áo dài to shine. However, at the end of the day, as Ngo Thanh Van shared at above-mentioned press conference, she wanted to honor Vietnam's national costume and Co Ba Sai Gon has achieved that goal with flying colors.
[Top photo via Nguoi Lao Dong]
---

Related Articles:
---