In the midst of a Hanoian winter, all you want is warmth. The houses aren't built for the cold, and on a bike at night, the chill seeps right into you. At lunch or after work, there's nothing better than a steaming hot bowl of phở to restore you.
In my mind, there's no finer phở available than at 13 Lo Duc Street, although you could easily walk past and completely miss it if you didn't already know where it is. Wires trail over the entrance like a bad hammock and there's no name above the restaurant. Instead, a small silver sign rests against the front door, with Pho Thin more visible now thanks to someone rubbing off the dirt.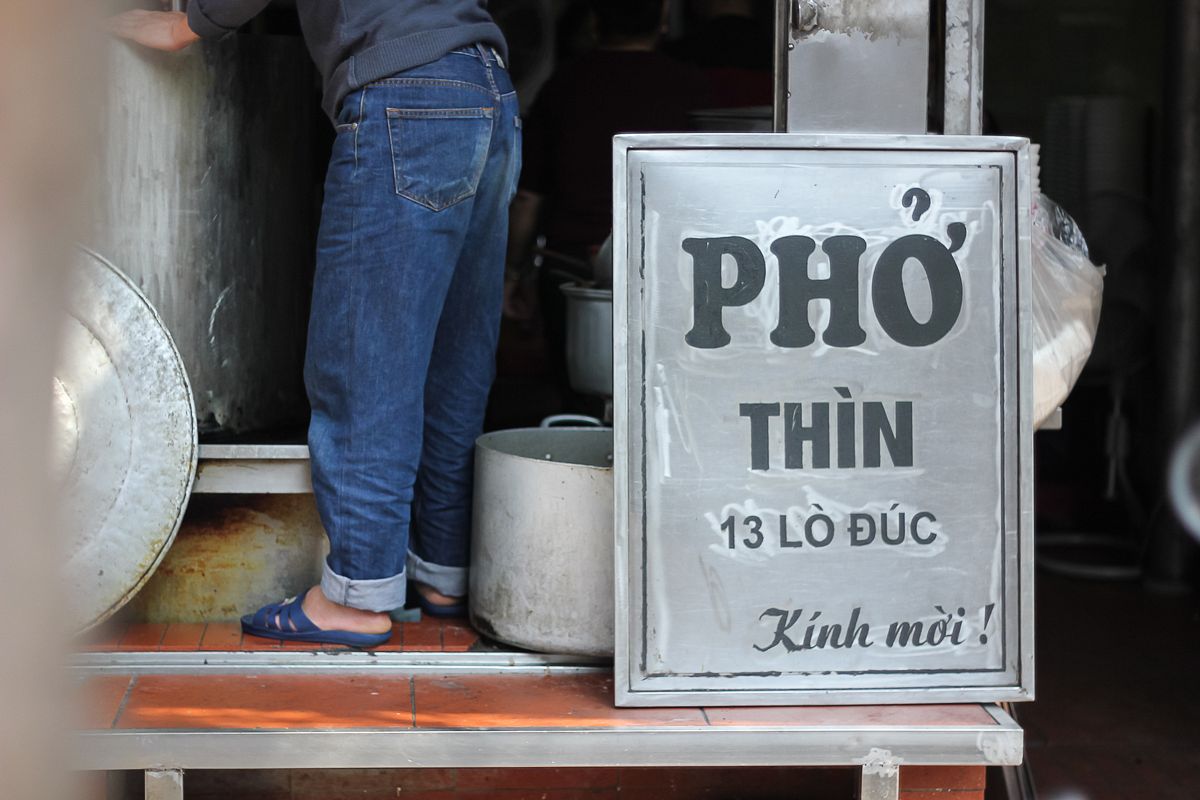 A steady flow of customers come in; mainly locals but some foreigners too. Nguyen Trong Thin opened this restaurant in 1979. Since then its reputation has grown steadily, leading to a number of news and travel outlets reviewing it. A couple of articles are framed on the wall, including a fantastic photo of Thin and his wife in which flames reach up out of the kitchen behind them in stark contrast to their calm expressions.
Thanks to this coverage, it's not just locals and expats that come by for a taste, but travelers too. In fact, there's often a queue. Tables and benches in each area of the place are packed. The food is served quickly though, and while VND50,000 per bowl is slightly more expensive than your average phở, it's definitely worth it.
The broth is rich, and the dish covered in fresh spring onions. The real key, however, is the meat. Thin made a name for himself by stir-frying the beef with garlic, which nobody else was doing at the time. He actually decided to do it in response to the rationing of ingredients after the war; it was a cheap way to improve food. It's a twist on the original that some puritans might disapprove of, but it certainly adds a fragrance you won't find at other phở stalls.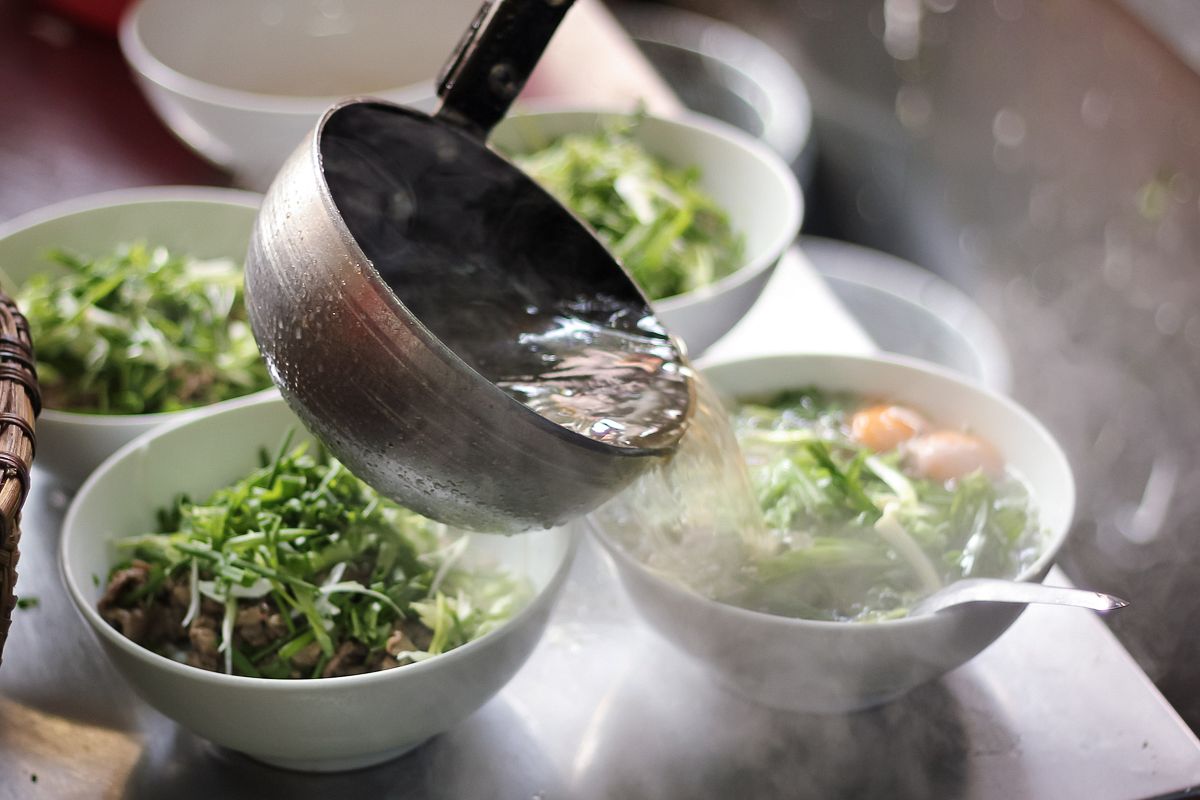 What's even more intriguing is that they offer not just quẩy (fried breadsticks) as an extra but egg yolk too. I tried it the first time I came and now I can't imagine phở without it. It's VND5,000 for one yolk, which is added to the hot broth. Mixing it in adds real depth and richness to the flavor. There are large containers of chili sauce and pickled garlic on each table too, with ladles for pouring, and bowls of lime wedges. I finish every drop. Others around me are equally satisfied, using quẩy to soak up the sauce left at the bottom.
Beyond the food, the decor is functional: stainless steel tables and wooden benches, with old photos of Hanoi and the odd newspaper column on the walls. One of the framed articles puts the price at VND13,000, which shows just how enduringly popular the place has been. Customers have been coming here for nearly 40 years, in a city where shops change owners and buildings get knocked down every month. Thin was just 16 years old when he came up with the idea of opening a restaurant and, clearly, hasn't looked back since.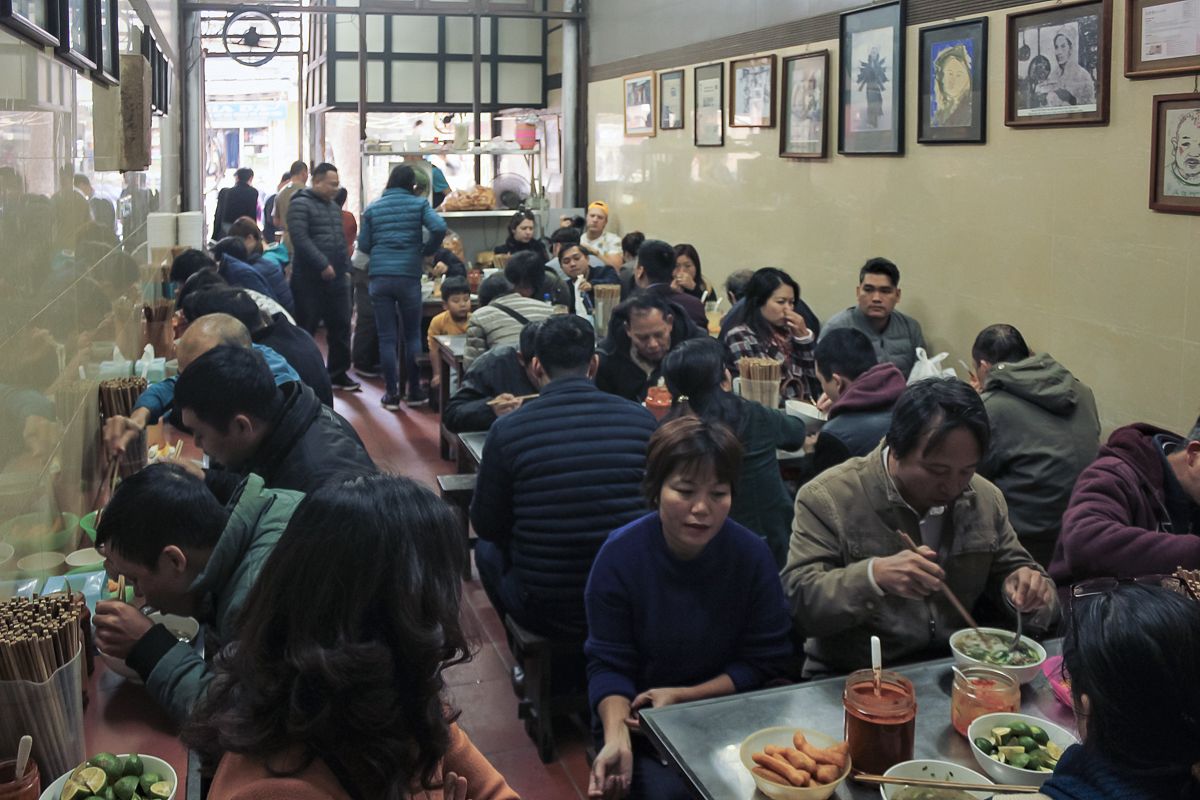 Pho Thin is open from 5am to 9pm.
To sum up:
Taste: 5/5
Price: 4/5
Atmosphere: 3/5
Friendliness: 3/5
Location: 3/5
Chris Humphrey is a Hanoi-based writer, photographer and editor.
Pho Thin
13 Lo Duc, Hai Ba Trung

---

Related Articles:
---