Any street food restaurant you regularly pass on your commute, or that lies within the local area where you live, is likely to receive your patronage more often than most. Minh Banh Xeo is no exception. Situated near the top of Yen Phu, it's the perfect pit stop if you're on your way to or from Xuan Dieu or the north of Tay Ho.
Its roadside location does mean you have to sit next to traffic, which is particularly hectic right now while work continues on the main dike road, but don't let that stop you. Visit here and you'll sample some of the most authentic bánh xèo I've come across in Hanoi, to the extent that it brought back memories of a trip to Quy Nhon earlier this year, a city famous for the fried pancakes.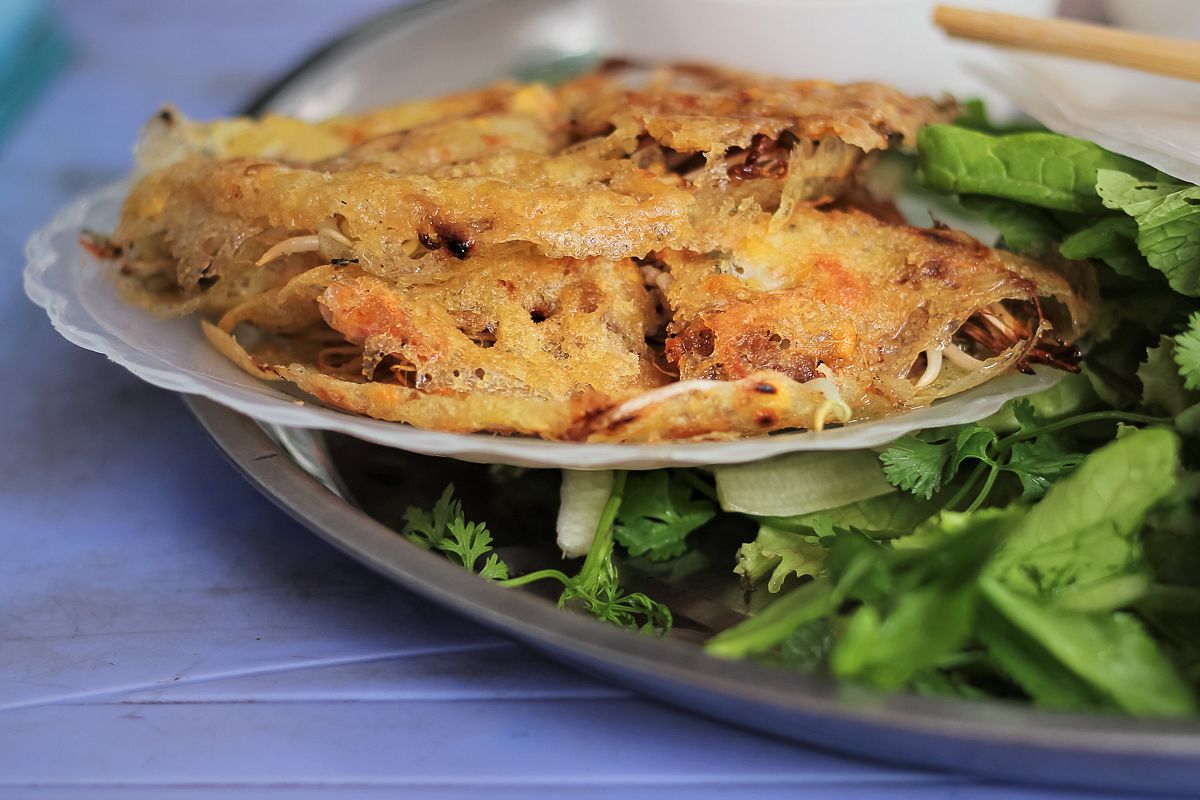 I order the classic dish for VND45,000, although nem lụi (pork skewers) are also available. They don't hold back with their servings; a thick wad of rice-paper sits atop a hill of fresh lettuce and coriander, with slices of pickled vegetables, sweetened fish sauce and fresh chilies served alongside the pancakes. The only other condiment on the tables is chili sauce.
Bánh xèo served here are smaller and crispier than I've seen at other Hanoi restaurants, and taste better for it. Minh adds shell-on prawns, bean sprouts and slices of fried pork to the batter. Having been cut up into segments already, they're also a little easier to add into the rice paper. Mix it all in with the salad leaves and vegetables, roll it up with your hands and you're ready to go.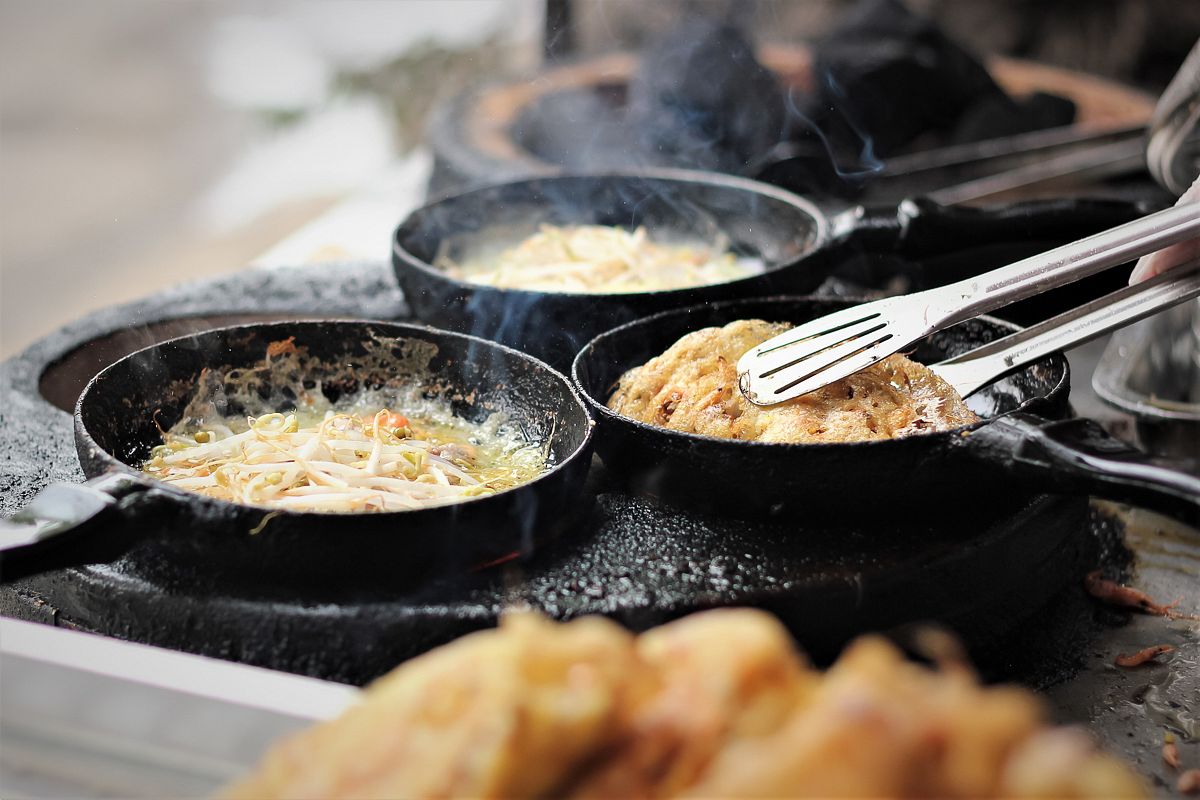 It's clear why they are so crispy, too. Bánh xèo literally translates as "sizzling cake," and during breaks in the traffic the sound of bubbling oil drifts over as yet another pancake fries. As Pham Thi Hong Minh cooks away, sometimes four pancakes at once, I'm reminded of another dish; it's easy to see the French influence with a meal like this, and savory crepes provide an obvious parallel.
Outside seating is on plastic tables and chairs beneath a tarpaulin. Simple, no frills and, for some reason, next to a large printed photo of a traditional cake. That all changes when you step inside their house, where large golden pillars frame the entrance, and on one side you'll see a crumbling mural of ships at sea covering an entire wall.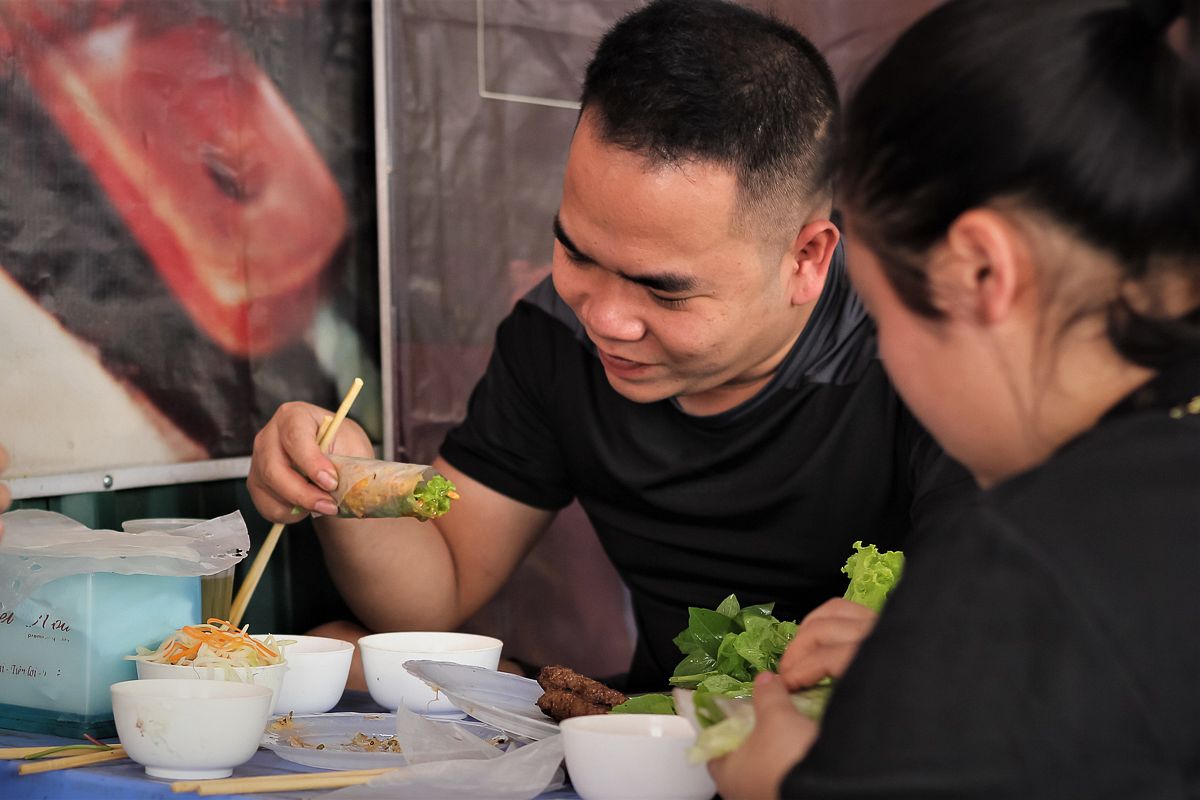 Minh Banh Xeo used to be in another spot across the road but moved to 153 Yen Phu only a couple of months ago. Pham Thi Hong Minh opened and runs the restaurant, which is clearly enjoying increased footfall in its new location.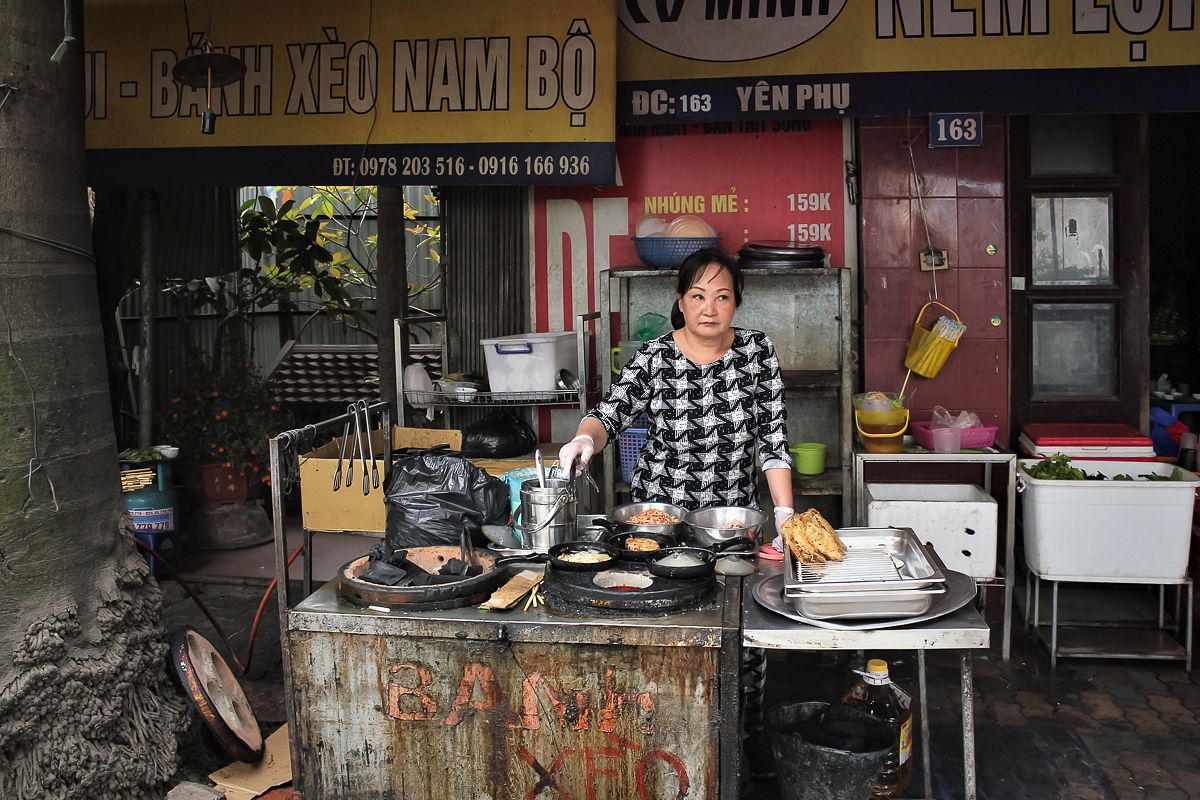 Minh Banh Xeo is open from 11.30am to 2pm and 5pm to 8pm.
To sum up:
Taste: 5/5
Price: 4/5
Atmosphere: 3/5
Friendliness: 4/5
Location: 3/5
Chris Humphrey is a Hanoi-based writer, photographer and editor.
Minh Banh Xeo
163 Yen Phu, Tay Ho

---

Related Articles:
---