Whether a grey-eyed morning or a long-tailed dusk, it makes little difference in Café Minh. The windows, opaque from a history of cigarettes and road dust, barely let in any light. The groan of motorbikes outside, rising and falling as rush hour ebbs and flows, is the main indicator of time.
And yet, there's something of the night about the place. A sense that mystery lives in its corners, that dodgy deals could be struck here by the seated couples shuffling through conversations. It wouldn't seem out of place in a dimly lit 70s spy thriller — revolutionary green covers the walls while wooden shutters form rickety cupboards and desks.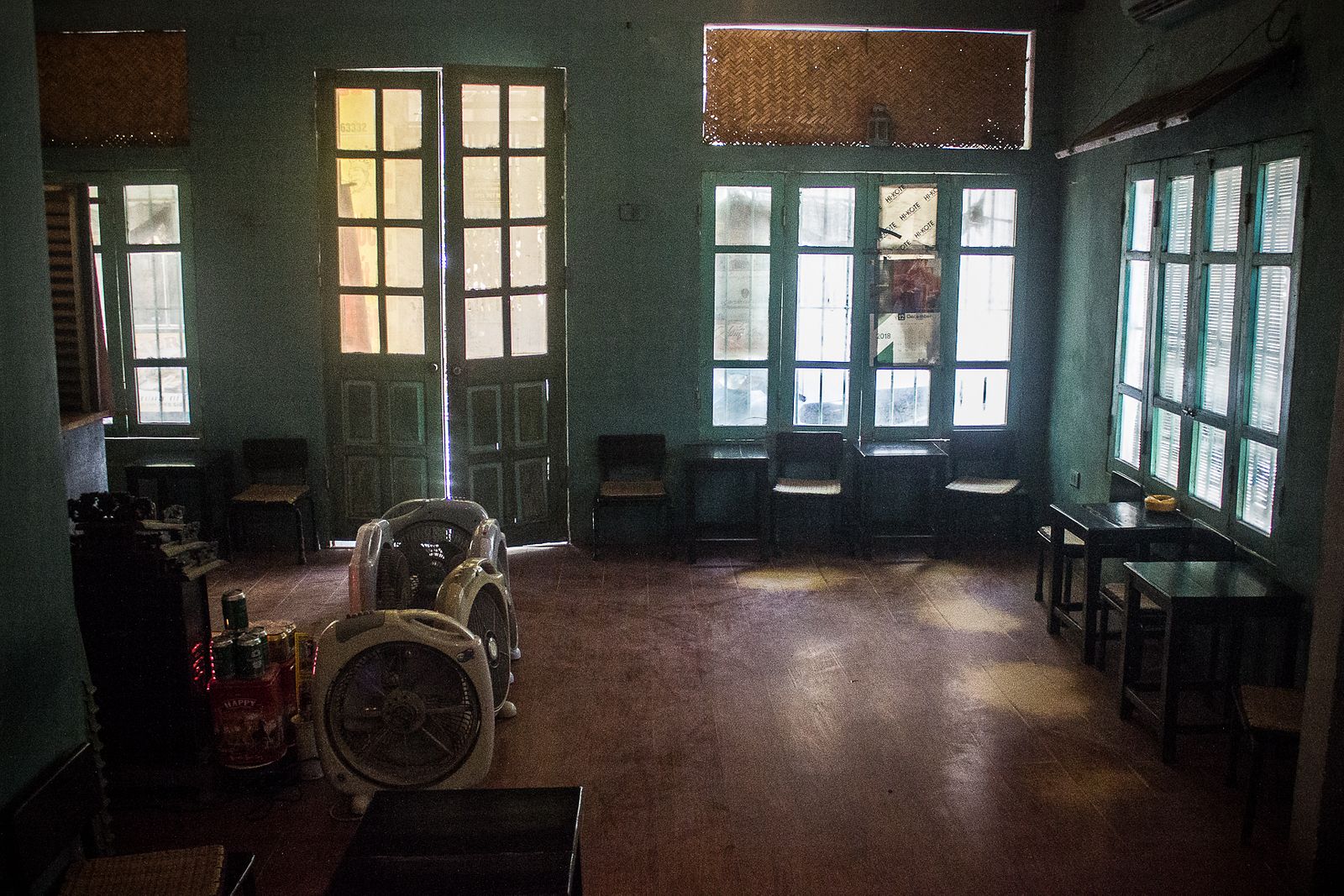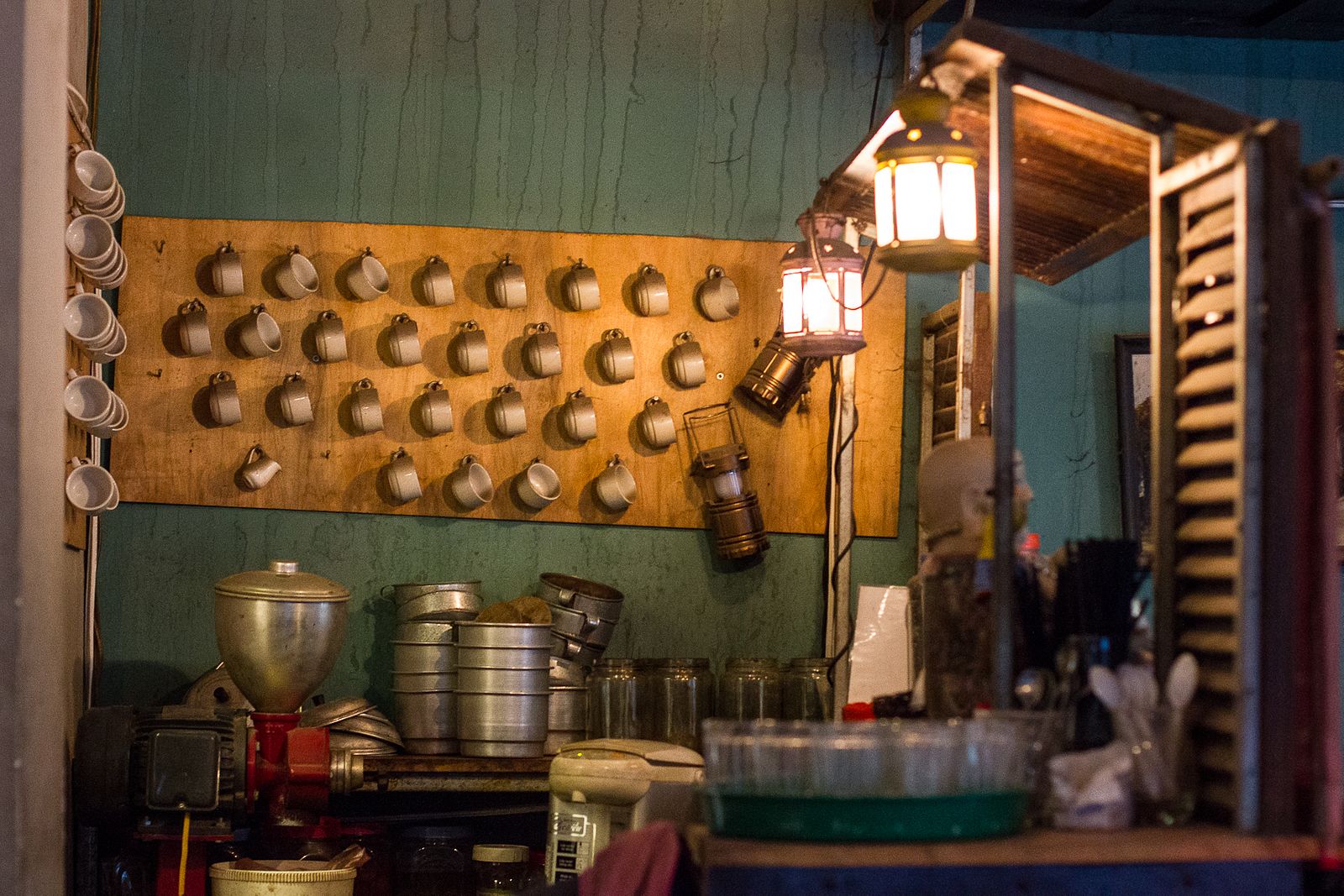 Bone-white coffee cups hang like hotel keys behind the bar, unused for so long the tops are darkened and stained, while the undersides remain clean as a half-moon. No music plays; only a tangle of conversation can be heard above the TV. In the middle of the room, a blur of fans hum, achieving nothing other than spreading the smoke.
Then you see the menus — white boards written in Vietnamese, English and Mandarin. Besides the usual fruit juices and coffees, there's kumquat tea for VND10,000 and durian milk-tea for VND15,000. I go for the latter, which, like all experiences with durian, is akin to being given a warm, loving hug before being violently mugged. It's creamy and unrelentingly self-confident — the flavor lingers in my mouth for hours after I leave.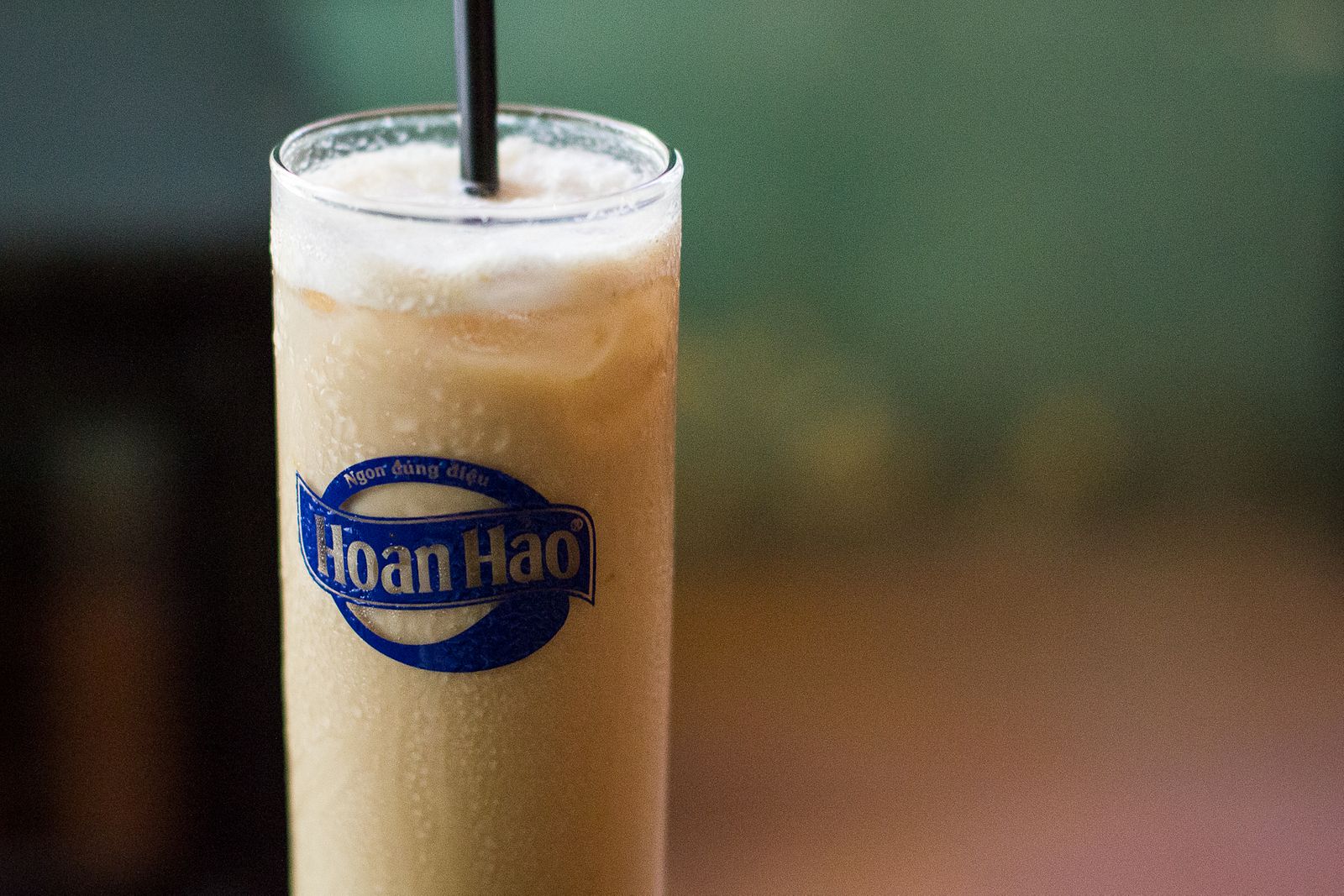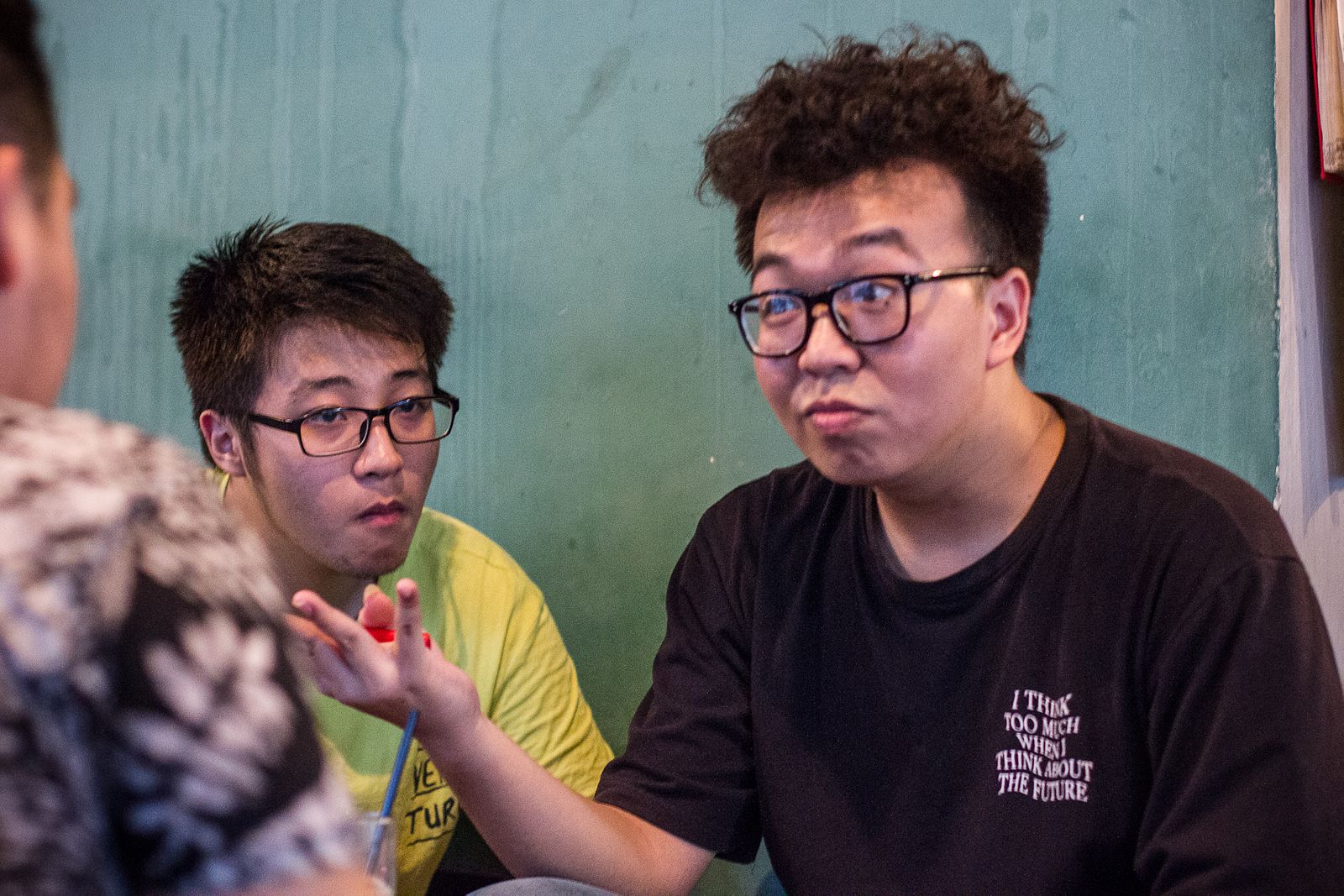 With coconut coffee also on the menu, and certain stylistic similarities, comparisons with Cong Caphe are inevitable. But this café, having avoided the strains of franchise growth, retains its ramshackle individuality.
It's worth mentioning that Minh's outdates Cong Caphe, too. Nguyen Van Minh opened shop in 2005, two years before the local rival. The latter establishment's coffee also receives mixed reviews, while at Minh's, they roast and grind their own coffee.
According to Minh, the style is uniquely their own. "We don't have a designer," he says. "It's based on my memory of Hanoi as a child. I'm from Hanoi, so it's all very natural to me."
And even when he was that young, he was obsessed with coffee. "I love it, I always did even in high school. I knew from that age I wanted to open a coffee shop."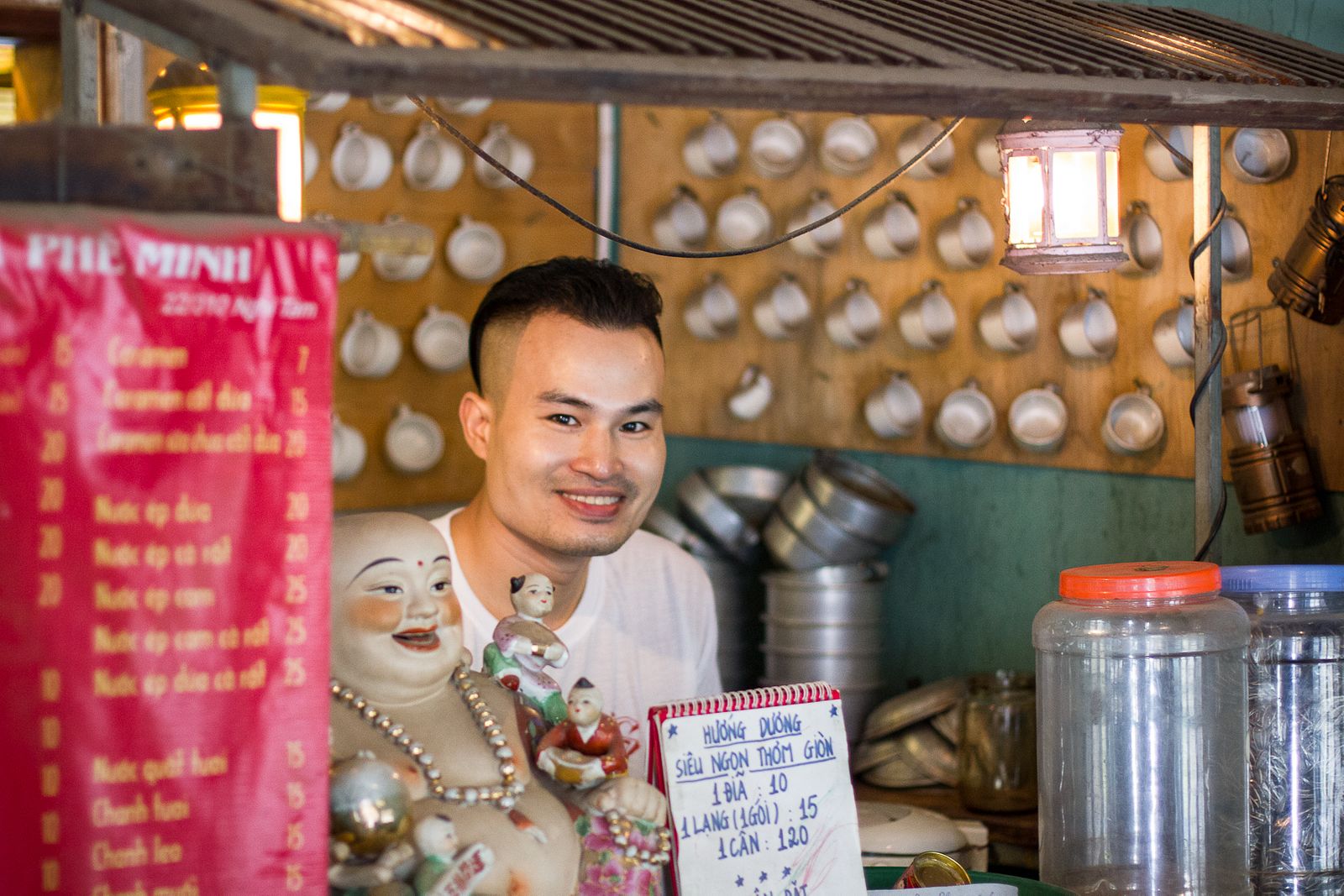 So for 13 years, he's ground out a formula that works. Don't expect to get any tips from him anytime soon, though. "A lot of Vietnamese and foreigners come here every day and have special drinks," he says. "People ask me how I make them but, of course, it's a secret."
Upon leaving, I realize it's somehow only midday. Now, how to get rid of that durian aftertaste? Probably best to avoid spending the rest of the day, as Anthony Bourdain famously claimed, walking around with breath that smells "as if you'd been French-kissing your dead grandmother."
Find Café Minh at No. 22, 310 Nghi Tam. Opening hours are 7am to 11pm.
To sum up:
Taste - 4/5
Price - 5/5
Atmosphere - 4/5
Friendliness - 5/5
Location - 3/5
Chris Humphrey is a Hanoi-based writer, photographer and editor.
Café Minh
No. 22, Ngõ 310 Nghi Tam

---

Related Articles:
---