If you're a food lover, there is one dirt-cheap, aromatic Hanoi snack that you must try: bún đậu mắm tôm.
At the southern tip of Hoan Kiem Lake is a short street named Hang Khay, which is known for fancy restaurants, cafes and technology stores. Most people, however, wouldn't even notice narrow alley 31 that meanders away from the main road and leads to a plethora of hidden bún đậu vendors.
The alley is so tiny you can barely fit even two people in at once. The street food bustle, though, is a little further down. From the moment you see the first restaurant, you'll be surprised by the scene unfurling before you: restaurant beside restaurant selling their well-known dish, staff calling out to gain your custom and a rush of people arriving to enjoy bún đậu mẹt (a large platter.) And then there's the smell. The fragrance derives from a sauce that has made both this dish and this alley renowned — mắm tôm (fermented shrimp paste). With all these scenes playing out simultaneously, the vibe during lunchtime here is pretty hectic.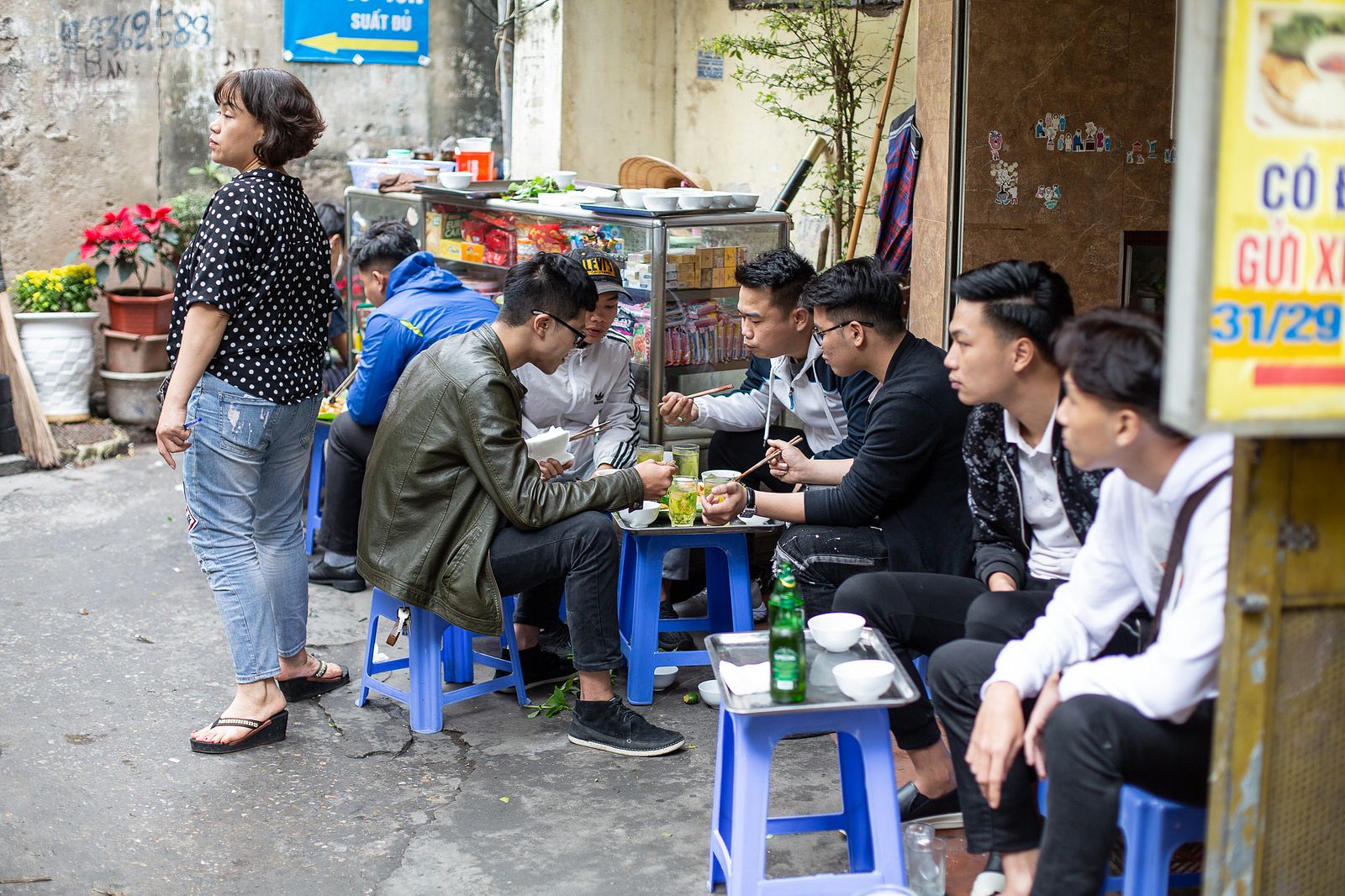 As expected from any street food spot, there is no actual restaurant. Instead, vendor's homes are transformed into areas for customers to sit in. What makes these establishments stand out is that the food is cooked right in front of you and served just moments later.
After worming my way through waves of people, I managed to get a table at one of the original restaurants here: Bun Dau Nha Ham (the bún đậu basement). This eatery has been here for decades, which explains the huge number of people that visit on a daily basis. As you approach the restaurant, you'll be greeted and then guided downstairs, passing the intense heat of the stoves on the way. It wouldn't be a bún đậu restaurant if you didn't see vast woks frying hundreds of pieces of tofu at once.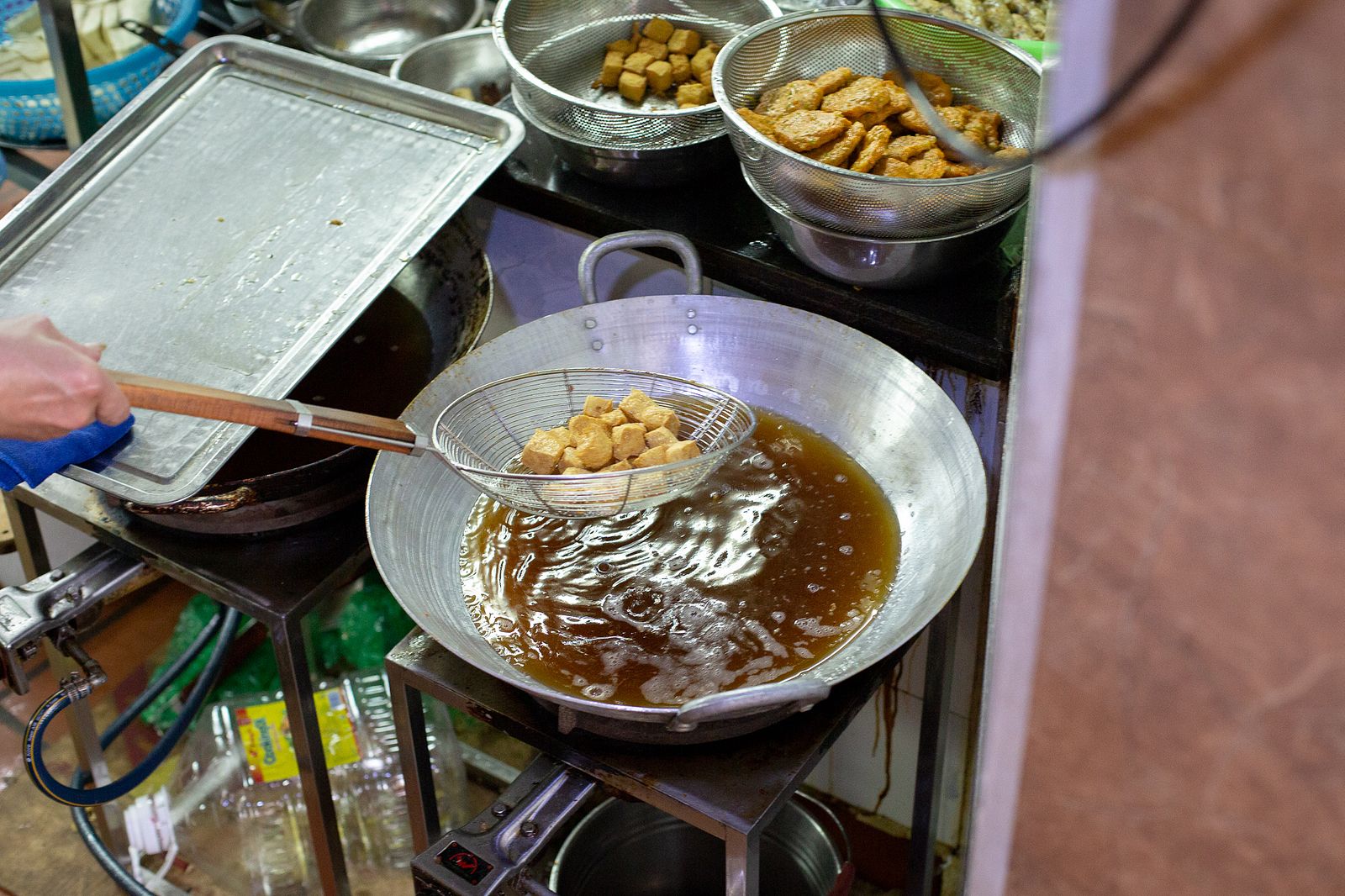 If you arrive during peak hours, there is a possibility you won't be able to get a seat. And what I feared came true: the restaurant was packed. I had to wait a while before I could finally secure a table and order a platter for two. My mouth was watering from the scent of frying food, yet it wasn't long until a mountain of food was placed before me: bún (vermicelli), đậu phụ rán (deep-fried tofu), nem (spring rolls), dồi (pig intestine sausage), chả cốm (green rice cake with pork), thịt luộc (boiled pork), fresh herbs and the most important ingredient — the alluring mắm tôm.
It's made from crushed shrimp mixed with salt and then left to ferment for several weeks until it turns into a thick paste and develops its eloquent scent. In order to adapt this into a dipping sauce, you need to squeeze in some kumquat juice and mix in some sugar, fresh chili and a spoonful of oil and then whisk it until it turns frothy.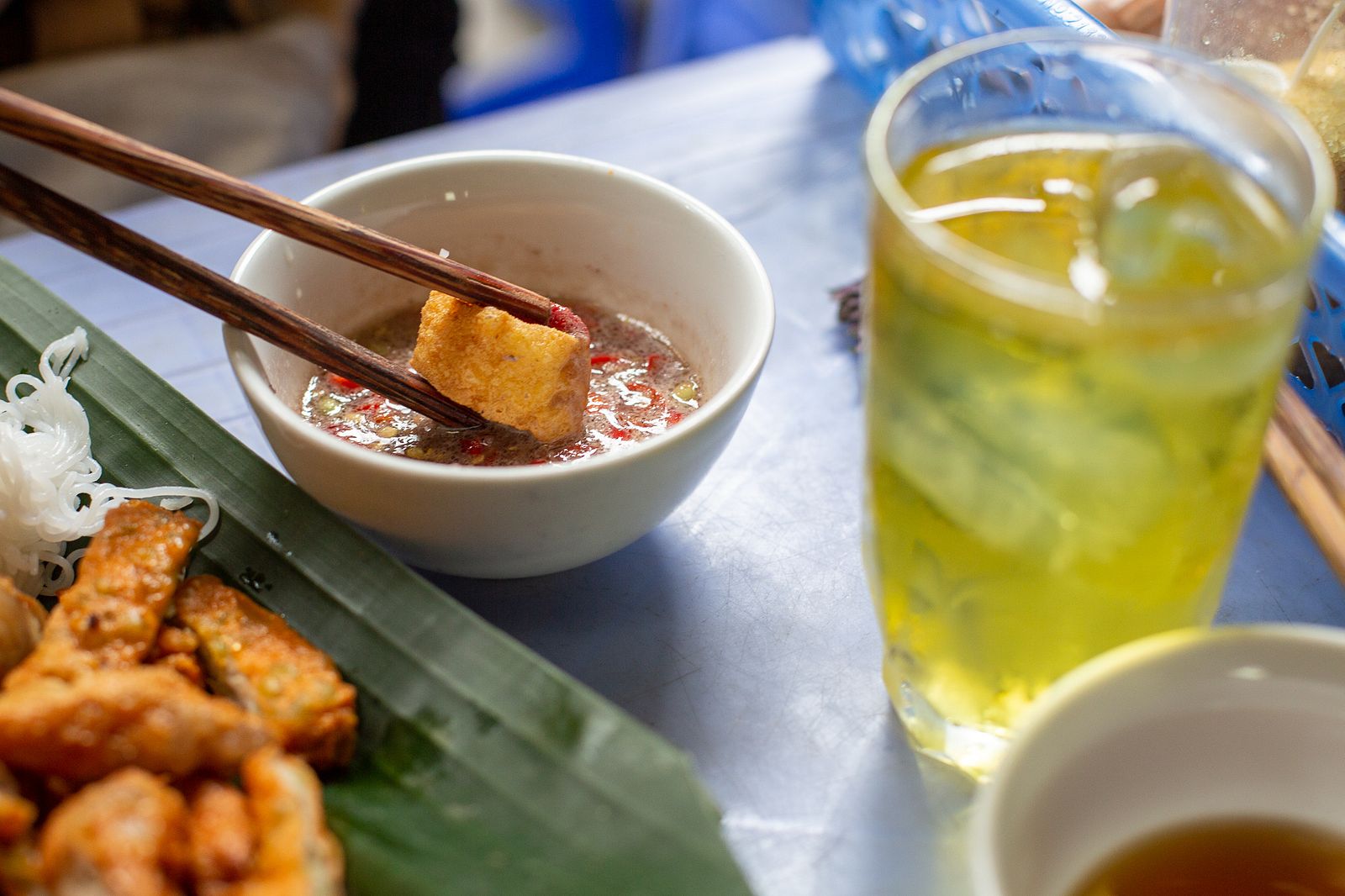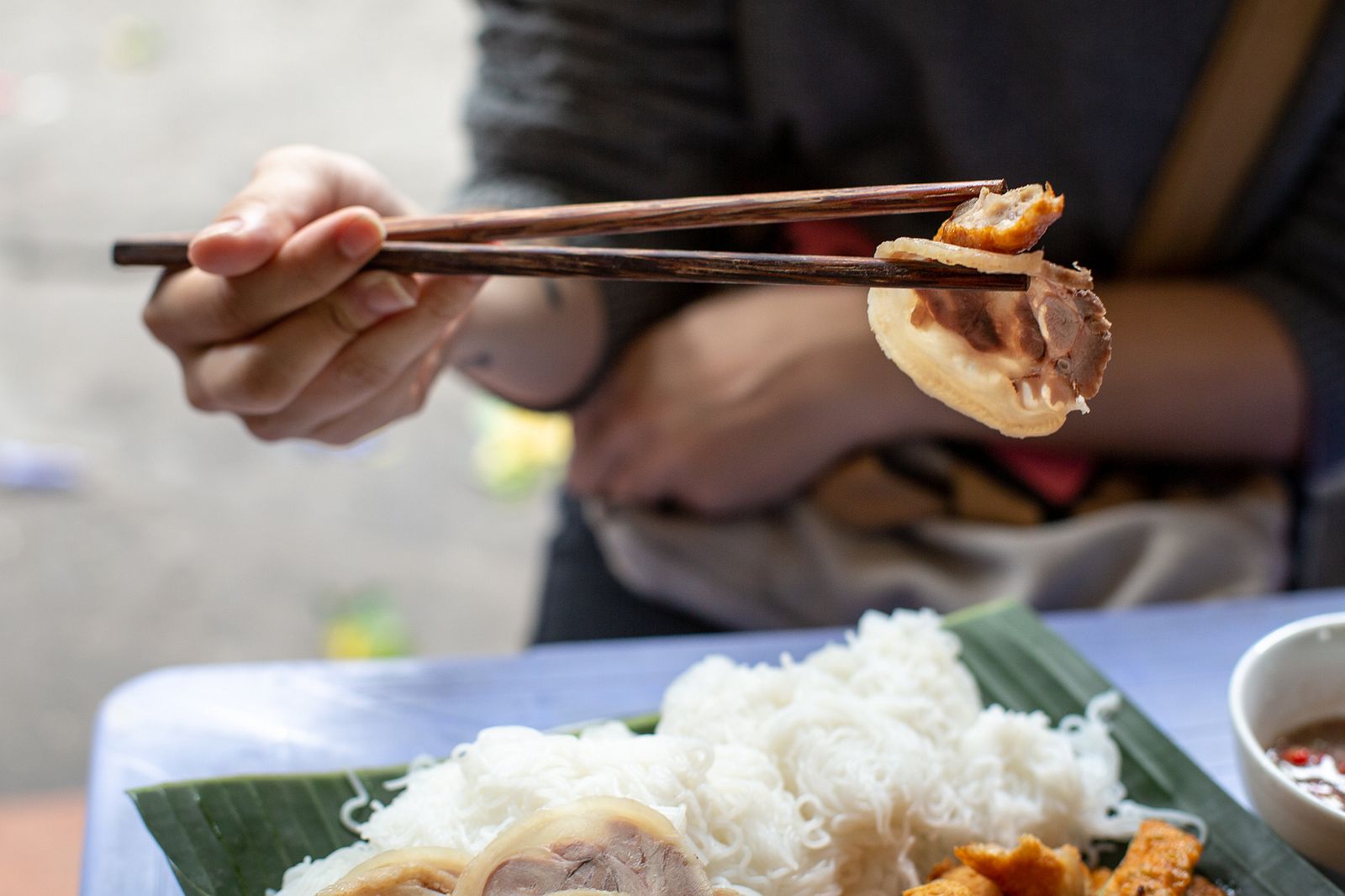 Now, everything is ready. Dip a piece of fried tofu in the sauce, eat it with the vermicelli and don't forget the herbs. The hot richness of the fried tofu, combined with the uniqueness of the sauce and the freshness of the herbs provides a riot of flavors in your mouth.
And then there's a whole bunch of side dishes for you to devour, such as the crispy nem or the savory chả cốm. As usual, order yourself a refreshing glass of trà đá to wash it all down and alleviate the greasiness. More importantly, though, they also give you some menthol chewing gum to nullify the mắm tôm, so you don't spend the rest of the day walking around with breath like a dead whale.
We are all familiar with this kind of family business in Hanoi – one that's been passed down for generations. The pseudo-restaurant, the cramped rooms, the timeworn decor and crowded spaces; they all make Vietnamese street food unique.
That being said, people tend to look past all that just so they can enjoy a scrumptious dish. And bún đậu mắm tôm is no exception. Regardless of the smell or the strong flavor, it has always been a Hanoian favorite, and there's no better place to enjoy it than here.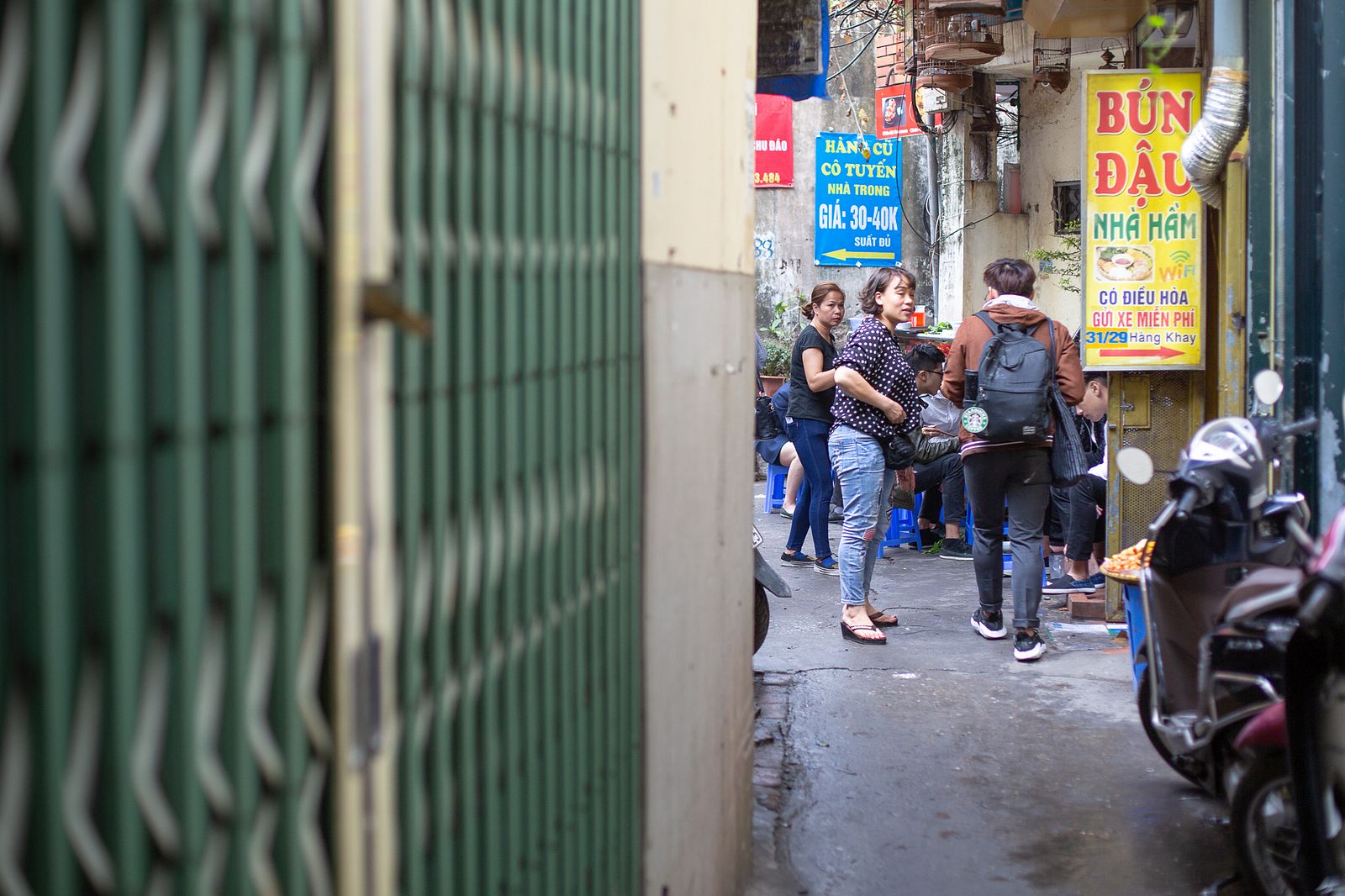 Bun Dau Nha Ham is open from 10am to 2pm. Find them at number 29, ngõ 31 Hang Khay.
To sum up:
Taste: 5/5
Price: 5/5
Atmosphere: 4/5
Friendliness: 3/5
Location: 4/5
At night, Gia Nguyen is a drag queen. In the day time, all he does is eat noodles.
Bun Dau Nha Ham
No. 29, Ngo 31 Hang Khay, Hoan Kiem District

---

Related Articles:
---