Hanoi's summer days are unforgiving. On the most intense days, a bullish sun forms thick layers of heat between cement roads and tall, oppressive buildings. Yet here I was, standing in the epicenter of Hanoi's tourist streets, scrambling in search of a classic and very nostalgic dish to me: cháo sườn (rice congee with pork).

It was a struggle to find as I tried to locate the stall merely from memory. I used to walk there with my secondary school friends for a hearty meal after focusing on classes and club activities. I couldn't remember exactly which end of Ngõ Huyện it was on, nor did I account for the unreliability of Google Maps. When I finally arrived, a strange yet familiar feeling took hold of me.
Although I'm familiar with Hanoi's signature vendor-style, plastic stool eateries, this place still caught me by surprise. I expected myriad signs and plastic tables intruding into the street. Instead, the owner kept her activity on the margins of the already-small alleyway, with blue chairs lining up against the wall on one side and pots of congee and toppings on the other. Her sign was humble and concise, simply providing the information needed (a few of variations of cháo sườn), rather than advertising the spot itself. Those coming here probably heard about it from a friend, hence why there's no need for loud, vibrant signs or the correct address on Google Maps.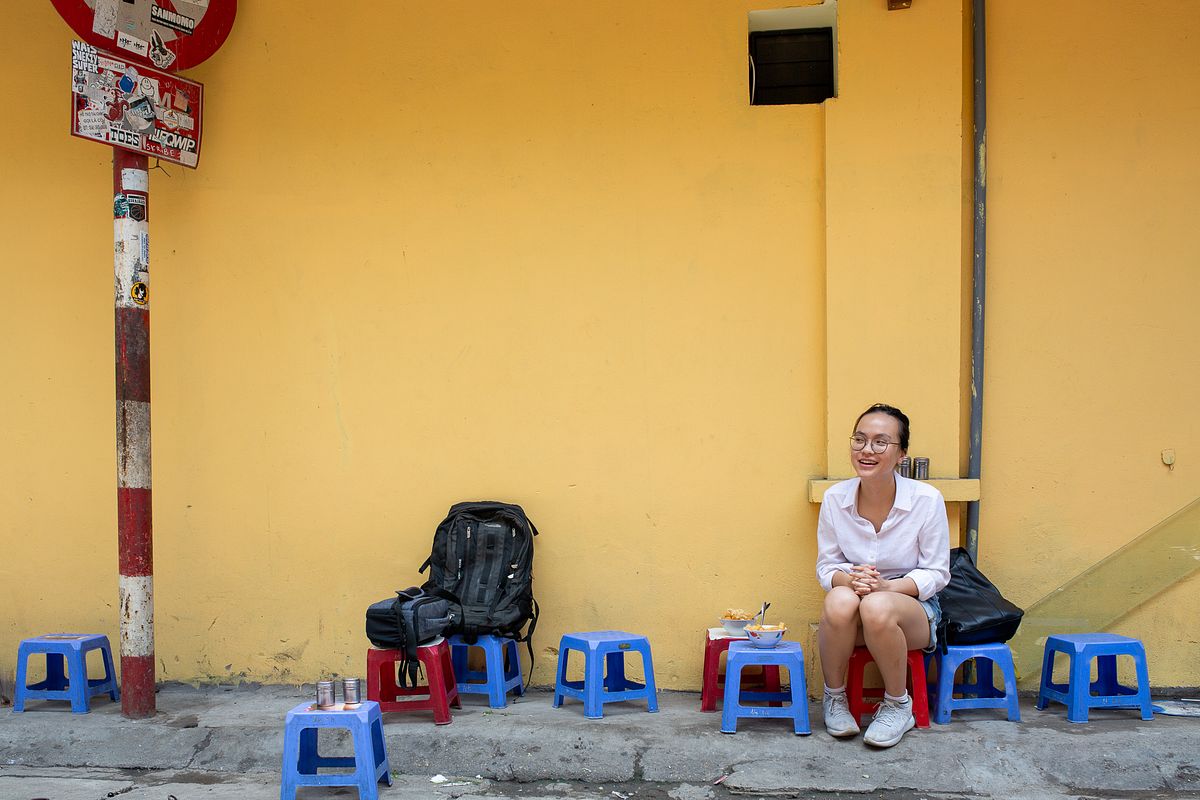 Yet the same Hanoi street food rules still apply. Here, you have to grab the vendor's attention to be served. In many new restaurants nowadays, there's staff running around taking orders — the scene's response to growing demand from wealthier clientele. But cháo sườn ngõ Huyện hasn't changed at all during the years since I've been visiting. It remains a one-woman business and the same size it's always been. Which means it is most effective to just shout your order from one side of the alley to the other, and the woman will shout back a confirmation and bring your meal within minutes.
When the bowl of cháo sườn arrived, I was immediately struck by its simplicity. There's no fuss here. First, you get the filled-to-the-brim sườn: ribs, cartilage and other pork meat bits stripped from the bone. You can order with or without cartilage, but I personally enjoy the crunchiness it gives to the rather one-note bowl of cháo. To top it off, the lady sprinkled an unhealthy amount of ruốc (pork floss), which lends the dish a salty, textural contrast. Hidden beneath is a white, opaque layer of cháo, which might seem unusual to the uninitiated. And rather than the whole-grain congee your mother might cook at home, the lady opted for a smooth style cooked from flour, instead of rice.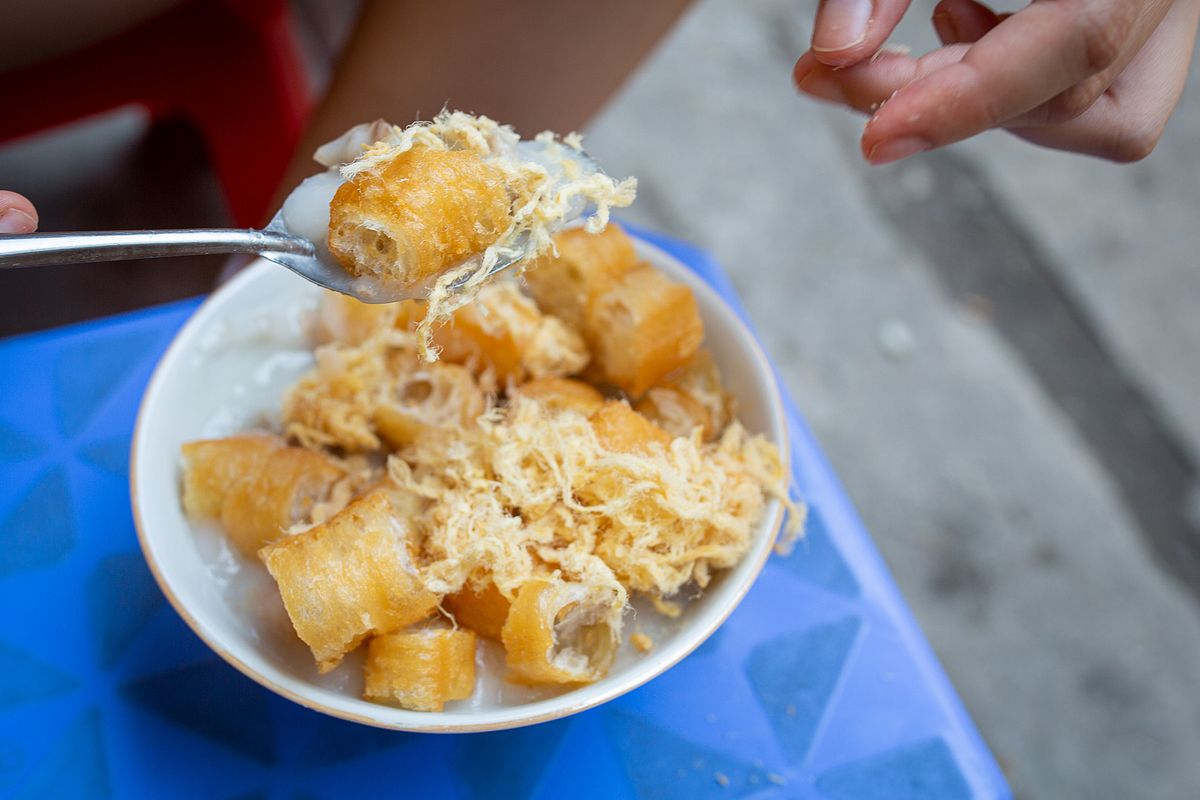 The first spoonful felt like medicine. The warm congee slid down my throat with silky ease, giving my whole body extra warmth as soon as I took the first gulp. The seasoned meat and ribs held together: not too tender, not too overcooked. Yet my favorite part might be chewing on the cartilage. Together, it is the perfect combination of hangover food and light snack you might have for fun.
This dish might not be the best for such a scorching summer's day. It's ideal, though, for fall's upcoming golden afternoons, or even if you're overcoming sickness. It's not actually hard to find; take a turn to the left from Lý Quốc Sư Street to Ngõ Huyện, and enjoy some fresh cháo sườn in no time.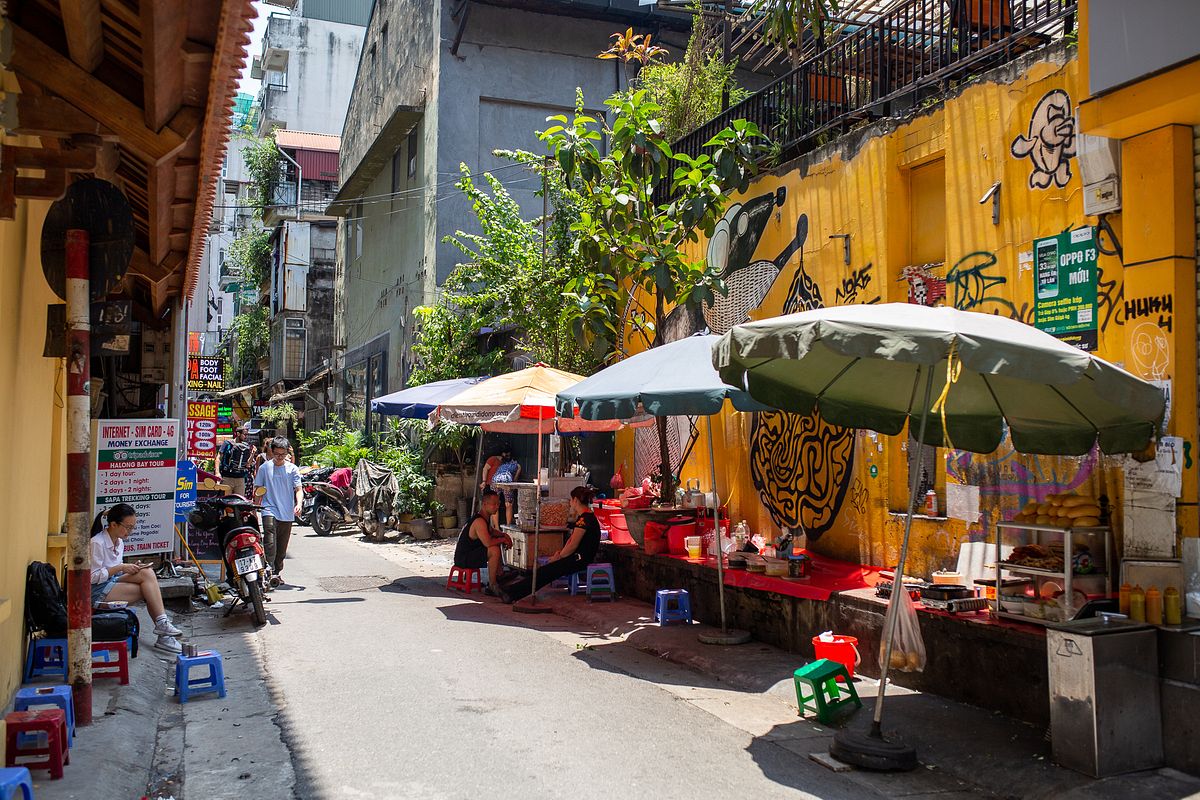 To sum up:
Taste: 4/5
Price: 5/5
Atmosphere: 3/5
Friendliness: 4/5
Location: 4/5
Linh is 50% coffee and 50% whatever Hanoian snacks she's able to eat.
Cháo Sườn Ngõ Huyện
61A Ngõ Huyện, Hoàn Kiếm District, Hanoi