Eating canh bún is akin to going for a walk on a clear day as sunset melts over the city; it costs almost nothing yet nourishes the soul.
There are those who belittle Vietnamese noodle varieties, claiming they are a bottom tier choice compared to mightier options in Singapore or Thailand. They are, of course, wrong. At a mere VND30,000 per bowl, a bowl of noodles at Canh Bún Nguyễn Siêu offers not only remarkable value for the ravenous but also bún of impressive girth to silence the haters.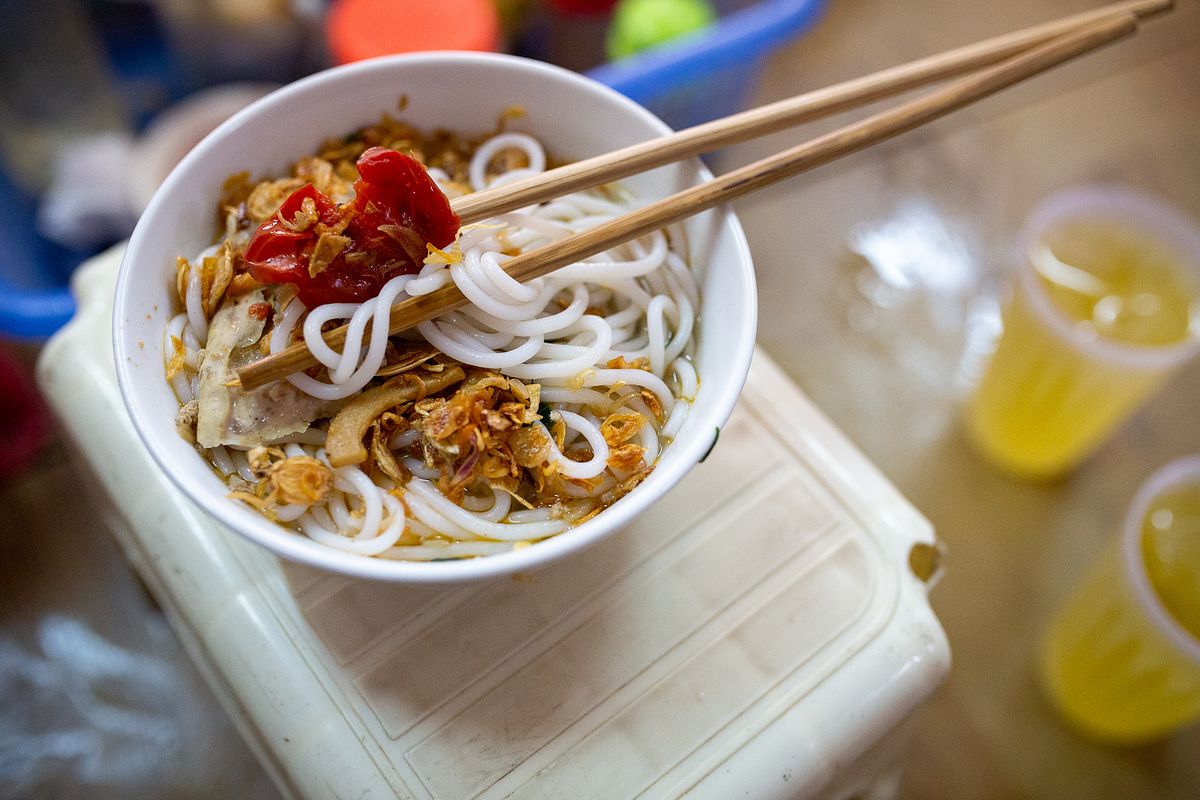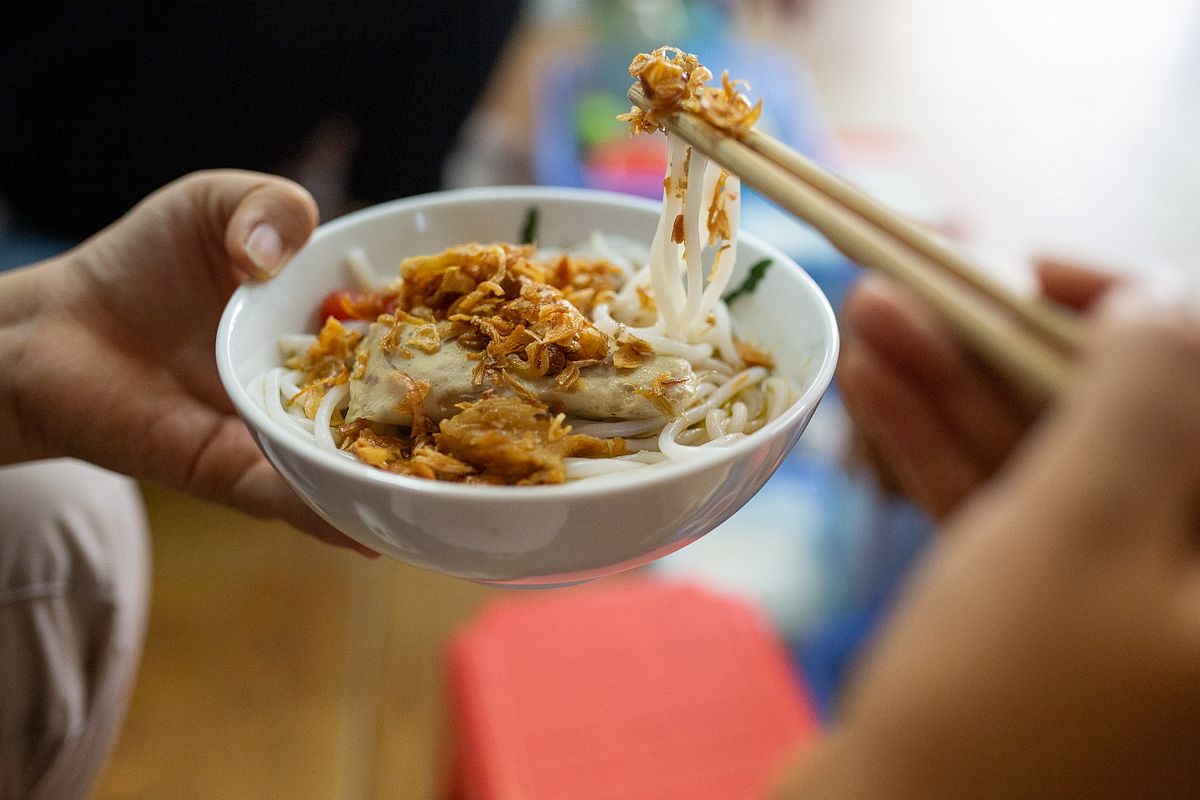 The eatery, located a Frisbee's throw from Ô Quan Chưởng, the Old East Gate to the city, is a claustrophobic space. Its interior is a cramped accumulation of squat, plastic chairs crammed into an area that measures less than 30 square meters. And upon arriving, parking takes up most of one's time, as it's a struggle to fit a motorbike between those of more punctual customers. Yet none of these issues is a reason not to come.
Canh bún is actually a lesser-known variation of bún riêu cua, and is popular across northern Vietnam. There are, however, several key differences. The noodles used in canh bún are significantly thicker than those found in its more famous cousin, and form one of its greatest attributes. This noodle is precooked in boiling water before being re-cooked in the soup, creating a silken softness.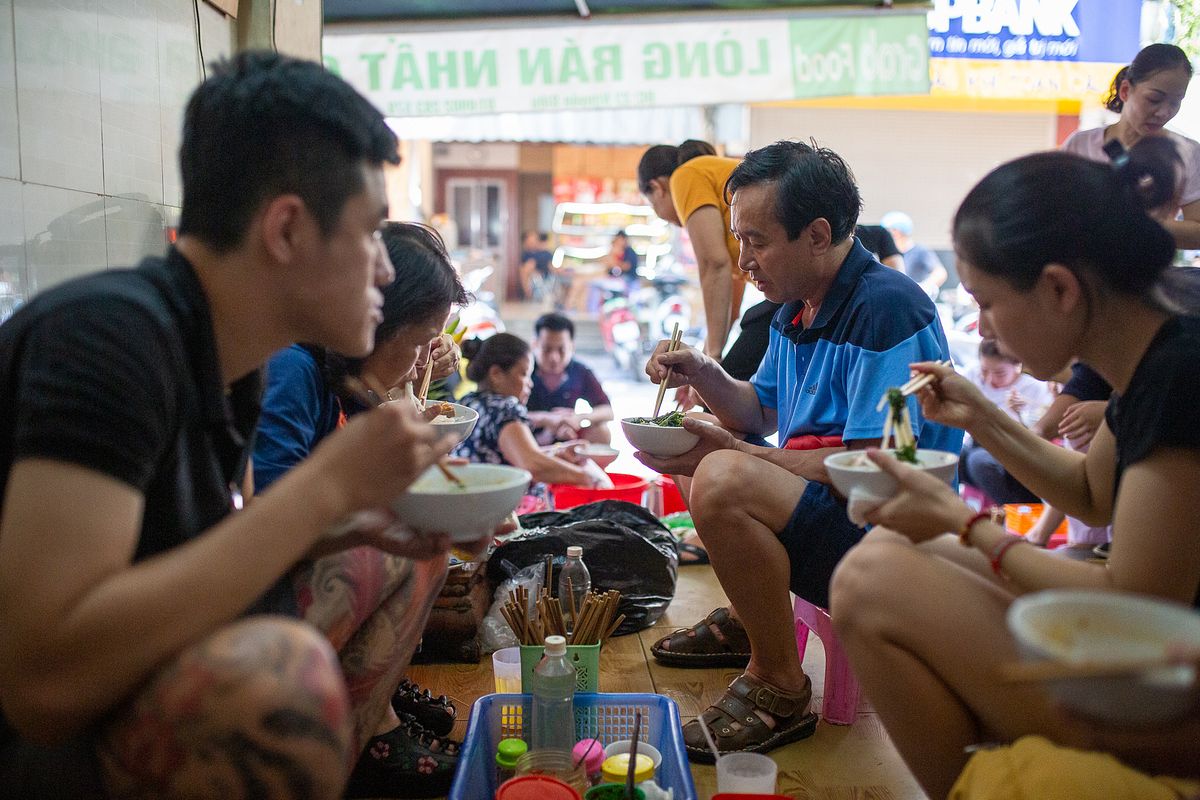 Another defining variance is the use of rau muống, which features alongside pork rind, Vietnamese sausage, rich tomatoes steeped in stock and, of course, a handful of crispy shallots. The broth is infused with crab, creating a less intense yet more delicate flavor compared to that of bún riêu cua. Thankfully, no snails feature in this dish either and, true to tradition, one can wash it all down with a sepia glass of trà đá.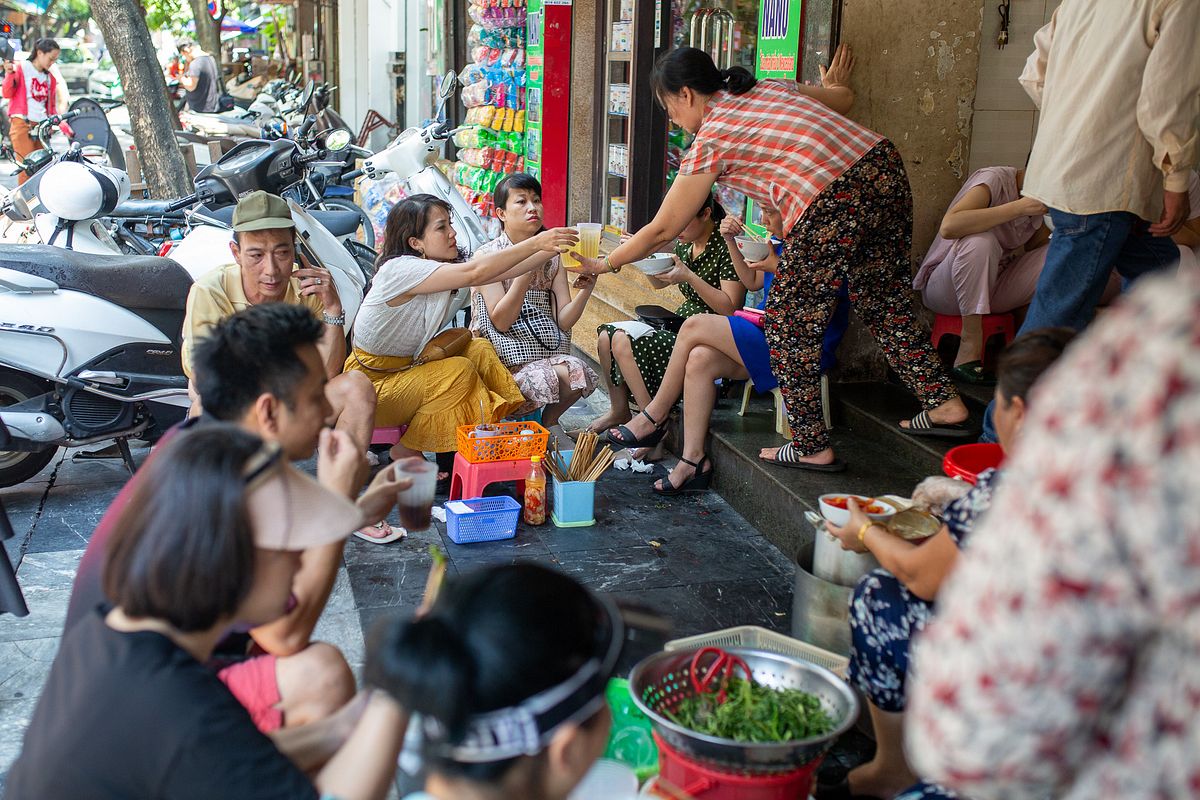 What stands out most, though, is the noodles. Despite their relatively tough appearance, each strand is tender and marries well with the stock. The onions contrast the canh bún with a nice layer of crunchiness alongside the freshness of the spinach and the intense flavor of the sausages. What results is a dish that somehow provides visitors with both familiarity and a sense of discovery.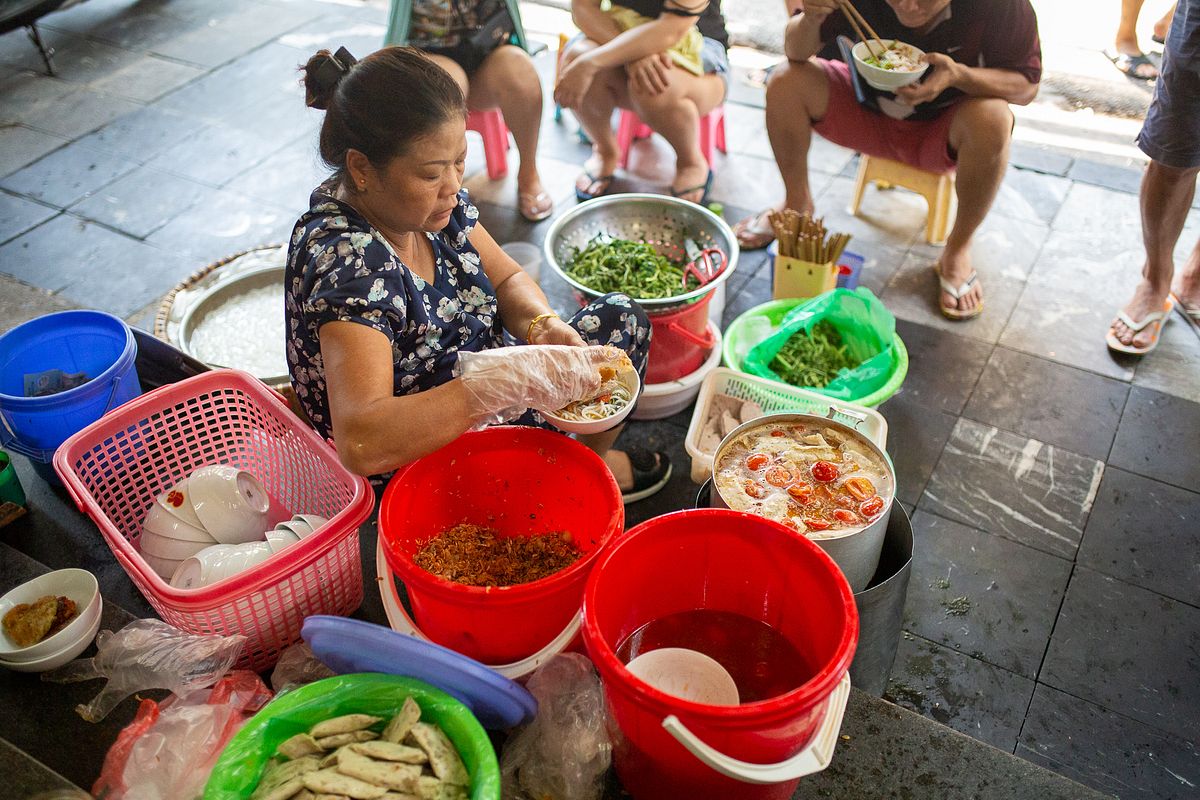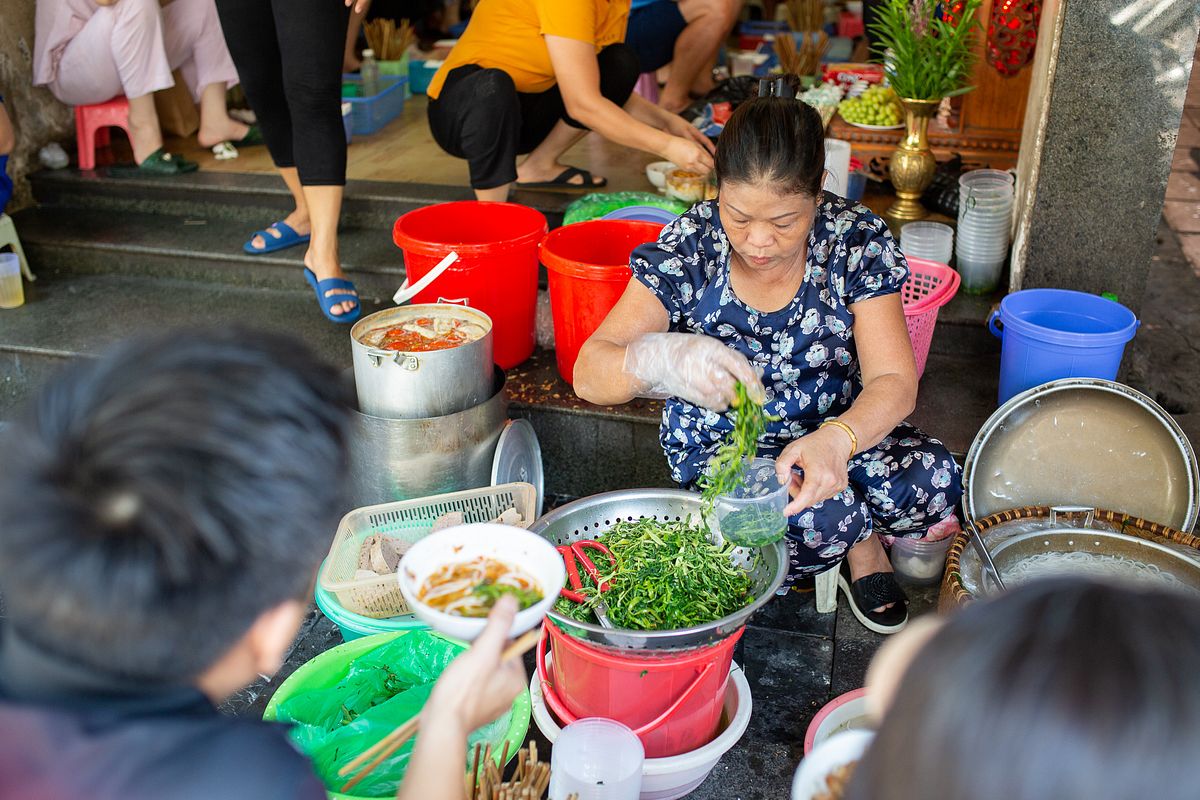 It is swift business here, though. Hanoians come and go in throngs and feast in minutes. Yet while the food may be fast, it's in no way cleared of its responsibility to provide nourishment from vitamins and minerals, as other snacking options seem to be. The portion size is not vast, but that is of no concern. Upon finishing, one feels the kind of wholesome, deep satiety that comes from food that offers a feeling of completeness. Only a fool eats to please the tongue, a wise person does to satisfy the soul.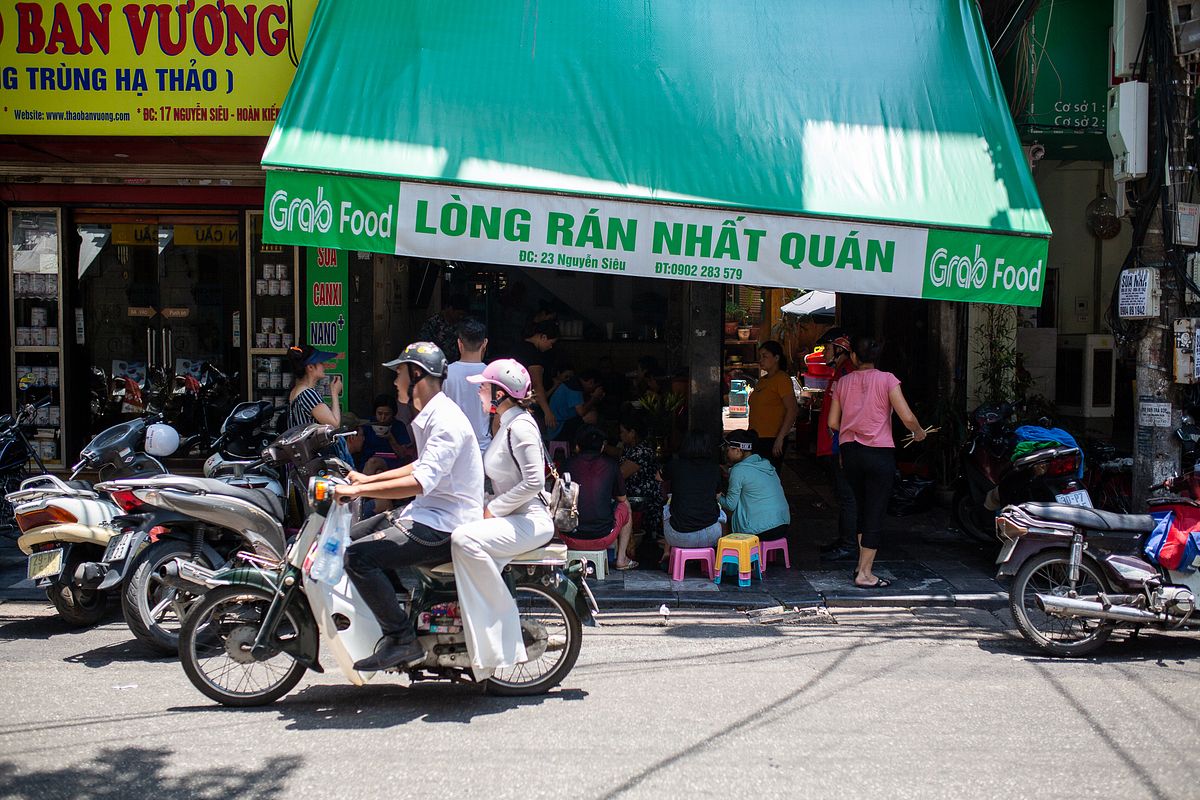 The restaurant opens from 11am to 3pm, but you should come at noon for the best quality food.
To sum up:
Taste: 5/5
Price: 5/5
Atmosphere: 4/5
Friendliness: 4/5
Location: 5/5
Canh Bún Nguyễn Siêu
21 Nguyễn Siêu, Hoàn Kiếm District, Hanoi