Three flights of stairs separate the street from Phủ Café's timeworn interior. Their small sign won't grab your attention if you're passing by, but attracting new customers isn't necessarily the aim.
While this small, concealed space, which goes by the full name of Phủ Specialty Tea & Coffee, might not demand your attention, the team behind it is striving to build an engaged community. It seems they are succeeding, too.
For the most part, Phủ is a place of peace. The atmosphere is cozy and relaxed, allowing you to enjoy the moment with a cup of masala chai, fresh fruit juice or a warm coffee, perhaps while leafing through one of the numerous books stacked in haphazard piles around the room.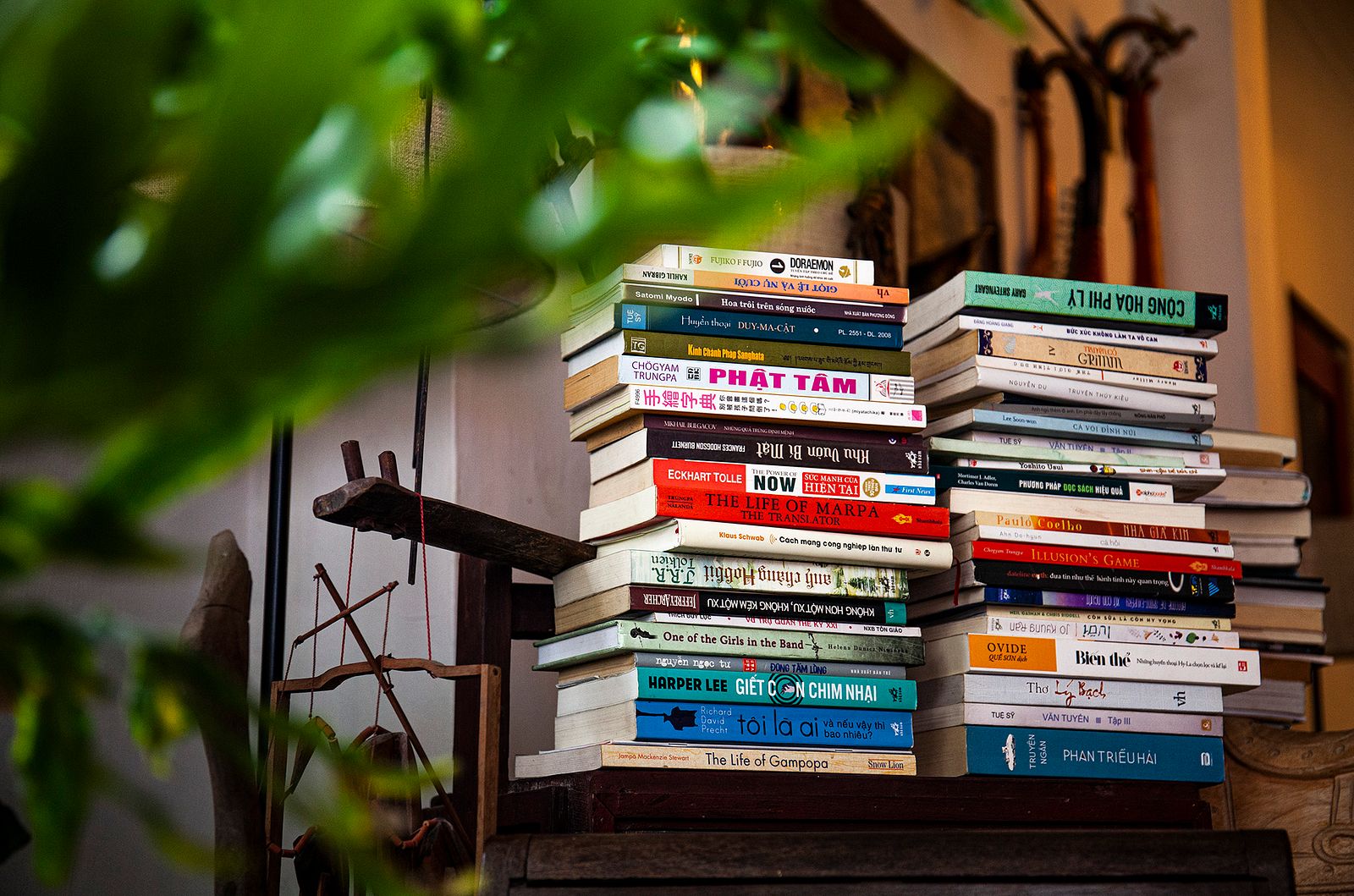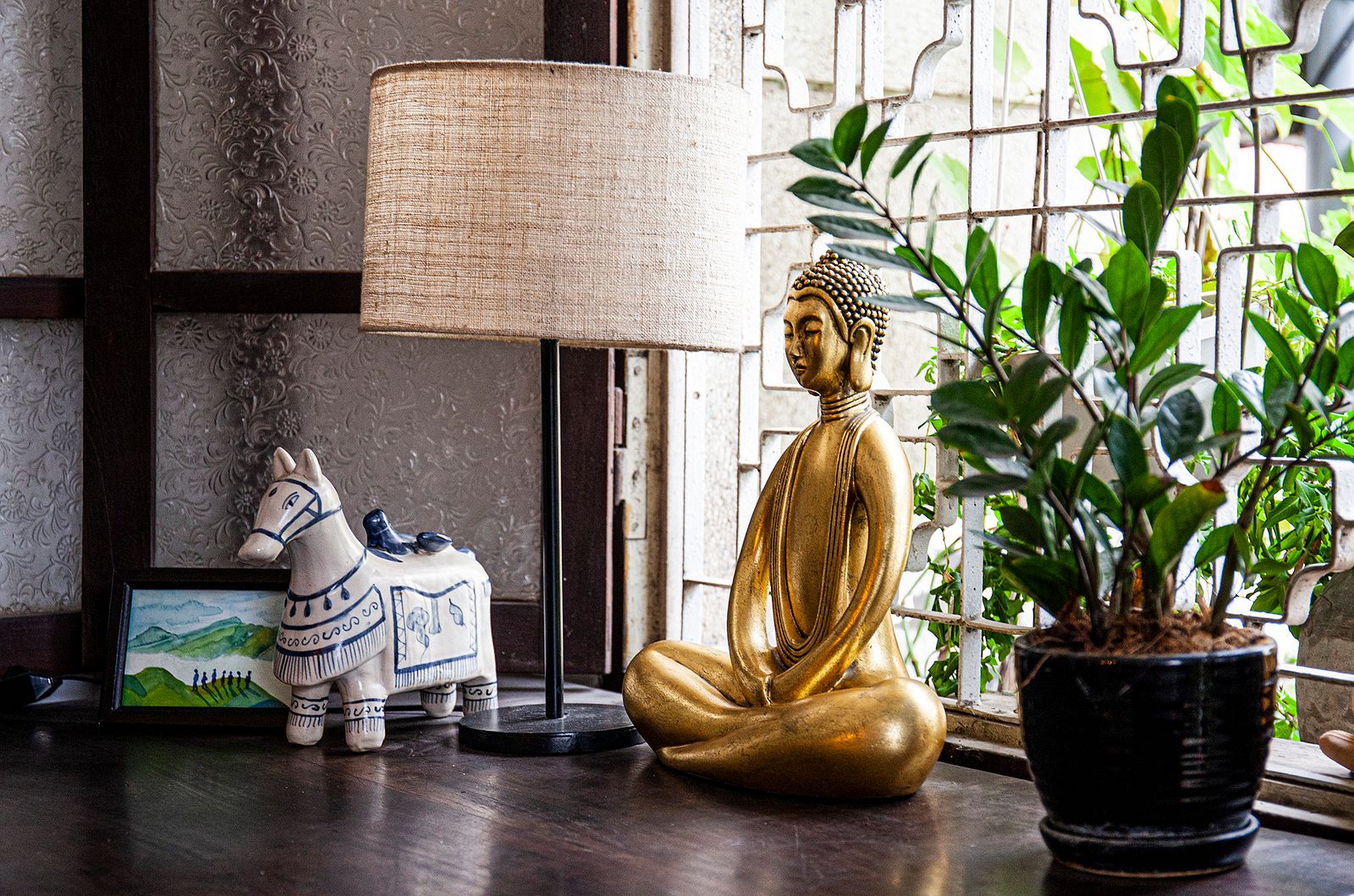 "We have special customers who really like this kind of atmosphere, who come back, always," says Duc, the café's manager. These customers are at the heart of everything Phủ does. The coffee shop may be tranquil and vacant during the daytime, but in the evening it comes alive. Phủ is an arm of Vietnam Sustainable Space, which allows Hanoi's youths to connect and learn from one another. These young people, comprised mostly of Vietnamese, gather each evening in clubs, and it's these get-togethers that Duc believes make Phủ unique.
Elements of these clubs appear around the coffee shop. Board games pile up behind the counter, patiently awaiting their turn at Wednesday evening's Games Night. A collection of Buddhist books are kept safely in an antique cabinet, while novels are available to borrow from this cafe-cum-library, ready to be discussed at the Book Club. None of this is made apparent – glaring advertisements wouldn't suit the place. In fact, a daytime visitor might assume the café serves merely as a place to quench one's thirst, the collections acting only as decoration.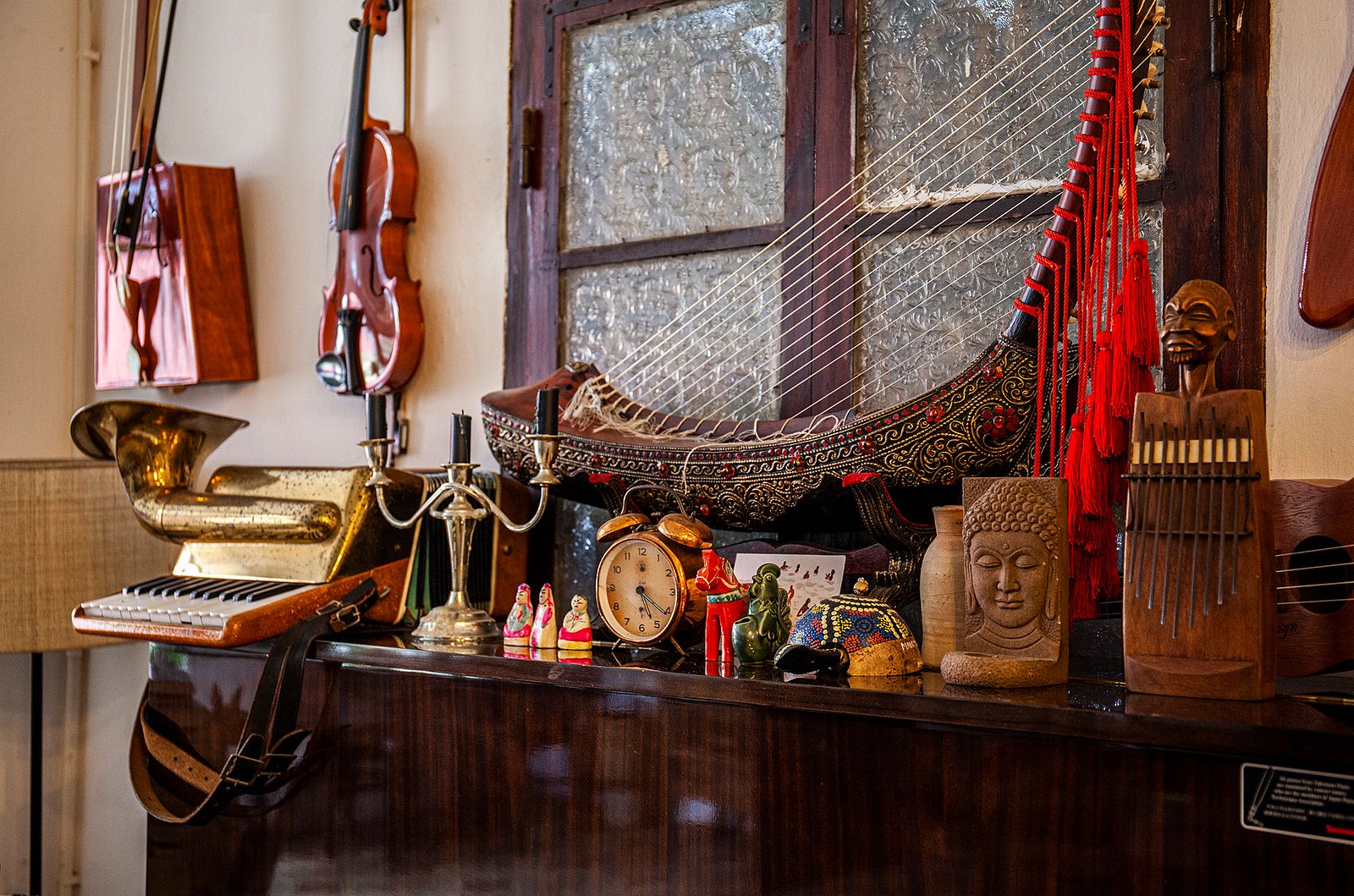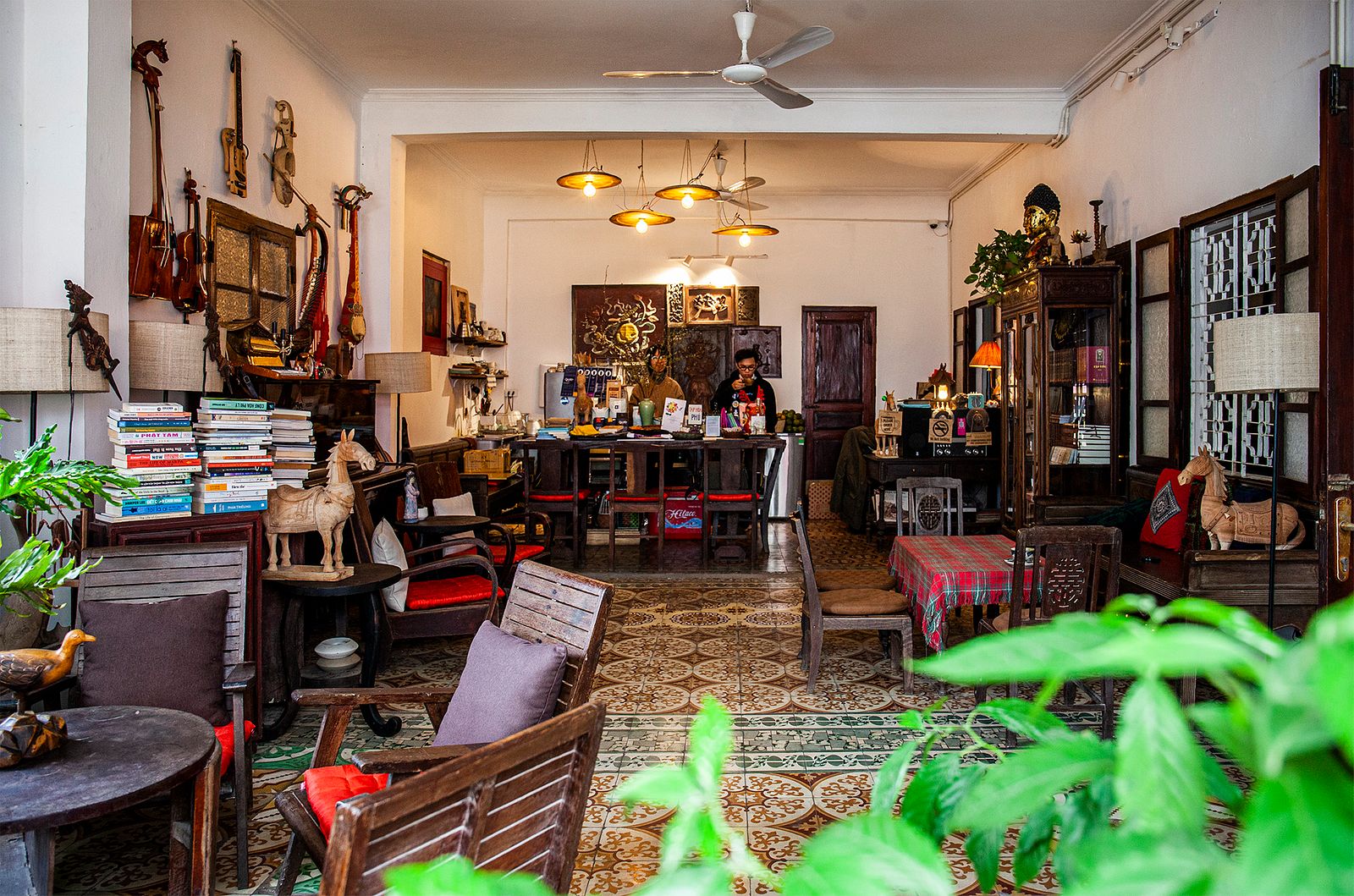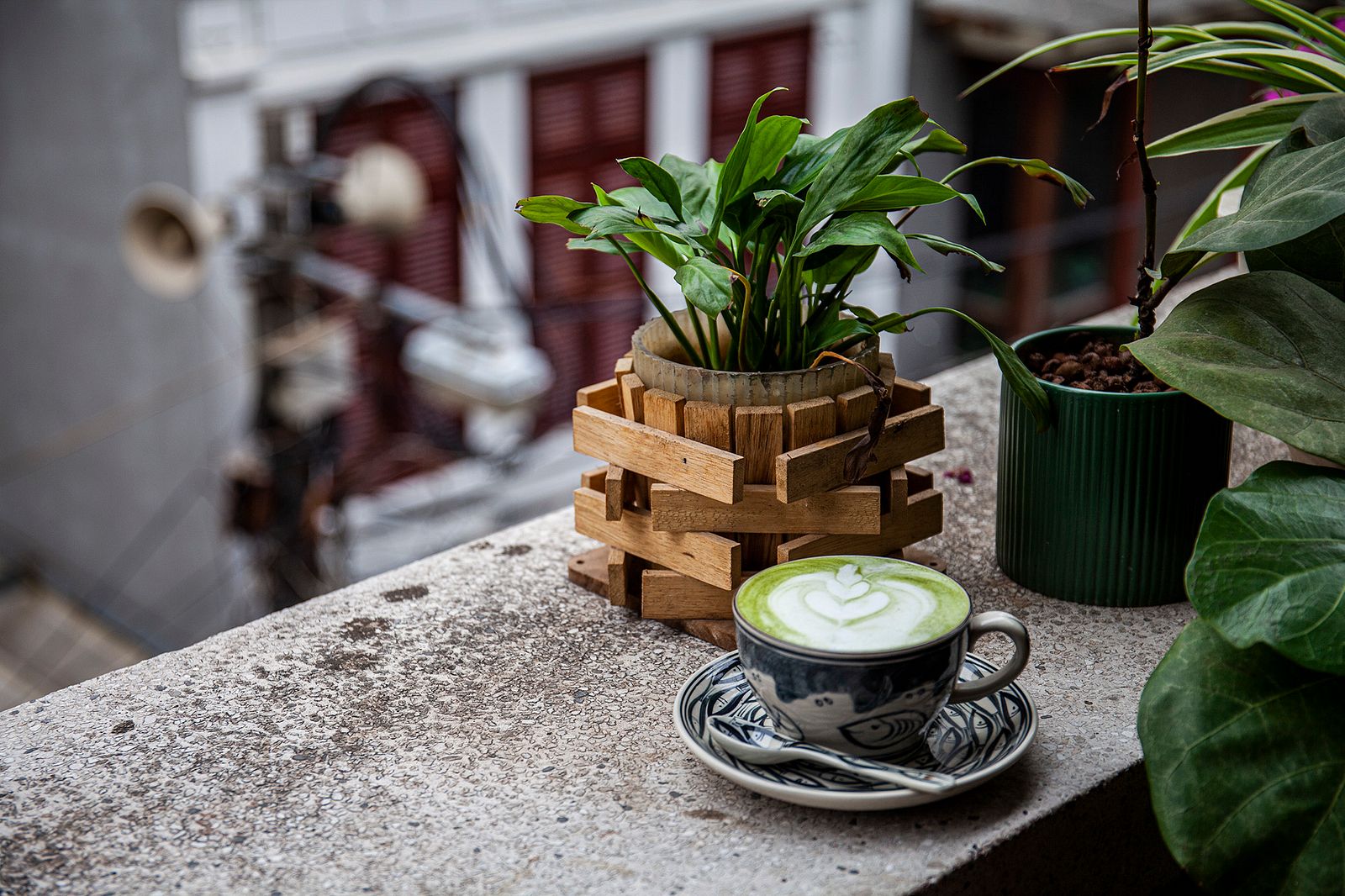 The space is full of quirks. Wooden carvings hang from walls that overlook aging, patterned floor tiles. In the center of it all, trinkets and knickknacks rest upon a piano surrounded by antique string instruments from Bhutan, Mongolia and Myanmar. They form part of a collection belonging to the two owners – a singer-songwriter and a musician – and are certainly a talking point for the uncultured among us who struggle to decipher exactly what they are.
These aren't the only antiques. In a room filled with mismatched furniture, such stylization hints at Phủ's second priority: green living. "We wanted to make use of what we had," Duc explains. "It created a look we really like."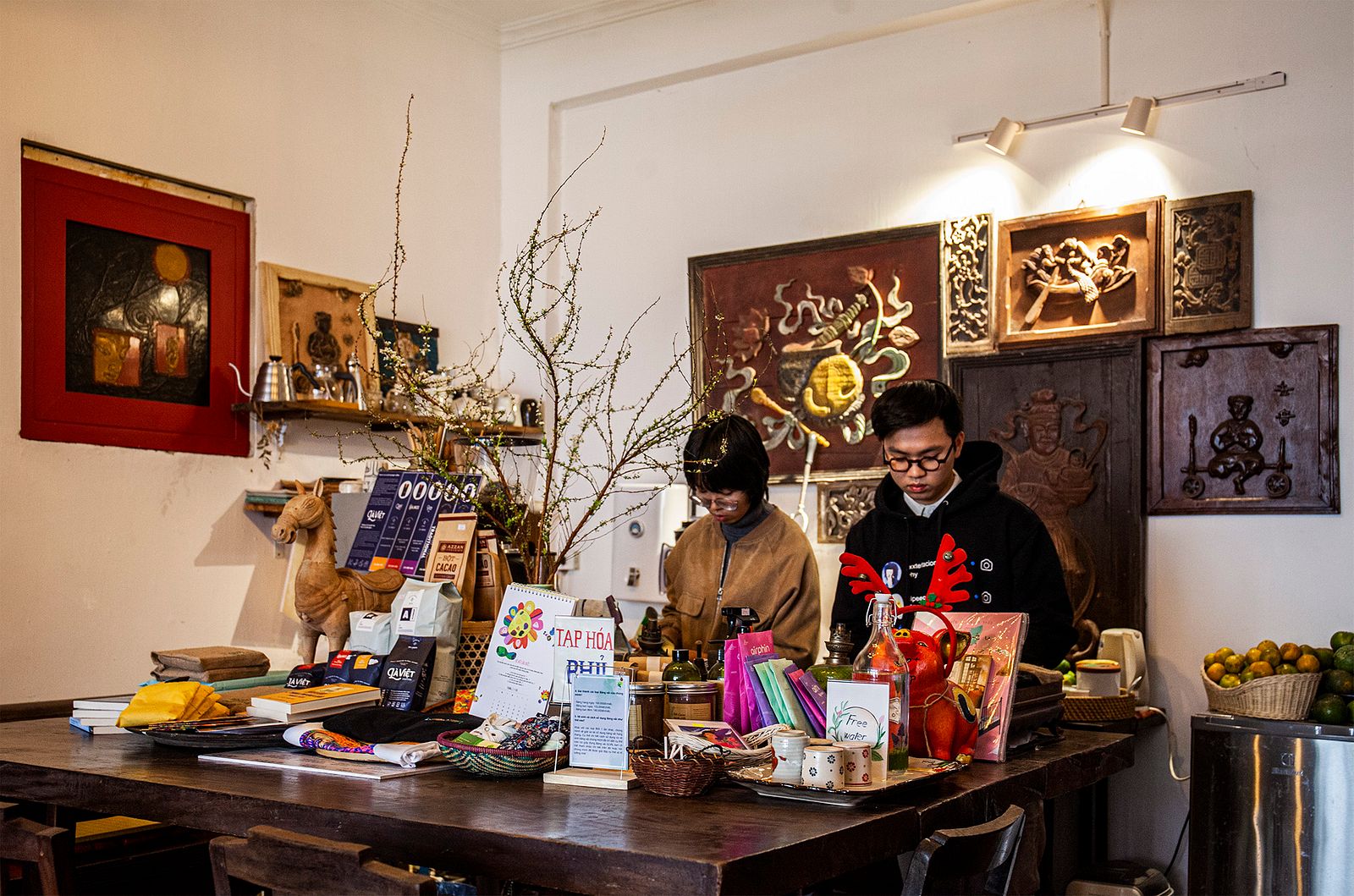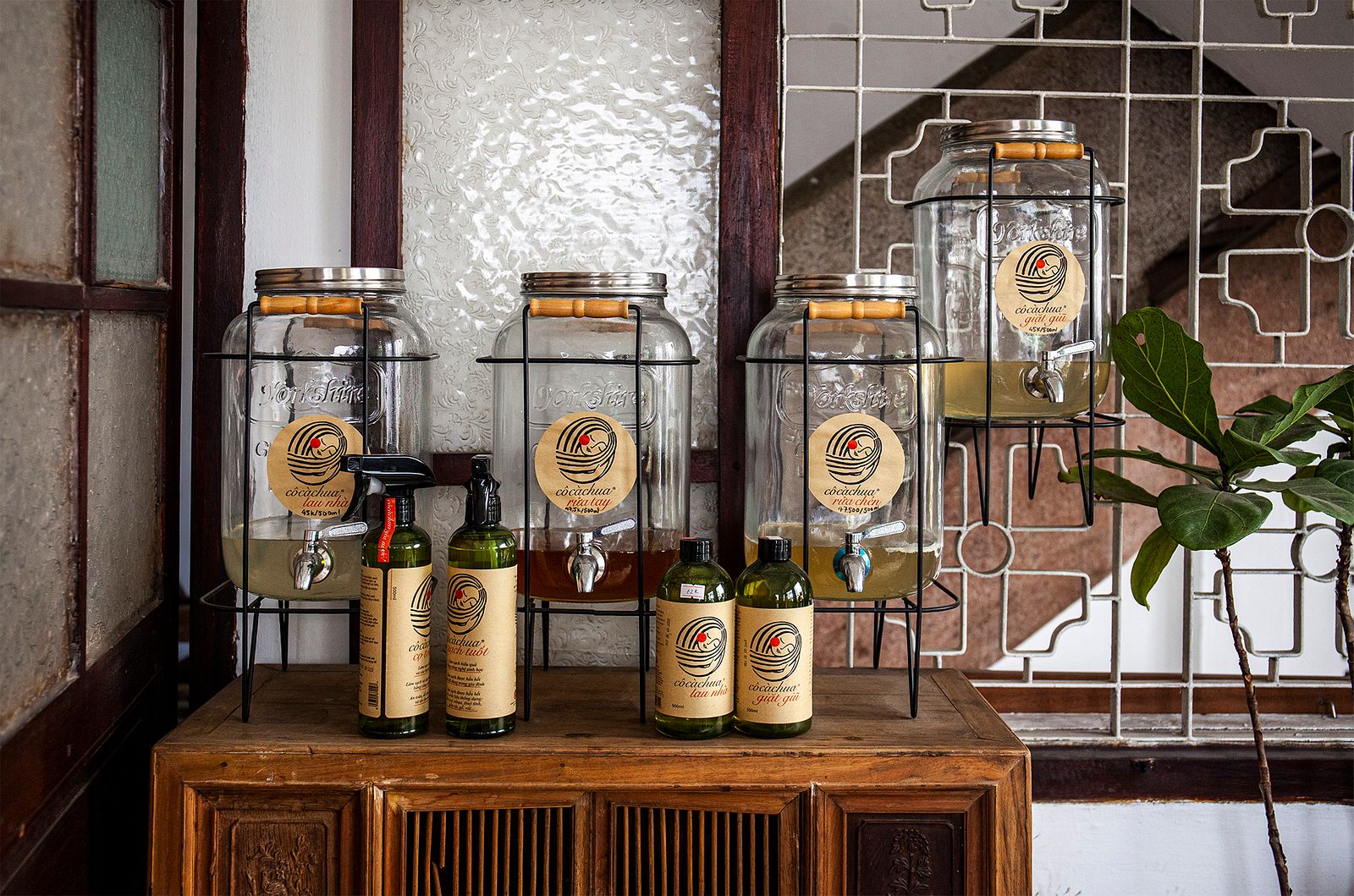 Vietnam Sustainable Space aims to spread awareness of environmental concerns within their community. On their counter are various eco-friendly items for sale, including refillable washing products. Duc believes their efforts are already having an impact: "Not many people have time to really care much about the environment, but we always tell participants, 'Try not to bring plastic bags. Don't use single-use cups here.' We don't expect to have a big impact on the community but we focus on the individual. If the changes come from a small group, it will spread out later on."
This organization has community and sustainability at its heart. Seeing people come together to learn from and enjoy one others' company brings "joy and meaning for us," Duc concludes. It truly is a refreshing space, prioritizing a sense of belonging above all else.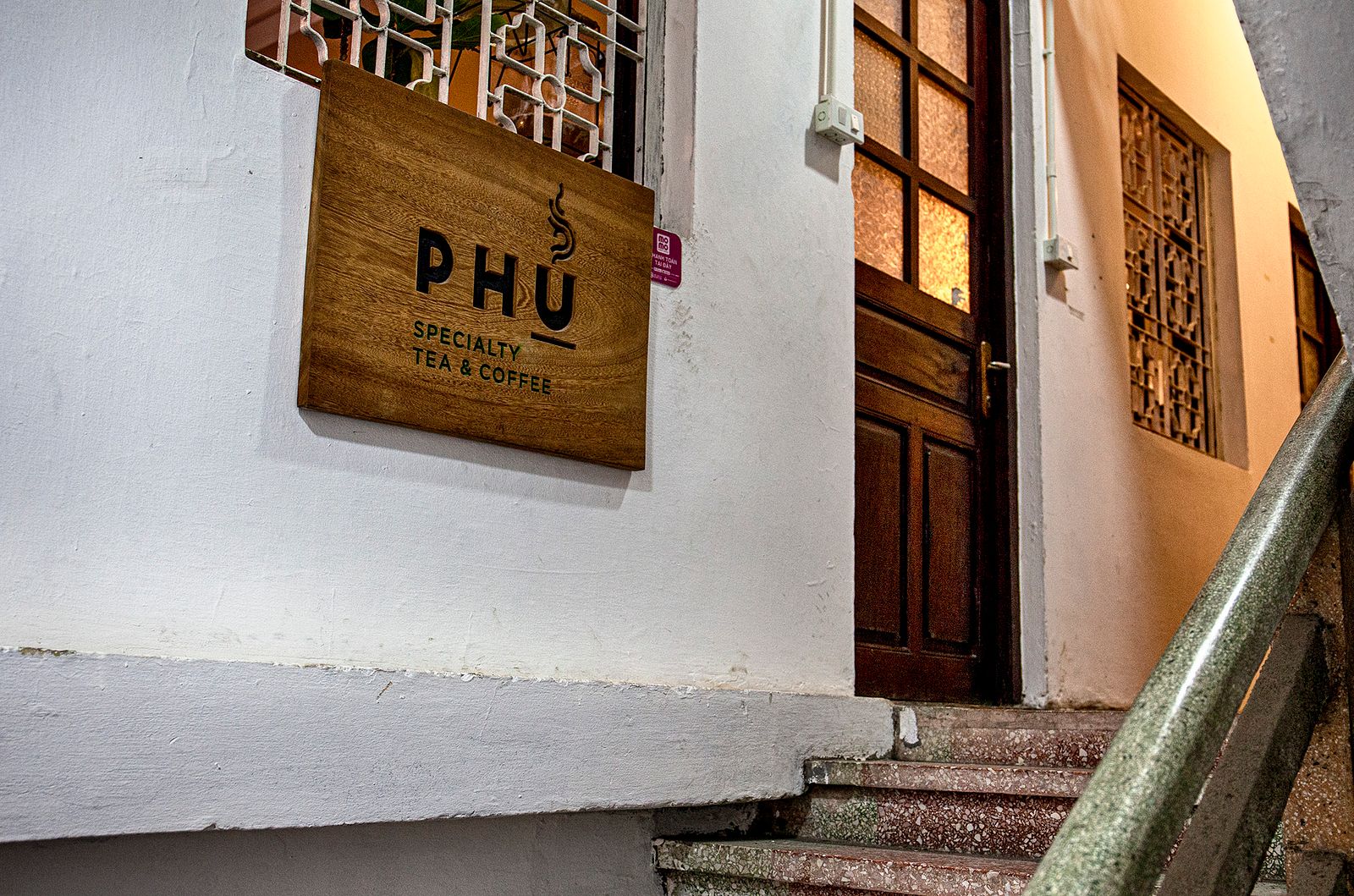 Find Phủ Specialty Tea & Coffee / Vietnam Sustainable Space at 2 Ngõ Hàng Bún. They open from 9am to 9pm, Monday to Friday. Their clubs and workshops feature on Vietnam Sustainable Space's Facebook Page.
To sum up:
Taste: 4/5
Price: 5/5
Atmosphere: 5/5
Friendliness: 5/5
Location: 4/5
Phủ Specialty Tea & Coffee
2 Ngõ Hàng Bún, Ba Dinh District, Hanoi