There is no shortage of delicious and affordable vegan restaurants throughout Hanoi, but Chay Snack Cart safely reigns supreme on my list. This family-run business welcomes you into their home with simply delicious recipes at a very affordable price.
As I arrived at the cluster of colorful umbrellas and stools, I was greeted by a sweet trà đá lady and assumed from the large 'Bánh Mì Chay' sign that the snack cart seating was on the bustling main road. But instead, I was guided down the alley to find a restaurant snugly ensconced on the ground floor of a family home. I knew I was in the right place by the sizzling sound of a frying pan and the enticing scent of fresh garlic.
The interior is modest, with three low tables directly across from the kitchen and the owners at the helm; their children are often downstairs cheerfully chatting with the diners. The walls are adorned with Buddhist posters seen in most vegan or vegetarian spots, with the addition of handmade signs from recycled materials brandishing manifestos like "Animals are friends, not food" and "The future is vegan." Refreshingly, the typical looped music soundtrack is absent.
Welcomed with warm smiles, I'm handed the menu and take my seat. Recently they have undergone a small rebrand, refreshing their menu design and adding a few more options. Given the minimal seating there isn't much of a lunchtime bustle, which is a welcome relief compared to most street food spots. They guarantee that they use clean, fresh ingredients and no products containing MSG, and you definitely get your value for money, with dishes ranging VND5,000–25,000.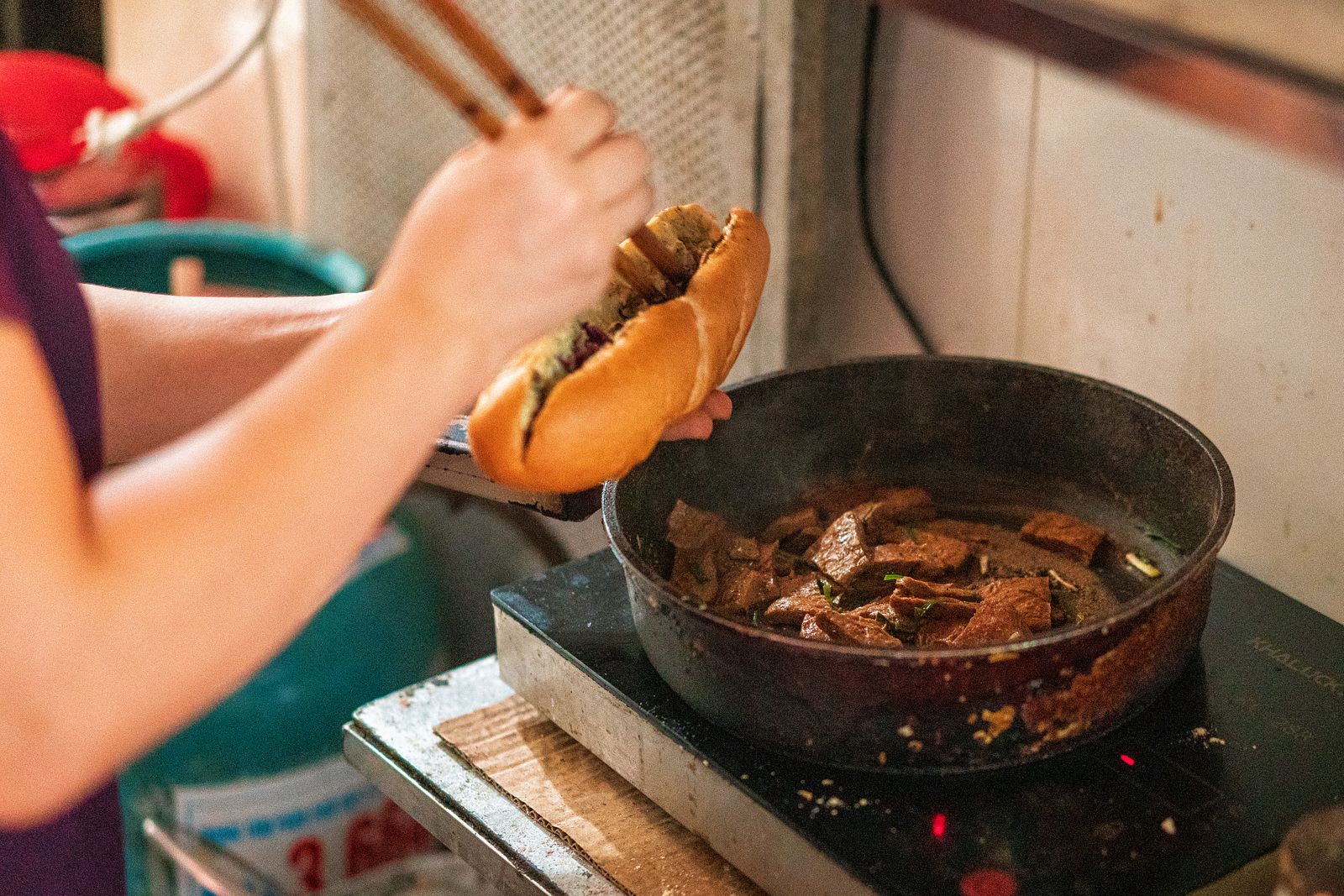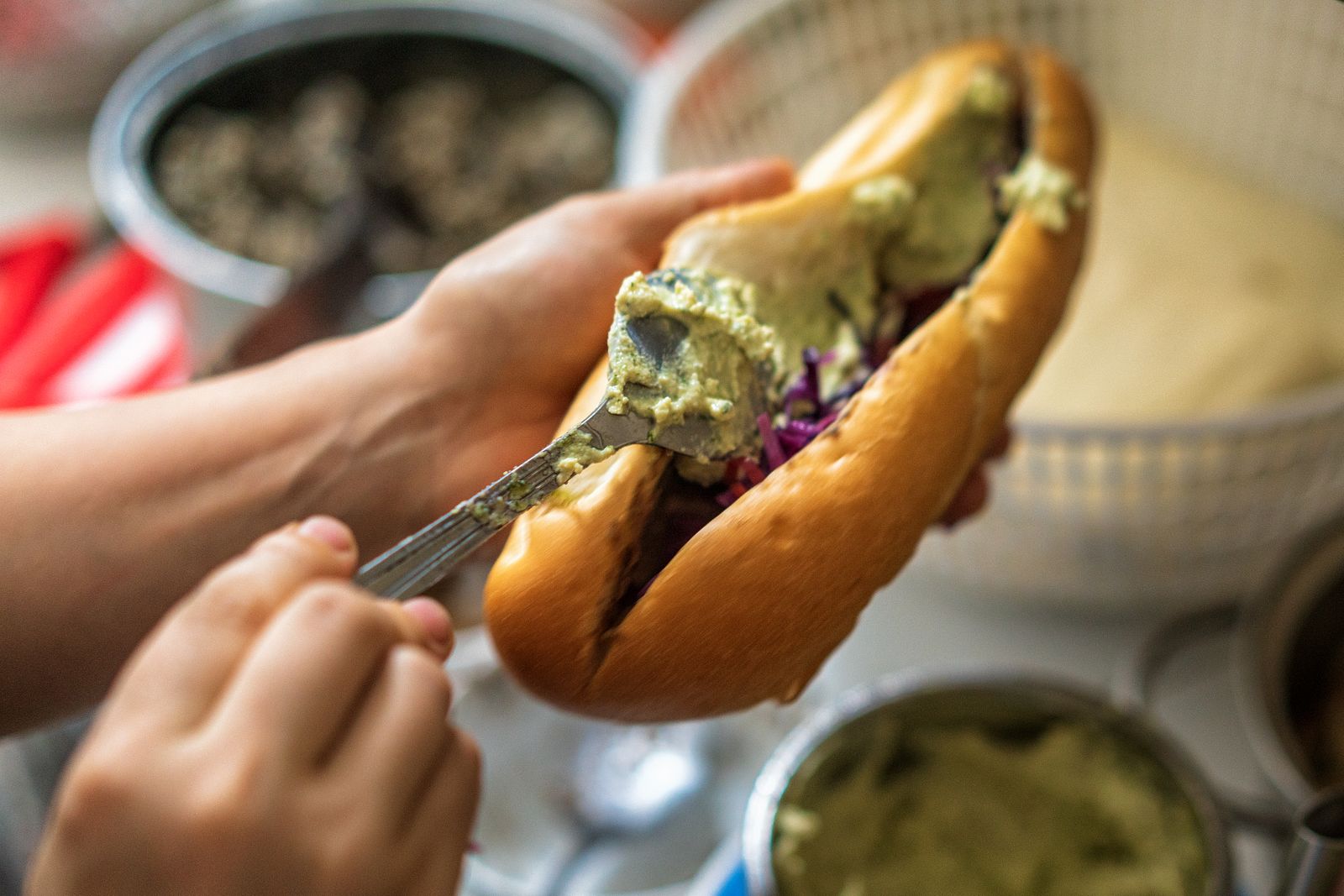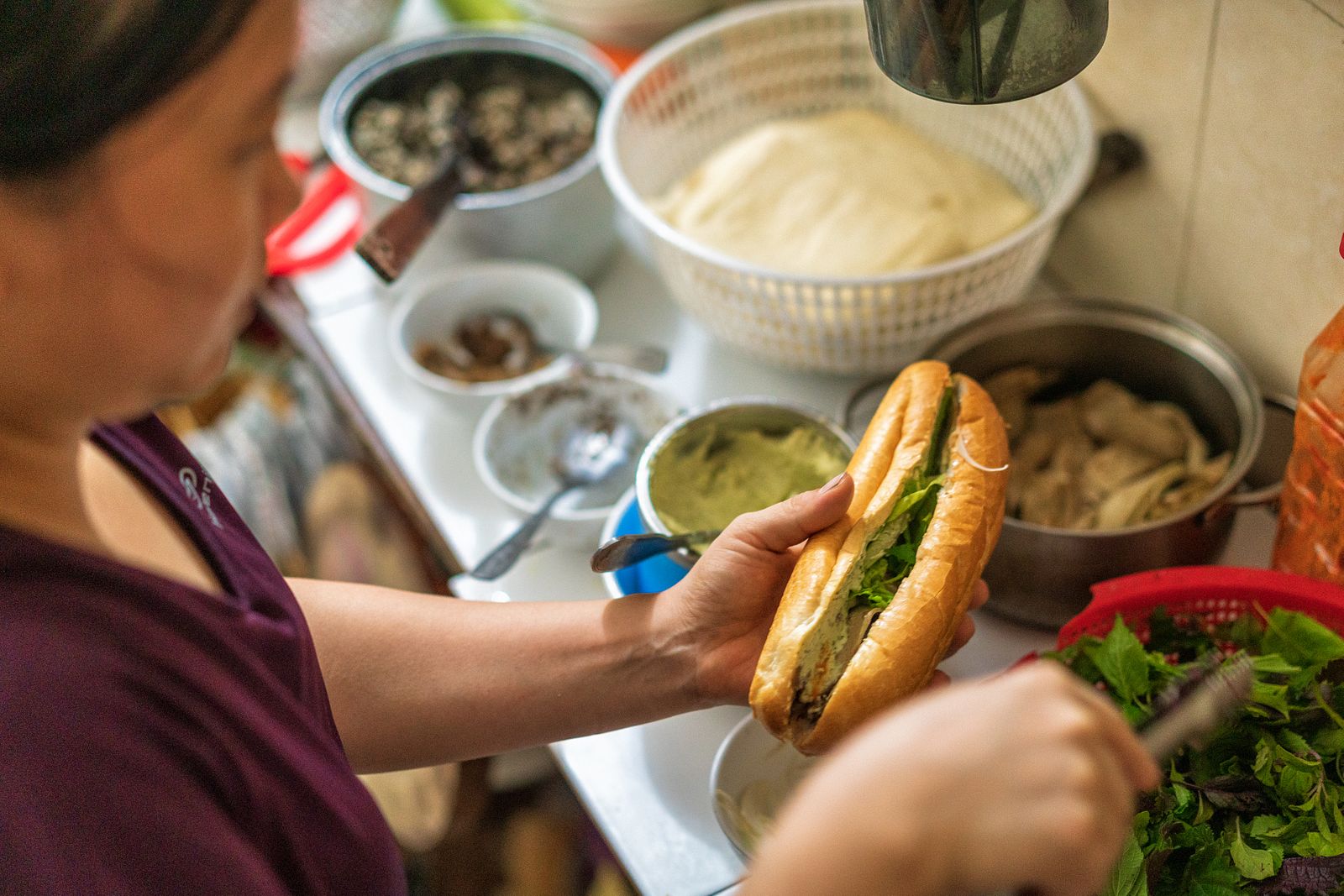 The restaurant serves two kinds of bánh mì: seitan, or the high protein with soy meat. The bread has just the right crunch and the filling compliments the base flavors. I also highly rate their mixed noodles, floating in a cool sweet broth with pickled carrots, shallots and red cabbage adorned with a generous serving of roasted peanuts. There is not much in the way of drink options, but you will have a constant flow of iced tea. The crowning glory for me is their homemade sauces, particularly the dấm tỏi (vinegar and garlic) and their delicious chili sauce.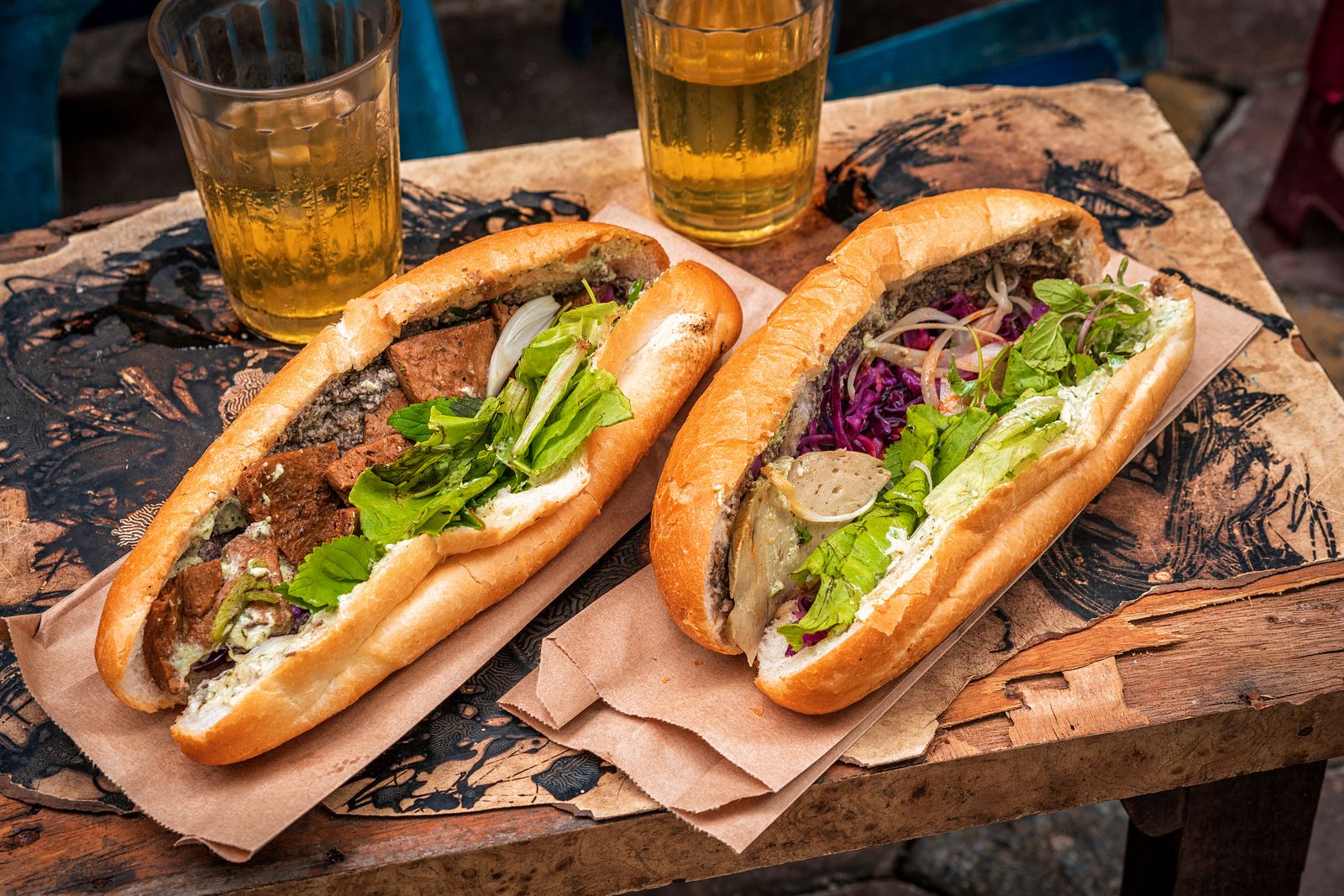 I spoke with some of the loyal restaurant regulars, and Maddy from Melbourne had nothing but wonderful things to say: "We love it here because not only is it that fresh, authentic Vietnamese flavor that you sometimes can't find being vegan, but also because the family who run it are so welcoming and make you feel at home when you arrive. We go every week when that bánh mỉ craving hits!"
In the three years I have lived in Hanoi I have seen a surge in popularity for vegetarian restaurants and markets. This hidden gem stands a cut above the rest from the sincerity of their love for animals welfare, the warmth as you enter their home and the distinctly flavorsome Vietnamese dishes.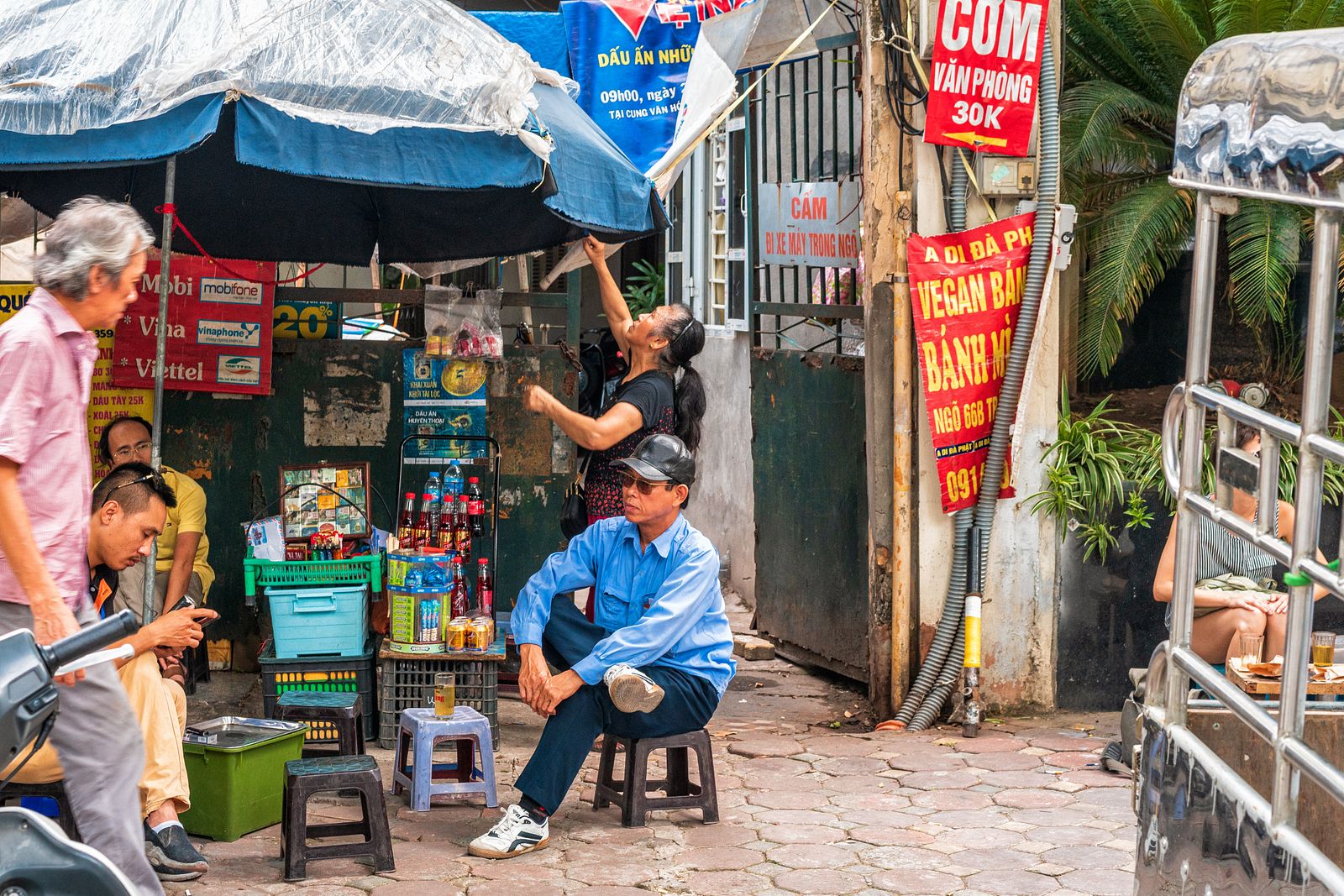 You can find Chay Snack Cart at 66B Tran Hung Dao, Hoan Kiem. They are open from 8am to 7pm, Monday–Saturday.
To sum up:
Taste: 5/5
Price: 5/5
Atmosphere: 3/5
Friendliness: 5/5
Location: 3/5
When she's not eating street food, Bex devours art books.
Vegetarian food
66B Tran Hung Dao, Hoan Kiem