Tree-lined Lo Duc street is home to Phở Chay: a restaurant so small it could fit in the palm of your hand.
The establishment's vegan phở is served out of a rectangular slice of a building in Hai Ba Trung District that is very small, very yellow and very cute.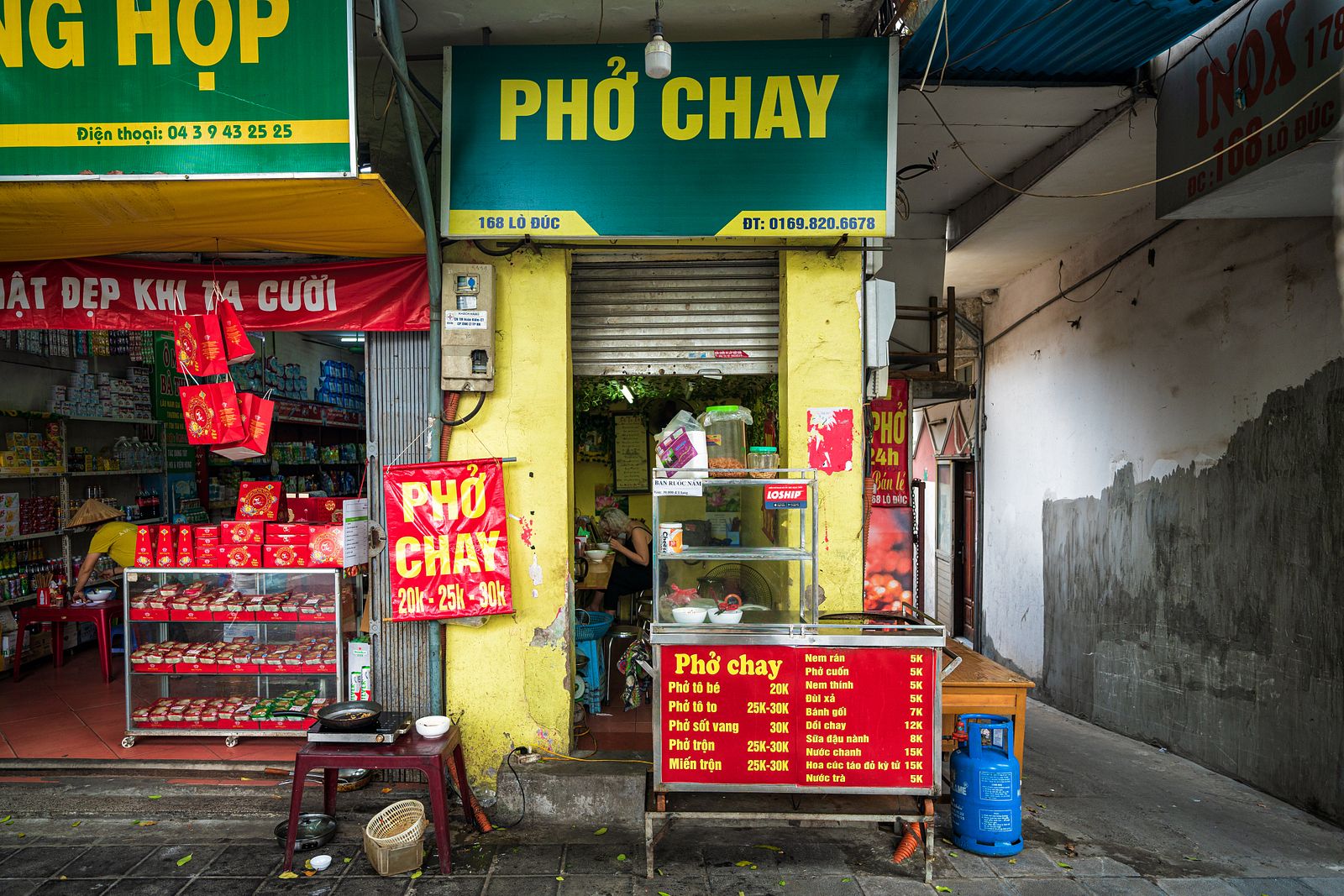 Though compact, its presence packs a punch. The interior and exterior of the restaurant have been painted a neon lemon-yellow, including the restaurant's name and signature dish, marking its territory in bold capital letters set against a green backdrop. Lest you be confused about what the restaurant has to offer, there's also a smaller poster advertising the phở chay as well as the name of the dish written on the food cart at the entrance to the restaurant.
Suffice it to say, some phở chay-slurping was in order for this lunch excursion.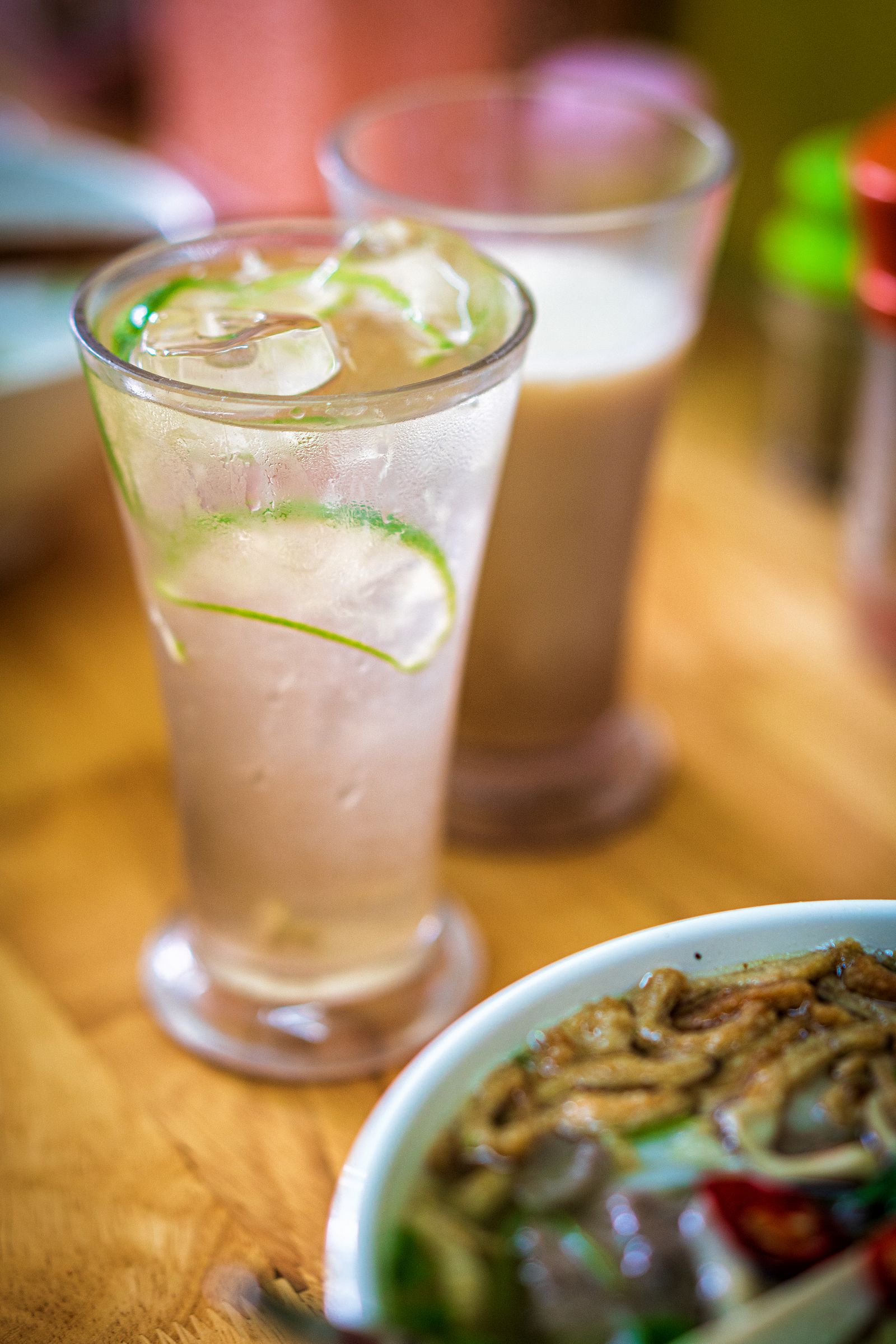 Although the menu out front offers a variety of dishes, only the basic bowls were available as we arrived close to the restaurant's closing at 2pm. The soup is available in two sizes, baby or big bowl. We went for two big bowls at VND25,000 each, some crunchy quẩy sticks for dipping, an order of nem rán, finishing with lime juice and soy milk to drink.
Cute is a fitting word to describe this petite little respite. Despite it "stealthy aesthetic" designation, it's undeniable that smallness is a key feature of what we consider cute. Whether it be a baby panda, a miniature bottle of Tabasco, or a teeny-tiny soup establishment, there is something about smallness that makes our brains go "awwwww, so smoll," and this restaurant is no exception.
At our seats in the nook, I noticed the pink lotus paintings on the wall and green plastic vines snaking across the ceiling. Maybe, it was these "natural" elements that enticed a buzzing honey bee into the eatery during our visit. It searched aimlessly for nectar in the painted flowers and, less amusingly, my hair.
Along with charming encounters with insects, a small speaker plugged into the wall lulled us by playing Nam Mô A Di Đà Phật softly, music that you are likely to have heard if you spend much time in vegetarian restaurants.
The smell of food frying, the promise of soup, the calming tune on repeat, the cozy environs, and the warm afternoon all made for a soothing precursor to a lovely meal.
Thùy, who operates the restaurant, prepared the dishes from the food cart, which sits at the front of the space, as well as from a fryer perched on a plastic table just to the left of the entry.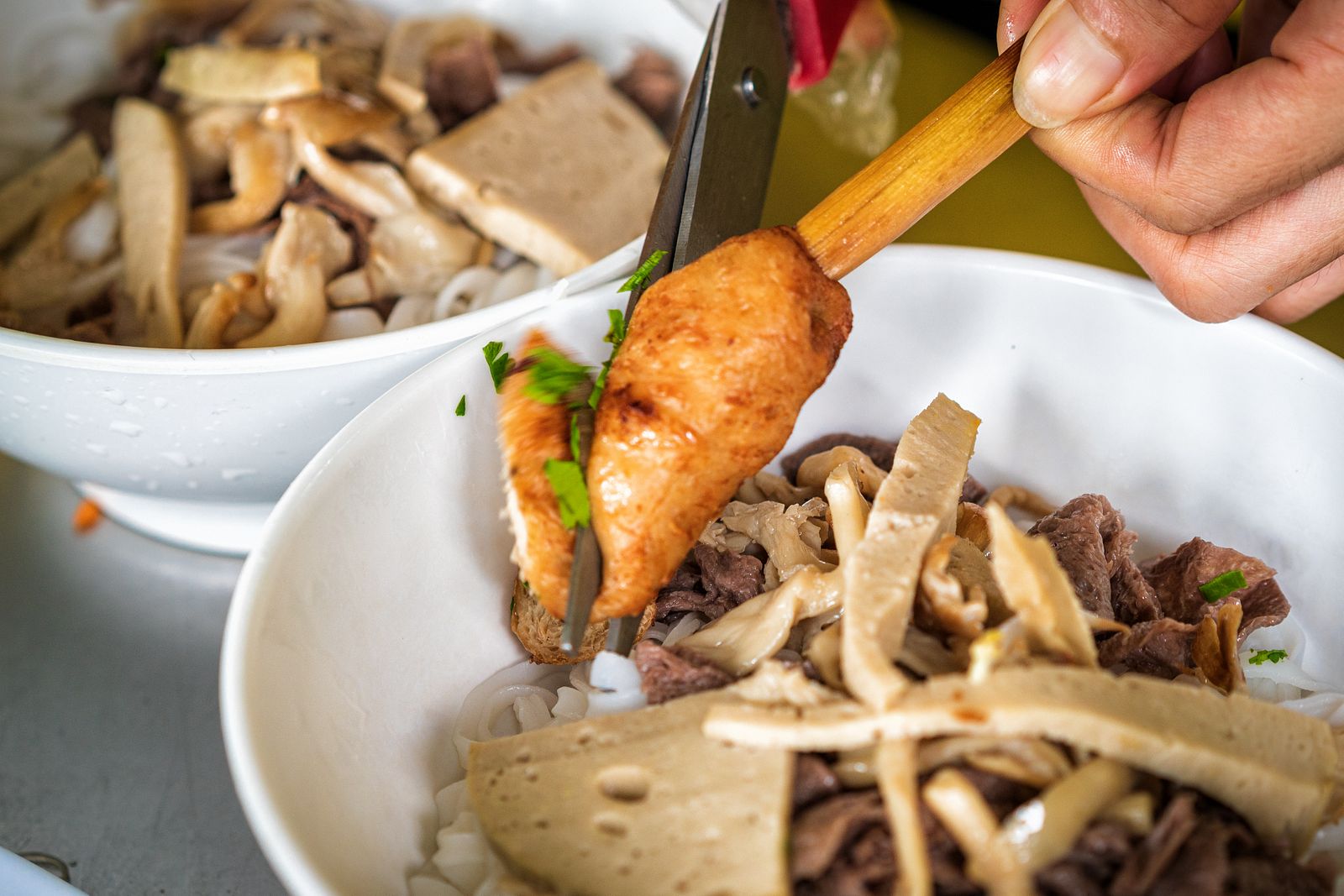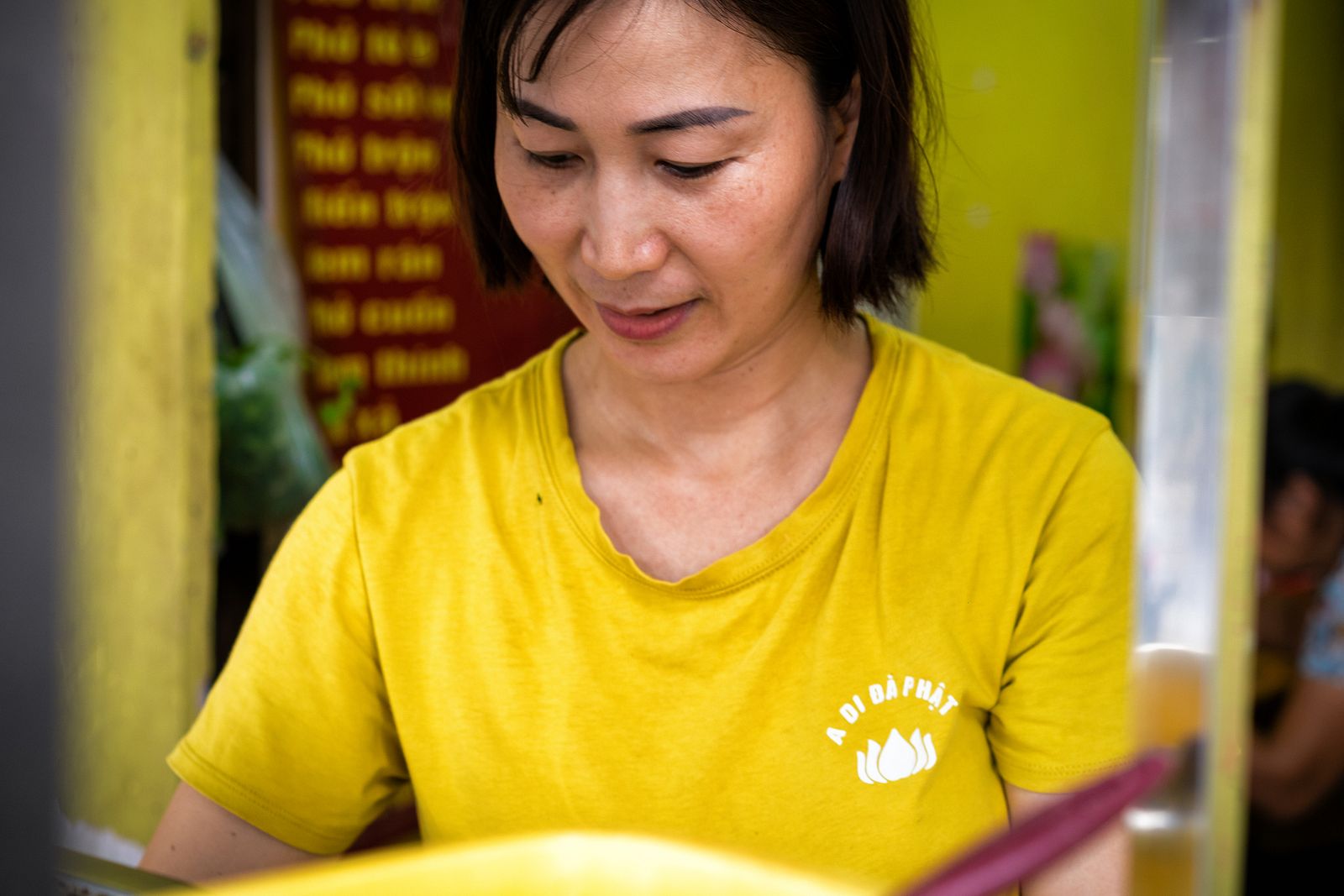 Soon, the phở arrived, featuring plenty of "beef," seitan, cilantro, and quite importantly, piping hot broth. I am of the opinion that any food or drink that is meant to be served hot should be close to burning my mouth off and that, as it cools down, each degree has a negative impact on its tastiness. Luckily, this soup met my temperature test and the flaky bánh quẩy was great for soaking up the flavors and adding nice textural variety.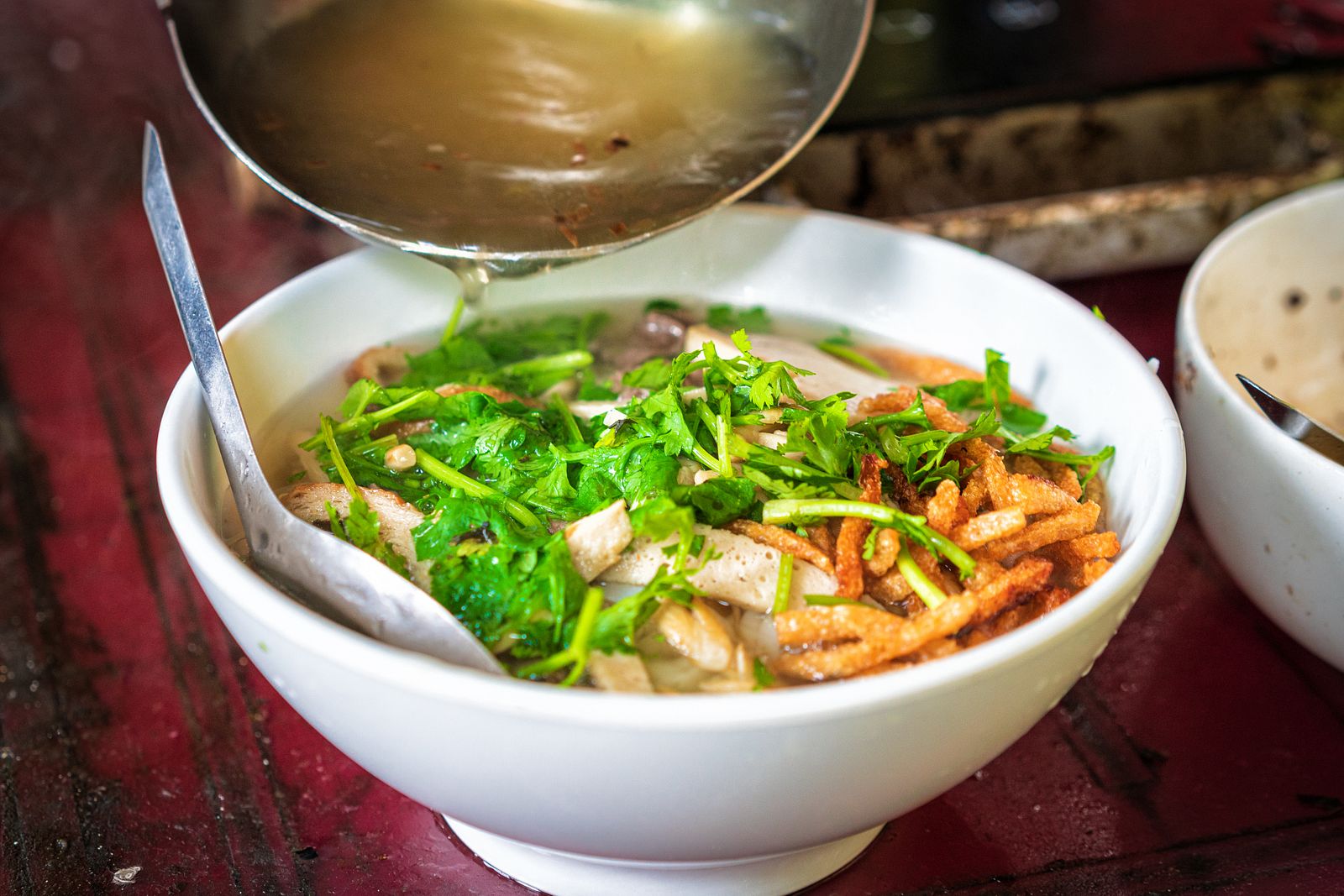 It's not a flavor-dense broth, but the wide assortment of seasonings makes it a blank canvas for each individual to satisfy their palate with just the right amount of zhuzhing. A squeeze of lime here, some chilis there, a dash of nước mắm chay, a dribble of rice vinegar and a sprinkle of pepper — the dish proved a great base for the real joy of my life: condiments of the spicy, sour and salty variety.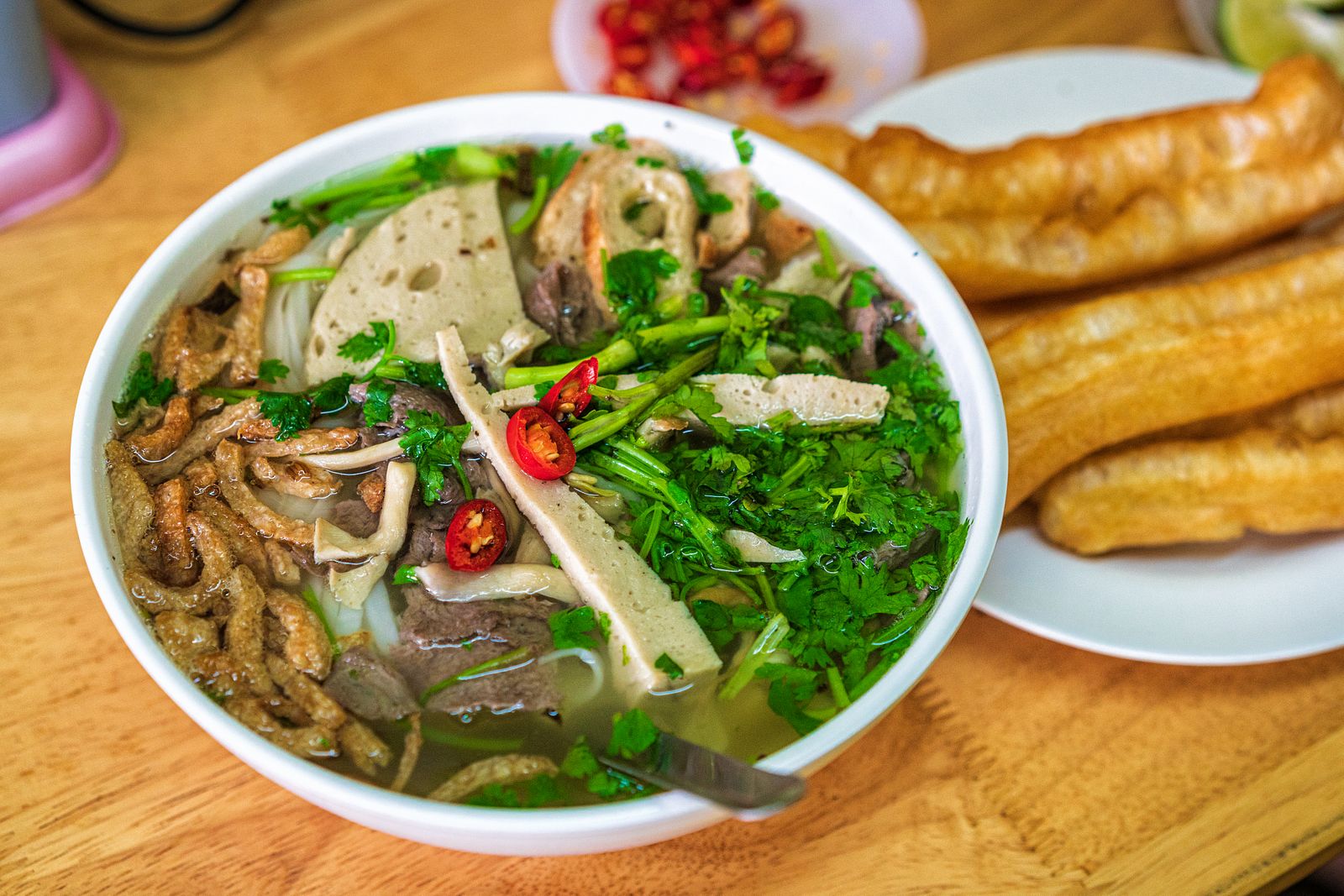 Aside from the noodles, the nem rán was a real standout, arriving at our table still crackling from the fryer. Each bite was delightfully greasy and chewy, especially when paired with basil leaves and dunked in "fish" sauce — chef's kiss! It's a good day when you get something fried, fresh, tangy, and herby all in one chomp.
Puttering around Hanoi immersed in various endeavors, we found that a bowl of soup and some fried tid-bits were a welcome comfort. No matter what you're hungry for, a trip to Phở Chay is always a solid choice.
You can find Phở Chay at 168 Lò Đúc, Đống Mác, Hai Bà Trưng, serving customers from 9am to 2pm all week.
To sum up:
Taste: 4.5/5
Price: 5/5
Atmosphere: 4/5
Friendliness: 4.5/5
Location: 4/5
Govi is enthusiastic about soup, the golden hour, clouds, bodies of water, trees, breezes, faces, and thinking about thinking about thinking about thinking.
Vegetarian phở
168 Lò Đúc, Hai Bà Trưng