In these uncertain times when everything oscillates between "business as usual," "total lockdown" and all shades in-between, I don't really know when this article will be published, or if the little eatery I'd like to tell you about will be open next week, or next month.
For a foreigner like me, despite four years living in the country, Thai Binh Province didn't really ring any bells until very recently. One might be more familiar with the neighboring localities like Hai Phong or Ninh Binh, both well-known as active tourist destinations. But the province of "great peace" — as its name suggests — seems a little too peaceful for me to notice, or even visit. Which turns out to be a great mistake!
Fortunately, being only about 100 kilometers from Hanoi, the culinary prowess of Thai Binh can also be found in our capital. Namely, the majestic bún cá Thái Bình. There's one thing to be aware of: train yourself not to mix up bún cá Thái Bình with any regular bún cá, or you too may well miss the experience of the perfectly balanced mix of flavors brought by the fish, the turmeric, the soup broth, and the pickled bamboo shoots.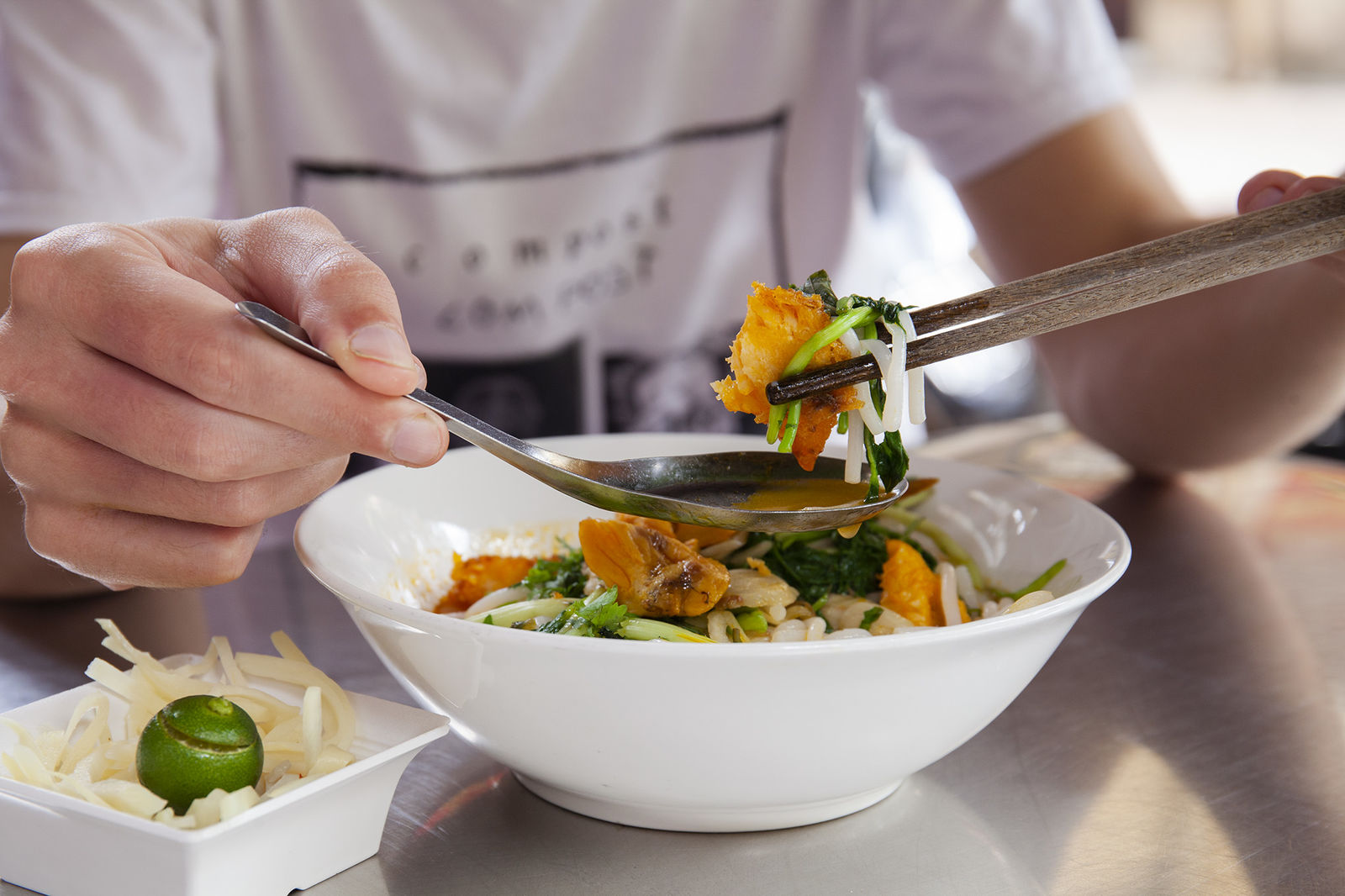 I won't dive into a visual description of my new favorite bowl of soup, as the broad lines have already been covered in a previous Ngõ Nook. Instead, I will relay my experience with the dish, the story of how I got there in the first place, and share with you my excitement of having a new favorite Vietnamese dish after four years (and some more) of living in this great country that I call home.
It might come to you as a surprise that fish soup has never been a Hanoian favorite of mine. I'm usually too lazy to deal with all the bones, squishy textures, and overpowering saltiness. If, in addition, there happens to be pineapple (my nemesis), then it's a definite no-go for me.
My partner had just moved into her new apartment and we decided to go for a walk to discover some nice places around her house. She had spotted the little shop a couple of days earlier, but had not had a chance to try it yet. So that late Sunday morning seemed like a perfect opportunity.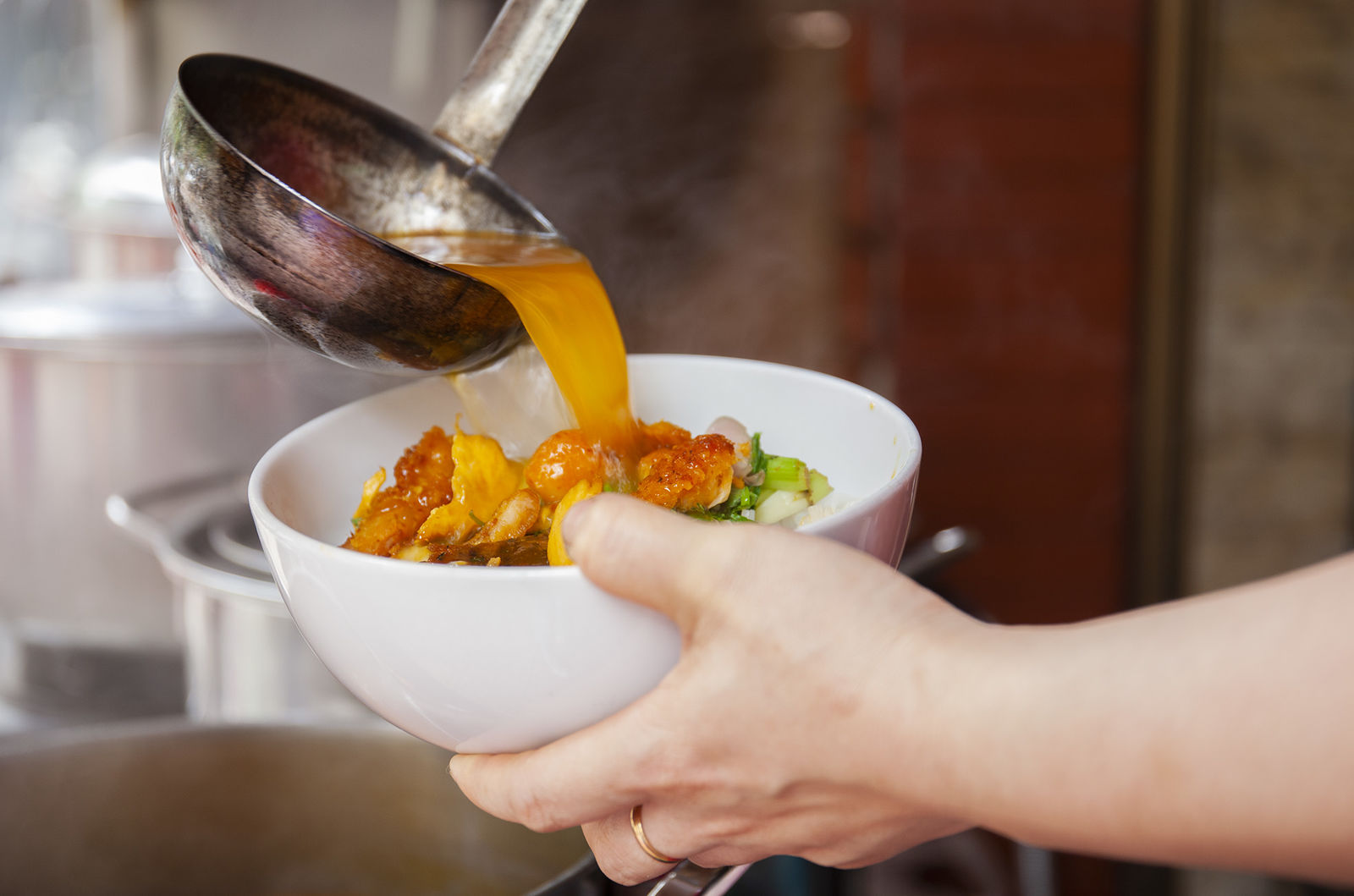 I get lost quite easily in the khu tập thể blocks of Vinh Phuc, Ba Dinh, and at the time I write this (in between lockdowns), I am still unsure that I could find the restaurant without circling the block a few times. Maybe it's my background in urban design that gives me some kind of predisposition to particularly enjoy the old Hanoian social housing known as khu tập thể? I have always found them to be full of surprises; they seem like a concentration of all the life, density and bustling activity of Hanoi's city center, minus the dangerous traffic, construction sites and smog. Yet, I still can't orient myself in those orthogonal mazes.
On the ground floor of block E2, a family from Thai Binh has set up a bún cá eatery. With a couple of tables on the sidewalk and a few more inside, the place usually has available seats. I tend to opt for the outdoor table with a view of the little square that is sometimes a market, sometimes a badminton court, a playground, or a carpark on Sundays nights.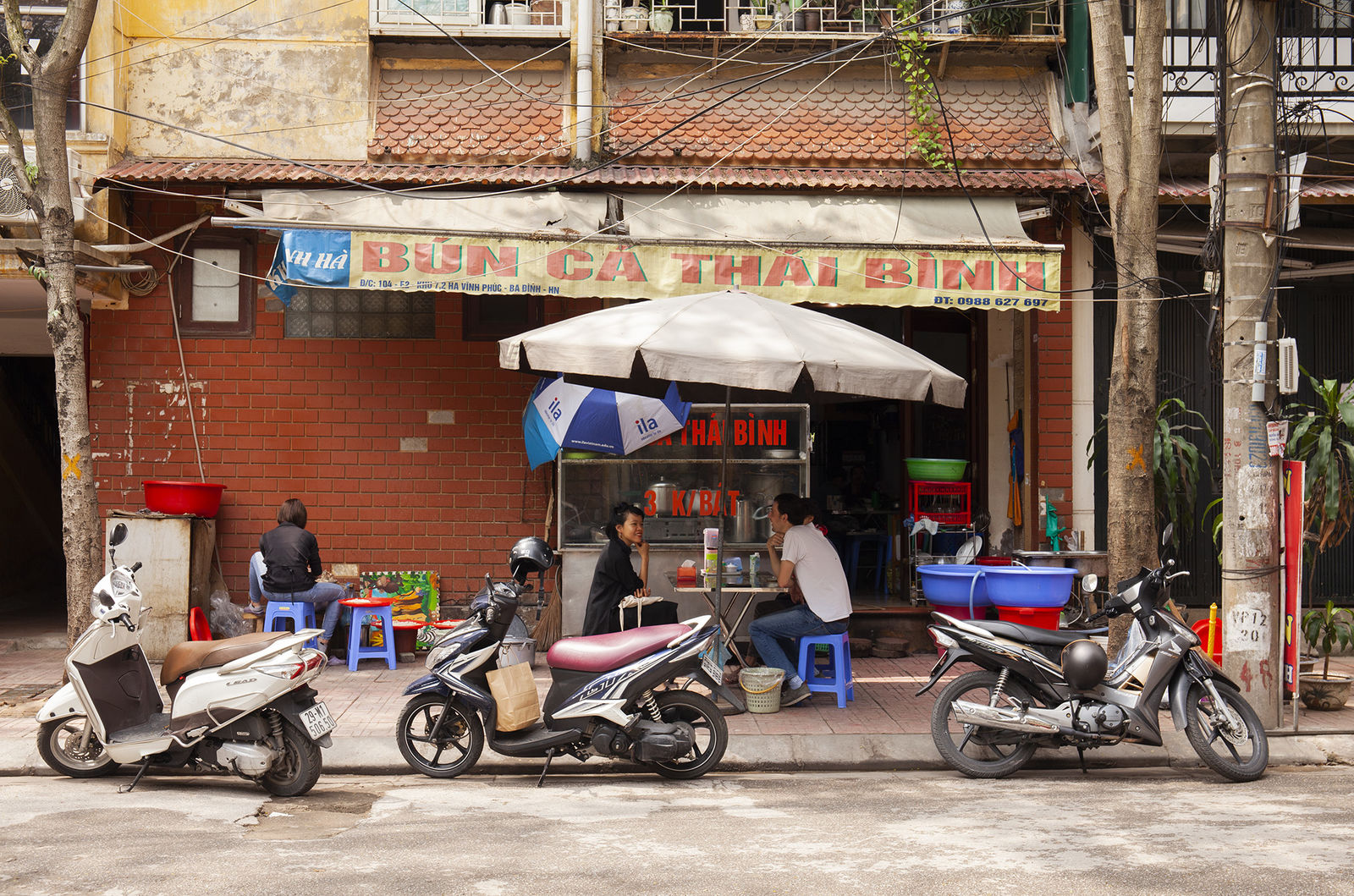 The first time I arrived, I was intrigued even before the bowl was served. A horde of Grab drivers and other food delivery men were on their phones, playing games, patiently waiting for their order, chatting with their fellow colleagues while the young cook was filling enormous plastic bags with who-knows-how-many portions of fish noodles, cleverly packed with the soup and greens separated so that people at home could put together their own warm bowl. An attention to detail that probably won them their reputation, judging by the number of drivers waiting.
As most one-dish restaurants across town, their name is usually the name of the dish, sometimes accompanied by the owner's family name. Also, like one-dish restaurants, you usually don't need to order unless you want something specific like no meat or extra bún. You just sit down and wait to get served. From my seat on the sidewalk, I had a good view of the kitchen, where the fish gets fried. Before entering the pan, it had been boiled and meticulously cut and de-boned then left to drain excess water before ending in the pan with turmeric.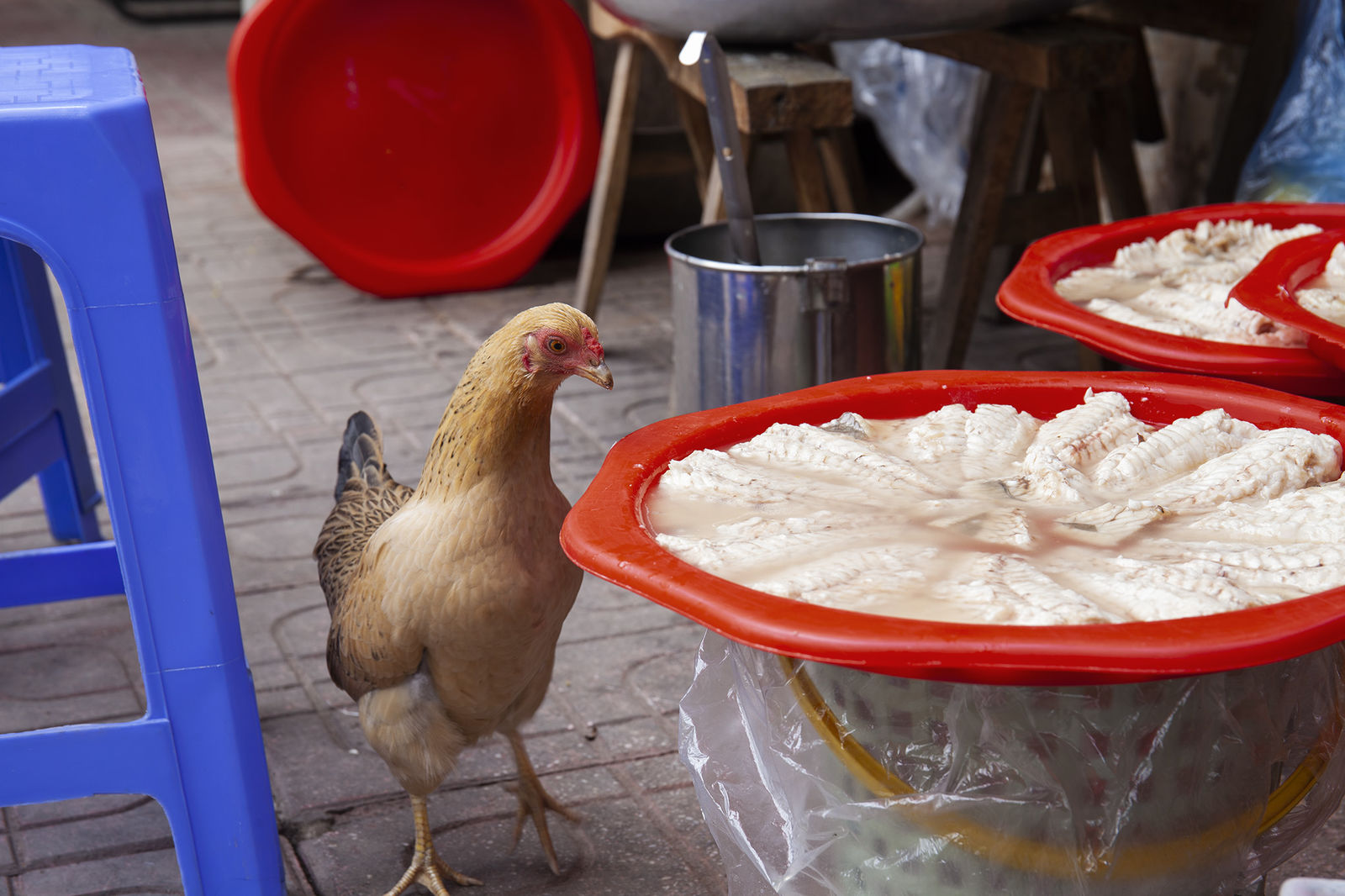 When the bowls arrived, they didn't look like any other bún cá I have ever had, which to me, was a kind of relief. I was immediately struck by the little amount of soup and the size of the bún — quite thick. It looked incredibly simple: bún, fish, and greens. "Well-balanced shapes and colors," I thought to myself. "Grandma always said cooking was about the balance between shapes and colors." On the table, the classic home-made spicy sauce and fermented bamboo shoots, served in individual little trays with the inevitable lime, brought an extra unusual taste to the meal that did not resemble anything else I had tried before in Hanoi.
Vinh Phuc Ward can seem like a distant place and a bit far-off from the beaten track, but I can assure you that this bún cá is worth the travel, and maybe one could couple it with a coffee at Café Nhà Sàn around the corner to make the most out of one's Sunday morning. Don't be late though, as you might not find the restaurant open past 1pm.
Bún cá Thái Bình is open from 7am to 1pm.
To sum up:
Taste: 5/5
Price: 5/5
Atmosphere: 4/5
Friendliness: 3/5
Location: 3/5
Despite the fact that he has a fusilli tattooed on his knee, Francesco still has friends not believing he's Italian.
Bún cá Thái Bình
104E2, Vinh Phuc Ward, Ba Dinh