Of all seafood in Vietnam, ghẹ (blue crab) is among the most expensive. Even at wholesale markets, these crustaceans can fetch from VND300,000 to 400,000 a kilogram and any buffet deal that boasts their presence naturally comes with an exorbitant price tag. It was a personal surprise for me to find this highly sought-after delicacy right on the pavement at Quán Ghẹ Cô Tươi.
Labeling cô Tươi's enterprise a "quán" might be an exaggeration, as her "quán" merely consists of a handful of low plastic stools and a bamboo wicker tray that doubles as both a crab display and the lid for her boiling pot. "These crabs are from Nam Định," Tươi explains to me. "My hometown is there." A beaming smile never leaves her face as she talks to me, her hands nimbly dropping one ghẹ after another into the vat. Someone asks her if she was named after her sunny disposition (Tươi means vibrant or fresh in Vietnamese), but she doesn't answer and just laughs heartily.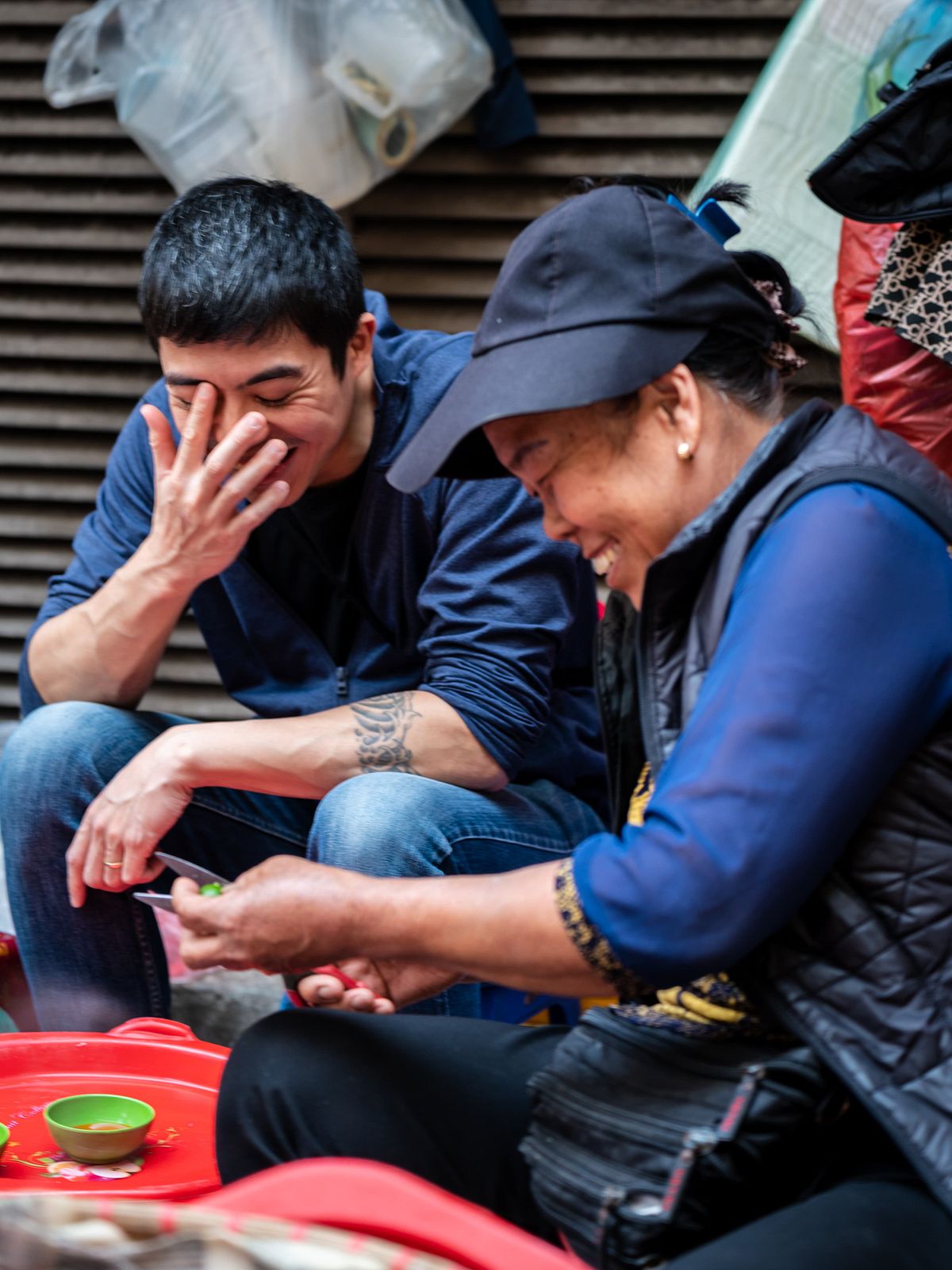 When I press her for her secret tips behind the delicious ghẹ, Tươi denies any complex tricks: "I only boiled them with tap water. But the main thing is that the crabs must be fresh. And you have to eat them while they're still hot, they turn funky when cold." Then, she opens the pot and fishes out several crabs, freshly boiled and hot to the touch. Using a pair of scissors and a shell cracker, she swiftly snips the legs, dismantles the claws, and spreads them out on the plate in front of me. I inquire if Tươi has any advice for how to deshell them most efficiently, she points to the joints and begins to fork out the meat at lightning speed, so much so that I only manage to tell her to let me try with the last lonesome leg.
A steaming crab is indeed a winning crab. Each morsel of crab meat is tender and flavorful. A dip in the sweet-and-sour fish sauce, followed by a sip of chilled beer. What an unbridled joy. I can't stop showering Tươi with praises as I demolish my blue crab. She giggles proudly. "Any crab I get that's not up to par, I resell to buffet restaurants. I only boil the best crabs for my quán."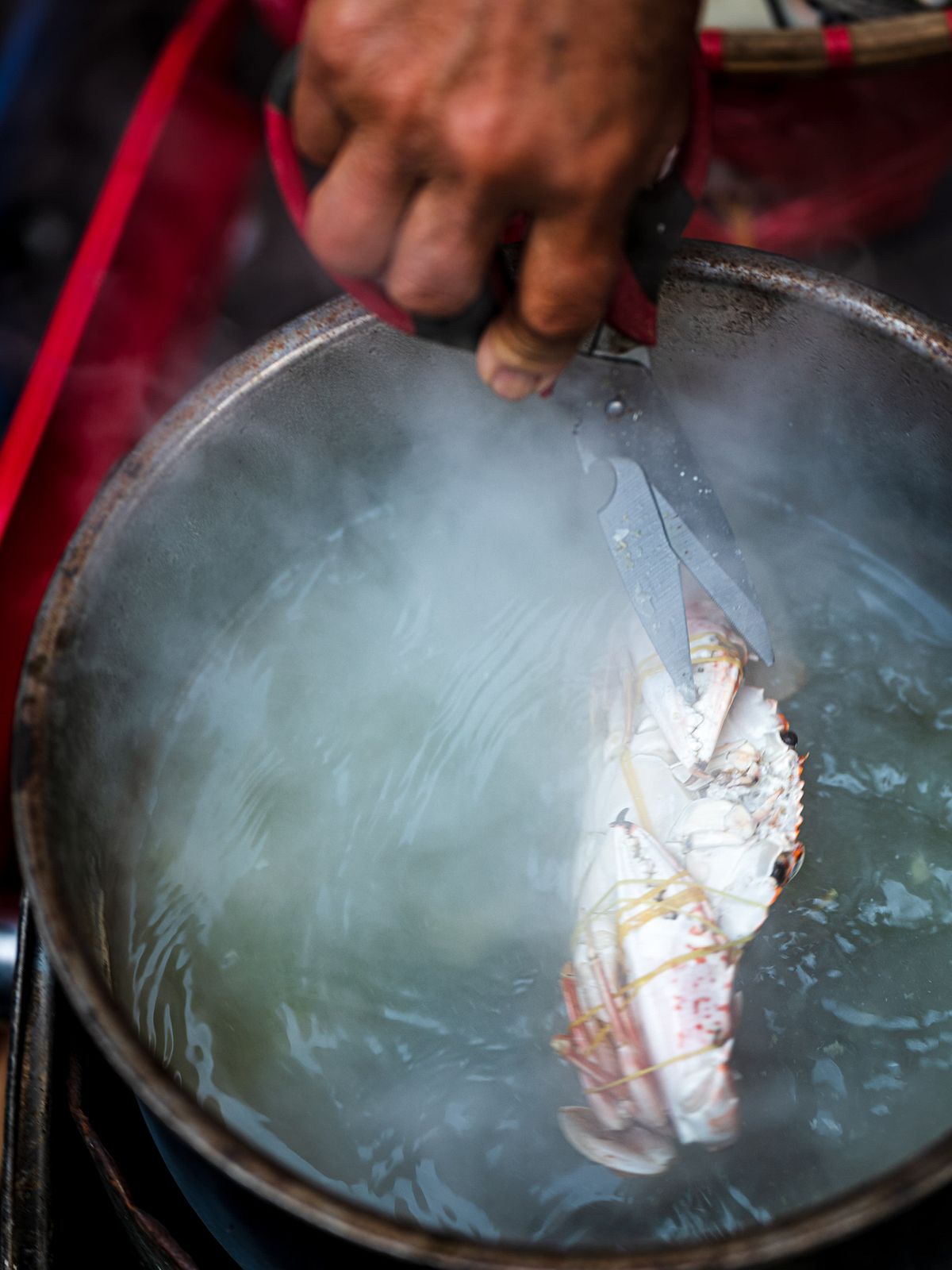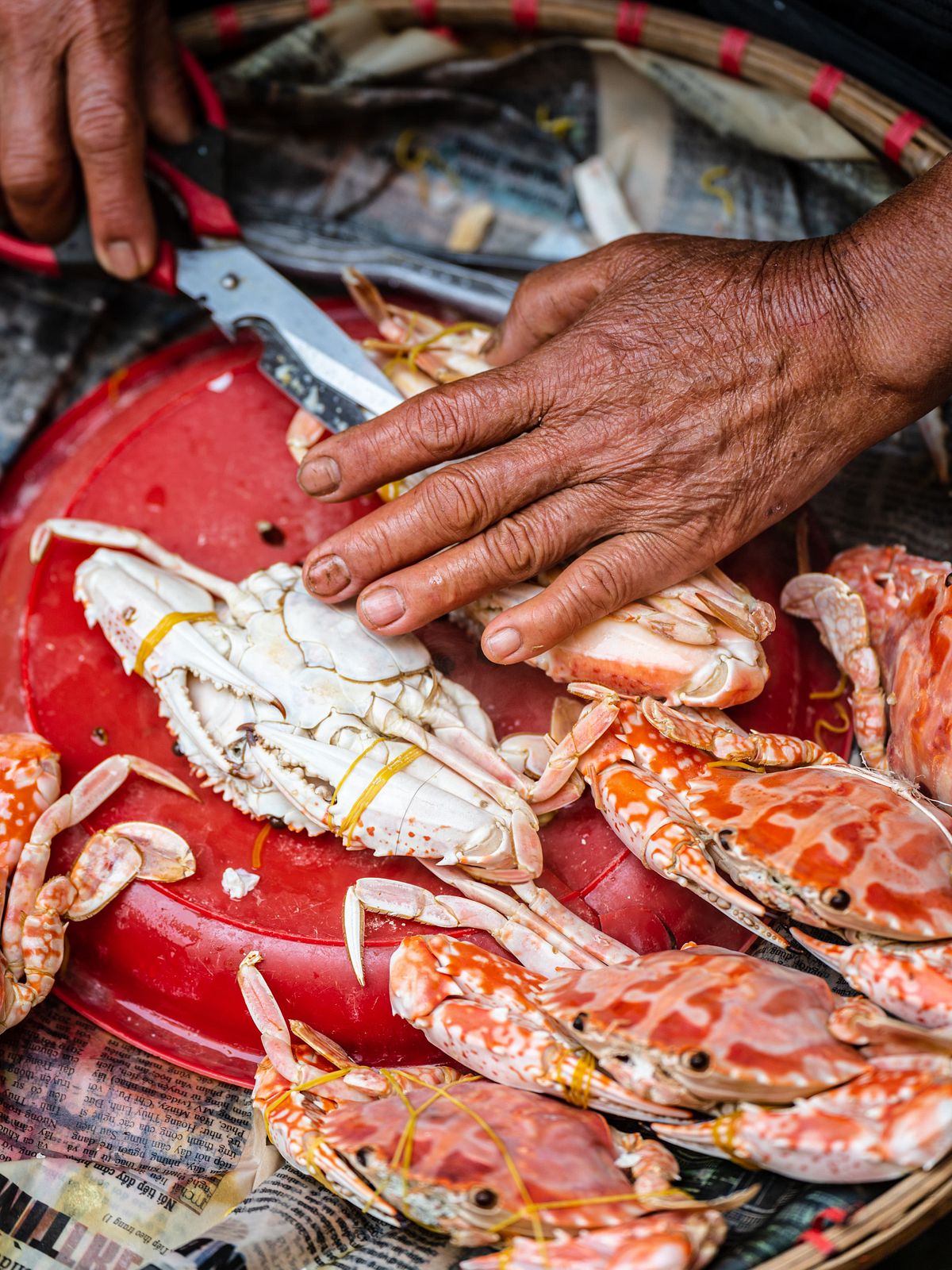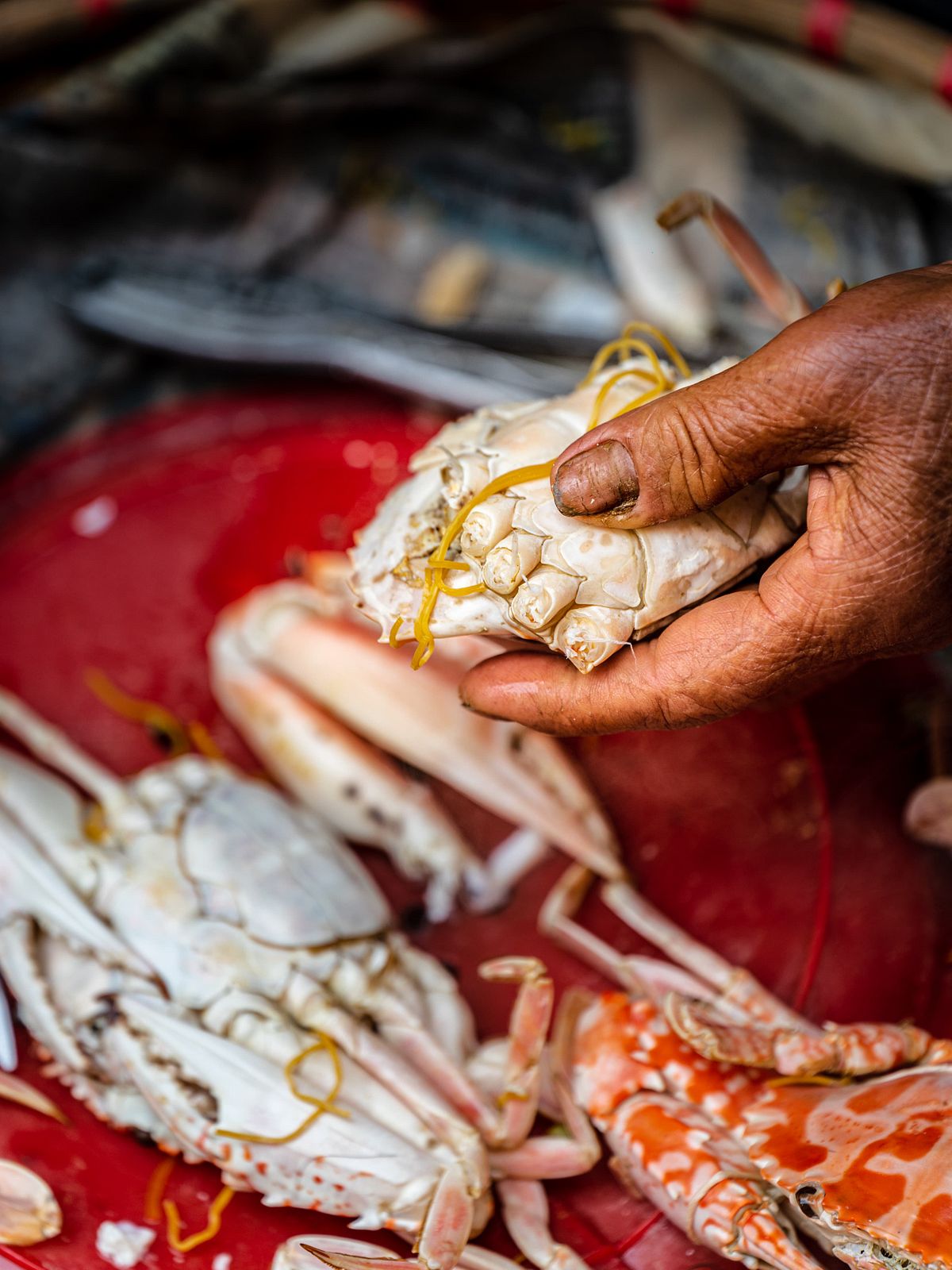 As I am munching away the bits of fresh ghẹ left, a man arrives in front of us on his bike with a plastic bag filled with four or five fresh blue crabs. "You see," she shows me the inside of the crab bag. "Look how fresh they are." At the end of the sentence, she pierces the crab with her scissor blades right at the nerve center between its eyes and drops it into the boiling water. I have never consumed any seafood this fresh — from when the crab is still alive until it's in the water takes only a few seconds.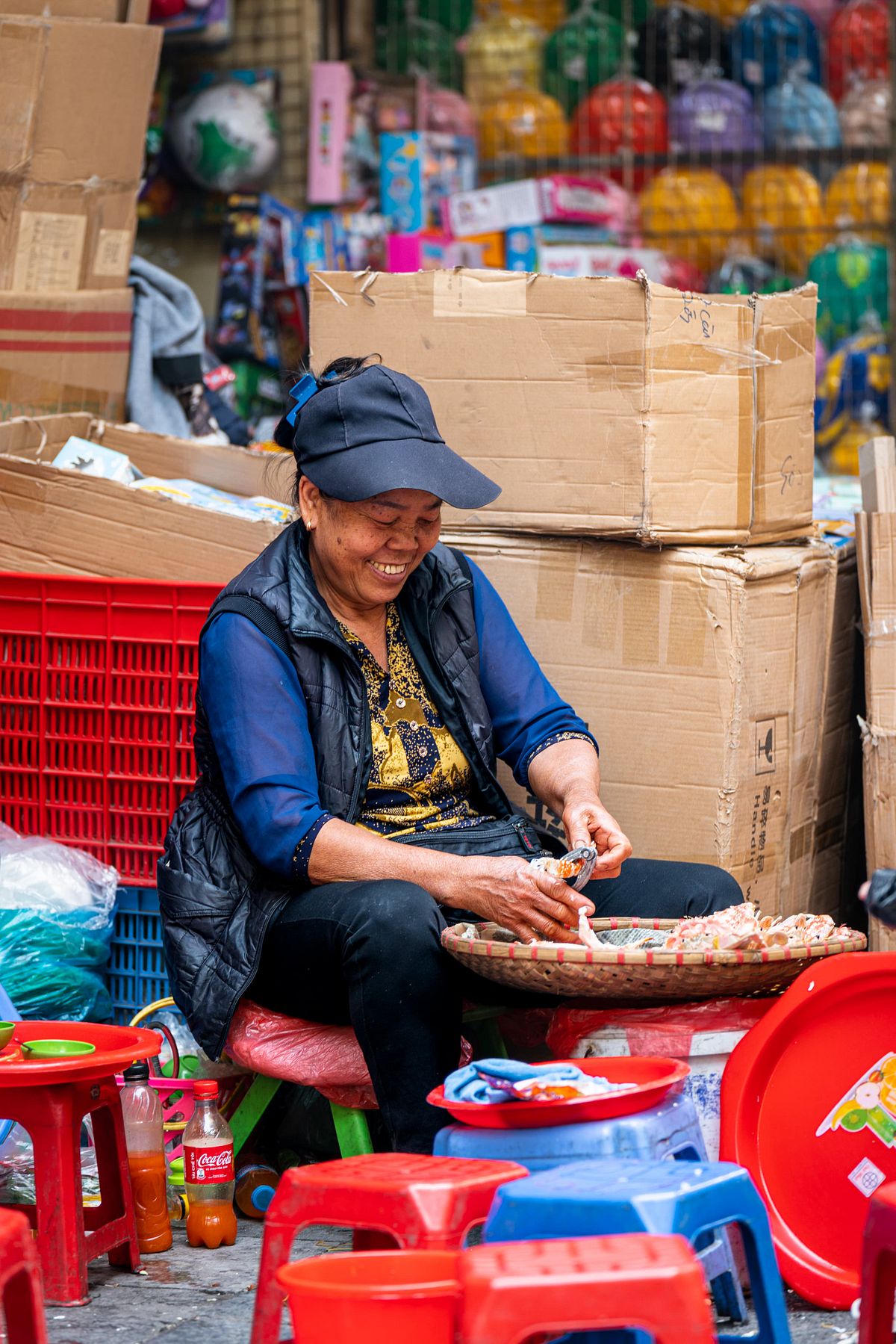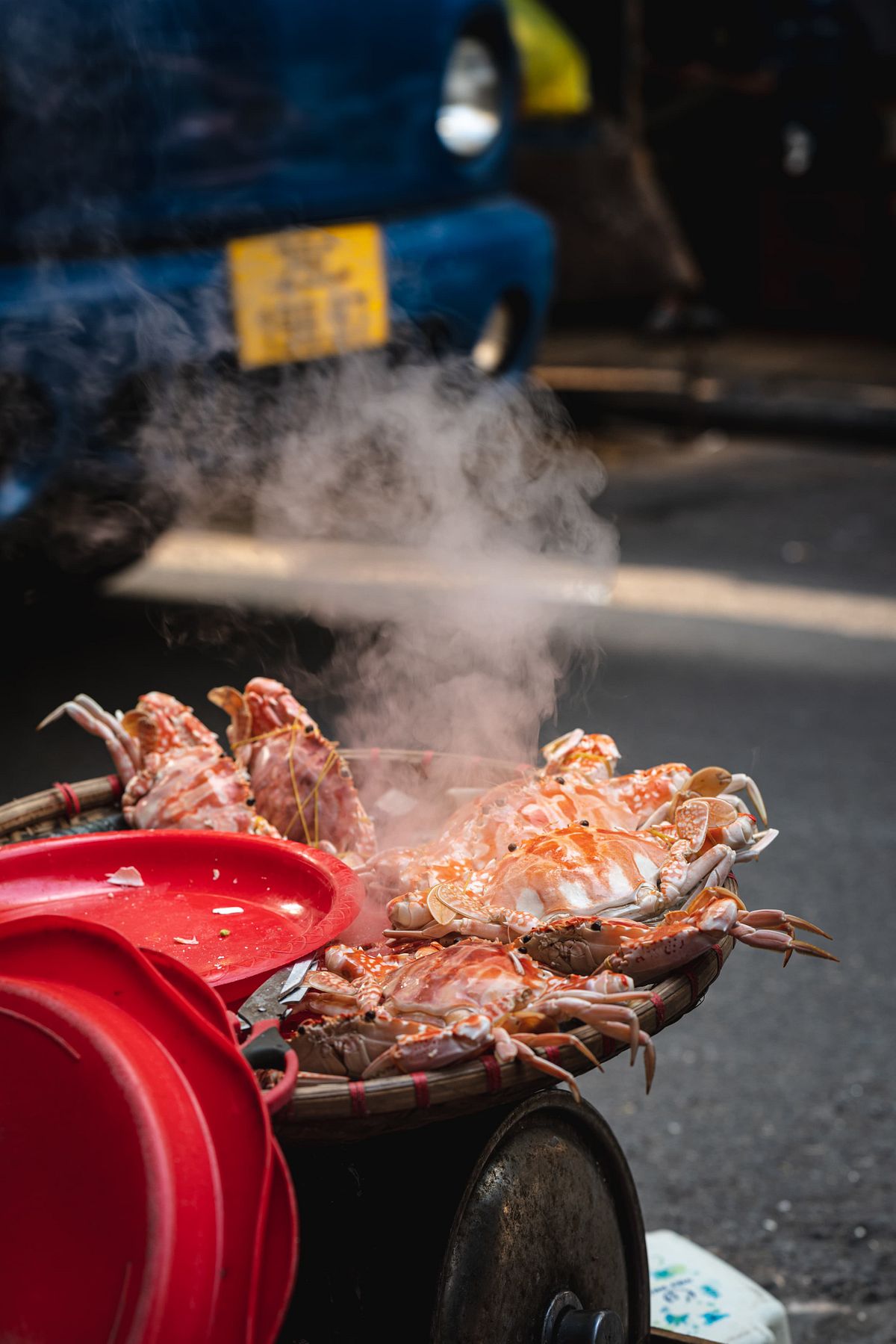 When I ask if she has any other locations in town, she shakes her head, saying that it's impossible because the supply is extremely limited: "Nowadays, blue crabs are very rare. I know so because my family is in the trade. No matter how high a price you're willing to pay, we don't have enough crabs to sell to you." Depending on their sizes, Tươi will charge VND100,000–200,000 per crab. Most patrons here will order one and then finish their meal with a bowl of bún from the stall next door — a perfectly "fancy" pavement feast.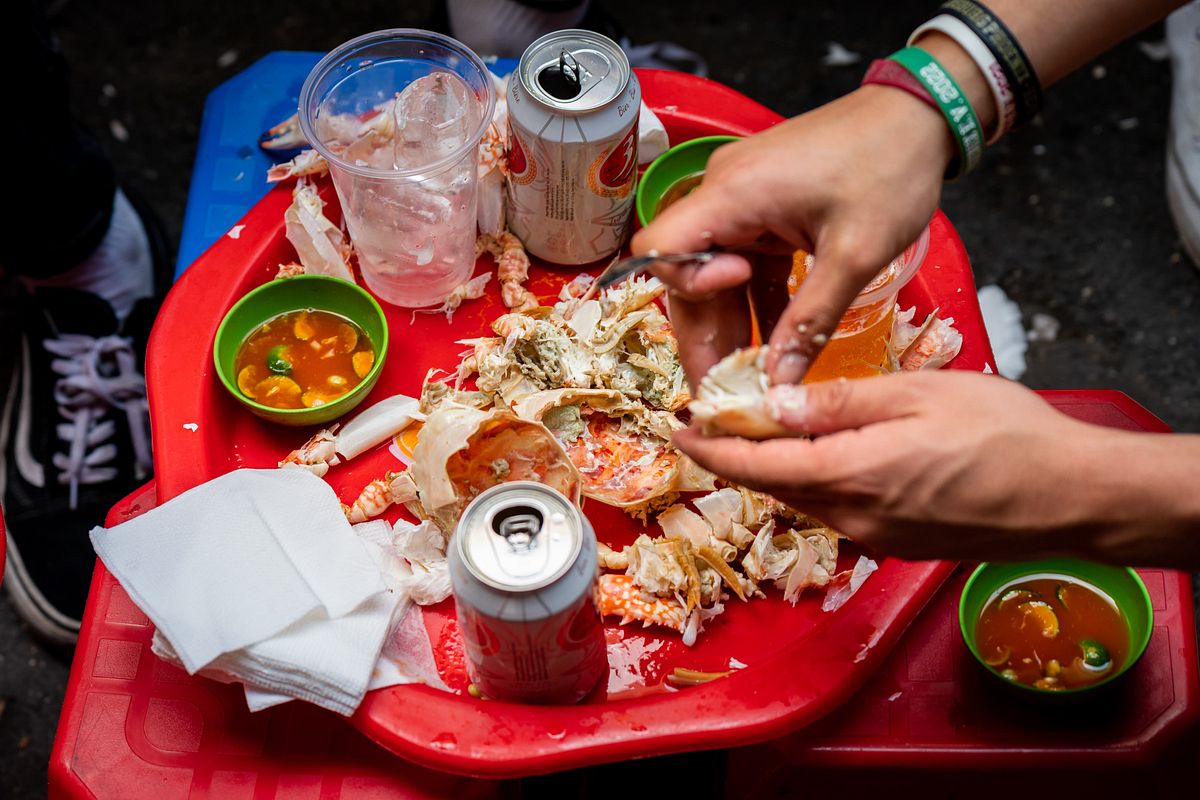 Cô Tươi's humble eatery is located at the end of Cầu Đông Street, a small lane right next to Đồng Xuân Market. Looking down the lane from the market front, one might think that this is just a makeshift parking lot for the market. At such a rustic location, Quán Ghẹ Cô Tươi is indeed a hidden gem in Hanoi waiting to be discovered by hawk-eyed foodies.
Quán Ghẹ Bà Tươi is open from 10am to 6pm.
To sum up:
Taste: 5/5
Price: 4/5
Atmosphere: 4/5 — If you like to people-watch, this would be a 10/5.
Friendliness: 5/5
Location: 4/5
Quán Ghẹ Hấp Bà Tươi
1 Cầu Đông, Đồng Xuân, Hoàn Kiếm District, Hanoi.