Hanoi's iconic bia hơi glass is more than meets the eye.
If you've ever spent time hanging out on the pavement of Vietnam's capital, chatting with friends while sipping on cheap bia hơi, you know what we're talking about: cốc vại. The short, bluish glasses are rough around the edges, quite literally, but without them, the beer doesn't taste nearly as refreshing. While many may have enjoyed Hanoi's street beer in these glass tumblers, few are aware that they are not an anonymous creation, but an actual design by a German-trained Vietnamese designer.
In October 1970 the young Le Huy Van first set foot back in the capital after studying at Burg Giebichenstein Kunsthochschule Halle, an art school in Germany. Van wasn't assigned an art-related job right away by Hanoi authorities but started working as an interpreter in the Government's Office. Four years later, he was moved to the technical department of the government's industrial cooperative, the "birthplace" of the iconic bia hơi glass.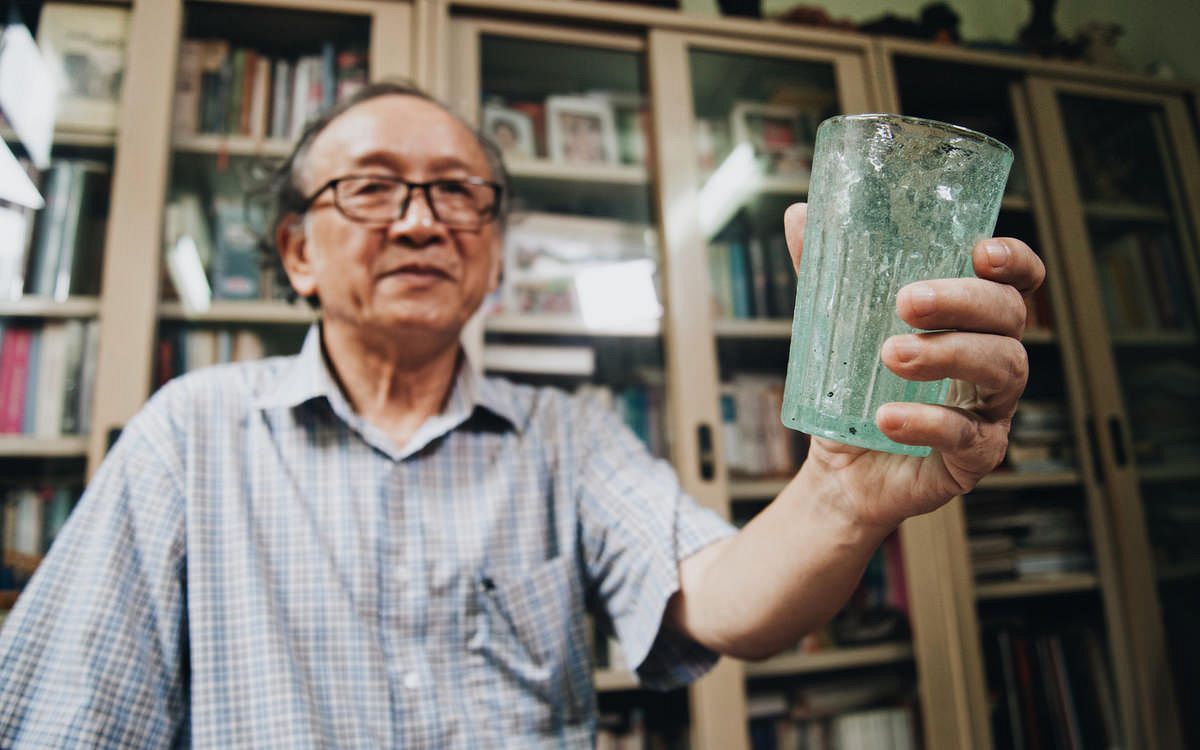 In 1976, Hanoi only had one beer factory on Hoang Hoa Tham Street. According to Van, resources were so limited that local residents didn't have proper glasses to drink beer.
"One day, my superior assigned a new task to me: 'You have to design a new tumbler that's only used to drink Hanoi beer'," Van recalled. After an hour of sketching, he came up with the design for Hanoi's bia hơi tumbler and three days later, the first batch of cốc vại was crafted at the Dan Chu Glassware Cooperative.
The initial design of the tumbler could hold up to half a liter of beer, with a thick bottom to stay balanced on street stools and a patterned body for easy stacking and gripping. The bia hơi glass quickly became the capital's favorite way to drink and serve beer, not just because it was the only proper beer container on the market at the moment, but also because of its affordability.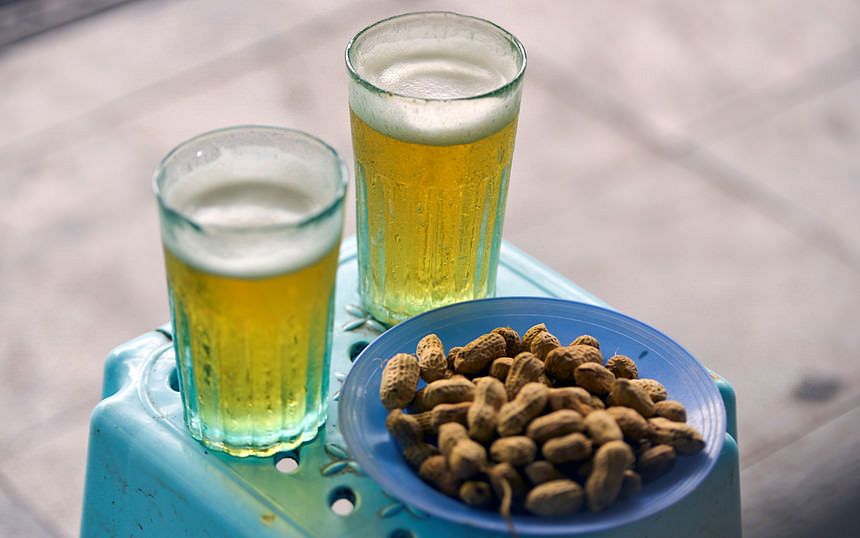 Each tumbler was sold for VND500 back then, and restaurants loved the bluish glass both for the price and the durability. They were, and still are, made from recycled glass in Xoi Tri, a village in Nam Dinh Province near Hanoi, so if one shattered, the shards could be salvaged and eventually be used to fashion another glass. So in a sense, cốc vại is immortal. Artisans from the village produce about 1,500 of them on a daily basis.
Designer Le Huy Van is now a septuagenarian who's been through many trades since creating the iconic glass. His most recent position before retirement was at the Hanoi University of Industrial Fine Arts as its vice-principal.
Van shared with VnExpress in an interview that the glass was named cốc vại due to its large volume of half a liter (vại means large clay pots). Alas, due to a lack of technical specifications, over time, later production rounds have gradually shrunk its size: today's glasses only can only hold around two-thirds of the originals. From its initial price of VND500, its price has also ballooned to VND2,000 and now around VND6,500.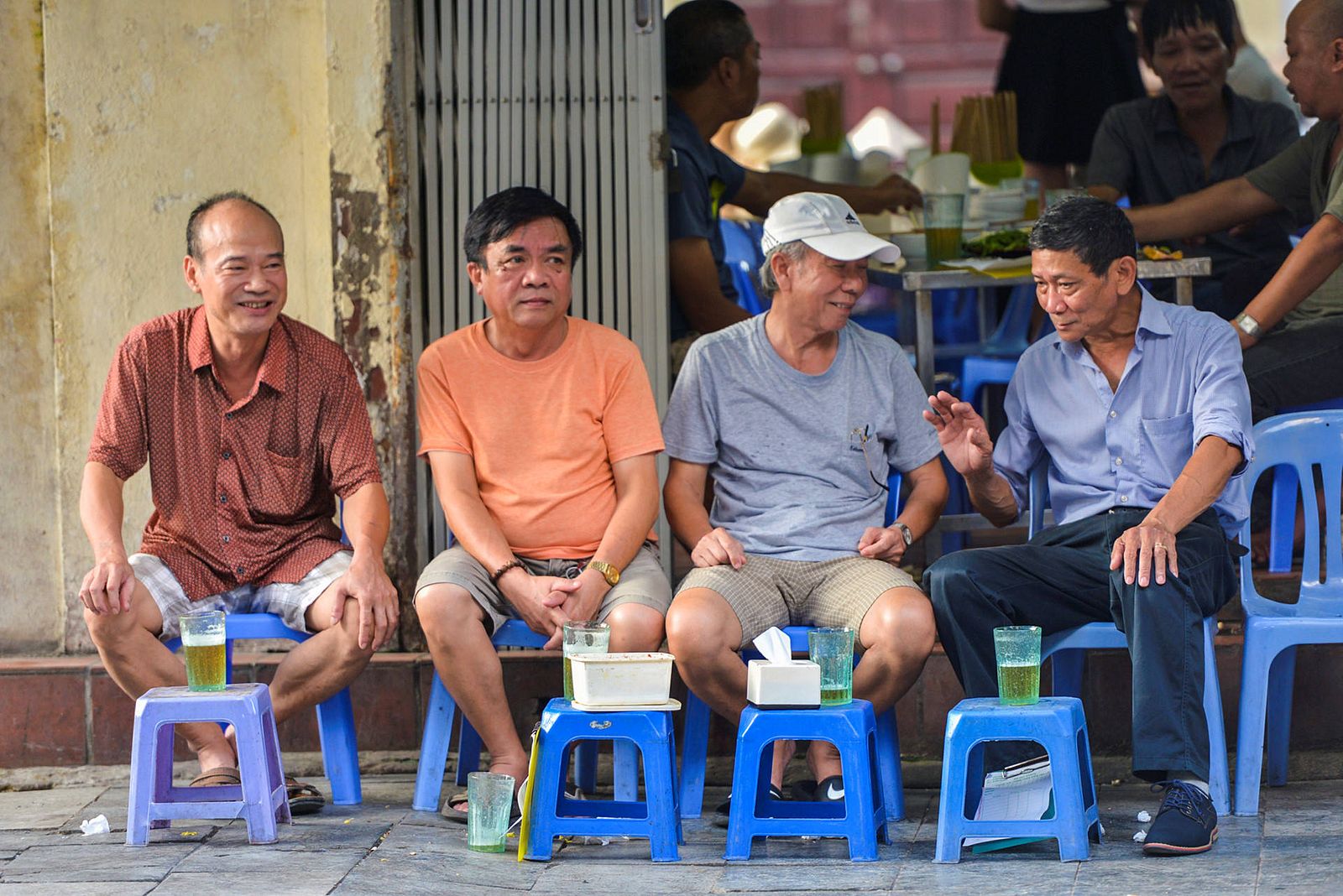 When asked about why his design has managed to survive several decades, Van wasn't sure himself but thought that its ease of purchase, use, and production has something to do with it.
"More often than not, Hanoians love drinking beer, not because of its taste, but because they're fond of the ambiance of the pavement: hanging out with their best buddies shooting the breeze amidst a sweltering afternoon after finishing work," Van explained in Vietnamese. "You can't wear a suit and hold a crystal glass to drink Hanoi's street beer, it's not suitable."