Instead of sunny Saigon, I found myself yet again in relentlessly sunny Bangkok. I had a convenient excuse though: attending a close friend's wedding.
With a couple of days on hand, and a few cans of Singha and Chang from 7-Eleven stocked in the fridge to avoid incurring additional room charges, I found myself micro-scrolling through Google Maps for clues using 'Search this area' and a Google-translated Thai word for 'Vietnamese Food' as guides. I was worried about the difficulty, if it's even possible, to ascertain whether a Vietnamese eatery was actually owned by Vietnamese-Thais.
Chi Dong — whom I met last year at Baan Yuan, a Vietnamese market at Soi Samsen 13 — was ready to have me as her guest over a meal of authentic bánh xèo. "Are they Vietnamese?" I asked her about a local restaurant that serves Vietnamese food. "They are Thais, but still very good!" she said. Nonetheless, I felt slightly disappointed.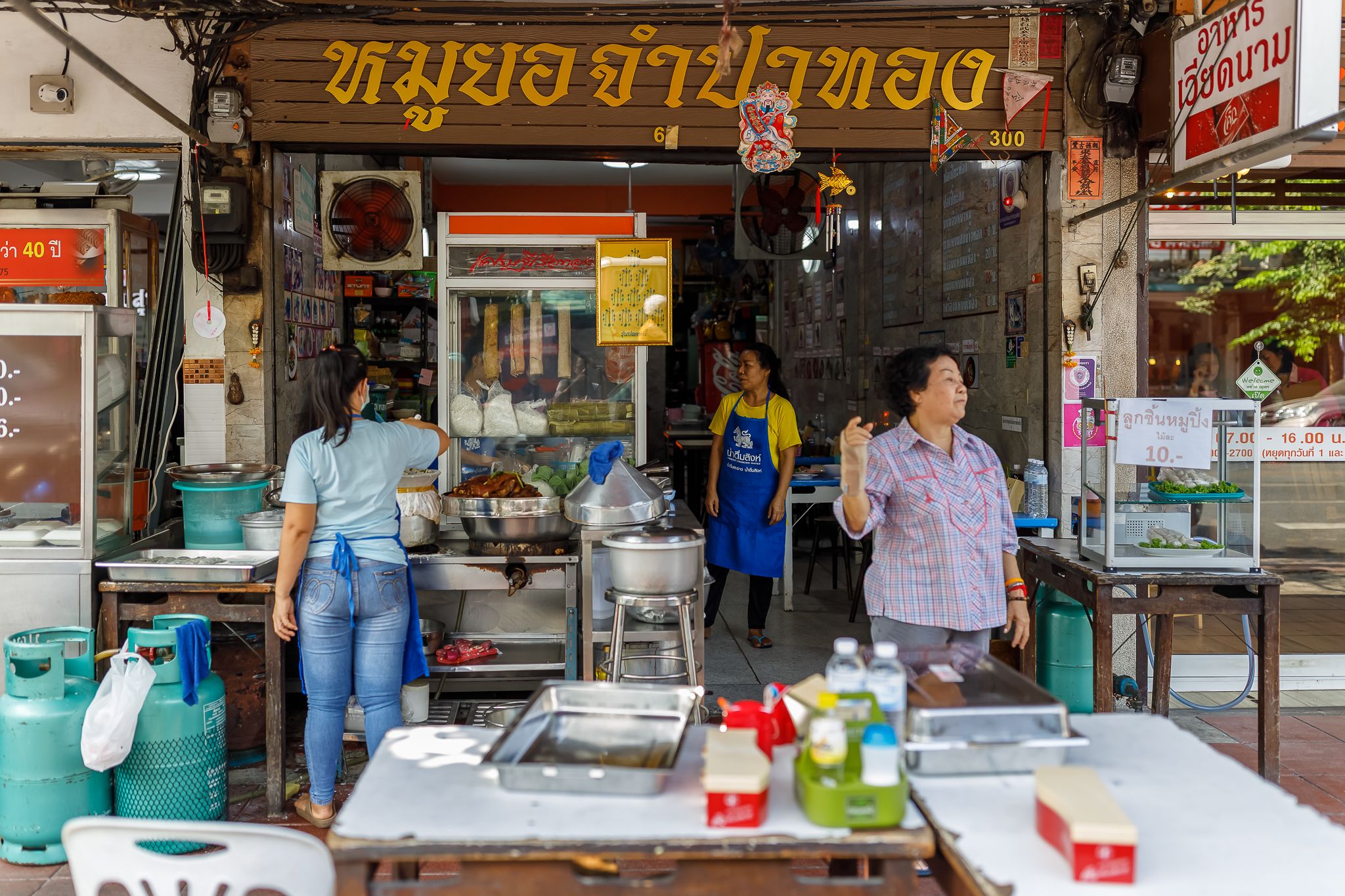 I decided to abort the mission and try my luck at a place not too far off from where we started, Moo Yor Jampathonga, which specializes in Vietnamese ham. Known as moo yor in Thai, the term is a combination of the word moo, meaning pork, and the word giò which means ham in Vietnamese. Giò lụa, or chả lụa in southern Vietnam, is a type of sausage made of pork paste and light spices.
My initial impression at Baan Yuan was quite straightforward; the Thais adore this stuff. They put it in everything, even pungent Thai salads and bánh canh.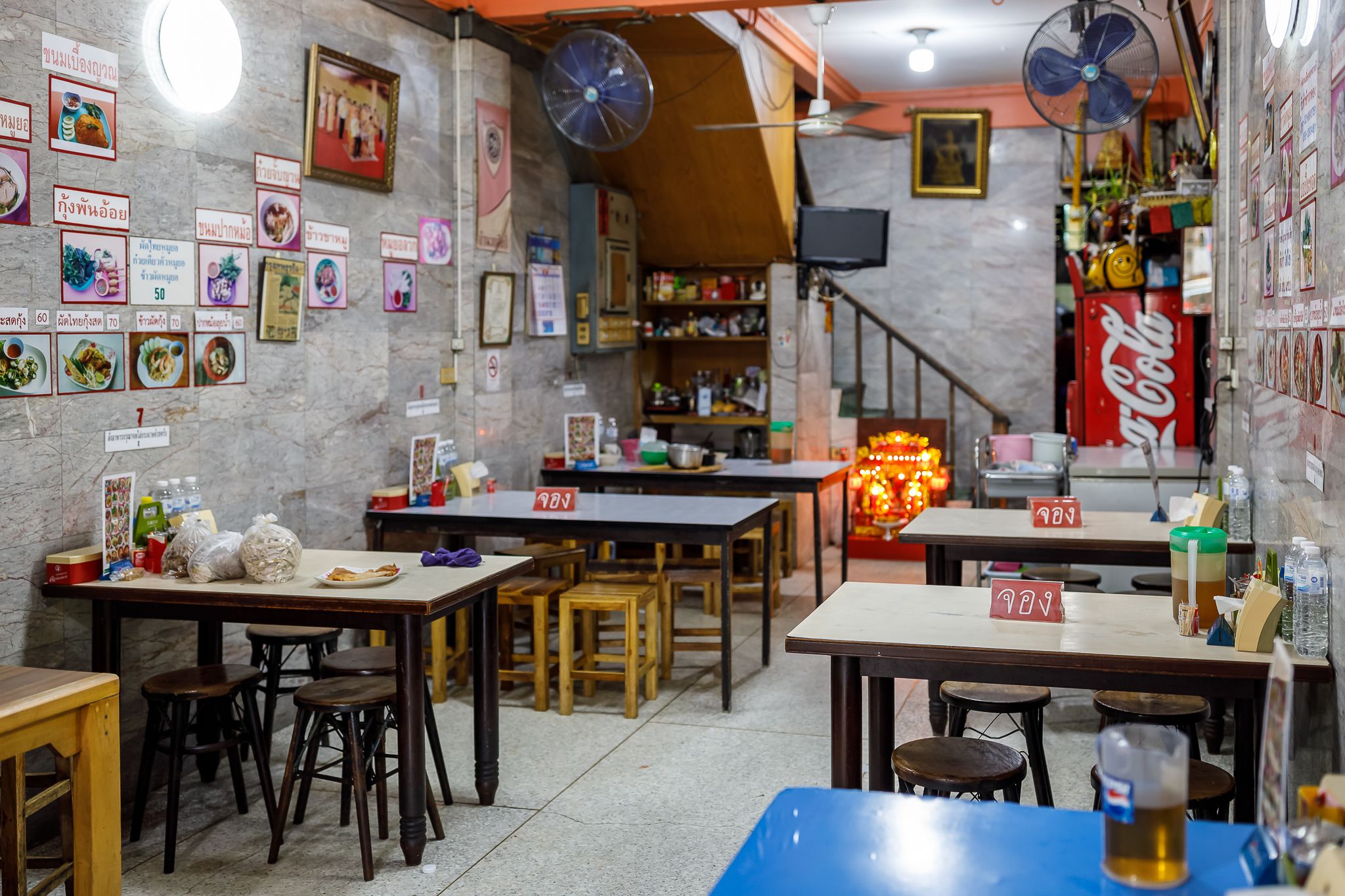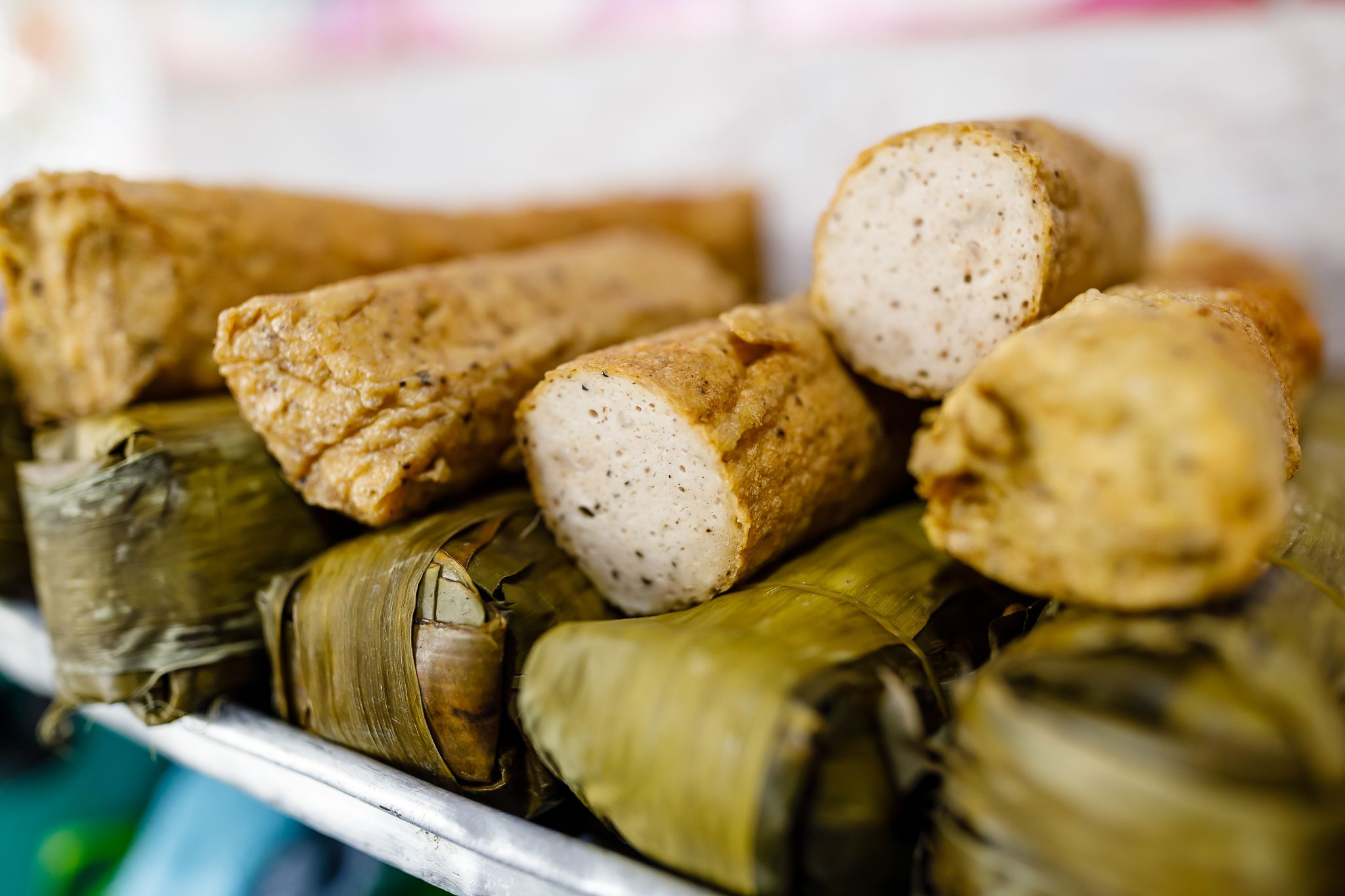 My foreignness was obvious on arrival. I had no idea whether I should park the bike on the pavement or on the streets. It wasn't Vietnam, so I didn't want to commit any social or traffic faux pas. A kind man approached me and asked if I needed help.
"Is this place Moo Yor Jampathong?" I asked in English. "Yes, yes. Do you want to eat something?" he replied.
"Does anyone speak Vietnamese here?" I questioned, praying very hard.
"Em nói được tiếng Việt Nam phải không?" one woman said, perhaps answering my prayers.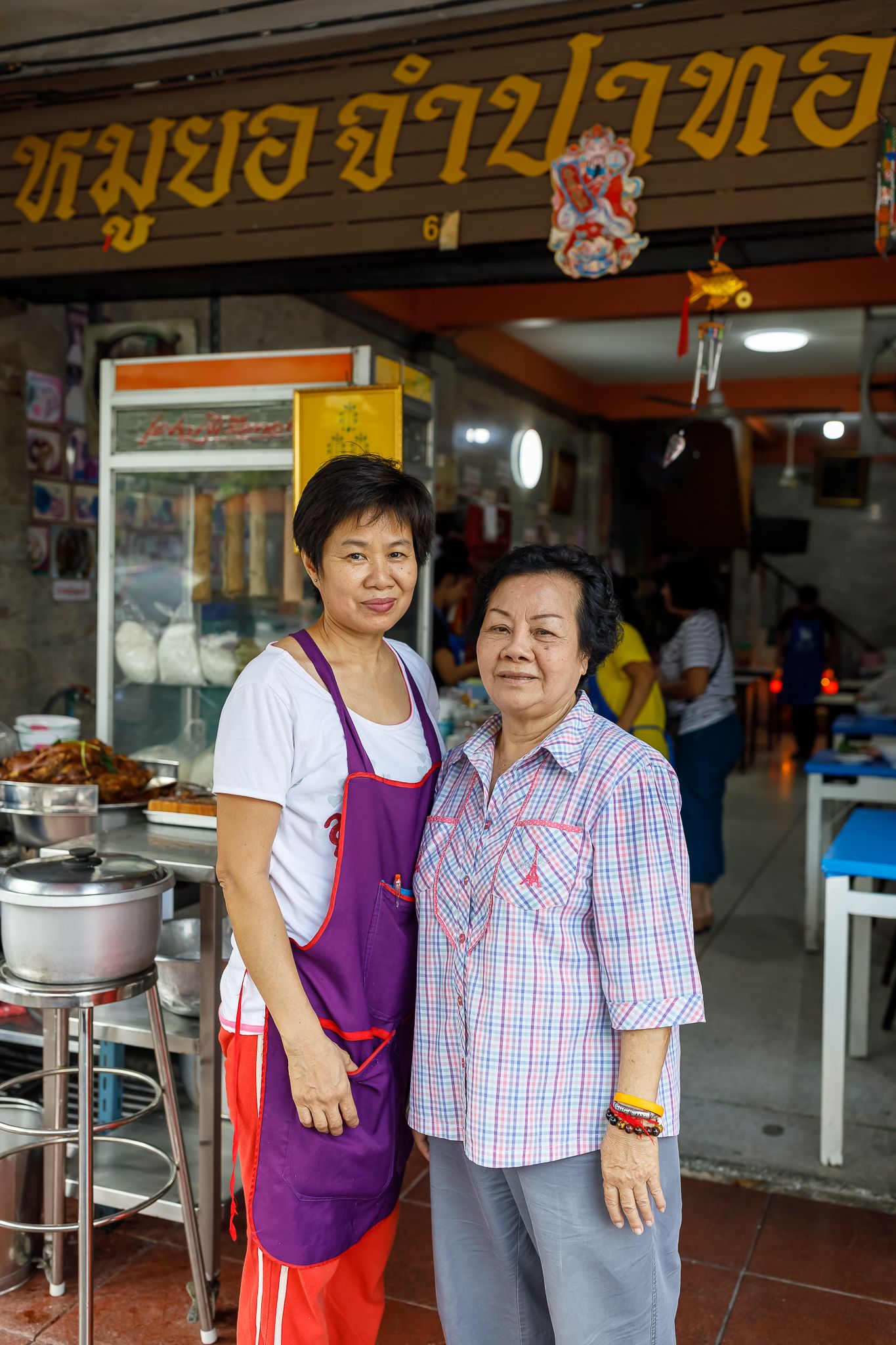 That was Madam Vinh's first sentence of Vietnamese to me. I'd reckon she doesn't speak much of it these days. Born in Thailand with ancestors from Ha Tĩnh Province, the family is now in their third generation of making Vietnamese pork rolls, after her father begin the business 40 years ago. Her daughter-in-law, Suyamanee, who people know by her nickname Naam, meaning water in Thai, runs the show these days, while Vinh helps out on an almost daily basis. They informed me that there are possibly only three or four places remaining that still make authentic pork rolls in the city.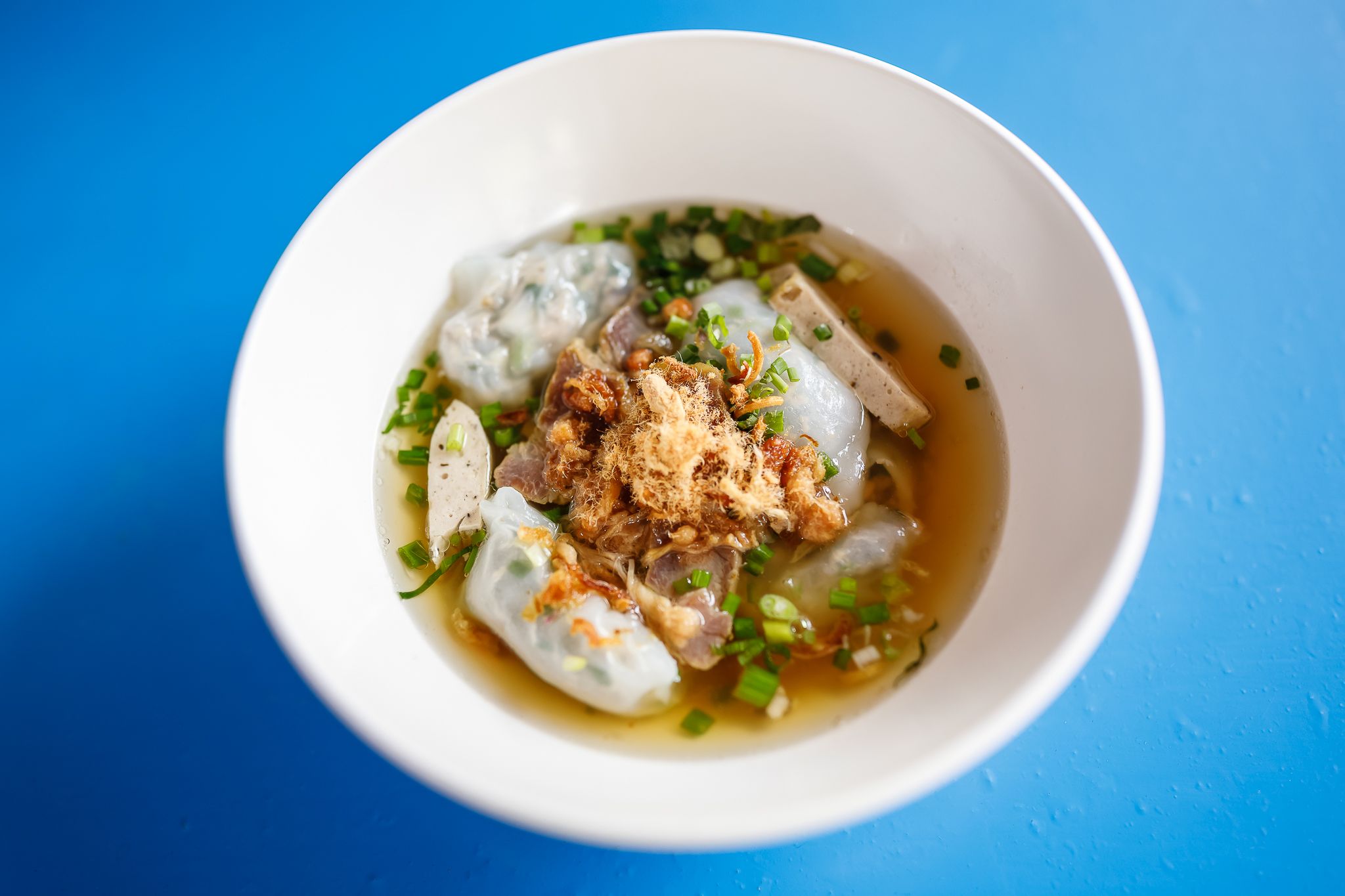 This was definitely a place where my personal Vietnamese food boundaries were challenged. Phở topped with generous slices of giò lụa. Pad thai with giò lụa. I was half-expecting a tom yam soup covered in diced giò lụa.
Beyond the curiosities, what struck me, and ultimately touched my heart and taste buds, was something that could easily pass as 'natively' Vietnamese, but instead lived in the land of a thousand smiles: bánh cuốn served in Thai-style phở broth and topped with giò lụa, pork floss and barbecued pork.
"We call this pak mor luy naam in Thai," Vinh explained, the name translating directly to dumplings wading in water.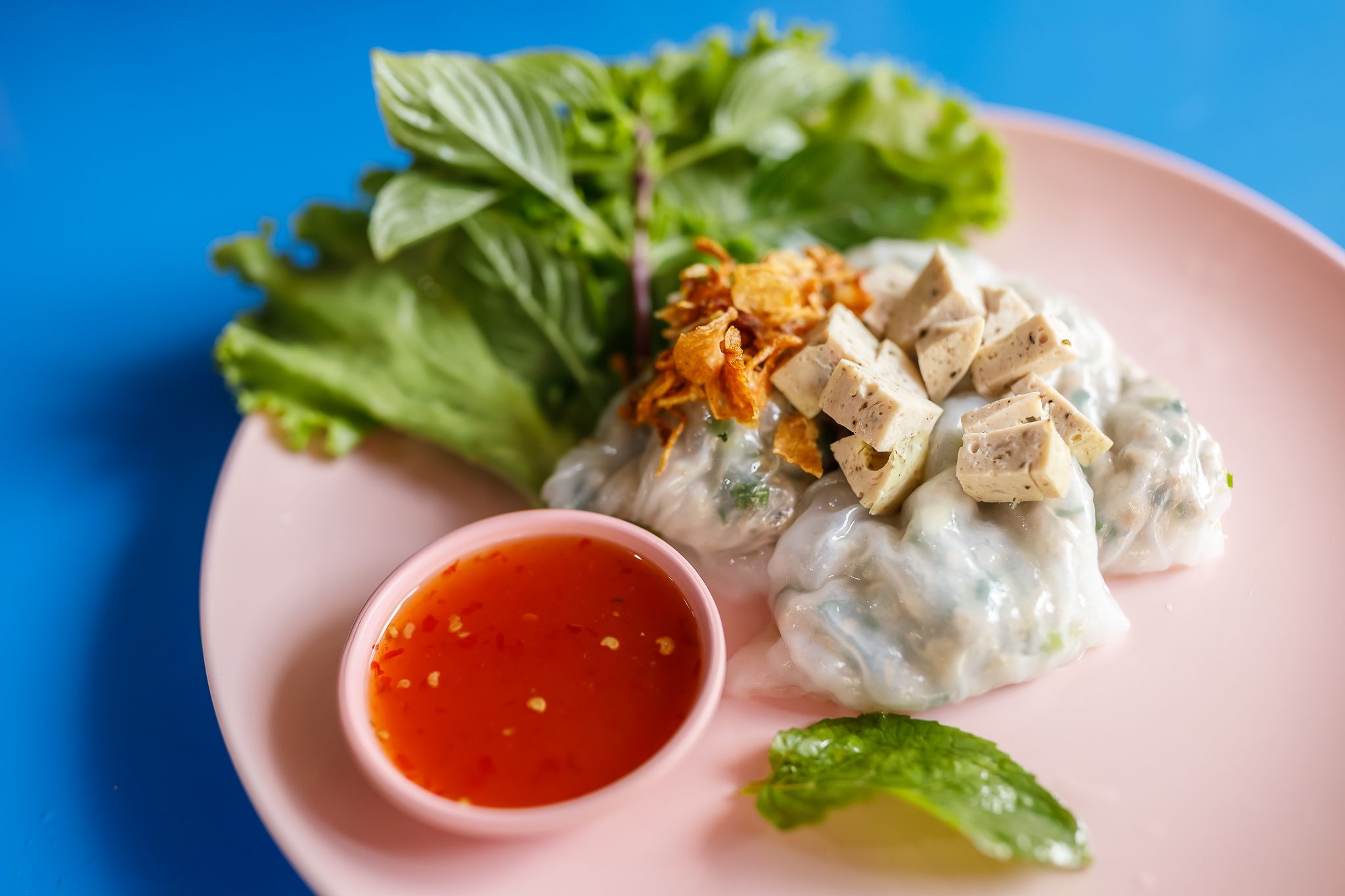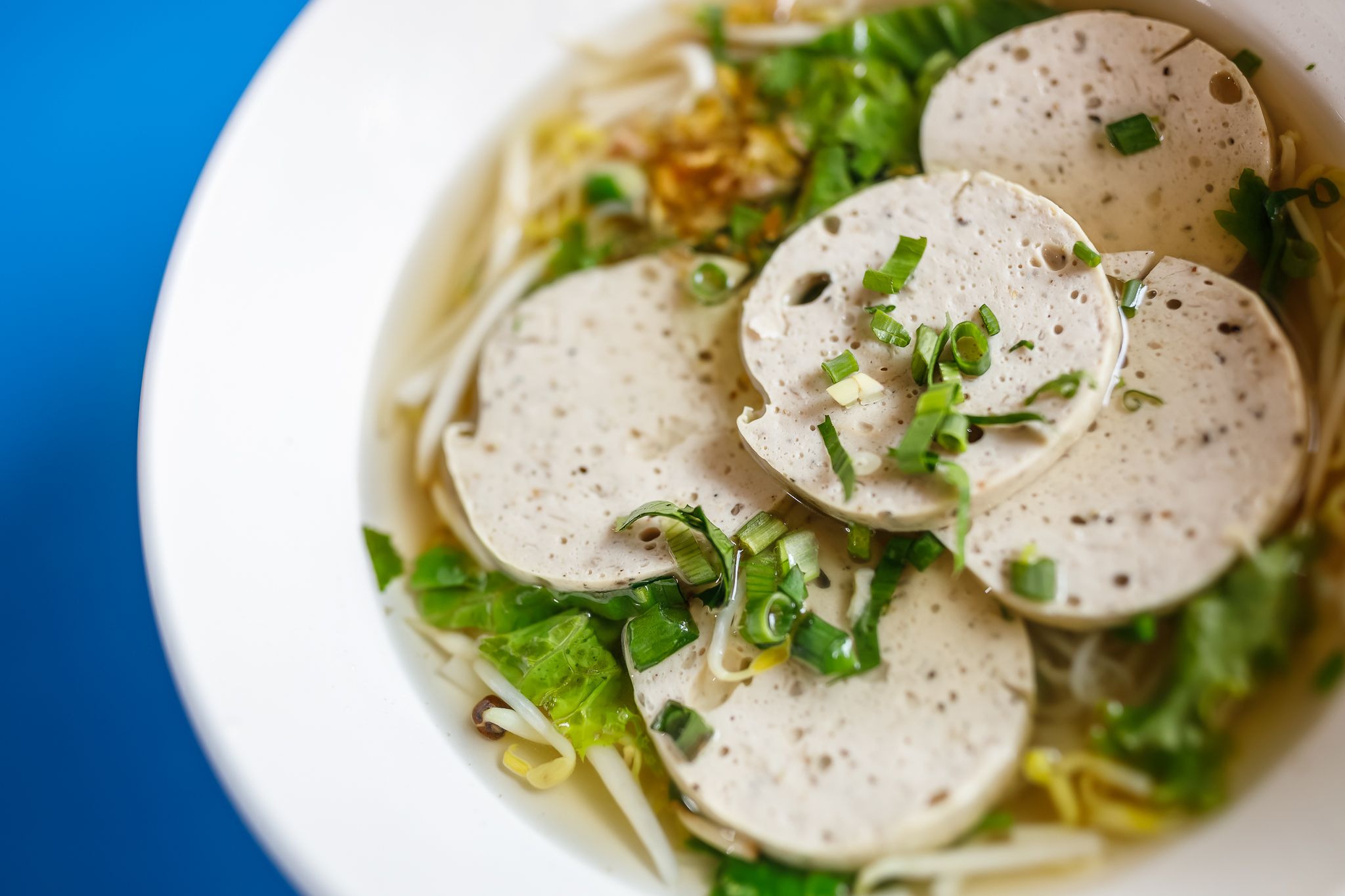 Naam and her son, Ice, created this menu item, combining the food cultures of both countries. Apart from this incredible interpretation, Moo Yor Jampathong also serves bánh cuốn with dipping sauce, and yes, topped with Vietnamese ham.
"Một món làm ra hai đứa!" Vinh added cheerfully. A single culinary classic giving birth to two offspring. Mildly poetic as it sounds, no other statement could have been more apt.
Visit Moo Yor Jampathong in Bangkok at this address.