The world has never stopped obsessing over giant food, and Vietnam is no exception.
Every year, farming communities across continents hold competitions to see who can grow the most monstrous vegetable, from pumpkin and onion to cabbage and more. There's something about producing the most massive versions of our food that provides an equally immense sense of accomplishment.
This fascination with enormous food extends to fully cooked dishes, like the world's biggest pizza in Texas or Tokyo's biggest box of chocolate. Vietnamese establishments routinely churn out huge bánh chưng every Tet, with Saigon holding the world record for biggest bánh chưng, which was made in 2004 and weighed 1.75 tons. Last year, an instant noodle brand in the country established the world record for biggest bowl of instant phở, weighing 1.35 tons.
On June 6, as part of the Da Nang International Food Festival, the city successfully created Vietnam's largest bánh xèo to date from 150 kilograms of batter, shrimp, pork, beansprouts, etc. The dish was a collaborative effort by 10 Vietnamese chefs and 13 foreign chefs from China, Germany, Greece, India, Lebanon, Malaysia, Mexico, Singapore, Sri Lanka, Sweden and Turkey.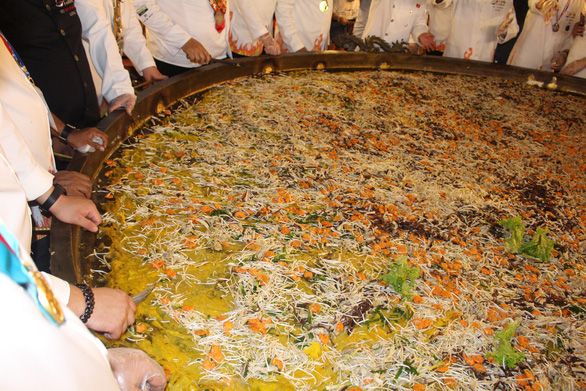 By making the giant crepe, Da Nang broke its own national record established in May 2018; the bánh xèo last year was only 139 kilograms. The central city is also a record-holder of the world's longest spring roll.
According to Tuoi Tre, the humongous bánh xèo was cooked on a custom-made skillet made by artisans from a traditional bronzeware craft village in Quang Nam Province. The skillet's lid, featuring Dong Son motifs, was a product of another artisan village in Thai Binh Province. The set weighs a total of 700 kilograms and took three months to complete.
After the record was established, the bánh xèo provided meals for 200 guests at the food festival. The Da Nang International Food Festival was held from June 2 to 6 on Tran Hung Dao Street in Son Tra District.
[Photos by Doan Nhan via Tuoi Tre]
---

Related Articles:
---