For around 200 years, Quoc Huong store has been selling sumptuous meat delicacies to hungry Hanoians.
An unassuming, yet long-established store on the east side of Hanoi's historic Old Quarter has been flogging sticky rice cakes for centuries. When I first passed the shop, I noticed rolls of crimson-colored meat and leaf-wrapped bundles of all shapes piled up on a metal trolley inside the narrow shop. I soon grew closely acquainted with these delicious snacks, which are particularly popular during Tet.
Bánh chưng and bánh dày are glutinous rice cakes, which are all made by hand at Quoc Huong. The snacks themselves date back to the days of the legendary 6th King Hung of the Hong Bang Dynasty. King Hung was trying to decide which of his 22 sons should succeed him as king. To help him make a choice, a cooking contest was held to find who could cook the best food for the king on the last day of the lunar month. According to the legend, the winner would then inherit the throne.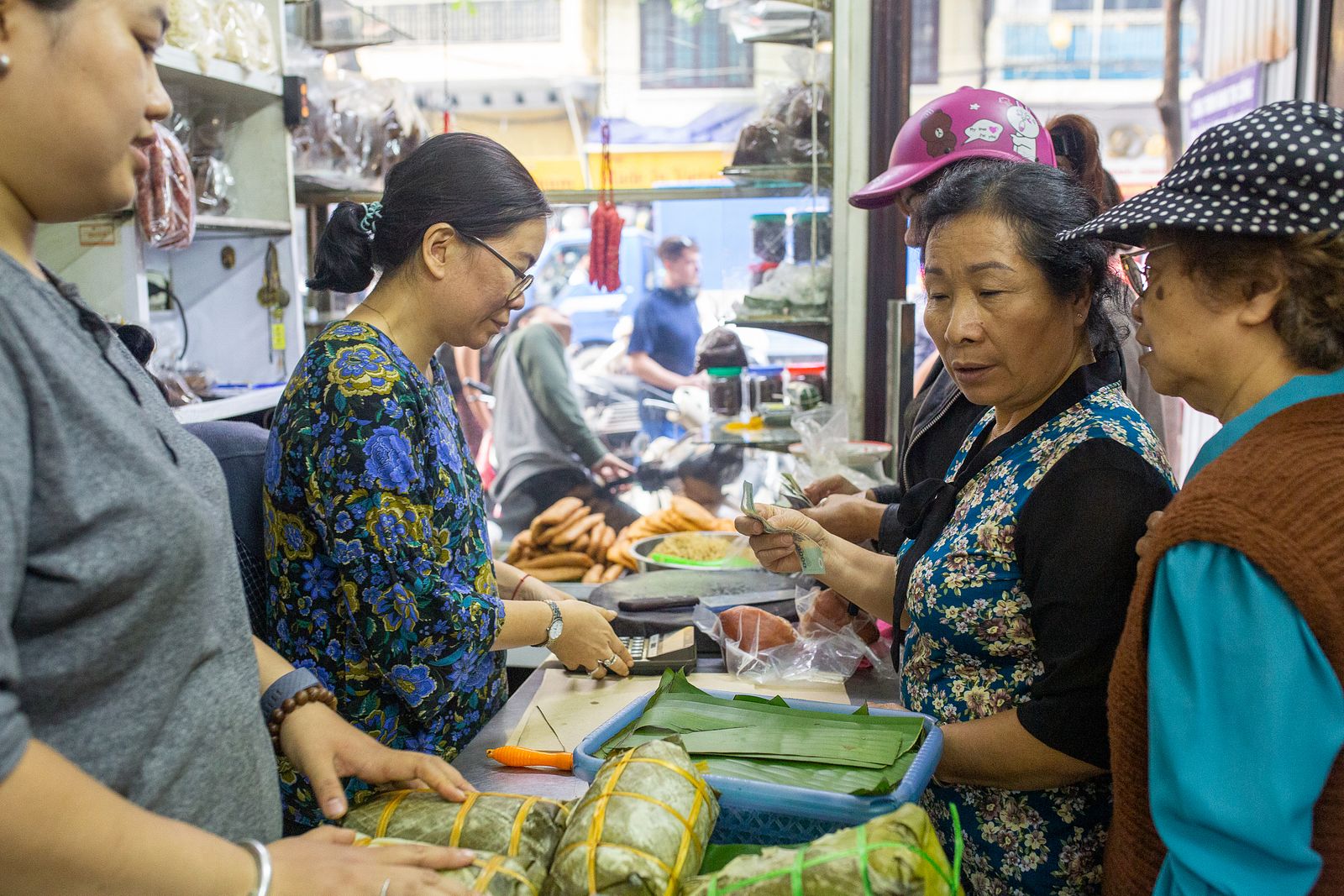 Lang Lieu, a modest son, is said to have been helped by a fairy in a dream who gave him instructions. "Use glutinous rice and make two different rice cakes. One should be a square cake to symbolize the earth made with mung beans and pork inside to symbolize plants and animals. Finally, wrap the rice cake in banana leaves and call it bánh chưng. With the same flour," the fairy added, "make a round rice cake to symbolize the heavens, and make it white and pure and call it bánh dày."
When asked about the dish, Lang Lieu explained to his father: "Rice is the most precious food item in the land and yet also the most abundant. I have created dishes that symbolize the harmony between the earth and heaven. Something that all of our people can enjoy."
The king was so impressed by the humbleness and wisdom of his son that he declared Lang Lieu the winner. Since then, both bánh chưng and bánh dày have been traditional festive foods enjoyed every single Tet.
When I first entered the small, narrow shop selling these goods, I was overwhelmed by the many smaller leaf-wrapped bundles stacked on the counter. My eyes darted here and there, spotting familiar items such as dried sausages hanging beside the glass window and sweet sticky rice. Several women were busy bagging chunks of beef jerky into cellophane bags from the basket, and the air in the shop was thick the alluring, licorice-like aroma of star anise.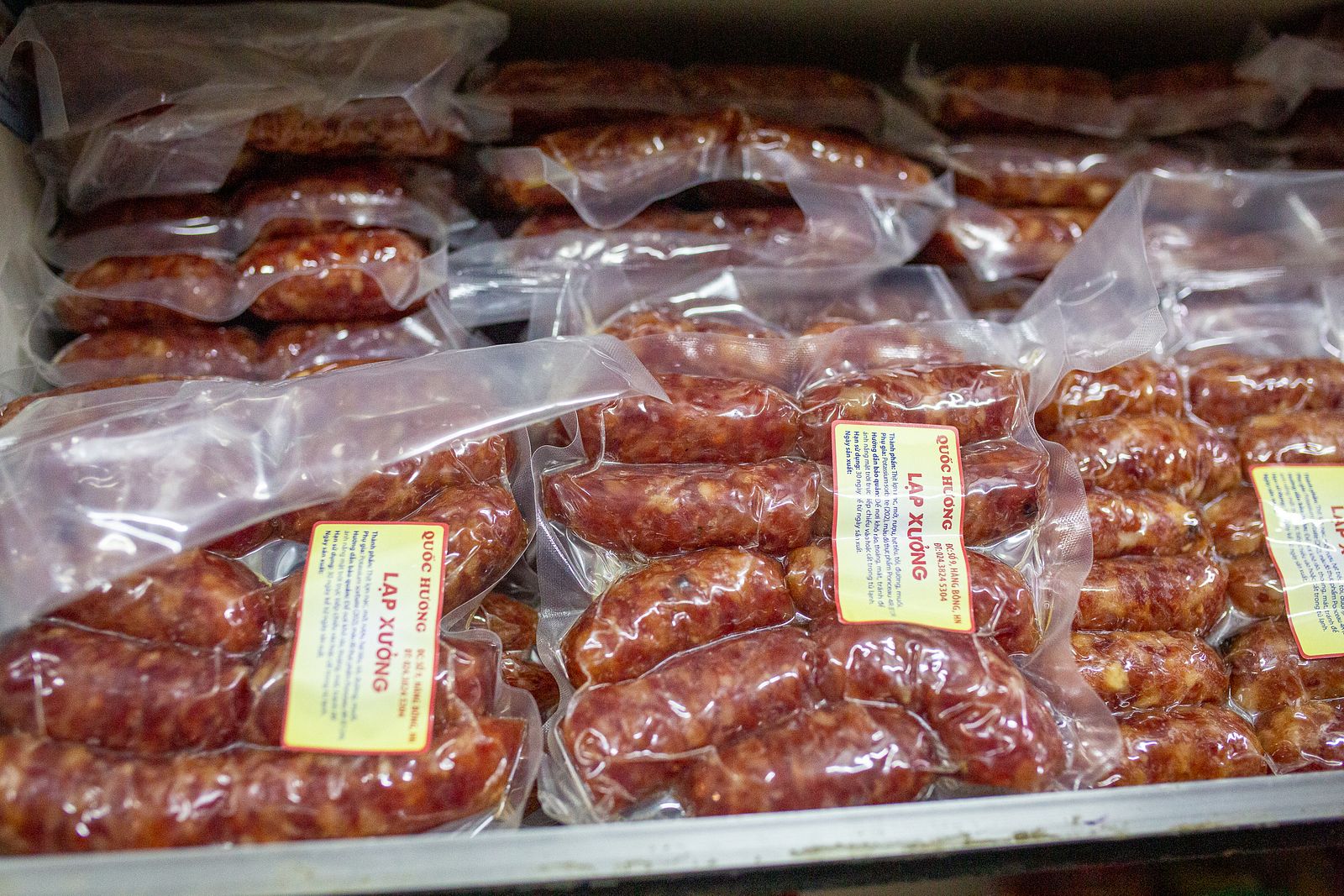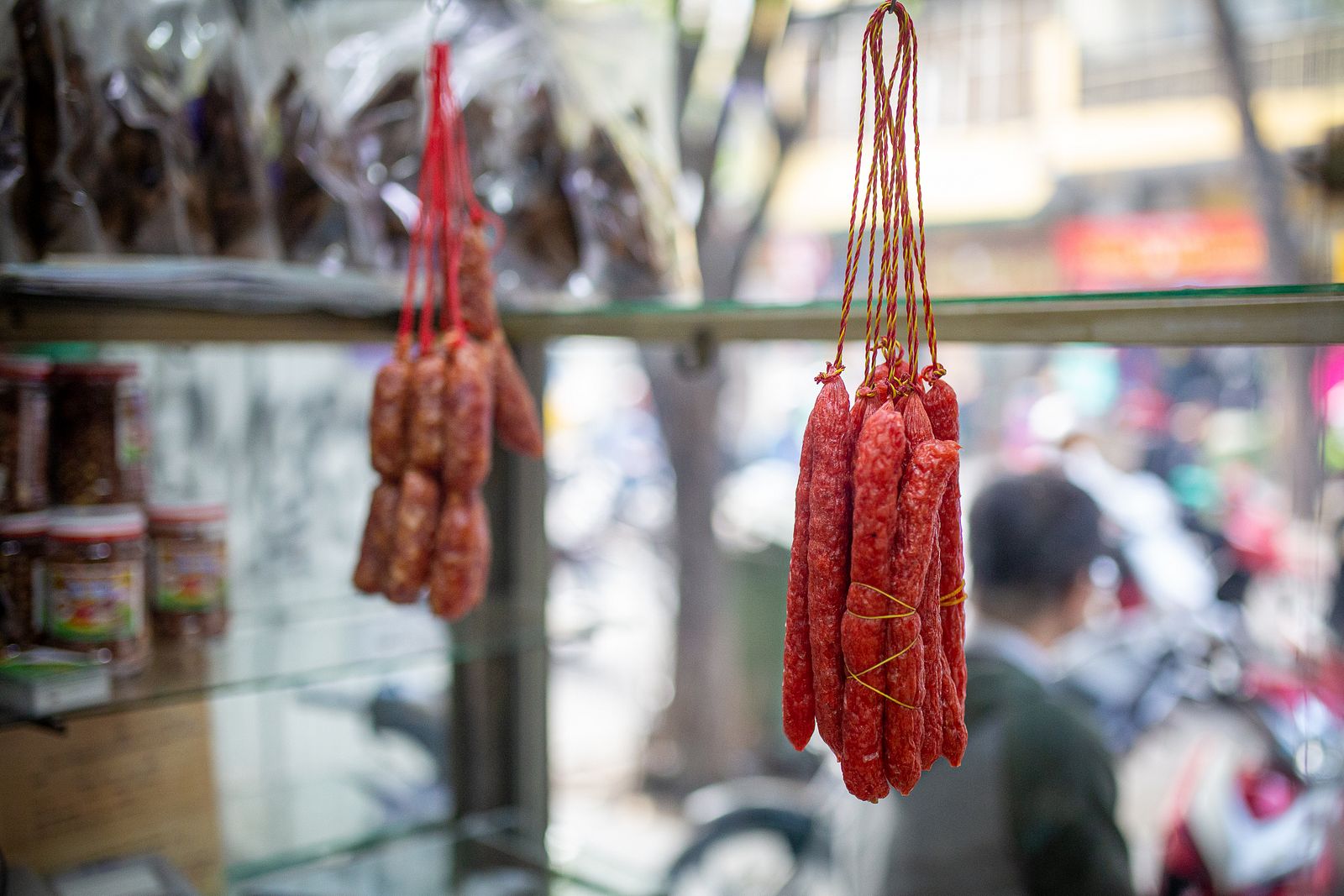 Bánh chưng are also aesthetically pleasing and represent a sustainable form of packaging that's recently seen a resurgence in some stores. What's more, having been wrapped in banana leaves and simmered for hours, the bánh chưng's edges are marked by a greenish hue on all sides, and as one peels off the leaves, a delightful, musty fragrance emerges.
Another delicacy on sale, giò lụa, is kind of like the mortadella of Vietnam: pork sausage with a silky-smooth texture. Quoc Huong uses a traditional technique to prepare the sausage: pounding pork shoulder cuts into a paste and then seasoning this with fish sauce.
The variations of sausage (giò lụa) offered at Quoc Huong are numerous. Beef (giò bò), chicken (giò gà), tidbits of pork head (giò thủ) and pork ear (giò tai) all appear along with several options for pork sausage: fatty pork (chả mỡ), low-fat options (chả lợn dài loại ít mỡ), sausage combined with young green rice (chả cốm), and cinnamon-flavored sausage (chả quế), to name a few. These sausages, however, are eaten all year – in sandwiches, for example, or with noodles or rice.
Other items available include steamed sticky rice embossed with the Chinese character that appears to be the word for happiness (喜), sweet rice cake (bánh ngọt), savory rice cake (bánh mặn), beef jerky (bò khô), and ruốc thăn lợn (shredded pork) – the best topping for cháo (rice porridge).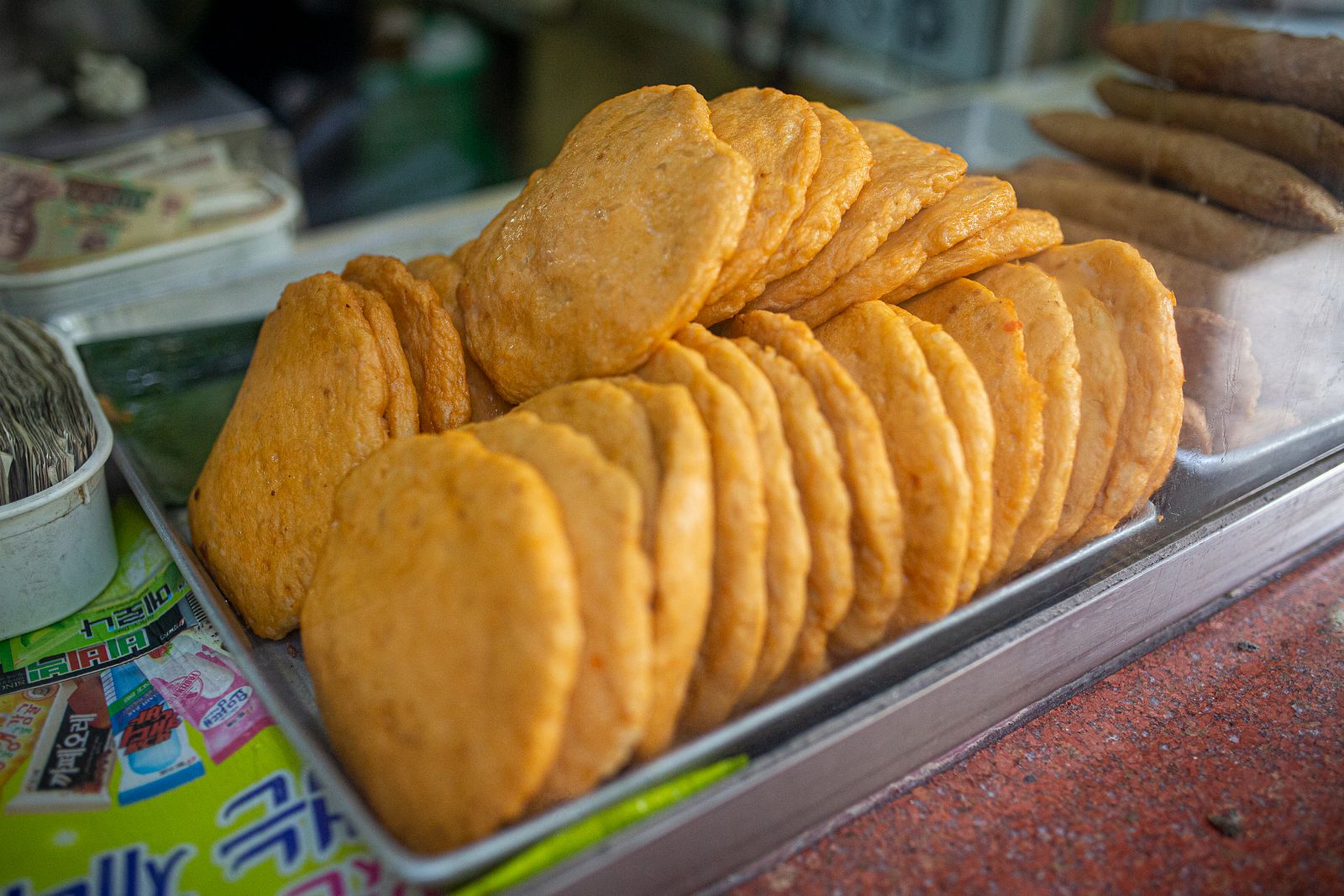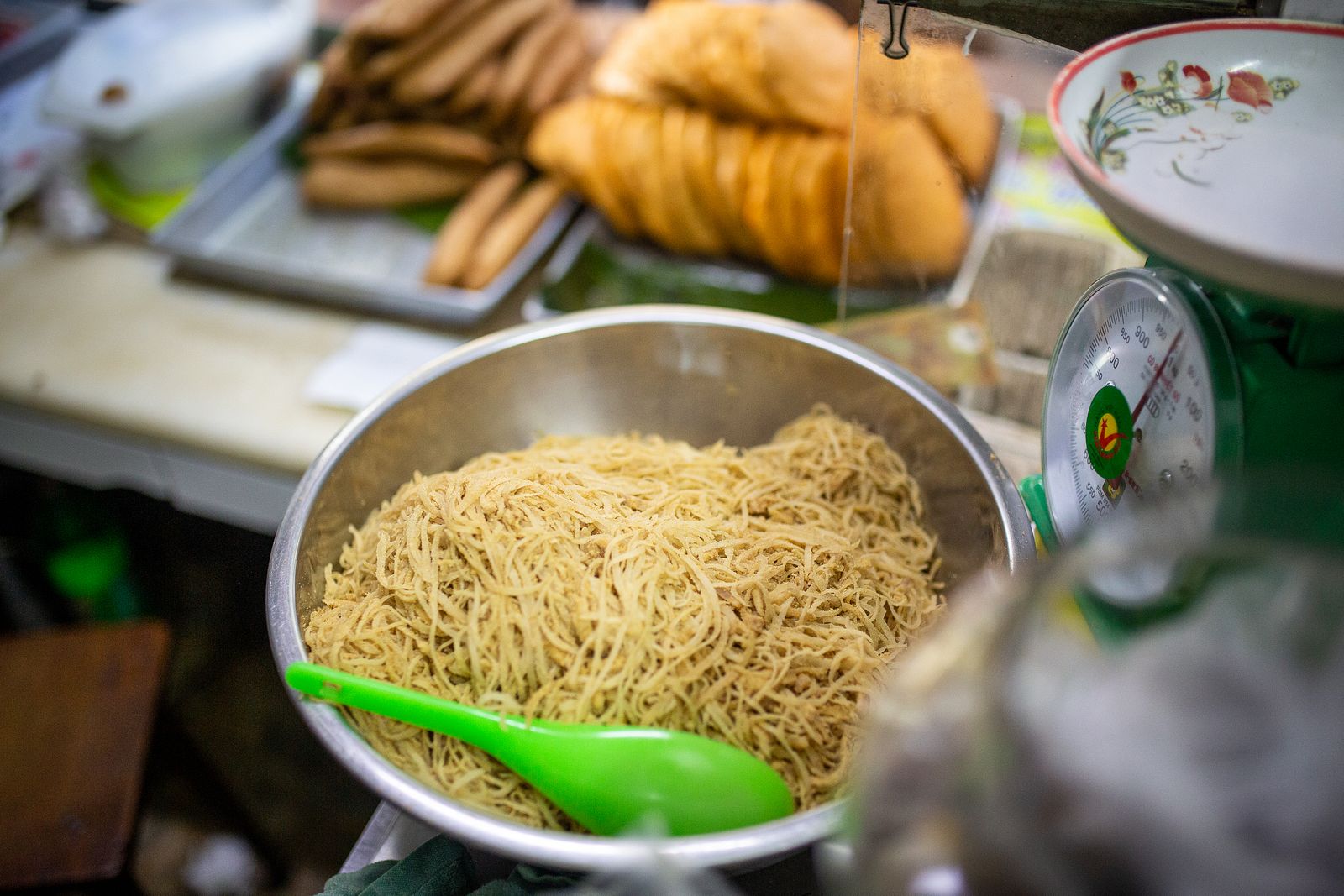 In short, you can create a Vietnamese feast effortlessly by selecting a few items from Quoc Huong. All you'd need to grab from a market is a bag of mixed herbs, vermicelli, and some bánh mì. When I visited, I bought bánh ngọt, which is filled with mung bean paste, and bánh mặn, a salty version packed full of minced pork and finely chopped wood ear mushrooms.
Expect to face long queues here during the days before Tet, however. This is when Vietnamese line up to buy the store's delicacies, as it's a shop that's truly maintained traditional cooking methods. During this time of year, the store opens as early as 6am to accommodate the increased demand.
While a combination of recent pork shortages and rising incomes have inspired one company to start making bánh chưng using salmon instead of pork, demand for the traditional dish remains unwavering. On the busiest pre-Tet days, Quoc Huong sells as many as 5,000 bánh chưng in a single morning.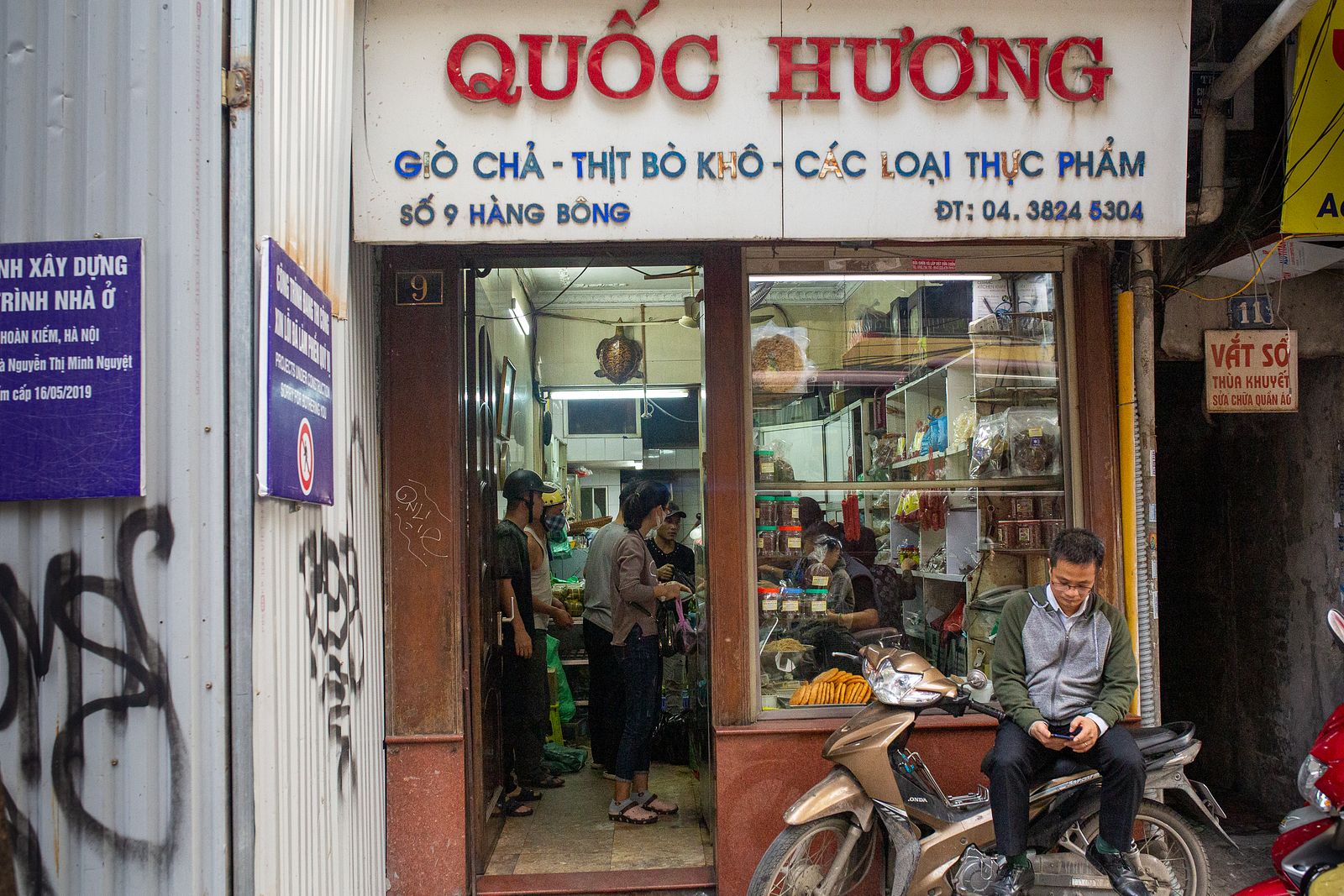 Find Quoc Huong at 9 Hang Bong Street, Hoan Kiem District. Opening hours are 6am to 10pm.