Phở is serious business.
As Vietnam's culinary ambassador to the world, its savory broth, bouncy noodles and thinly sliced meat are a symbol of great pride among locals, a comforting dish to those abroad and the gateway to a wonderful world of Vietnamese food for outsiders.
The dish is so popular that while most of the internet was busy freaking out over Barack Obama and Anthony Bourdain's bún chả dinner date, a handful of Vietnamese netizens worried enough to ask why the president of the United States hadn't opted for a bowl of phở instead.
"I've been thinking about it ever since [President Obama ate bún chả]," wrote one concerned Facebook user, according to Thanh Nien. "Why did he eat bún chả? Because usually when someone famous visits Vietnam they eat phở."
While bún chả, too, was a solid choice for the American commander-in-chief, phở is among the few Vietnamese dishes that have managed to achieve international stardom. In its phở issue, Lucky Peach dedicates an entire publication to the country's national dish, touching upon the traditions and innovations of the soup. While writers like Dave Change theorized about phở's future, cookbook author Andrea Nguyen delved deeper into the soup's past.
The phở we know and love today was born sometime in the early 20th century in or around Hanoi. In the 1910 book Technique du Peuple Annamite (Mechanics and Crafts of the Vietnamese People), the French colonial administration commissioned artisans to chronicle daily life in turn-of-the-century Hanoi; the resulting volume included two depictions of phở vendors, confirming its existence as early as 1910.
Though the capital lays claim to Vietnam's culinary pride and joy, some believe phở actually got its start in Nam Dinh province, however regardless of its origin Nguyen puts the soup's creation down to a "collision of circumstances" which brought together Hanoi's French, Chinese and Vietnamese residents as well as their culinary preferences.
The French, who longed for steak in a faraway land, began eating beef and passing the leftover bones and scraps to Vietnamese butchers, who struggled to sell the meat to local diners; at that point, Vietnam had yet to develop a taste for the meat. However with street vendors already selling noodle soups, the capital's enterprising butchers saw an opportunity to pawn off the unwanted product, while soup vendors attempted to offer something new with the novelty ingredient.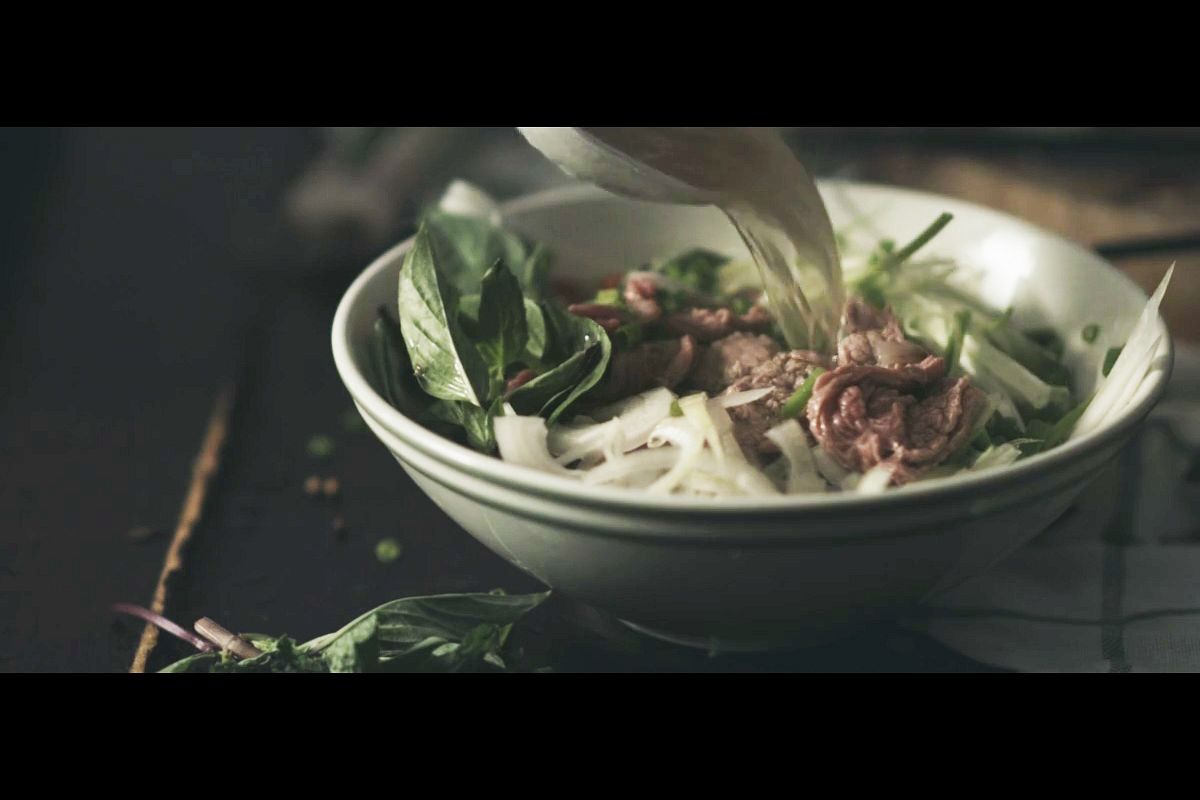 Before phở caught on in a big way, Hanoian vendors sold xáo trâu, a popular soup comprised of water buffalo meat and rice vermicelli. With a newly introduced ingredient, local cooks swapped the vermicelli for flat rice noodles and threw in thinly sliced beef instead of water buffalo.
The capital's Chinese community were the first to take a liking to the dish, which was known as ngưu nhục phấn. Over time, it began to spread to other populations, including the Vietnamese. Shopowners in the Old Quarter opened up proper shops selling the dish, and Nam Dinh-style ngưu nhục phấn showed up in Hanoi by 1925.
In the following years, the dish's name was steadily shortened. As Nguyen explains: "It is likely that as the dish caught on, the street hawkers became more competitive and abbreviated their distinctive calls as a means to attract customers. 'Ngưu nhục phấn đây' ('beef and rice noodles here') was shortened to 'ngưu phấn ạ', then 'phấn ạ', or 'phốn o' and finally settled into one word, phở."
The word phở, Nguyen notes, also appears in the Vietnamese dictionary circa 1930, defined as a soup featuring thinly sliced beef and noodles. The tome also places the word's origin in the Cantonese phấn, meaning flat rice noodles. It's possible, the writer says, that phấn was also altered to phở because, when mispronounced, the former can mean "excrement".
Though there are other theories which suggest phở came from the French word feu, this seems less likely given the decidedly more local interest in the dish.
Over the course of the early 1900s, a handful of variations on traditional Hanoian phở popped up, some with staying power, some without. However it wasn't until 1939 when things got truly wild and local cooks threw in chicken instead of beef. Due to rationing the latter, vendors and shops swapped the meat out for poultry. Though it wasn't initially welcomed, the variation grew on people.
Nguyen also goes on to explain the soup's survival through Vietnam's turbulent 20th-century history. As food was rationed and phở noodles were seen as a waste of rice, local shops disappeared and street vendors became the favored distributors of the soup, albeit in secret. To outsiders, these mobile cooks served a miserable potato noodle soup in line with the pre-approved ingredients of the authorities; however underneath the dry, deformed noodles on display, street vendors would hide fresh phở noodles, tossing these into the broth for those who knew how to ask.
By 1950, the soup had also made it to Saigon, along with scores of northern residents. Much to the horror of newly arrived Hanoians, southerners took the simplicity of phở and embellished it with sweeter broth and Thai basil, chili sauce, bean sprouts and a host of other add-ons. To this day, a battle rages between north and south about which ingredients are permissible in a bowl of phở and which are not.
While the soup – as well as its country of origin – has been through countless ups and downs, phở's long and storied history is a testament to the staying power of Vietnam's most famous dish.
---
Related Articles:
---