By now you have probably heard of, or even watched, the notorious Bon Appétit (BA) phở video that has spread like wildfire on social media over the last few days.
Last Tuesday, Bon Appétit magazine, a New York-based food publication, posted an article titled "PSA: This Is How You Should be Eating Pho". As if that cringe-worthy headline wasn't enough, BA decided to add insult to injury by including a short video featuring a Caucasian Philadelphia-based chef named Tyler Akin teaching viewers how to properly consume phở.
Needless to say, this didn't sit well with American millennials, especially those of Asian descent, who have been tearing the BA feature to shreds online for only featuring a Caucasian chef in the presentation of a distinctly Vietnamese dish. On the whole, the criticism from netizens varies in content and perspective, but the comments are similar in their vitriol.
According to NextShark, most took issue with the general tone of the writeup and the video, right from the rather arrogant title to a text overlay during the video that reads: "pho is the new ramen."
"One is not the other and both are great comfort food in their respective forms," wrote Facebook user Marianne Delatorre. "Cultural foods shouldn't be a hype just because your white palate [sic] discovered it."
Other Asian viewers ribbed Akin for his "proper consumption techniques" of a bowl of phở, questioning his authority on Vietnamese cuisine. According to the video, the Philly chef's guidelines for eating phở include tearing the herbs into smaller pieces and avoiding putting hoisin sauce (tương đen) and sriracha (tương ớt) into the broth in front of phở chefs.
The response from culinary experts has generally been less livid, but some critics are firmly placing the blame on BA for their poor editorial choice. Andrea Nguyen, a notable specialist on Vietnamese food, expressed her disappointment at the magazine's decision to feature Akin.
"There are plenty of Vietnamese-American chefs and restaurateurs who can give insights on pho, in fluent English to boot," Nguyen wrote on her blog Viet World Kitchen. "Bon Appetit should have reached out to them as well as Akin to compare and contrast."
To Akin's credit, if one only watches the video without reading BA's accompanying piece, he doesn't seem at all the snob that netizens have made him out to be. "My approach is to start by putting a few slices of jalapeño in the bowl," the chef states at the beginning of the video, but perhaps the intention to share his own take on phở eating techniques could have been made clearer to the audience.
BA's questionable title for the feature and the pho-ramen comparison have inadvertently set the chef on a path straight to social media hell, as sensitive readers felt patronized by the text before they even heard what Akin has to say.
The decision to participate in BA's story could potentially wreck the restauranteur's business as well, as incensed viewers have since flocked to Yelp to punish Stock, Akin's Southeast Asian bistro, with one-star reviews, while berating the its phở rendition with harsh comments. The Philly chef is also reportedly regretting his involvement with BA, if a recent Facebook comment is any indication.
"I was baited into this 'opinion' segment during a little Q&A at the end of the visit when in reality the supposed purpose of the filming was to show how I make pho," wrote Akin, "and I stressed repeatedly that I'm one guy in a million making this dish."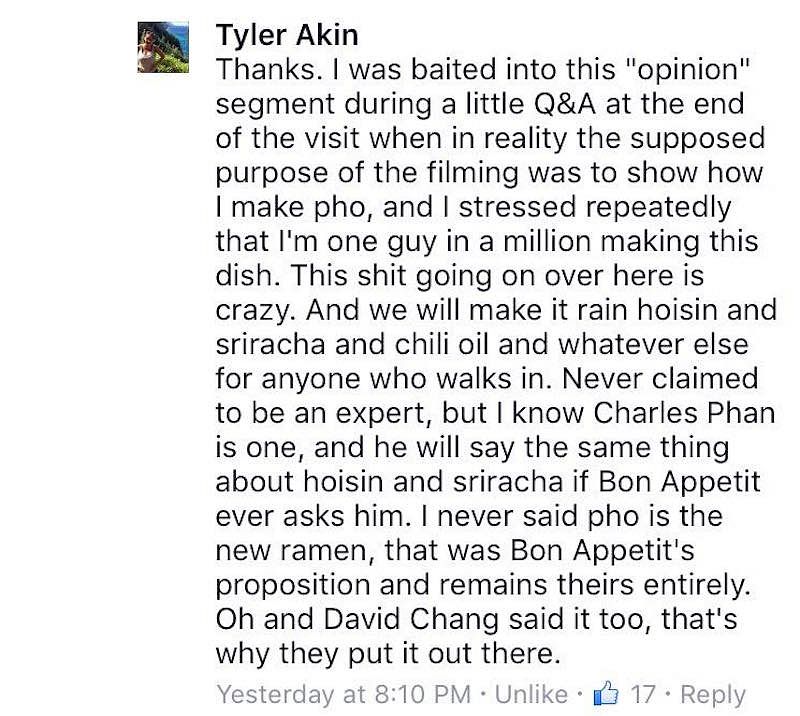 Amidst the backlash, BA amended the title of the controversial post, initially to "We're in Love With This Pho", and then to just "About That Pho Video". The feature now consists of the original copy, along with two messages from editor-in-chief Adam Rapoport apologizing for their missteps during the editorial process.
Local news channels have also caught wind of the ruckus: Tuoi Tre even did a brief survey of responses to the video. Vietnamese's reception to Akin's opinion has been surprisingly less dramatic, with some even agreeing with the chef on how to best enjoy phở. "Cannot agree more! Adding the sauces will really destroy the typical flavor of the pho," Thanh, a reader, told the news source.
Take a look at the contentious clip, courtesy of Facebook user Al Lin, below:
[Photo via NextShark]
Related Articles:
---