In his latest exhibition, Muted Conversations, Vu Tien Dat invites his audience to explore the unspoken in Vietnam's spirituality and superstitions.
In his new exhibition Muted Conversations, Vu Tien Dat transforms everyday scenes of Vietnamese rituals into something extraordinary. Dat's imagery is anything but encyclopedic – he's an art photographer, not a photojournalist. There will be no wedding portraits, no catalogs of shrines by region, no guide to the roles that certain colors play at funerals.
Visitors to the show will, however, be surprised by its unconventional layout. In a typical exhibition, photographs line gallery walls and viewers scan works frame by frame. On the contrary, Muted Conversations opens with a single enormous print of a lonely red umbrella on a sunny beach. Prints of varying sizes, congregating near the corners of The Factory's generous space, lead viewers along a path toward the final photograph, a dark road bathed in purple light.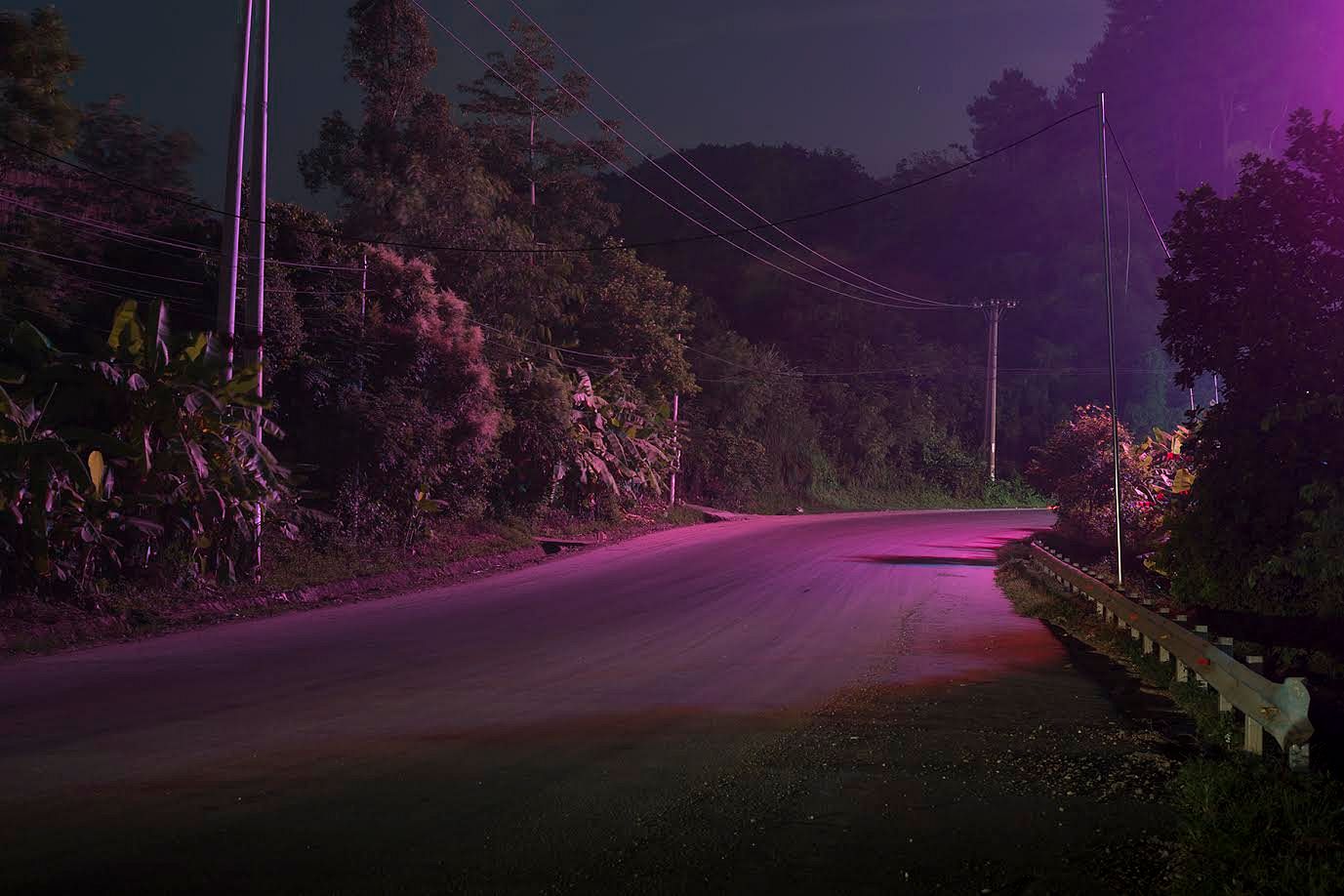 The show's layout is purposefully imperfect. In "Untitled 34", a cat playfully laps at a glass of water meant for offerings. In "Untitled 3", we meet a dapper gentleman posing unabashedly for the camera. These images, often candid and sometimes silly, live alongside a naked portrait of Dat's maternal grandmother after a cupping session, "Untitled 12", and the bones of Dat's maternal grandfather, "Untitled 15", reassembled after exhumation from a Saigon graveyard soon to be converted into a residential and retail site.
For Dat, there is no single story to be told when it comes to Vietnam's spirituality and superstitions. Rather, spirituality is found in moments both silly and serious, and in spaces both mundane and profound.
Dat spent his teenage years studying abroad and began collecting these images in 2011 to explore his Vietnamese identity against the backdrop of the country's rapid modernization. He took many of the photographs while traveling over the past year from Ca Mau to Ha Giang and back again thanks to the Mortimer Hays-Brandeis Fellowship, a prestigious one-year travel grant for visual artists.
Each image has a backstory, ranging from hilarious to harrowing; however, the show's opener, the solitary umbrella, stands out. While driving through Thua Thien-Hue province on a chilly March morning, Dat spotted a crowd gathered under an awning on Thuan An Beach. He learned that a university student had drowned just moments ago, swept out to sea by winter rip tides. The boy's friends and local community members gathered to pray for the body's return, lighting incense along the shores and casting "hell money" into the turbulent waters. The body washed up one week later in Tam Giang Lagoon, nearly 13 kilometers away.
In the wake of this devastating event, a grieving community found hope in its mourning rituals. For Dat, the episode symbolized how spirituality can empower people to face uncertain circumstances.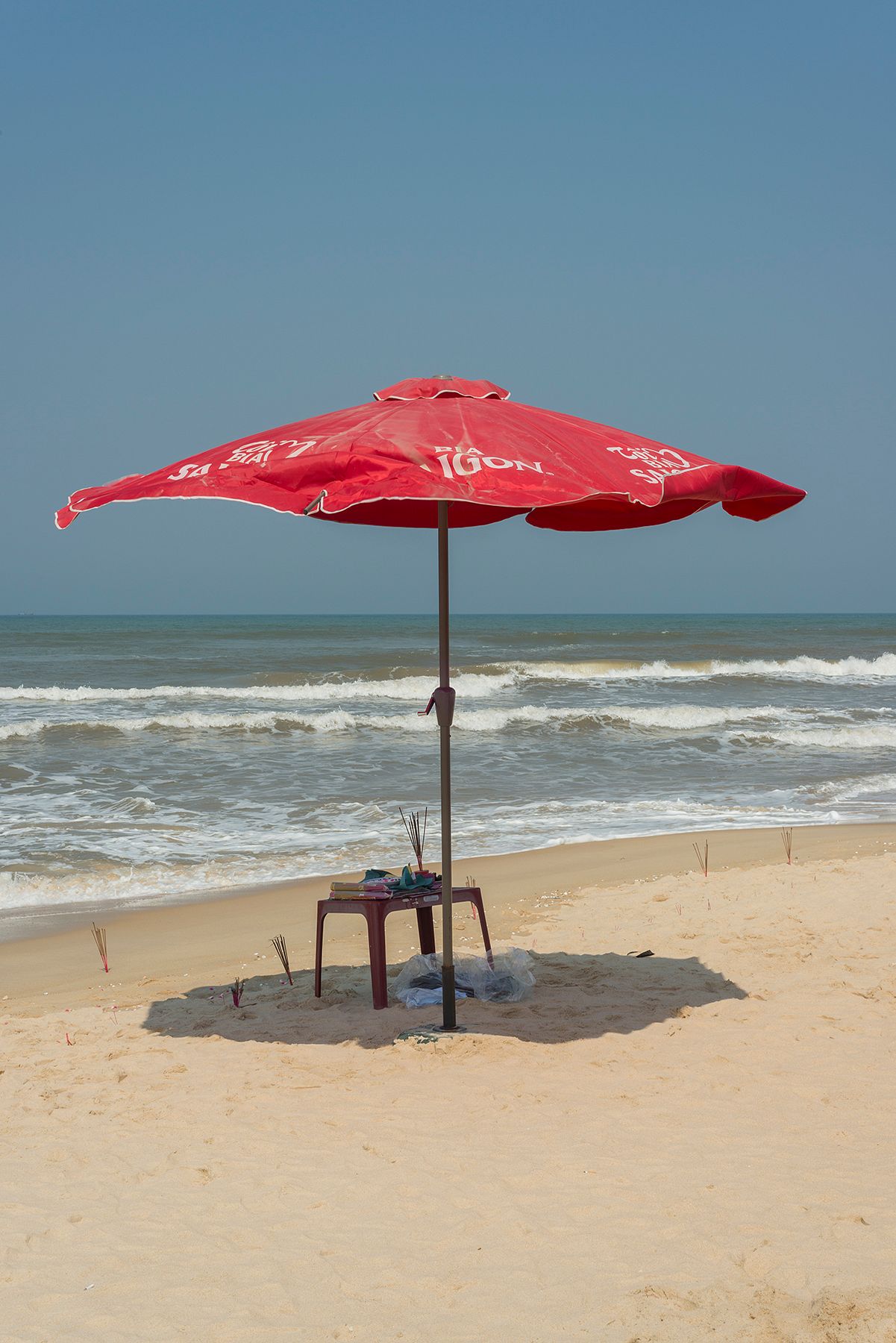 "Translated into Vietnamese, Muted Conversations is Nhung cuoc doi thoai (c)am," Dat tells Saigoneer. "The words for 'muted', câm, and 'the dead', âm, sound similar. It's like talking with the dead, the unknown, the immaterial."
In Muted Conversations, reckoning with Vietnam's spirituality requires more than observing how people grapple with tragedy. Dat's show is a kaleidoscope of images: plumes of smoke rising from burning crops, neon lights glinting on Buddhist shrines and Catholic effigies, red fireworks raining over a city skyline of new and old buildings. Through his work on how Vietnamese people embrace spirituality, the artist examines who he is and what his country is becoming.
Muted Conversations is on display at The Factory Contemporary Arts Center from August 10 to September 17. Vu Tien Dat will also host an artist talk at the gallery on August 24 from 4pm to 6pm.
[Top image: Vu Tien Dat, Untitled 34 (2016), inkjet print, 60 x 40 cm.]
---

Related Articles:
---