As a new week begins, Vice Chairman Doan Ngoc Hai of the District 1 People's Committee has made it clear he plans to continue his sidewalk-clearing campaign.
According to Tien Phong, the official began an aggressive push to rid city sidewalks of clutter, removing everything from flower boxes and shop signs to front steps and illegally parked vehicles from the pavement. The move comes hot on the heels of a recent municipal government proposal encouraging local residents to walk to work if they live within three kilometers of their office.
In his ongoing offensive against sidewalk clutter, Vice Chairman Hai has vowed to clear the areas in front of state agency buildings first in order to set an example for local residents and has spared no one in handing out violations, punishing government-issued vehicles alongside civilian-owned ones, the news outlet reports. The District 1 official has expressed a desire to transform downtown Saigon into a miniature version of Singapore, publicly vowing to resign if his campaign fails.
That is perhaps why Vice Chairman Hai has been so enthusiastic about sidewalk clearance. On Sunday evening, the district official and his team were working to clear vehicles illegally parked on sidewalks and purge the pavement of nighttime quán set up along the roadside, according to Tien Phong. While some have pushed back against this strong and sudden enforcement – vendors along Nguyen Trung Truc were reportedly less than pleased by the campaign, the news outlet writes – this has yet to deter Vice Chairman Hai.
As a result, the district official has received positive feedback from his superiors, including Chairman Nguyen Thanh Phong of the municipal People's Committee, reports Zing.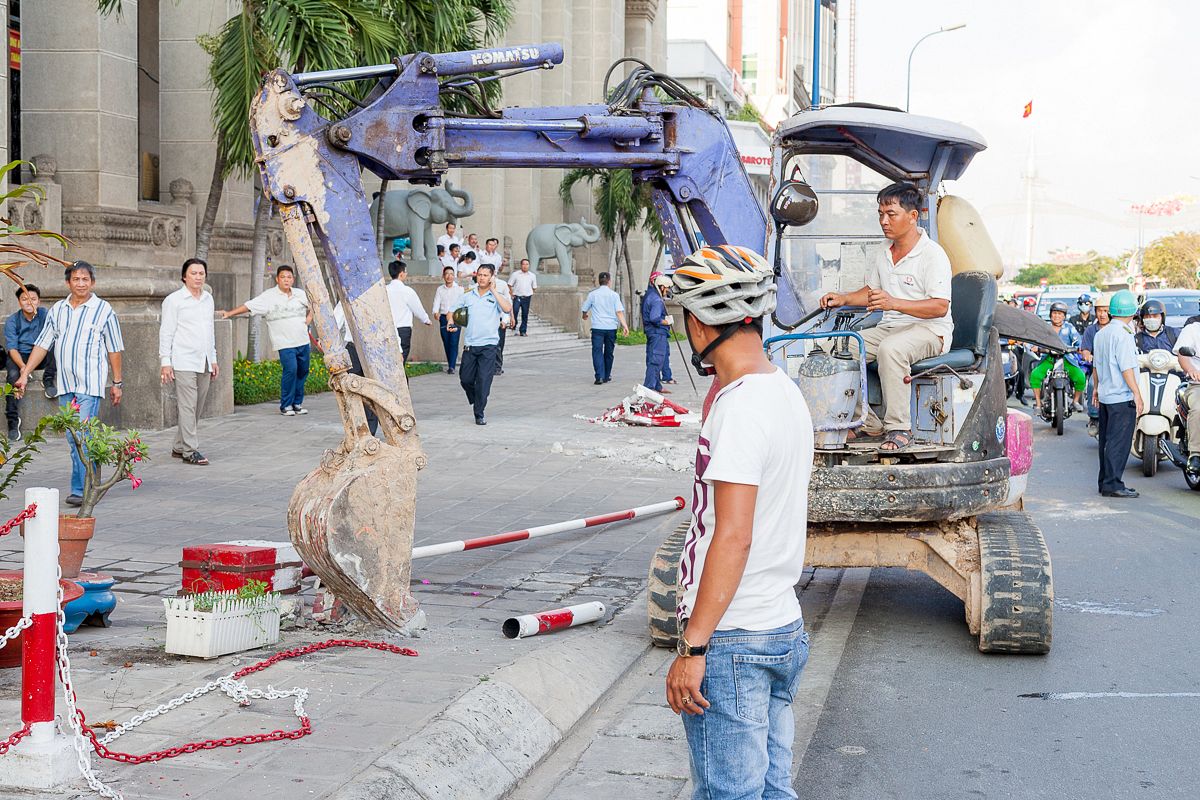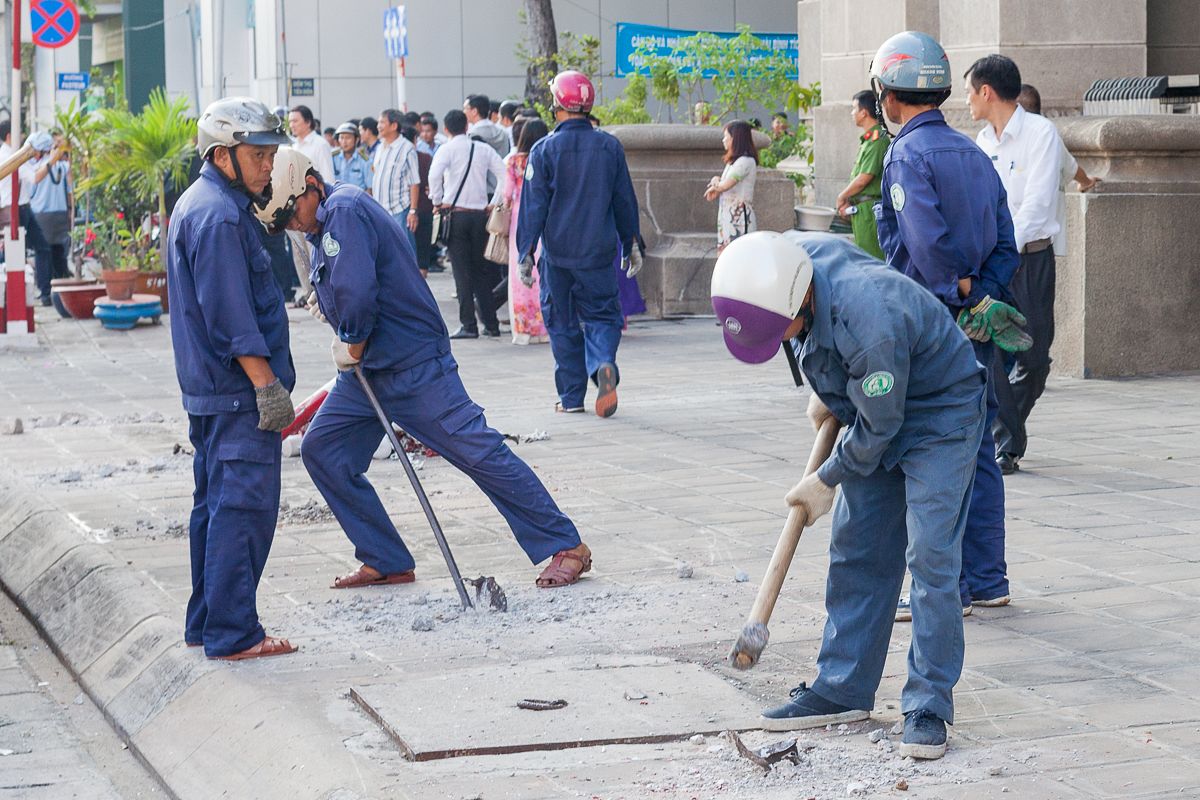 However, while some have praised District 1's clean-up efforts, the vice chairman found himself in a minor debacle yesterday as a result of his sidewalk-clearing offensive. According to another Zing article, yesterday Vice Chairman Hai and a team of local authorities paid a visit to the State Bank of Vietnam branch located on Vo Van Kiet Street to remove steel barriers installed around the building, a series of flower beds built in 1973, and six security kiosks stationed around the bank to house security personnel.
Upon arrival, several State Bank employees came outside to speak with the clean-up team, however when the branch's leadership did not appear, Vice Chairman Hai directed his team to demolish the security kiosks and other sidewalk obstructions, the news outlet reports.
As of late last night, however, Zing reports the vice chairman met with Deputy Director Nguyen Thi Lanh of the State Bank's Saigon branch and agreed to re-install the six demolished security kiosks, though he was unwilling to return the steel barriers lining the perimeter of the building.
Moving forward, Saigoneers can soon expect to find such sidewalk-clearing practices in other districts, as both Binh Tan and District 3 officials are currently mulling plans to do the same in their neighborhoods, reports Tien Phong.
Elsewhere in local government news, Nguyen Ngoc Tuong, deputy head of the city's Traffic Safety Committee, has a more measured approach in mind, according to Tuoi Tre. The official has reportedly called for strong enforcement to clean up Saigon's pavement but is also encouraging a one- to three-month campaign beforehand to help local business owners adjust to the change. Tuong also advocated for pedestrian and business zones on sidewalks over three meters wide in order to accommodate both Saigon's roadside dining culture and its foot traffic, however there is no citywide plan for sidewalk clearance currently in place.
---

Related Articles:
---