If I have to drive eight kilometers across the city to get breakfast, it'd better be damn good.
I don't know about you, but to me, finding a decent breakfast spot in Saigon is a cakewalk. I'm not fussy about my options: as long as the meal is hot and quick, I'm a happy man. In every neighborhood, wet market and busy residential area, there are a plethora of dishes guaranteed to satisfy your hankering for hearty breakfast food. Busy office workers in a rush usually opt for a bánh mì or xôi to-go while middle-age patrons can leisurely relish a bowl of hot phở or bún bò after their morning exercise routine. At the end of the day, there's something for everyone.
For this week's Hẻm Gem, however, I decided to make an exception to my easy-does-it breakfast ritual and made a 40-minute trek to Binh Thanh's Ba Chieu Market area in search of a kickass portion of bánh cuốn trứng – because who can say no to that glorious silky roll of egg dumpling (see above)?
Hailing from the country's northern region, bánh cuốn is a staple breakfast dish in Vietnamese cuisine. To be completely honest, I'm not a big fan of the rolled dish; at times, it's too messy. The hallmark of a good roll of bánh cuốn is thin, tender flour sheets and so much mincemeat filling it's spilling out of the roll.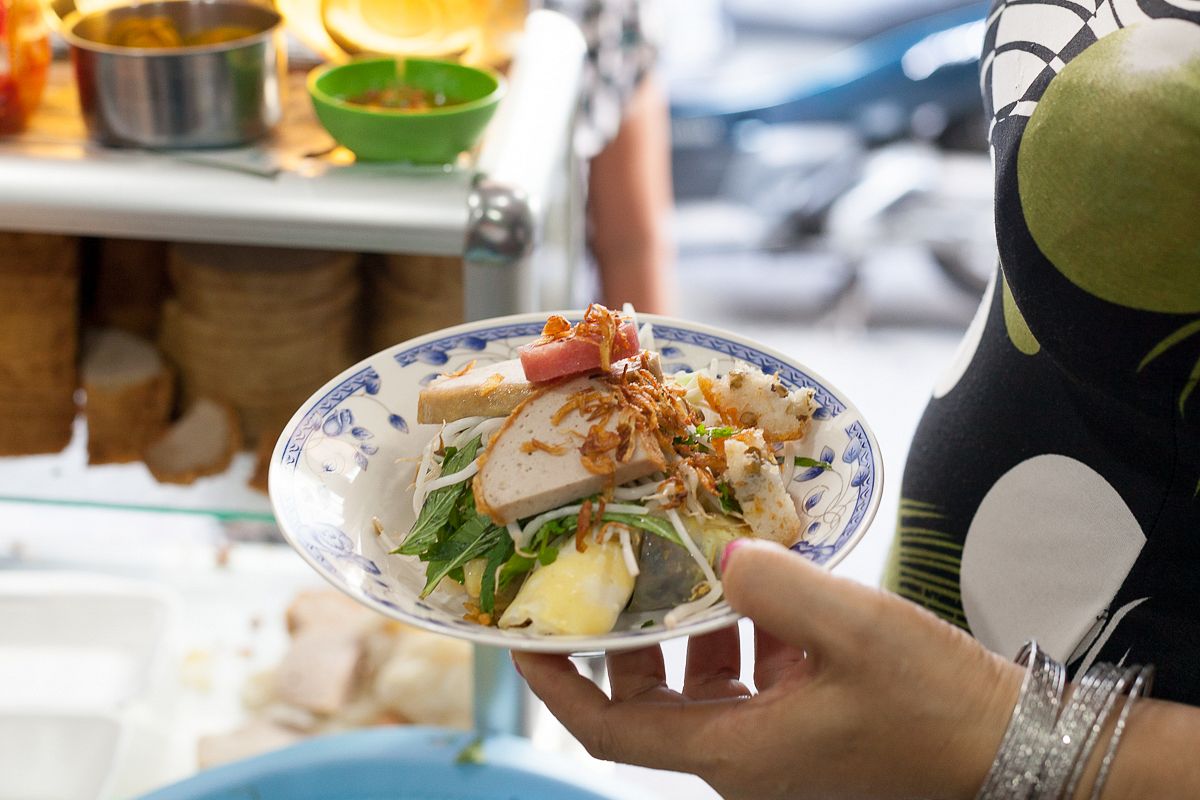 These all sound very tempting on paper, but in reality, they present a whole set of problems for clumsy eaters like me: there's no graceful way to eat such a huge roll of precariously constructed food. The contents will either fall all over the plate or you'll have to shove the entire thing in your mouth in hopes of keeping them all in place. So take it from me: bánh cuốn is not a wise choice for first-date food.
Nonetheless, I'm a sucker for exotic renditions of traditional dishes; so there I was, settled down on a plastic stool inside a middle-aged woman's house looking forward to sampling some delicious bánh cuốn trứng.
Tucked away in a narrow hẻm on Van Kiep Street in the vicinity of the Nhieu Loc Canal, the eatery is technically not an eatery: it's somebody's living room, converted to house a small prep area just cozy enough to fit one cook and an expeditor – in this case, the owner and her sister. The setup is typical of what one might come across at any joint serving the dish: white cloth stretched over a pot of steaming water and a bowl of fermented rice batter.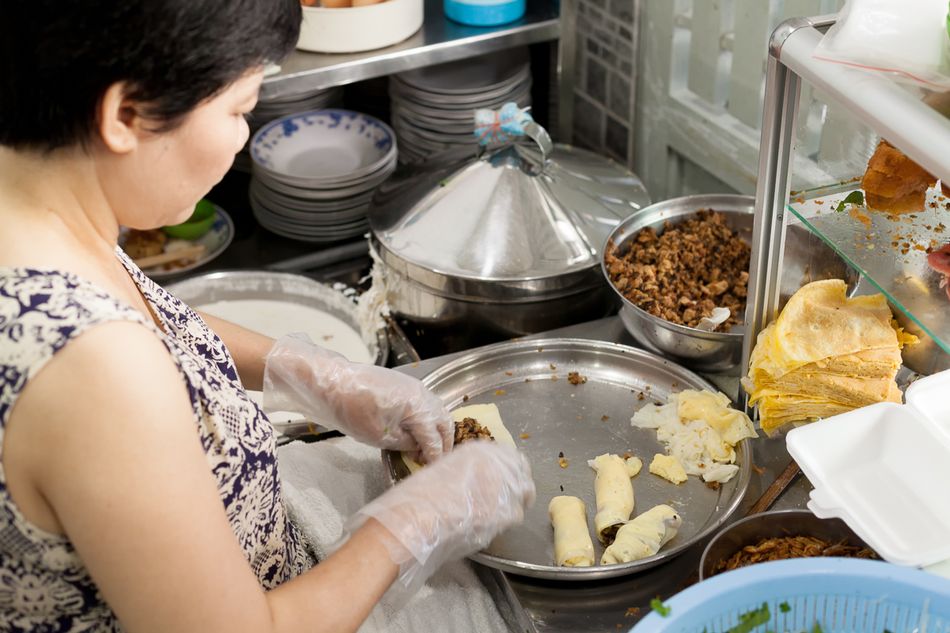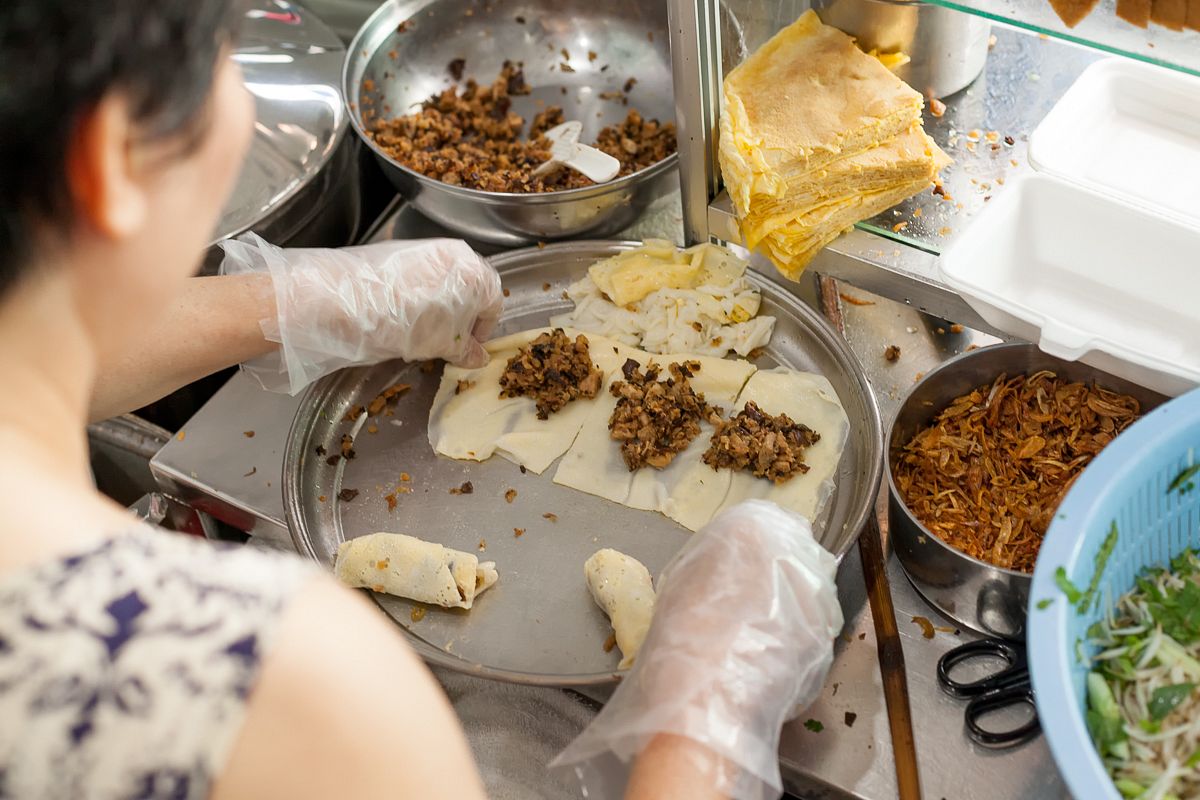 The egg part of the equation only comes in later. Once a customer makes an order, the owner quickly whisks up two eggs in a small bowl and pours the liquid carefully over the batter. The mixture of egg and batter will go onto the hot cloth surface to begin the transformation into a delicate sheet of golden egg-rice batter. It's hypnotizing how nimble her hands are when they go through the process.
The bánh cuốn trứng arrived on a plastic plate, arranged in a neat row. The lady also kindly cut them in half (untidiness crisis averted!). The accoutrements are simple: diced herbs and boiled beansprouts with an assortment of chả – local cold cuts, which I don't particularly care for.
But the egg is a game-changer. The addition improved the texture of the rolls, making them so durable that even I couldn't mess it up. Moreover, there was a richness to the bánh cuốn that eludes the traditional version: each bite is a complete combination of texture and taste, made better by the slightly sweet and spicy nước mắm.
As indifferent as I was to the breakfast staple dish before, I left Van Kiep satisfied, content and a total bánh cuốn convert (but only if there are eggs in it).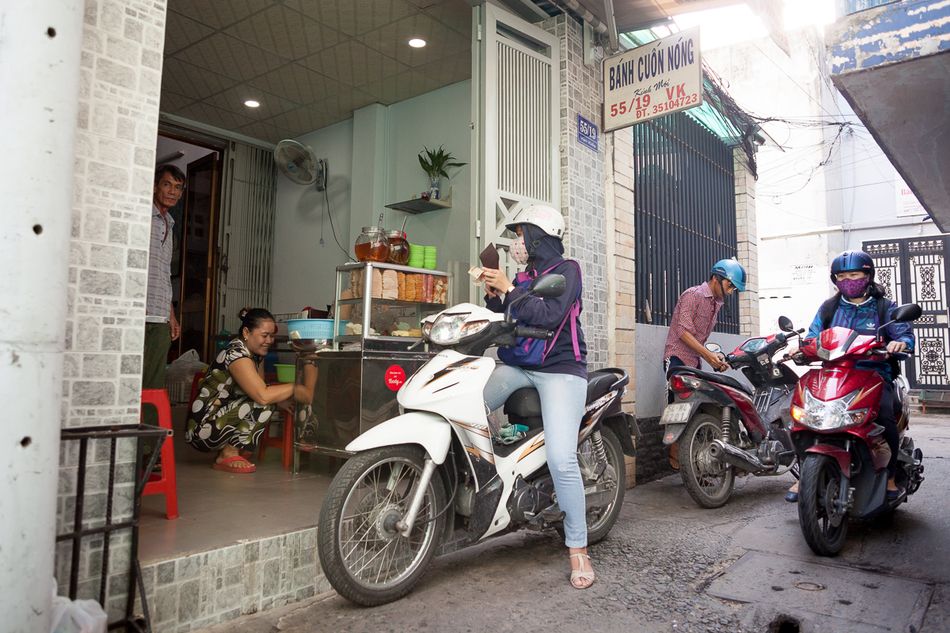 Banh Cuon Trung Van Kiep only opens in the morning from 5am to 11am.
To sum up:
Taste: 5/5
Price: 5/5 – VND26,000 per complete plate, VND21,000 with just the egg rolls.
Atmosphere: 4/5
Friendliness: 5/5
Location: 3/5 – parking could be a pain for more than two bikes.
Khoi loves tamarind, is a raging millennial and will write for food.
Bánh Cuốn Trứng
55/19 Van Kiep, Ward 3, Binh Thanh District

---

Related Articles:
---