Not street food strictly speaking but Quan Le Hong does fall under the banner of cheap eats, which is good enough for me. Even more so when the eats are as cheap and delicious as the fried beef dishes here.
Le Hong really only does two things – fried beef and fruit drinks. I'm basing this on the two huge menu boards that line the walls but, in the many visits I've made, I've yet to see anyone drink a smoothie or juice. So we'll just talk about the beef.
The great thing about Le Hong is that you can have your beef anyway you like it. As long as it's bo ne, bo luc lac or bit tet. Me, I go bo ne. At 62,000vnd a plate, you'll be hard pressed to find somewhere offering (Vietnamese) beef at this quality for the same price. Your $3 gets you a griddle plate of beef, onions, egg and a cube of pate, accompanied by a small salad and a fresh banh mi khong to mop up the juices.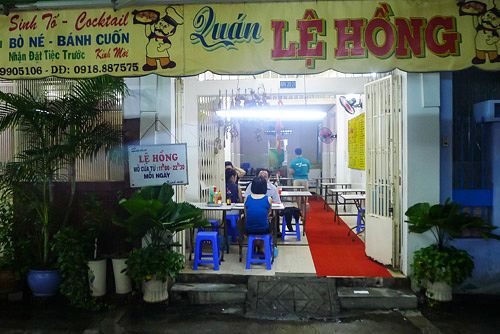 On weekend evenings this place is buzzing, the chatter of the diners almost in synch with the sizzle of the hot plates as they're brought out at breakneck speed from the kitchen. The service here really is amazingly quick – you rarely wait more than a couple of minutes before an exceedingly hot plate of sizzling beef is plonked in front of you. In fact, the wait for it cool to a bearable temperature is longer than the wait for the food to come out.
In conclusion – Quan Le Hong: good for cheap (around VND60,000), tasty beef and a bit of an adventure; not so good for vegetarians and arteries.
Let me give you a hand with directions because this isn't the easiest place to find. Head towards the airport on Le Van Sy and immediately after the railway line turn left at the traffic lights – not into Huynh Van Banh, but the hem before. Continue down the hem for about 100m until you get to the house directly in front of you. The hem goes around both sides of the house, but you need to take a right turn, between two houses. Follow this narrow hem for about 40m until it opens out, and take the first right. You'll see Quan Le Hong right there.
Quan Le Hong 489/27/39 Huynh Van Banh, Phu Nhuan (between Le Van Sy and Truong Sa, close to the railway line). Open: 11ish to 10ish