For quick and easy 'on-the-go' snacks, I'm very much a banh mi or banh bao man. Banh mi when I'm looking for a light bite; banh bao when I'm in need of something more substantial. And for both the best selection and the best tasting buns, I've not found better than Ca Can in the middle of District 5.
Housed in what could be best described as a large wall-less metal shed, this quan has a noodle stall at the rear, with the headline act very much to the fore at the front.
You'll immediately see the huge steaming trays stacked high next to a towering shelf unit.
Fillings range from the basic pork through to the special – basically, everything chucked in to that baby. There's some smaller xa xui (chinese pork) buns and, whisper it, a vegetarian option too. I had a chicken bun, which made a pleasing change from the ubiquitous pork varieties.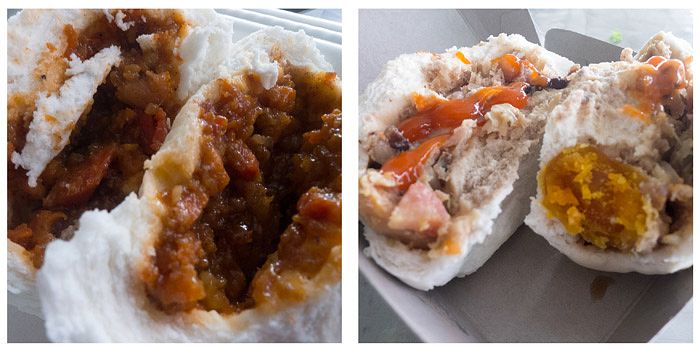 You might be thinking that 28,000vnd is a bit steep ($1.30 – the shock! The horror!) when banh bao can be picked up pretty much any street for less than 15,000vnd. However, the quality and quantity of the filling more than justifies the higher price. Not so much banh bao as banh wow!
Chilli and soy sauces, and some vinegars if that's your thing. It's not mine but, hey, feel free. Who am I to judge?
Oh and, there's what looks like some knockout desserts as well. I say 'looks like' because, on your behalf, dear reader, I gorged on two banh bao's and could not find space for what was a very tempting slice of flan. I apologise if I've let you down. I'll try harder next time.
Open: Daily, all day
Dishes: Banh Bao from 12,000 to 28,000vnd
110 Hung Vuong, D5 (at the junction with Nguyen Tri Phuong)