Fried food gets a bad rap in my view. People say that oil is not good for you, so frying makes food unhealthy for us. But the thing is, it's usually only fried once. One time. And one's a very small number really. In fact, so small that if fried food was fried any less, it wouldn't be fried at all. It would be salad.
So there we have it. Fried food – virtually salad. And when that food is fruit, well, I don't think you can eat any healthier, can you? Exactly. Which is why one my favourite street snacks is chuối chiên (banana fritter).
You can find chuối chiên all over town – look out for street-side trolleys with smoke rising from a large wok of sizzling oil. In my experience, in addition to banana fritters, the vendors will offer bánh cay (nuggets of spicy polenta-style rice cakes) and khoai lang chiên (fried sweet potato in batter). All of which are extremely morish coming from the right stall.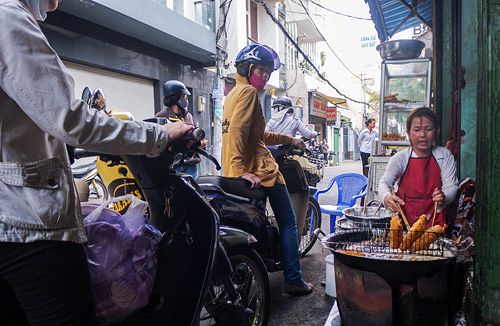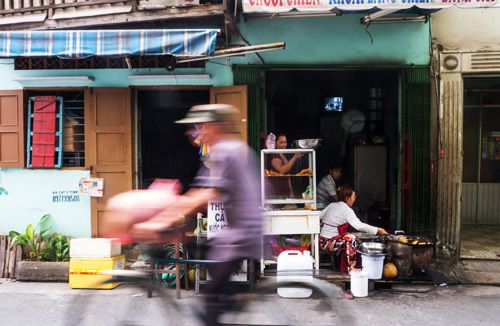 This particular vendor in Phú Nhuận is a stand out though for the quality of the chuối chiên. She takes two small bananas, squashes them flat together, dunks them in the batter and fries the fritter until it's three-quarters done and then – and this is the pièce de résistance – she dunks it the batter again, and back in to the fryer. Double batter! Twice fried!
Yes, yes, I was saying that fried food is healthy because it's only fried once. Remember though that you're eating not one but two bananas – that's 83% of your potassium RDA right there. Possibly.
I should perhaps point out that I'm not a qualified nutritionalist in the traditional sense.
Open: lunchtime to early evening.
Price: VND6,000 each.
159 Hoàng Văn Thụ, Phú Nhuận (opp junction with Hồ Văn Huê)
---
Related Articles:
---