The White Forrest opened its doors barely four months ago, and since my first visit, it has become one of my favourite restaurants and gathering places in Ho Chi Minh City.
So what makes White Forrest special? I guess is a combination of things:
The menus are quite ample, with different options for breakfast, lunch and dinner. Regardless of the time you arrive, you are spoilt for choice, the menu offers a choice of French and Italian fusion dishes with Mediterranean a touch.
On our last visit, we decided to treat ourselves to a nice dinner, and for starters we found it difficult to choose among the many dishes available, and in particular between the three different types of carpaccio; at the end the beef carpaccio won, which we shared with artichoke hearts and the pan fried foie gas.
The beef carpaccio (VND185,000) with foie gras, rocket salad, truffle sauce and parmesan cheese is fresh and delicious. The truffle touch makes a great difference making it really distinctive and the dressing is just perfect.
The pan fried foie gras (VND345,000) was really generous in size, especially considering it was supposed to be a starter! Great taste and texture, with amazing presentation and well-prepared liver. The side salad, and in particular the pears poached in red wine were a perfect.
Our last starter was the char-grilled artichoke hearts with taleggio cheese. Although I am not much of a vegetarian, this dish was lovely. Tender artichokes, with a spicy touch and great match with red wine. Forget anything you think about artichokes until you try dish unique dish.
For the starters, we shared a bottle of Rockbook Californian Cabernet Sauvignon, which was very fruity and nice: offering an intense and fresh nose and an elegant velvety palate.
We also shared three main courses. The first one was the lamb rack with black berry sauce (VND375,000) - Tender, soft and very tasty with the homemade sauce enhancing the already delicious flavour of the New Zealand lamb.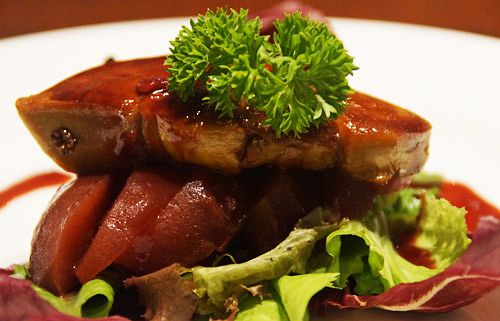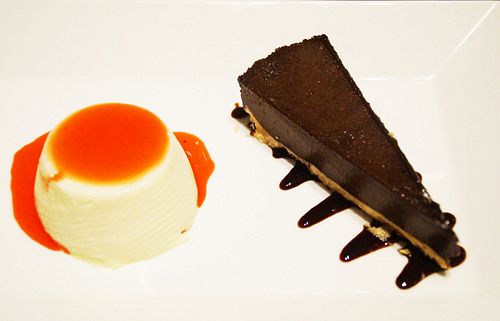 The duck breast with orange sauce and prunes was another of the shared main dishes: absolutely delicious, offering a great taste with orange hints, without being overwhelming and not trace of fat. One of the best duck dishes I have ever tried.
When our stomachs were getting full, our last main, the char-grilled rib eye steak with gorgonzola cheese arrived. The Australian beef was juicy and mouth-watering, and the gorgonzola cheese gave it that special Italian touch, to turn something simple as a stake, into an incredible dish.
With the mains, we shared our second bottle of wine: a 2009 Bordeaux, La Croix Bacala, a lovely wine, smooth with the characteristic Bordeaux peppery taste.
Three starters and three mains were filling enough to fill four hungry eaters; nevertheless we went for a dessert selection: The semifredo, intense and delicious, disappeared in a matter of seconds. The panacotta was fresh and so were the White Forest cheesecake and the walnut brownie. However my favourite was definitely the Chocolate cake, a real wow!
Mr. Qui, the chef behind all these lovely dishes, represented HCMC at the Iron Chef competition two years in a go. Both he, and Paul, the owner, consider Italian and French cuisines to be the most popular and what people like most. To them, they added Mediterranean salads, because they are among the best in the world.
The White Forest offers a relaxed friendly atmosphere, with beautiful unique forest themed decorations. Apart from the delicious food, you can come and chill out with some drinks from their awesome drink menu, including over 40 different types of wine, (bottles starting at VND450,000) a good range of appealing cocktails and many beers, two of which are available on tap.
Open 7 days a week, from 6.30 am to 11.30 pm, the White Forest is one of HCMC's top rated restaurants for food, which while affordable, offers a great environment. And if you are free, you can enjoy the happy hour from 2.30 to 8 every day: buy one get one free cocktails.
White Forest. 14bis Nguyen Dinh Chieu, District 1, HCMC. T: 1224285237