Given the city's hot weather, cold drinks are Saigon's very own specialty. While cà phê sữa đá and trà đá are timeless staples, in recent years we have also witnessed the rise of milk tea shops in almost every corner of the city. These drinks provide that jolt of caffeine one needs to start or get through the day, finishing with a pleasant taste. On the non-caffeine end of the spectrum, Saigon's menu of fruit- and vegetable-based drinks is as diverse as the list of possible ingredients.
Editor's note: As of 2019, 81 Cafe has moved to 28 Nguyen Huu Cau, Tan Dinh Ward, D1.
These non-alcoholic drinks are humble in their presentation and often served by street carts: various types of smoothies, sugarcane drinks, rau má (a form of Asiatic pennywort) or nước sâm (herbal tea) are all delicious in their own way.
Then there's đá me, a sweet and sour iced tamarind drink, one of my favorites during my adolescence when caffeine consumption was still closely regulated. Over the years, I have started preferring the convenience and functionality of other drinks over đá me's sweet and sour goodness and the tamarind drink has gradually fallen out of favor from my everyday life. It doesn't help that not every establishment serves đá me these days.

Which is why I was excited when a friend introduced me to 81 Cafe, a small coffee shop nestled in a hẻm off of Tran Quang Khai Street, a few months ago. Besides coffee and tea, 81 Cafe also offers lemon and honey-based drinks, đá me, sắn dây (kudzu root) and tắc xí muội (salted plum and kumquat juice).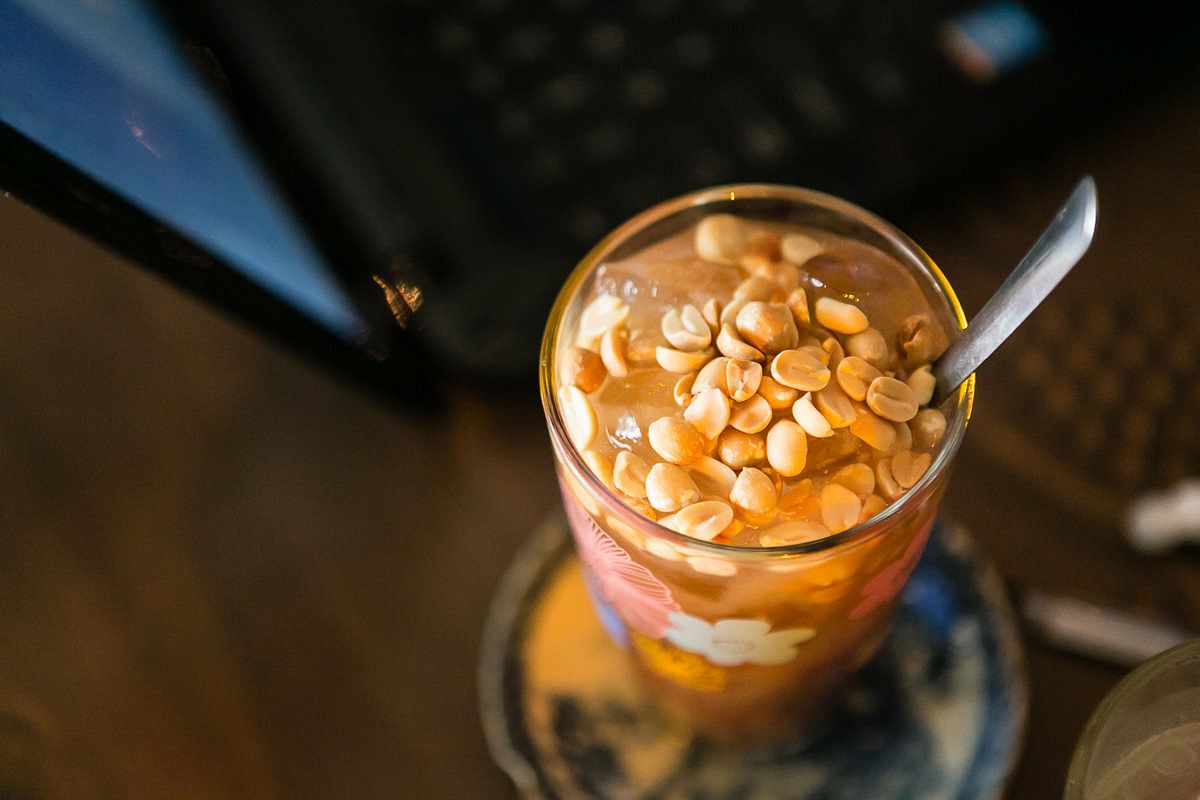 It's hard to screw up a simple drink like đá me, thus 81 Cafe easily satisfied my expectations, but with a little twist. The canonical version of a glass of đá me glass only involves the tamarind pulp, whereas the hard seeds are tossed away. At 81 Cafe, however, the tamarind seeds in the drink are edible and flavorful. The chewiness of the seeds themselves and of the handful of crunchy roasted peanuts complement each other well.
As the drink taught me, it turns out there is a different way one can utilize tamarind seeds, albeit a labor-intensive one: the seeds are separated from the pulp, boiled or roasted until the brown skin can be easily peeled off, soaked in cold water for three to four days, then stewed for 24 hours, which results in a tender and chewy texture that can be combined with the tamarind jam from the pulp in a refreshing drink.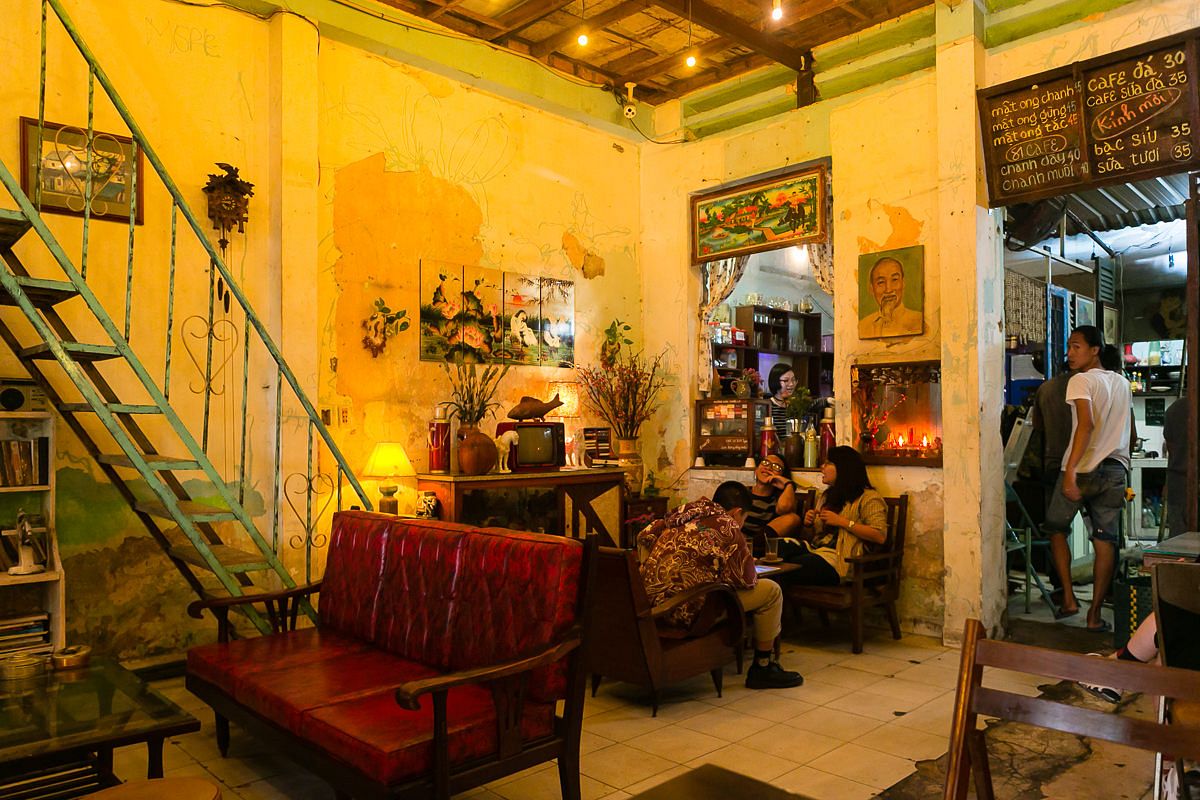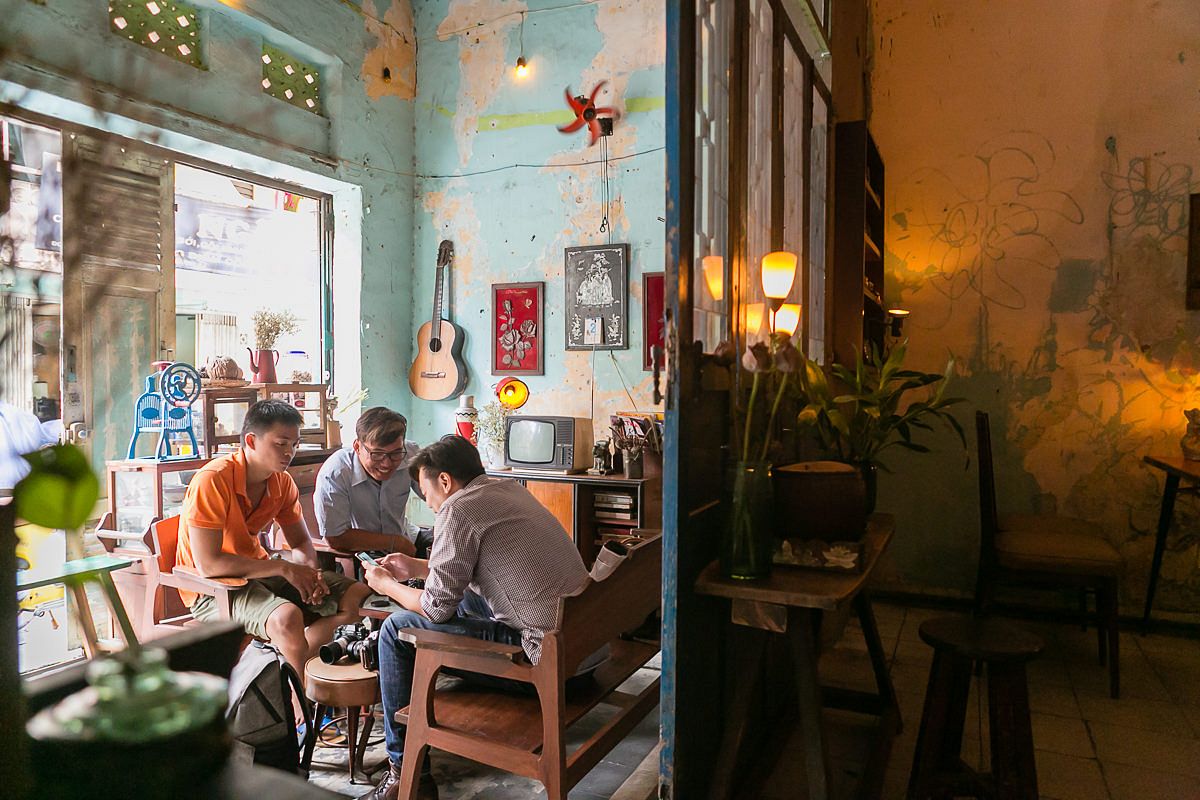 Another appeal of 81 Cafe, besides its menu, is its design. The coffee shop resembles a typical Vietnamese house in the 1990s. The sight of 81 Cafe's patchy plaster wall instantly reminds me of my old house. Other customers from my generation probably share this sentiment as well. The music further contributes to the nostalgic theme. On the day I went with our photographer, the cafe was rocking old records of Elvis Phuong and the band Phuong Hoang, iconic figures from a past era of Vietnam's pop music. If you're a Vietnamese whose parents love music and were born in the 60s, chances are you'll find some of these songs familiar and sentimental.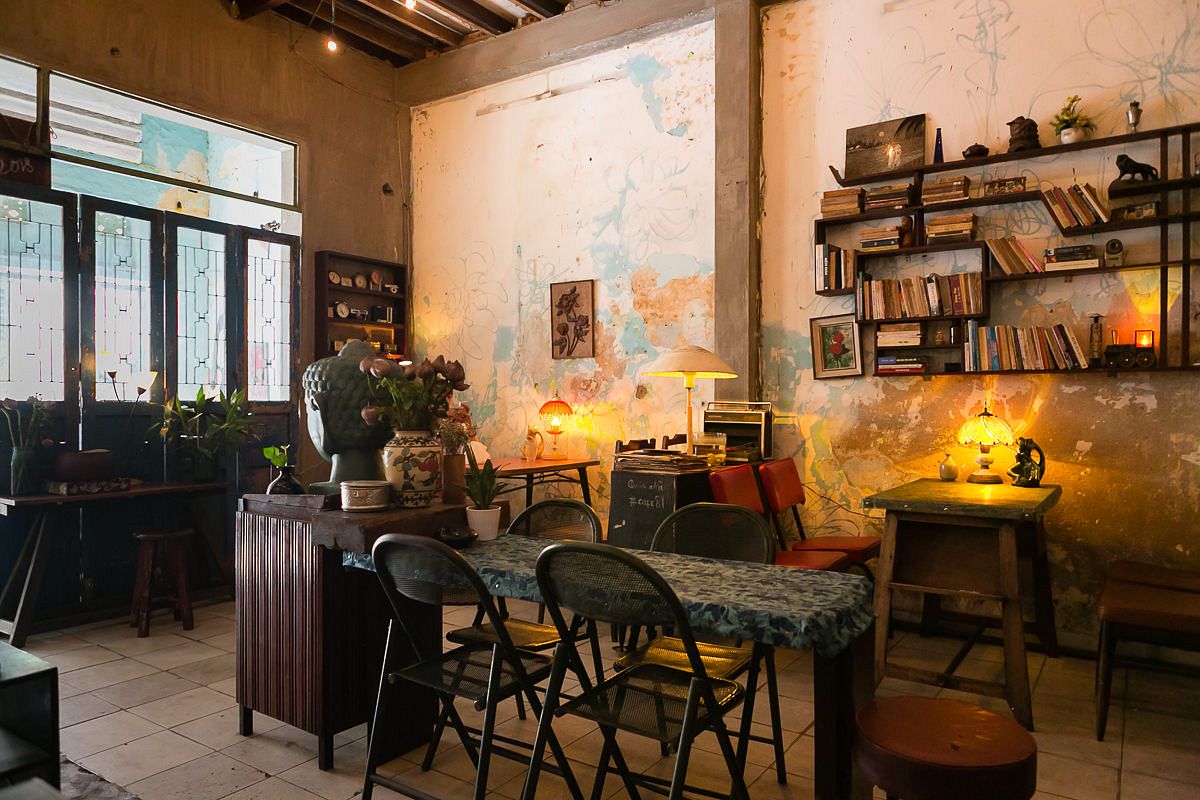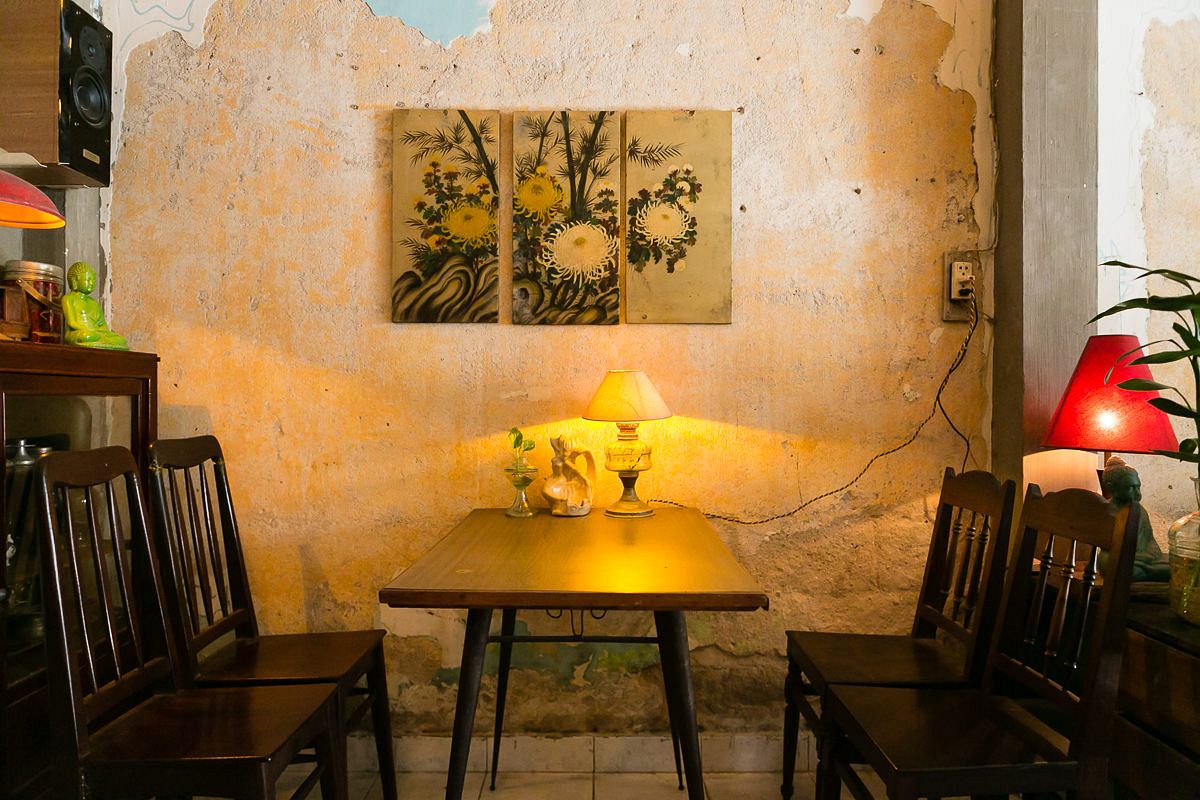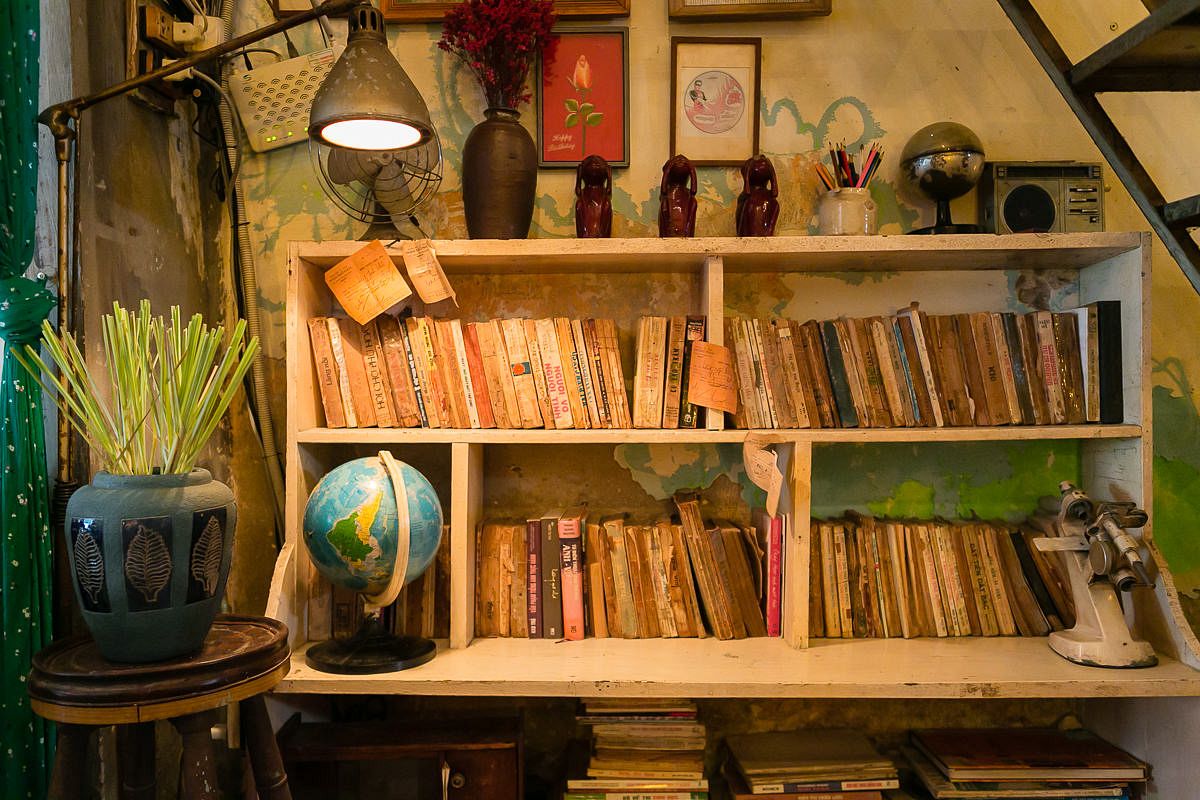 Besides being a cafe, this place also collects relics, some of which serve as a gateway to childhood memories. Scattered throughout the venue, one sees various objects from a bygone era: old book titles, radios, lacquer paintings, an old-school thermos and vintage sofas. On a side note, 81 Cafe is also home to many eager cats, who will keep you company and jump on your table if you bring food. I'm sold.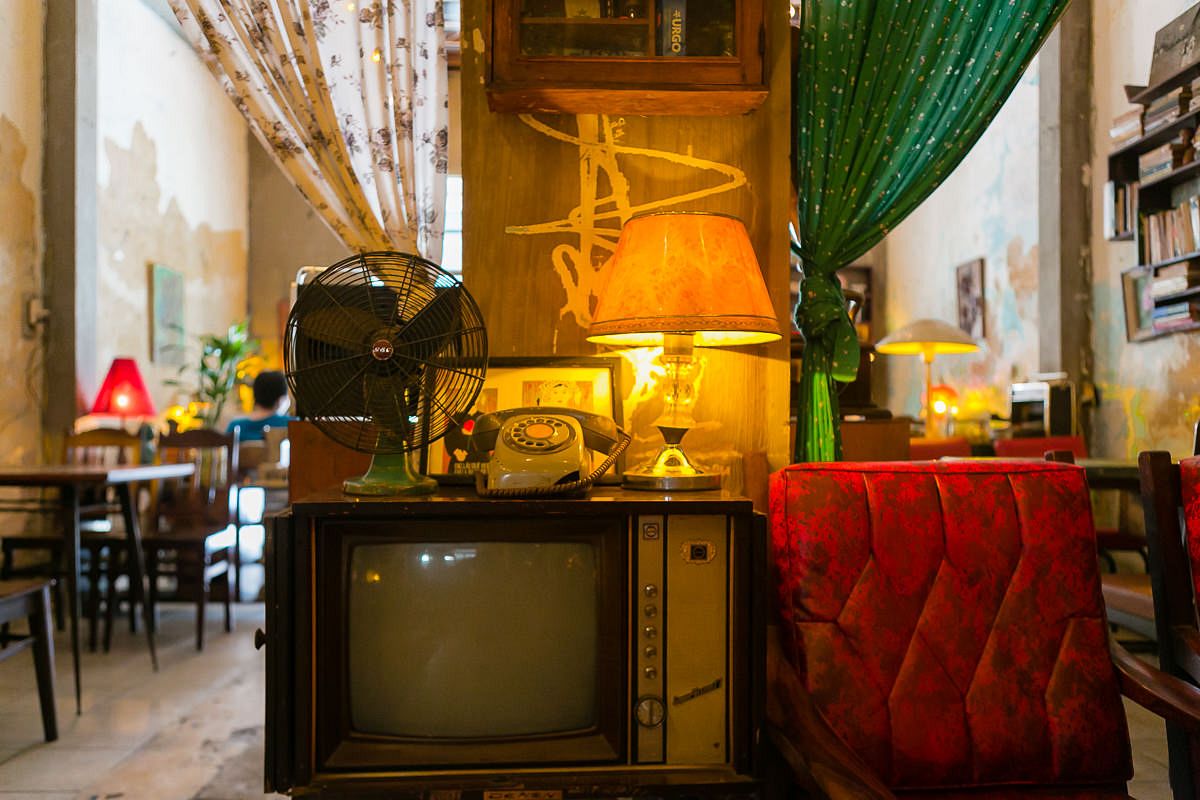 81 Cafe is open from 7am to 10:30pm.
To sum up:
Taste: 4/5
Price: 4/5
Atmosphere: 4/5
Friendliness: 5/5
Location: 5/5
Thi is a mushroom-loving weirdo. In 2002, she was introduced to noodles and her life has changed course ever since.
Coffee and other cold beverages
216B Nguyen Van Nguyen, Tan Dinh Ward, D1

---

Related Articles:
---