I wish I could claim that I discovered Cam Cam Kafe by myself. Tucked away in a corner unit up the second floor of a nondescript apartment in District 5, the coffee shop seems mostly undetectable from a pedestrian's perspective. And that's by design.
Had the discovery of Cam Cam been my personal triumph, an alternative version of this review would be something like this: on a trip to delve deeper into the richness of Saigon's Chinese quarter, I chance upon the Ha Chuong Hoi Quan Pagoda, a majestic Buddhist structure on Nguyen Trai Street. At a glance, Ha Chuong Hoi Quan shares many similarities with the rest of the city's temples: a calming quietness, the odd worshippers here and there praying while basking in that contemplative quietude, and a gentle waft of incense that hangs in the air like a whisper.
But what sets it apart can't be properly appreciated from a pedestrian's viewpoint: a set of expansive roofs with sweeping curvature in the color of sienna, an earthy, slightly worn shade of orange. Each end of the roof is embellished with dragon ceramic sculptures while the sides are lined with decorative mosaics of figurines, golden motifs and, at times, even shards of broken china. The curvature of the roof is a distinctive feature of Fujian architecture, also a common characteristic of this neighborhood where a large population of Fujian immigrants settled at the end of the 17th century. Ha Chuong Hoi Quan itself was built in 1809.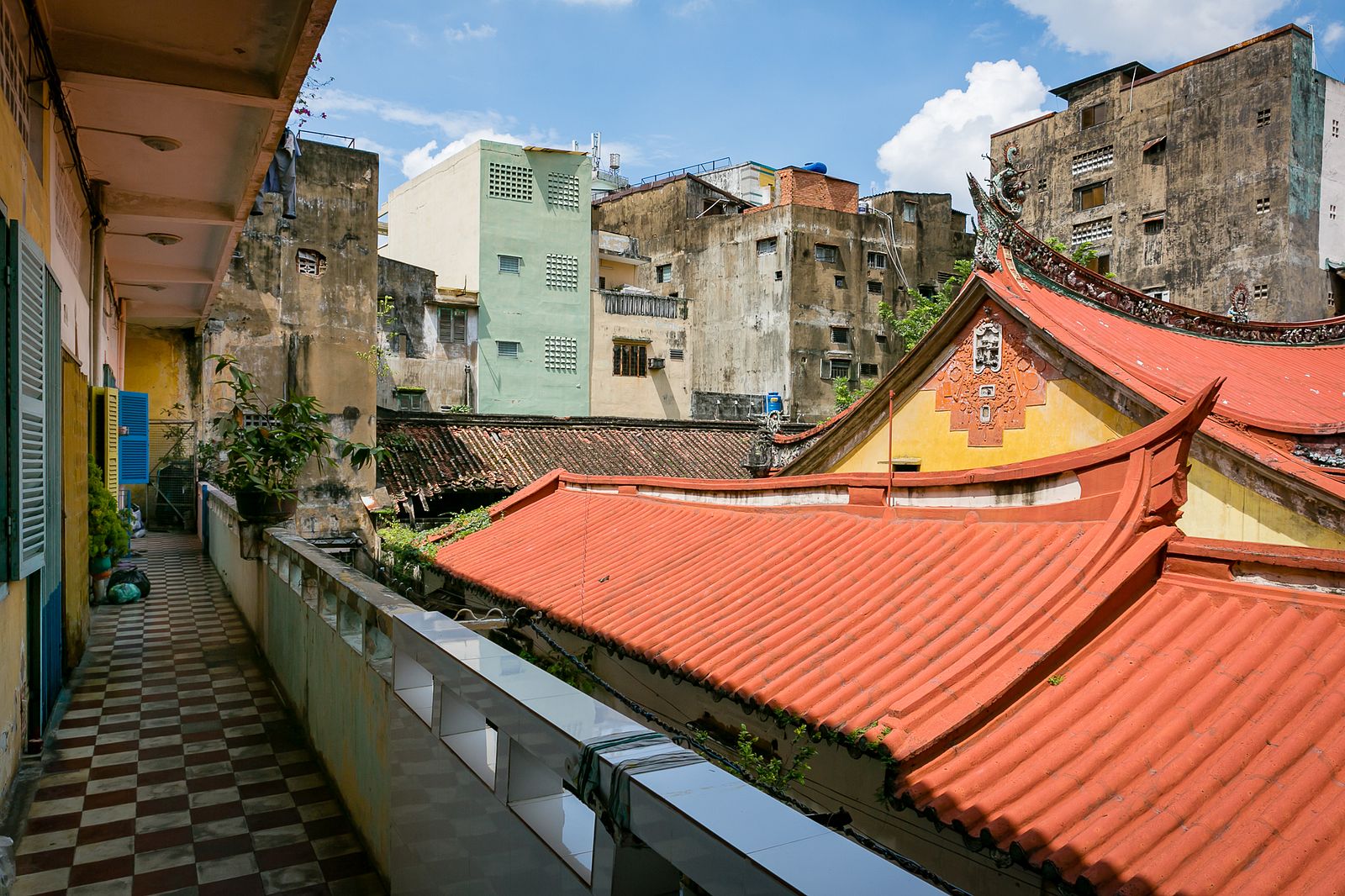 In order to take a closer look at this enthralling behemoth of orangeness, I seek a higher vantage point on the upper floors of a nearby apartment building, where I stumbled upon Cam Cam Kafe.
This narrative would have been perfect. In Vietnam's coffee shop ecosystem where independent cafes more often than not hide, lurk, perch, and wallow in some of the most covert corners of local urban jungles, discovering a cool new spot by yourself can send your street cred through the roof, pun intended. Alas, this wasn't the case — the owner of Cam Cam Kafe knows of Saigoneer and reached out to us. This, however, doesn't discount the fact that the coffee shop is a special hangout.
Unlike 42 Nguyen Hue or 14 Ton That Dam, the old apartment block that houses Cam Cam is a relative stranger to commercial presence. In fact, the café is pretty much the only business in the building, which has been purely residential for decades. It, like the many apartment blocks surrounding the pagoda, is more utilitarian than aesthetically pleasing. The architectural theme is also more colonial shophouse than modernist, as they used to house foreign merchants.
Considering the building's mostly residential nature, the owners of Cam Cam felt that it was necessary that the apartment dwellers knew exactly what and who they were welcoming onto their home turf.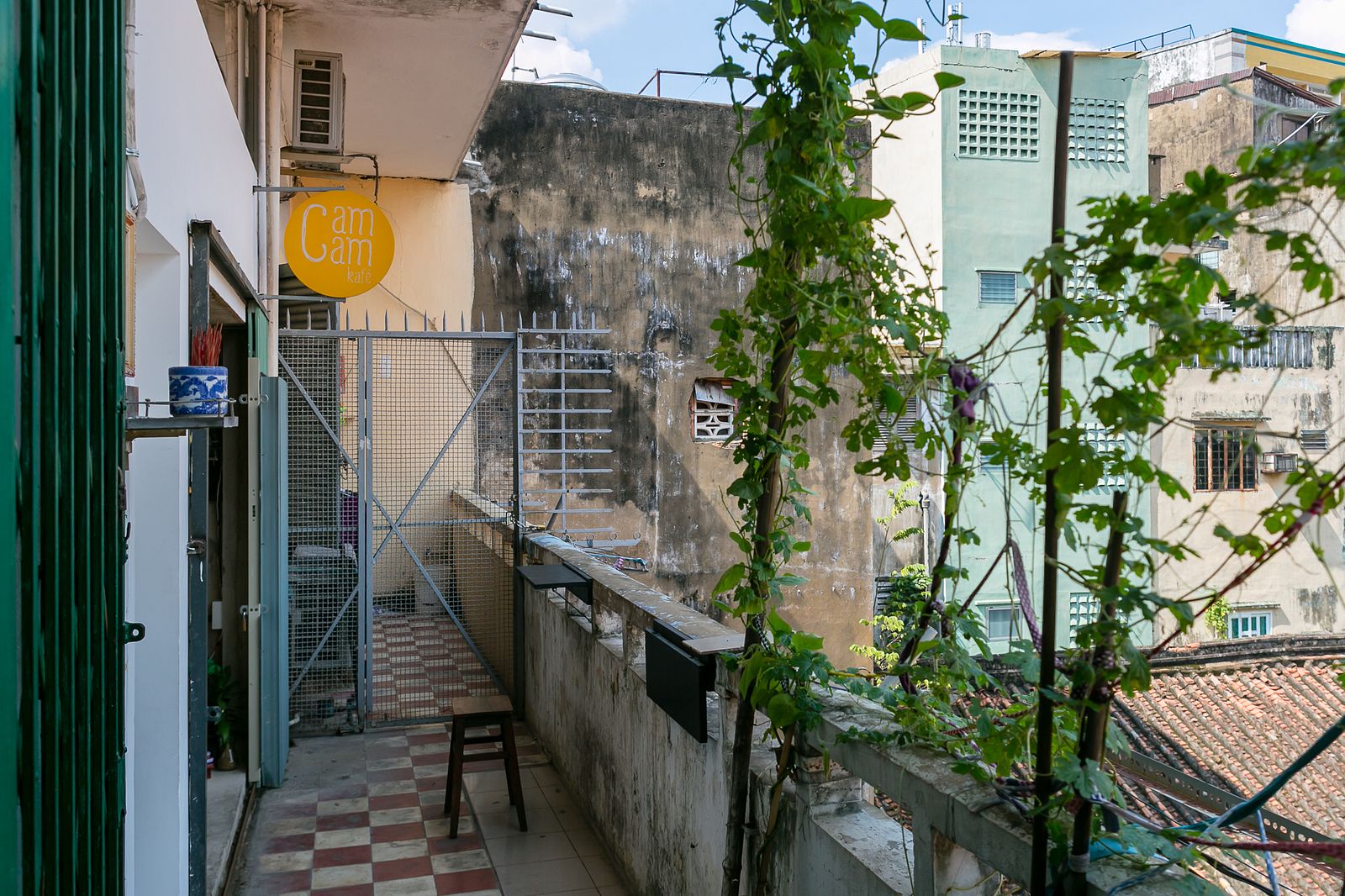 "The first thing I did when I got here was introducing [my coffee shop project] to everybody before starting the construction process," Dong Lam Thanh Tung, one of Cam Cam's founders, tells Saigoneer in Vietnamese. "So everybody knows that it was so that young people, including their children, to know more about local history. Maybe it would also create jobs for the local community, which is also an added bonus."
After the café was built, many members of the ward authorities actually paid the shop a visit during a crowded weekend night to "see what the youths here are drinking, playing and what kind of people frequents this spot," Tung explains. "Luckily, right from the market research phase, we set out to cater to a demographic that's polite and sensible, so [local residents] are completely supportive."
To get to Cam Cam Kafe, promptly arrive at the front of Ha Chuong Hoi Quan Pagoda and look to the left. The building entrance could pass for a hẻm, with residential units on the left and rows of motorbikes on the right. The wall of the walkway is covered with shelves of old books and printed photos of local inhabitants at numerous community events. Ascend the stairs — which smell faintly of dried cat urine — and you'll witness firsthand the paralyzing sight of the pagoda's deep orange roofs. On sunny days, the light dances on their eaves, amplifying the vibrancy of the color several folds.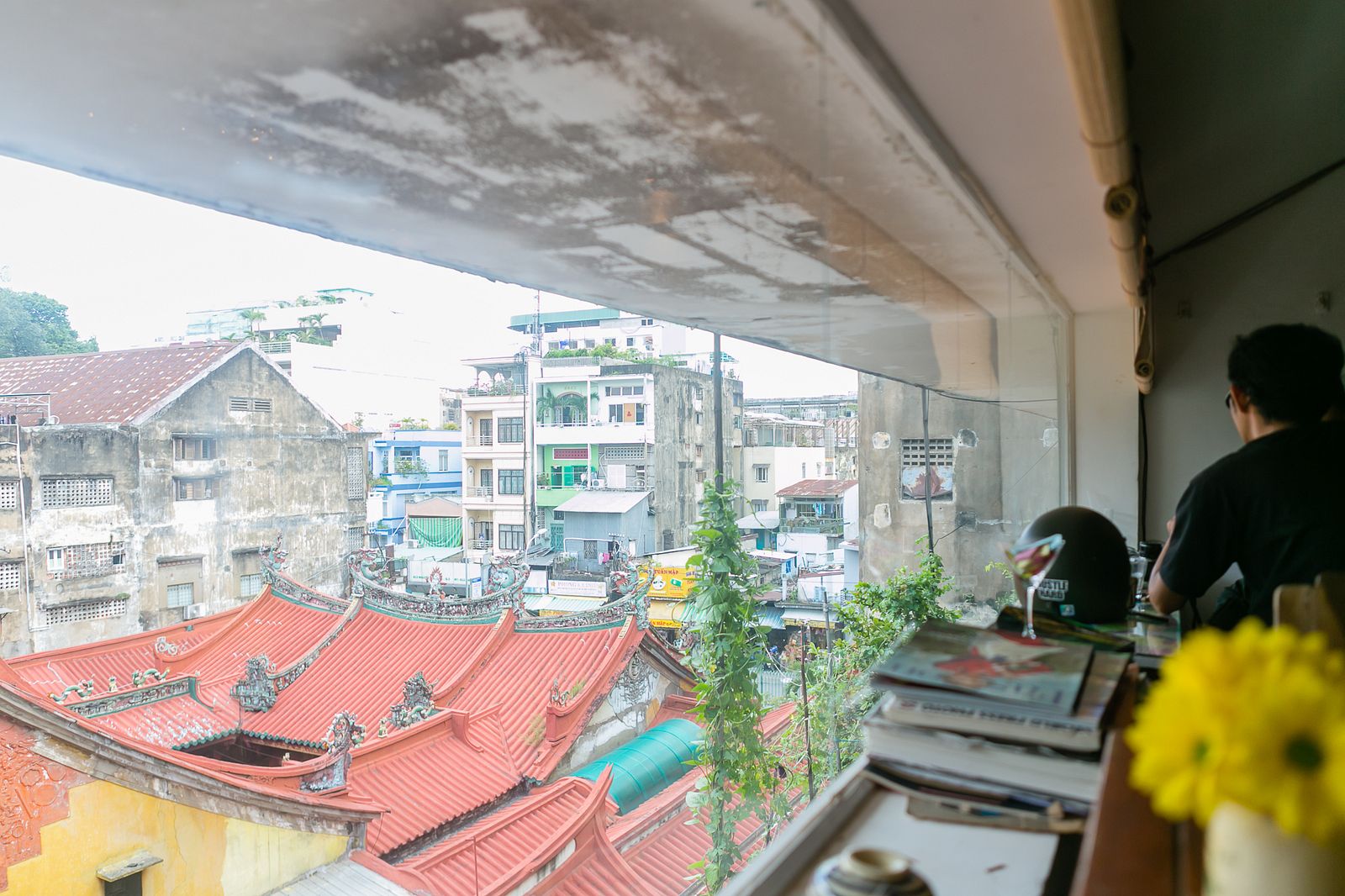 The color even made its way into many aspects of the cafe: "cam" means orange in Vietnamese and when at the coffee shop, you'll almost always be overlooking the roof of the pagoda, taking in the view from above through a narrow glass panel. Across the space, residents in the opposite apartments go about their daily routines on their balcony; a pair of lovey-dovey sparrows frolic on the roof; along the open corridor below, sprawling vines sway in the breeze.
When I ask Tung what prompted his friends and him to open Cam Cam Kafe in District 5, miles and miles from the usual youth centers in downtown Saigon like District 1, 3 or even the rising star District 2, he apologizes for the "quite long reply" that's impending. The story is that Tung and his group of friends started out as urban planners.
"When we graduated, we realized that our city has many fascinating things to do, but not many young adults know the stories behind old structures," he reminisces. "As urban planners, we always ask ourselves how many interesting sites in the city are being lost on a daily basis and how we can prevent that."
"There's only one way: bring them to young people. But these buildings don't have legs so we can carry them. So we decided to lure young people to the buildings," he adds. With this goal in mind, they began with Mockingbird Café, which is based in 14 Ton That Dam facing the modernist State Bank building; and now Cam Cam Kafe, which dedicates its entire existence to bringing youth closer to Ha Chuong Hoi Quan Pagoda and nearby old buildings.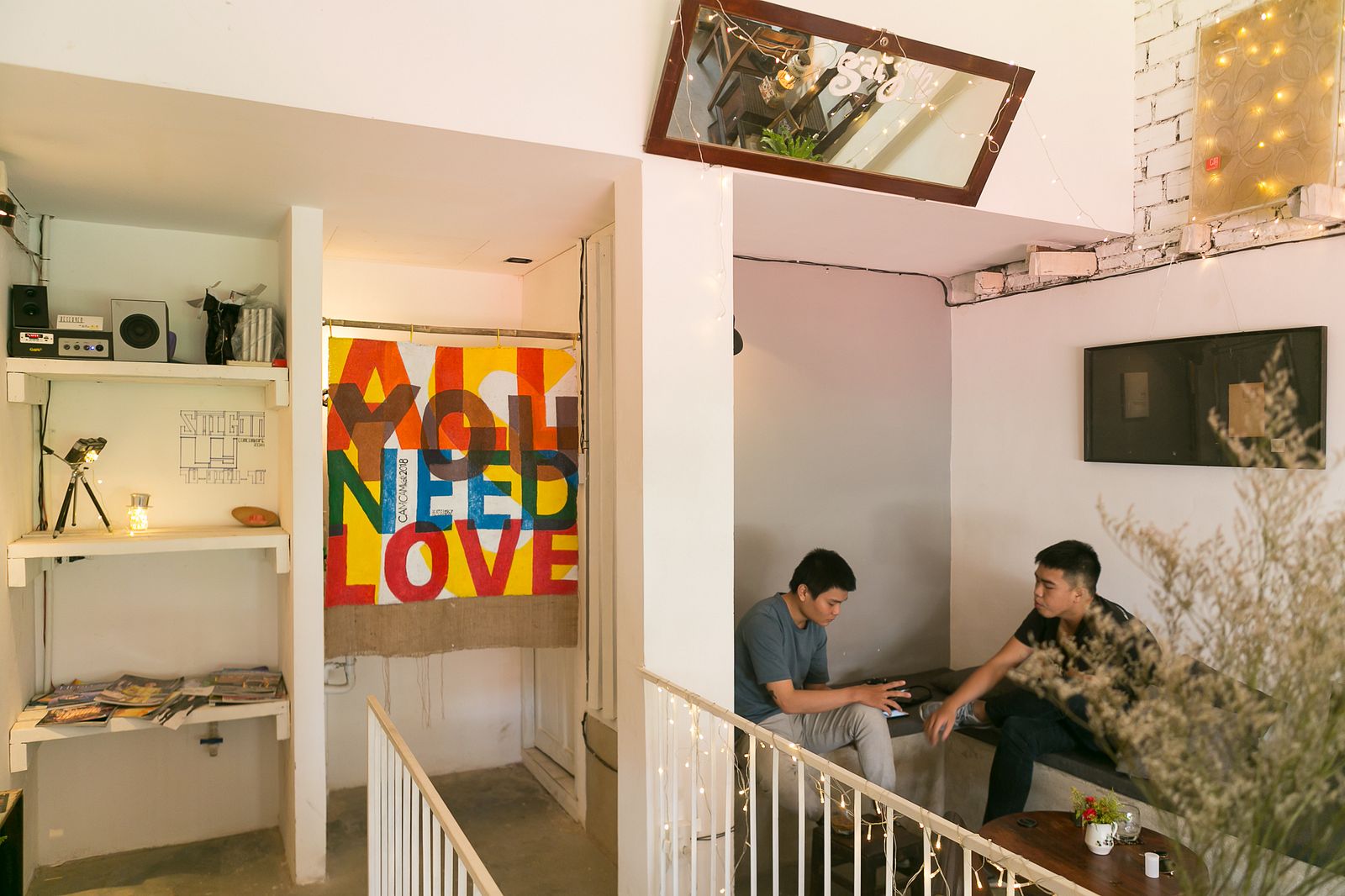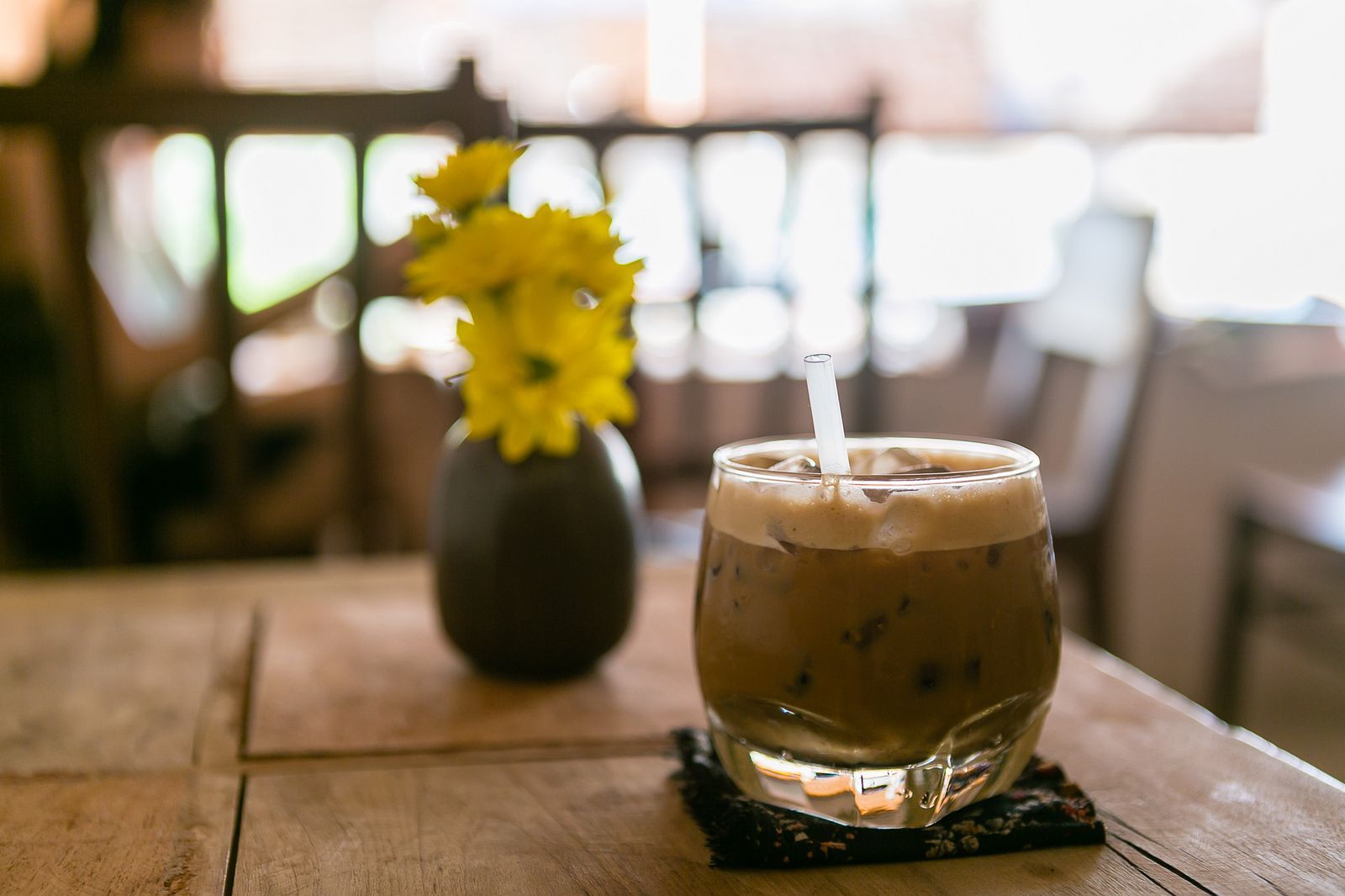 The reality that Tung alludes to is a contentious trade-off that Saigon frequently faces. In 2016, Saigoneers bid farewell to the Tax Center, from the debris of which will rise a 40-story multipurpose commercial tower. Last year, municipal authorities also obliterated the five-decade-old President Hotel at 727 Tran Hung Dao, which has become extremely dilapidated in recent years.
The most recent battle for local conservationists is one that embroiled Dinh Thuong Tho, a 130-year-old government structure on Ly Tu Trong Street. The city wishes to expand the Saigon City Hall, and the proposed new design would do away with Dinh Thuong Tho altogether. The fate of the building is undetermined at the moment, but the petition to preserve it is still going strong, spearheaded by a group of veteran historians, architects and activists.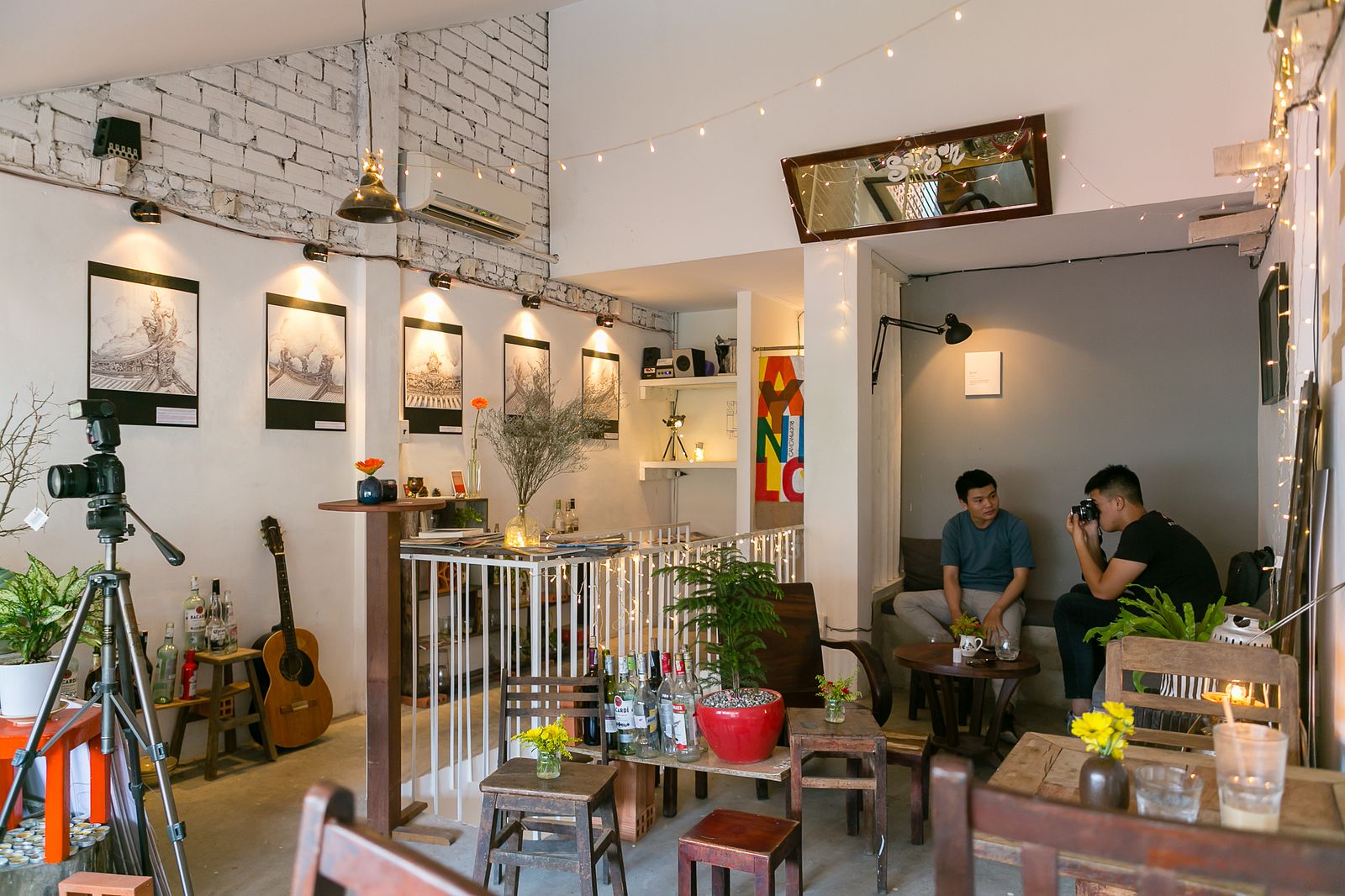 "If one day, [the city] wants to remove the State Bank building like they did Dinh Thuong Tho, the people fighting for its preservation will not be just old experts in their 50s and 60s, but there will also be members of the younger generation. They will know to appreciate the city's heritage," Tung says, with a palpable hint of optimism. "Of course, [Ha Chuong Hoi Quan] won't go anywhere, because it has been recognized as a national heritage site."
At the end of the day, Cam Cam might not stand out in the local café scene on its own: the décor features a hodgepodge of old knick-knacks, vintage books, empty liquor bottles and fairy lights; and the menu offers the usual staples like cà phê sữa đá and teas. Nonetheless, its special offerings are a breathtaking view of the pagoda, an excellent taste in music, and liquored coffee — you know, for one of those days when you need a shot of rum or Baileys in your java.
Cam Cam Kafe is open from 9am to 10pm.
To sum up:
Taste: 5/5
Price: 4/5
Atmosphere: 5/5
Friendliness: 5/5
Location: 4/5 – the parking area could be crowded sometimes, so it's best to arrive on foot.
Khoi loves tamarind, is a raging millennial and will write for food.
Cam Cam Kafe
2nd Floor, 806/5E Nguyen Trai, D5