The southern edge of Binh Thanh is one of Saigon's most fascinating areas. More cosmopolitan than the district would have you believe, its maze-like streets hold a heady mix of different influences. Wet market stalls and quiet cafés, tucked-away Japanese eateries and quaint low-rise apartment blocks.
Smack in the middle is Nong Trai Khoai, an open-air beer bar that stands as almost analogous to the area. Lacking the many design pretentions that often dog the craft-focused type, Khoai is a charmingly ragged jumble of mismatched chairs, potted plants, stray kittens and cheeky graffiti — a place where tables hang overturned from the ceiling for no other reason than, why not?
Khoai serves beer — that's all. The menu is one big laminated sheet that brings them all together: the latest Vietnamese craft brews alongside old-school provincial and regional lagers from here, Cambodia, Laos and Thailand. Heavy Irish and Belgian pours sit next to crisp German and Czech pilsners. Even a couple beer cocktails are on offer, for those so inclined, as are greasy eats to soak everything up — chicken wings, calamari, that sort of thing.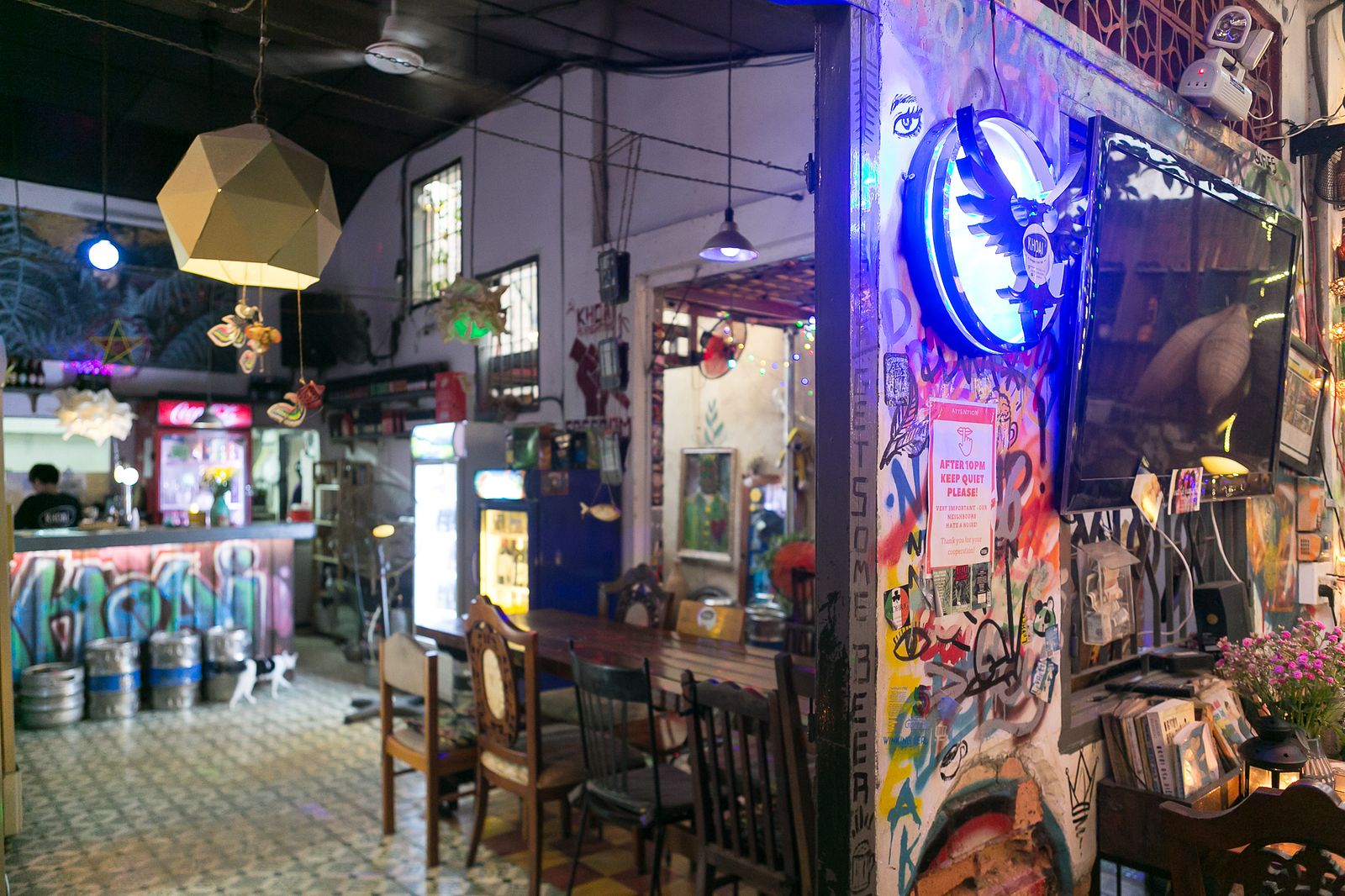 Prices are generally affordable, starting at VND30,000 for local tipples and ranging all the way up to VND135,000 for the craftier kind. The crowd, meanwhile, is an even mix of nearly everyone: locals and expats, the young and the seasoned. But really, most people have heard of Khoai. It's a popular spot, if a little in-the-know, and anyone who's lived in Saigon for a significant amount of time has spent a suds-soaked night or two among its endless empty bottles.
As a relative city newbie though, what intrigued me about the bar was a unique sense of familiarity when I first stumbled upon it, one that didn't reveal itself until I noticed the small sign hanging just after its entrance: 'A Simple Ruin Bar.'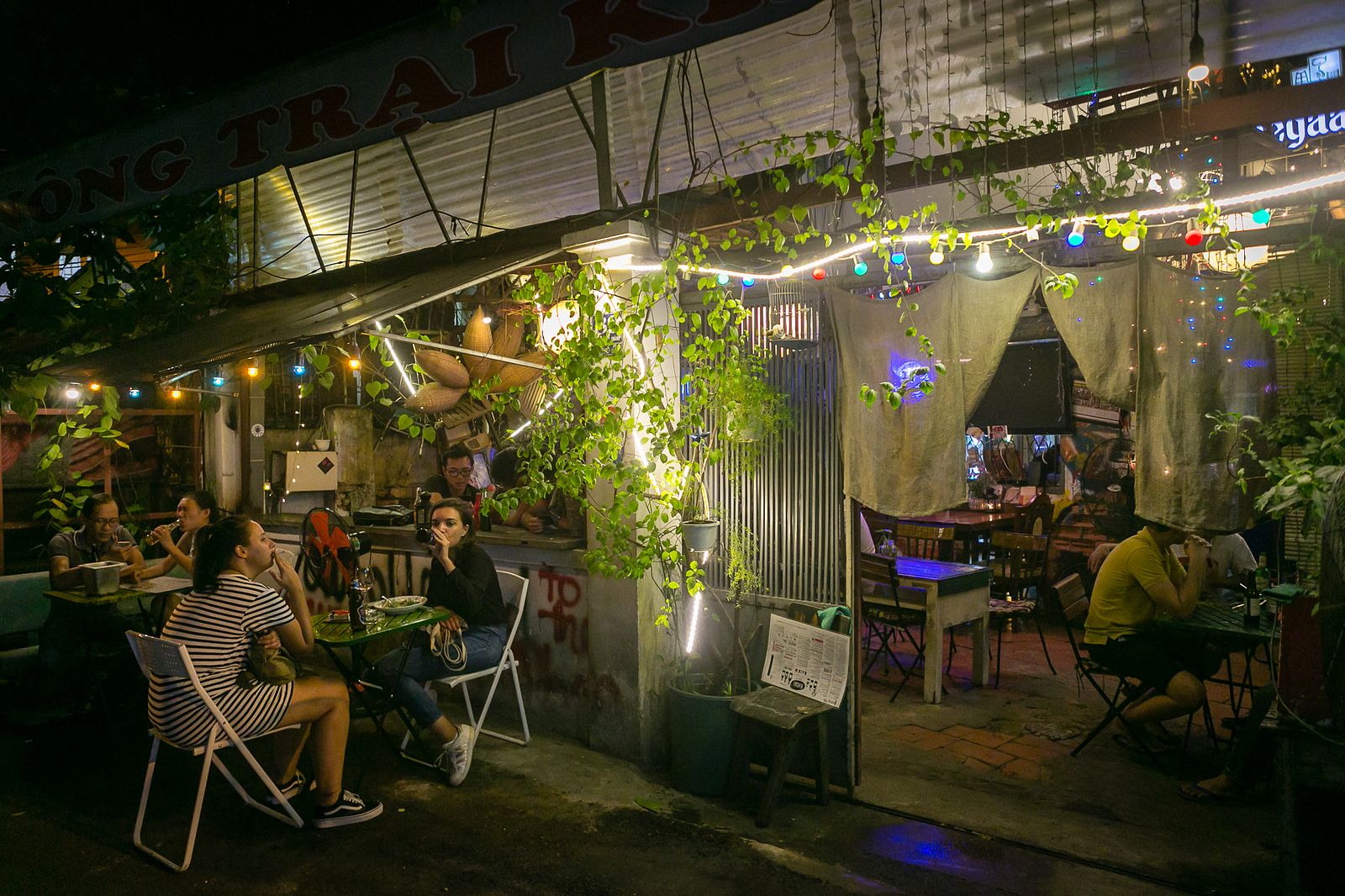 For Khoai, it's a self-confession of sorts, a sly homage to a city on the other side of the world: Budapest. Owner Thanh Hai spent several years living in the Hungarian capital, bringing back with him the inspiration behind the city's best nightlife invention. Budapest ruin bars are downtrodden drinking holes set in grand buildings; they cropped up out of a desperate need to utilize the immense derelict relics left over from the Austro-Hungarian Empire.
But there's more to its Saigon connection — and it's a little hard to understand until you look at the bigger picture. So, click out of this window for a second, search 'Budapest' on Google Maps and tell me what you see. Weird, isn't it? The city is shaped like a bizarro version of our own.
It gets better: both Saigon and Budapest have communist roots, but now stand as thriving capitalistic beacons of their respective continents. Both have rivers snaking through their core, with a distinct class and commerce separation on each side of these waterways — one half the beating heart, the other an affluent expat enclave. Both define their neighborhoods as districts — and hidden within them, a friendly ruin bar or two.
So yes, Khoai showcases Hai's love of beer. Khoai is also his successful attempt to mimic Budapest's extraordinary nightlife. But beyond its shabby façade and bric-a-brac interior, the twin-city parallels display the deep-seated ambition of every ruin bar: to turn a once-stunning space back into something beautiful, by using its crumbling form to its advantage.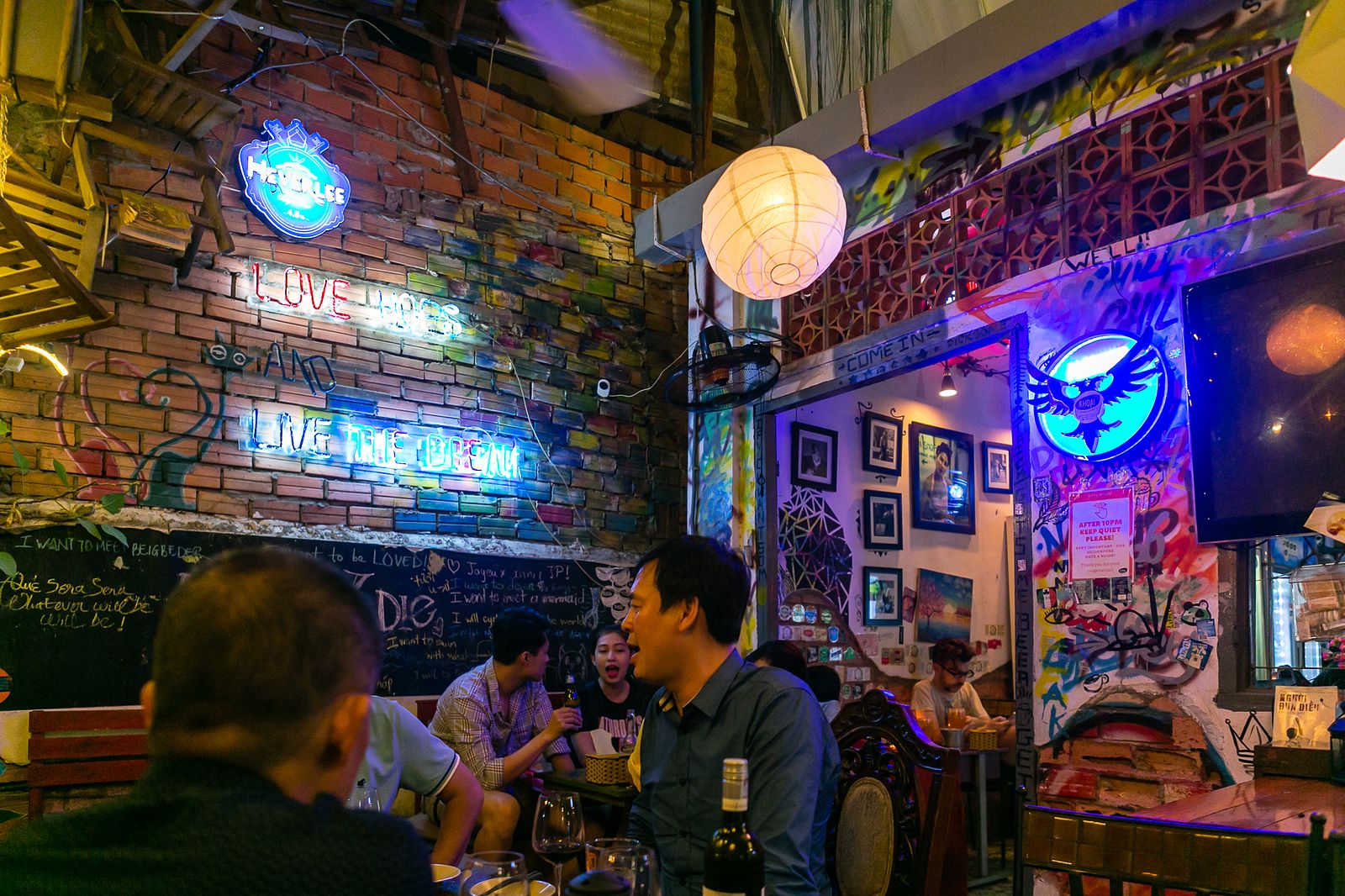 To sum up:
Taste: 4/5
Price: 5/5
Atmosphere: 5/5
Friendliness: 5/5
Location: 5/5
Pavan is fresh off the boat from Hong Kong, but already has unhealthy addictions to street-side sandwiches, back-alley bars and the fumes of his Grab bike.
Nông Trại Khoai
89 Pham Viet Chanh, Ward 19, Binh Thanh District