At the risk of appearing like a pretentious prig, I will begin this Hẻm Gem review with the introduction of a foreign word: the weirdly specific concept of smultronstället.
Smultronstället is a Swedish word that literally means "the wild strawberry patch," but idiomatically refers to a hidden gem of a place that often holds sentimental or personal significance to someone. As a country generously endowed with many varieties of berries, from lingon to sea buckthorn, finding an errant patch of strawberries is a special and private occasion.
It might be a tad contrived to make the comparison to Saigon's café culture, but the triumph of discovering a well-hidden coffee shop might somewhat parallel the sentiment behind "the wild strawberry patch." In a sense, it perfectly encapsulates the meaning behind Hẻm Gem, a series that we hold dear as our dedicated space to celebrate Saigon's street food culture. Over the years, we have expanded its scope to also cover hidden cafes and bars, which marked the beginning of my recurring conundrum: to write or not to write.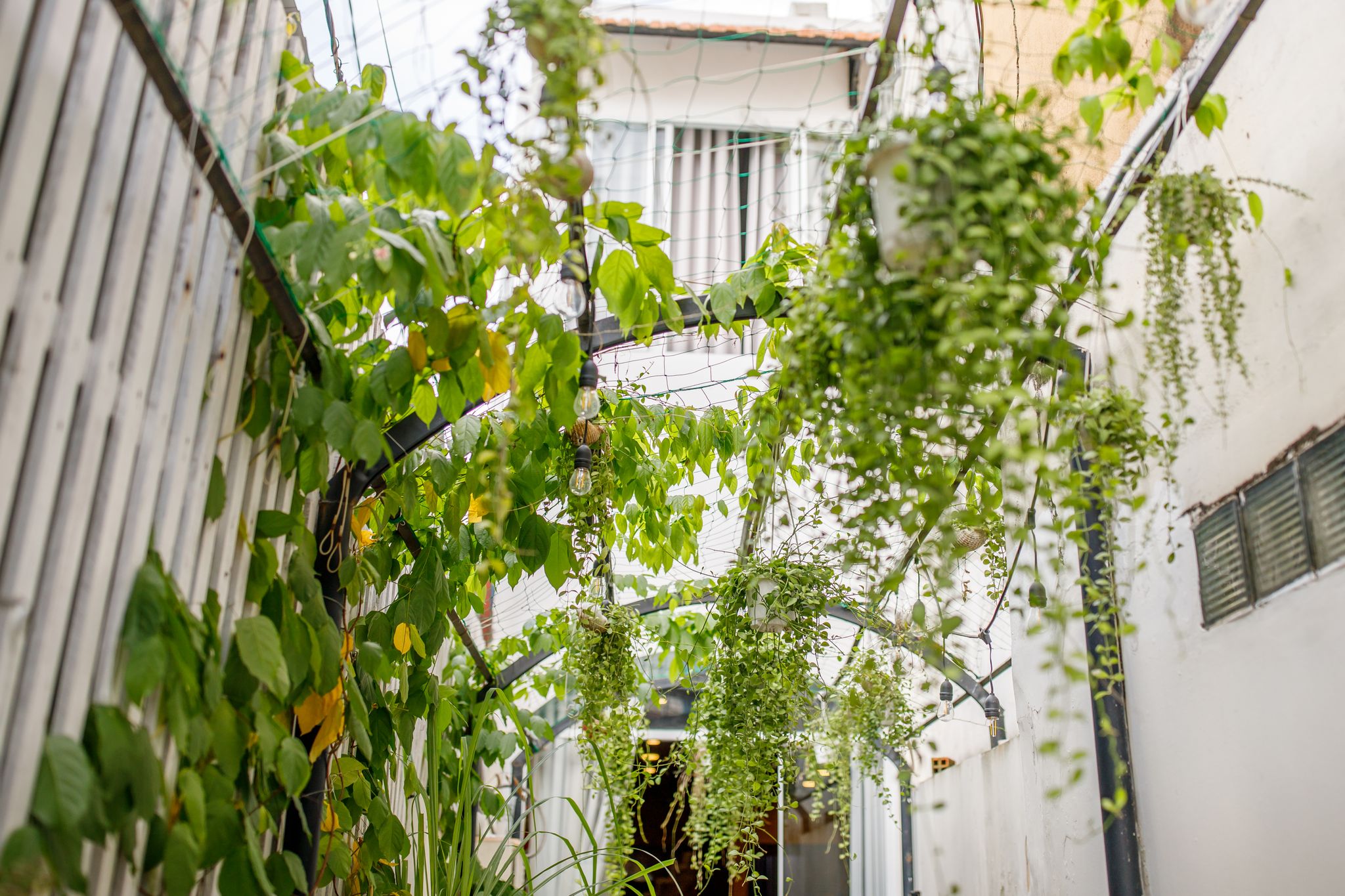 When it comes to favorite cafés, I'm positive that every Saigoneer has a place they consider a home away from home, somewhere to escape from the rat-race pressures of daily life — a personal smultronstället. Despite my selfish desire to keep it under wraps, I've already introduced my own Saigon "wild strawberry patch" a few months ago in the form of Things Café, a cat-filled oasis of calm overlooking the Tau Hu Canal right in District 1.
There's always that little voice inside one's head before introducing a favorite little-known indie band, hidden café or lunch spot to another: what if everyone loves it so much you'll come back one day later to find your beloved corner garrisoned by Instagram-obsessed teens? Though it was only opened recently, this week's Hẻm Gem is moving fast up the ranking to becoming one of my fondest spots to cozy up in Saigon. As much as I'd love to safeguard these haunts from Instagram algorithms, I'd love it more for them to succeed and be able to sustain a viable business for a long time, so here are the reasons why I love Thương Library and why you should too.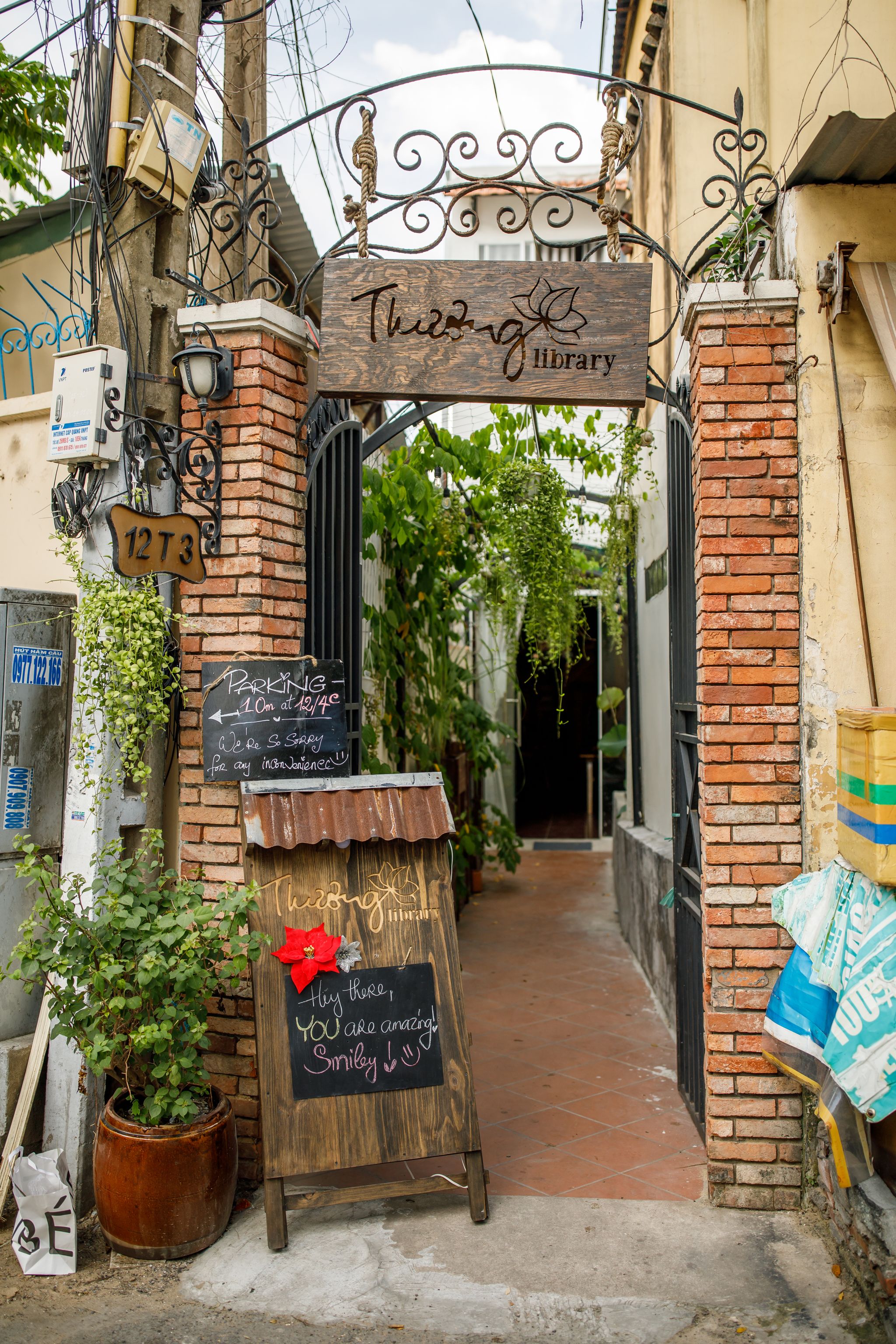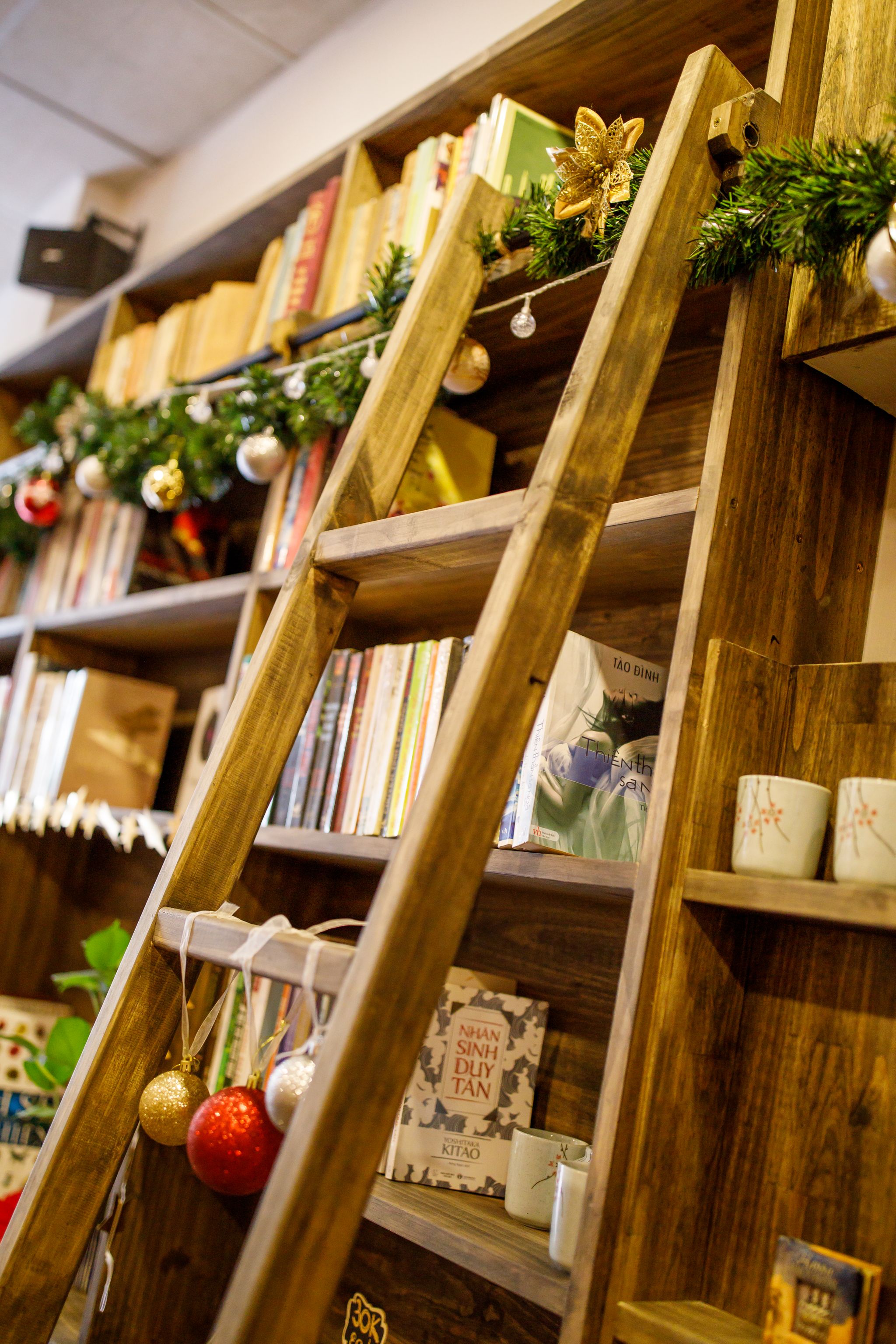 It's hard to come up with a concrete definition for Thương Library. Judging by the menu alone, one can safely say it's a teahouse, with dozens of different varieties of Vietnamese tea to try. The layout, on the other hand, has your standard coffee shop amenities like a few sets of tables, WiFi and old-school jazz lingering in the air. Spanning an entire wall of the main room, however, is a towering bookshelf chock-full of books, plants and other memorabilia. There's also a guitar for those who are musically inclined.
I met Giang Sinh Pham, the founder of Thương on a Thursday afternoon when the café was empty and the heat was palpable in the air. "Actually this is very personal," she said, almost apologetically, when asked about the beginning of Thương Library. According to Sinh, she didn't have a clear idea from the start what the space would turn out to be or where it would be, but she knew she wanted to create a hub and build a community.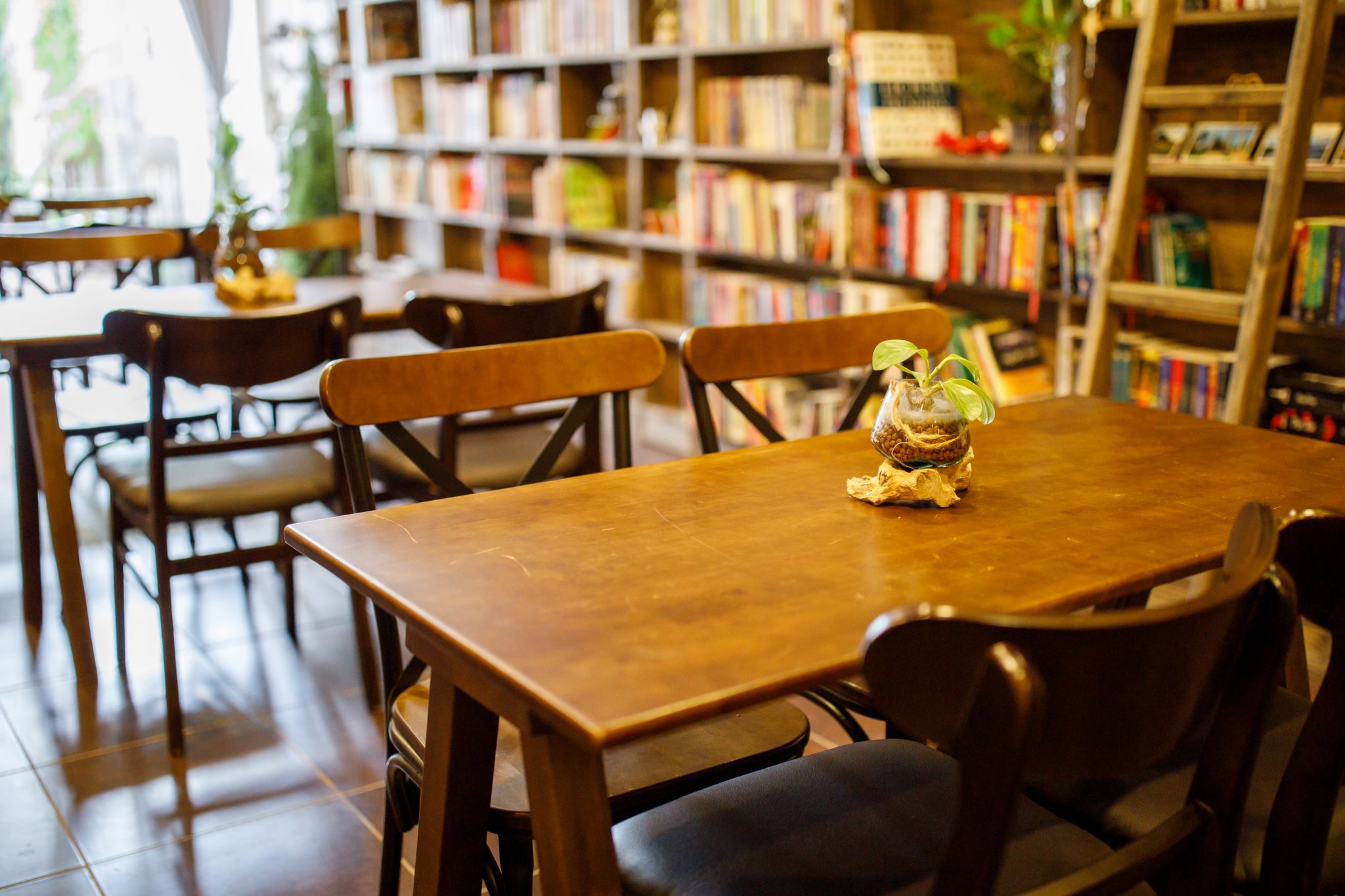 "Initially, I just wanted to find somewhere to host my female-centric fashion brand, because we planned to foster a community to support women," she explained. "Somewhere to help women with their life problems, from psychological to physical, and to assist those who are facing financial difficulties."
The search was shaping up to be a wild goose chase because finding a suitable, affordable location in Saigon proved challenging. That was until she chanced upon the current location of Thương: in hẻm 12 on Nguyen Thi Minh Khai Street, a bare-bricked entrance, then a few steps beneath a leafy metallic lattice, and finally, a cozy room that shields visitors from the outside heat. "I consider myself to be super lucky," Sinh laughed. "This was the last place that we visited, we were very desperate. I just happened to find the brick entrance charming and wanted to have a peek inside, but I didn't think that they [the landlord] were renting it out."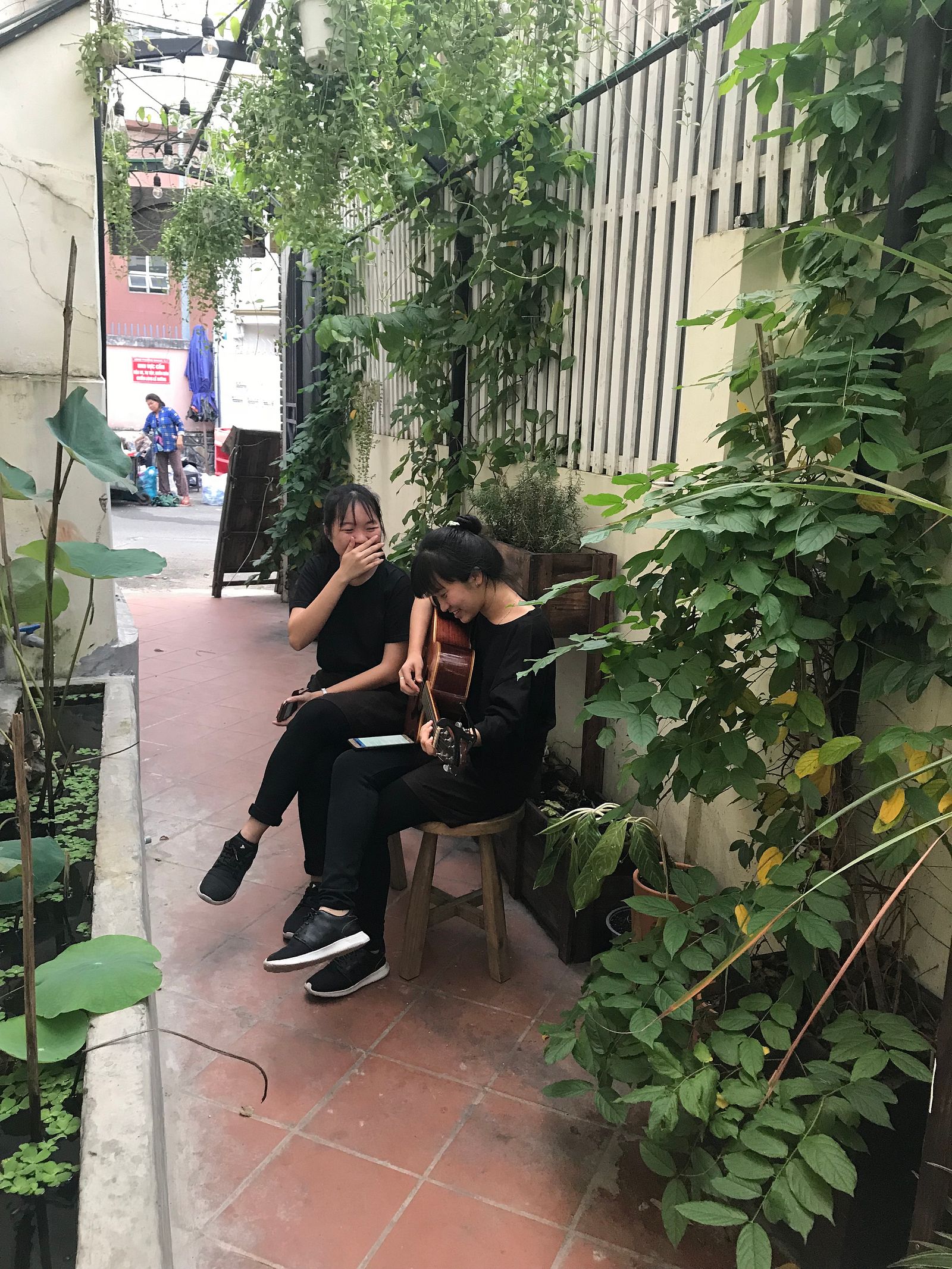 As a physical space, Thương Library is already difficult to define due to the owner's ambitious plans shaping its identity, and even its name also takes after one of the hardest concepts to translate in the Vietnamese language. Thương is both a verb and a noun, which encompasses anything from romantic love and attachment to familial affection to far-reaching sentiments like compassion for mankind; but at its core, the word thương, despite its capability to be larger than life, can be boiled down to the even the most mundane, simple expressions of affection.
Sinh decided to name her passion project after the word as a tribute to the altruistic philosophy that her mother has always followed. "One of my most pronounced character traits is that I value the relationship between humans," she said. "That's one of the things I 'inherited' from my mom. My mom is the kind of person who's always taking care of others. If she has VND5,000 and you come to her asking for it, the last sliver of wealth she has, she would still give it away."
As we continued our chat to the faint Christmas tunes in the background, occasionally one of the waitresses plopped down at a table across from us with a book and started reading. On another patch of wall, scenes from cinematic classics are framed and arranged neatly, from The Lover and The Thorn Birds to Amélie. The middle section, however, is something of a shrine to Canadian legend Leonard Cohen with a repertoire of photos spanning Cohen's entire career.
If Thương Library's modus operandi is firmly rooted in the teaching of Sinh's mother, her father is the tastemaker whose interests permeate the interior of the place, as well as her childhood.
"My father was some sort of 'playboy' when he was young, not to the extent of debauchery, but still very trendy and fashionable," she chuckled. "This [her fondness for film and music] is what I 'inherited' from my dad. He's very artistic. He wished for a boy when I was born, so has always raised me like a boy by cultivating my interests in music, cinema and books."
Her father's family hailed from Hanoi, and according to Sinh, is very proper and intellectual, while her mother was born in Tra Vinh, a province in the Mekong Delta, whose residents are known for their straightforward, no-nonsense temperament and hearty warmth. With every piece of knick-knack, book or wall decoration, it's obvious that Thương is an intimately personal product born of its creator's family stories and influences. The focus on tea, however, is all Sinh's.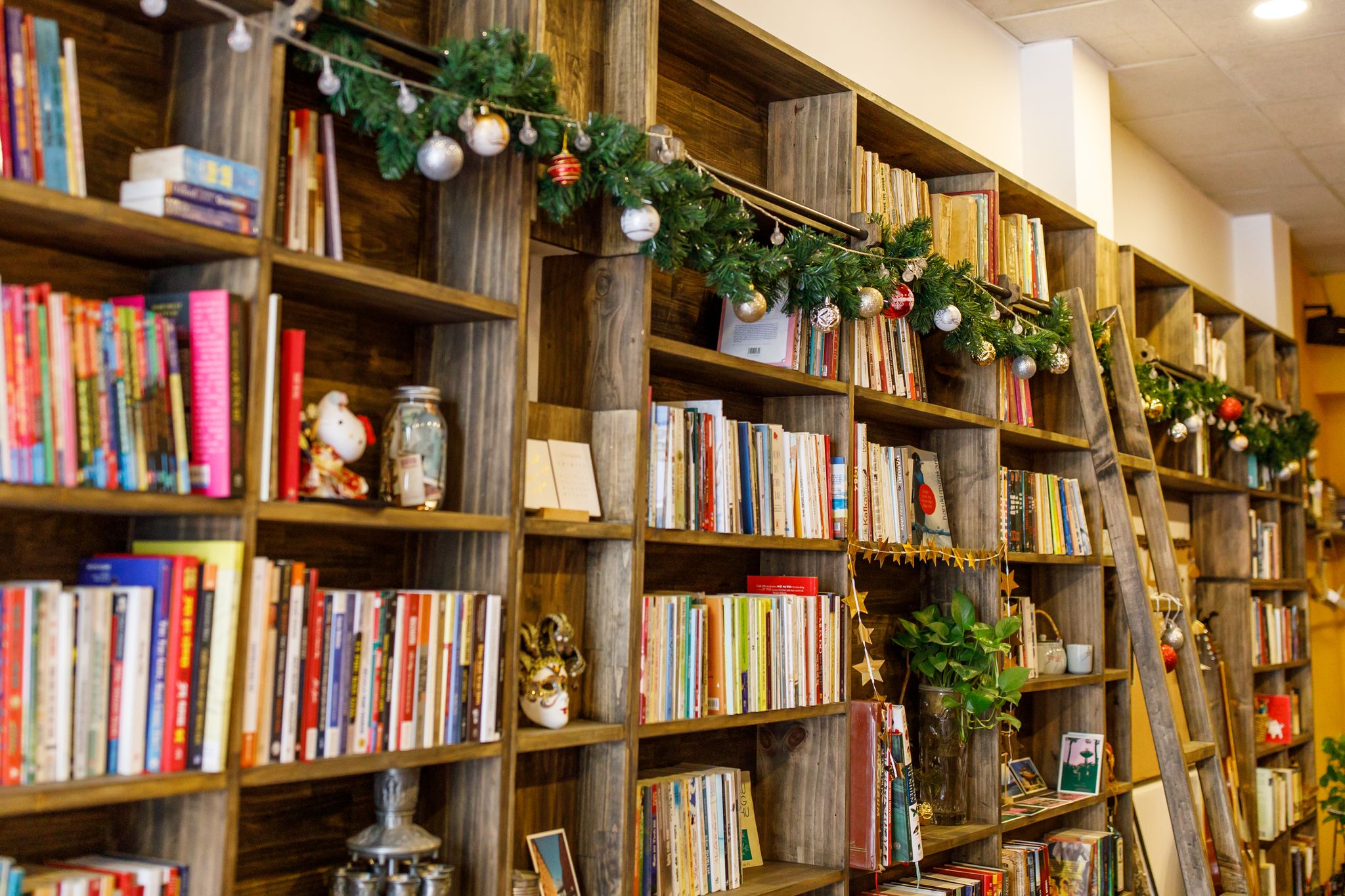 Thương Library's menu features some 50 different types of tea, ranging from fruity mango to classic Thai Nguyen green tea to lemongrass-infused iced tea. Orders of hot tea are served in a standard set of ceramic pot and tiny cups while iced tea lovers are treated to a generous beverage in a wine glass, embellished by dried flowers. According to the owner, the pottery is 100% made in Vietnam while the wine glass is her own deliberate choice in hopes of getting patrons to appreciate Vietnamese tea more.
"Tea is also one of Vietnam's unique key products, but not many want to delve deeper into it," she explained, adding that she dedicated her space to tea because coffee has been done frequently and expertly by many other shops. "I'm saddened to see that, when talking about Vietnamese tea, people only think of street-side trà đá. If you pay enough attention, our tea is very delicious, but people think that it's something run-of-the-mill."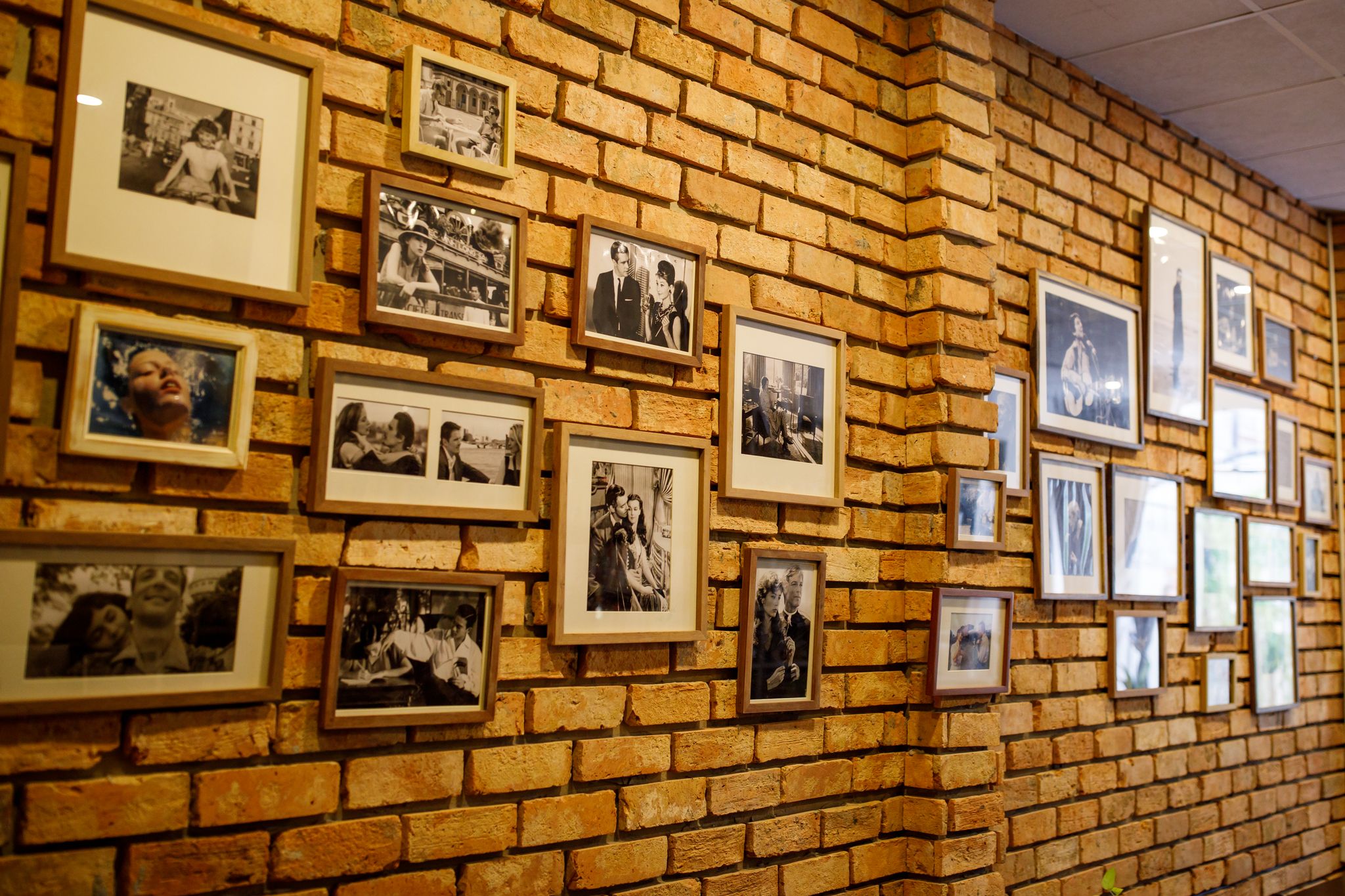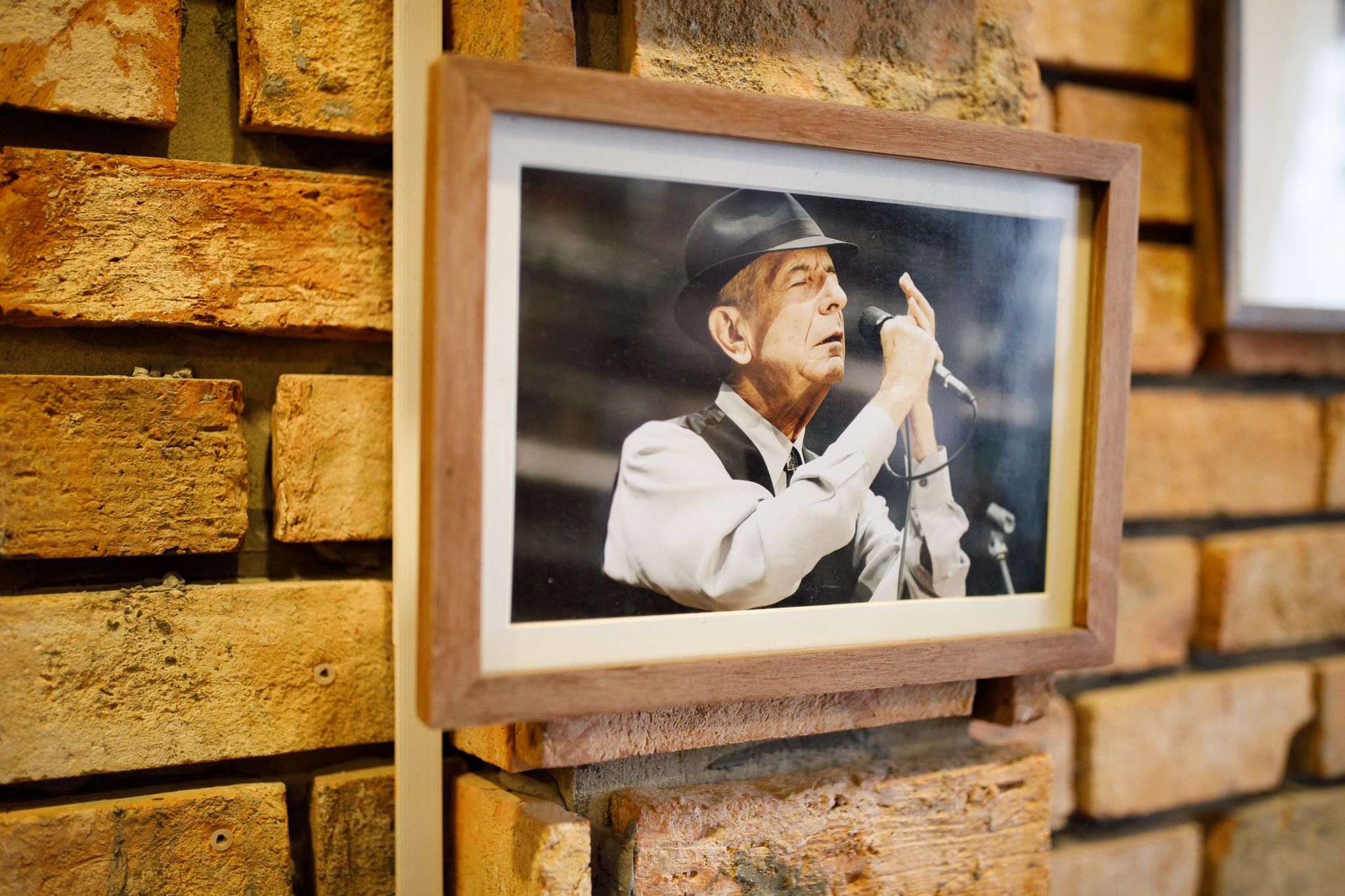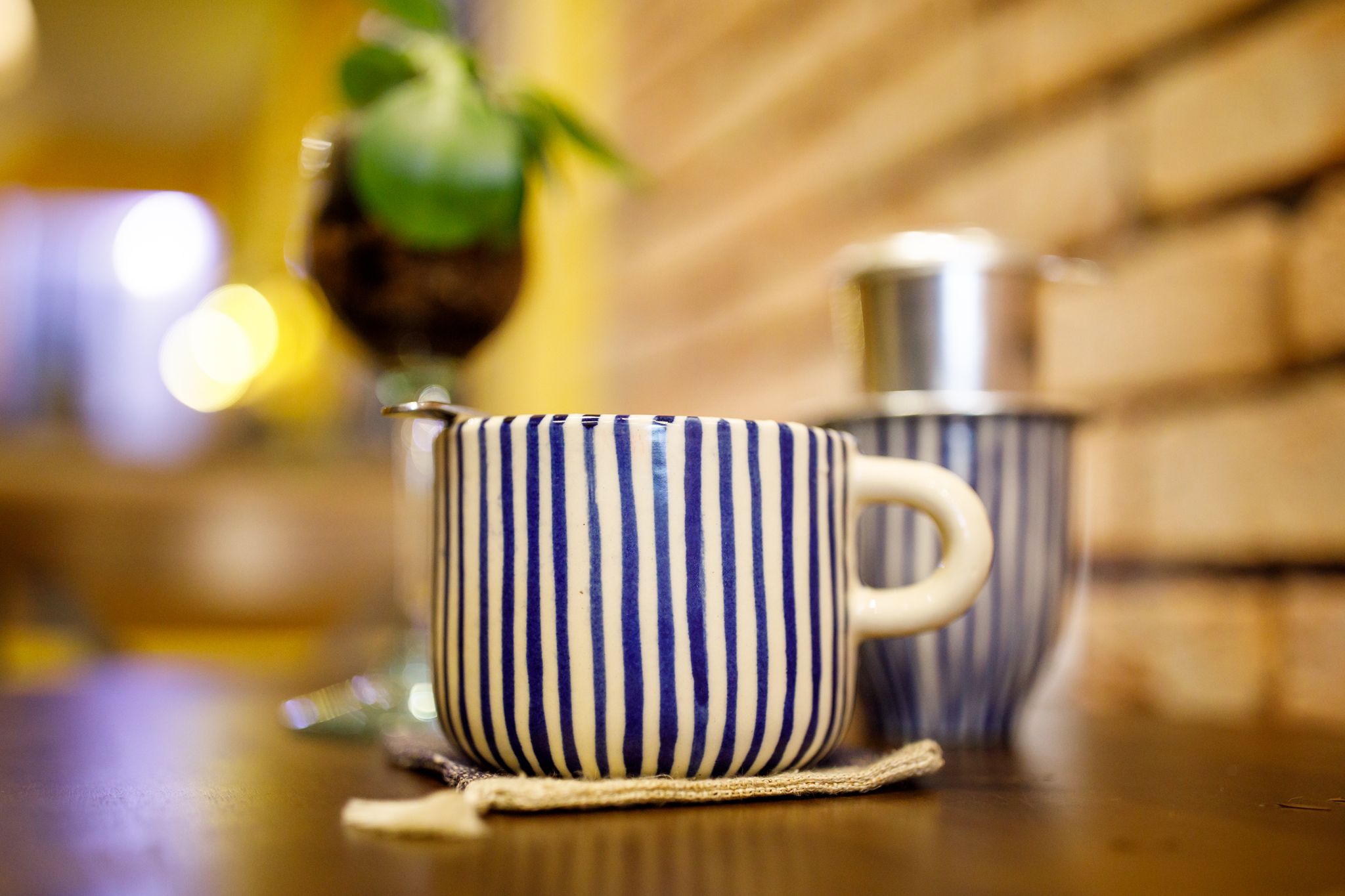 Since the early decades of the 20th century, Vietnam has been producing tons of quality tea per year, especially in highland localities such as Thai Nguyen in northern Vietnam, Bao Loc in Lam Dong Province and Phu Ho in Phu Tho Province. By the end of 2016, the country shipped 118,000 tons of tea, worth US$197 million. Due to the abundance of tea in the country, generations of Vietnamese have grown up with the bitter taste of tea as a daily staple. It's easy to take something for granted if it's too readily available, such as in the form of a cooling glass of trà đá accompanying a plate of cơm tấm.
Thương's tea leaves come from two main sources: a plantation in Thai Nguyen and another provider in Hoi An. A friend, whose family has been growing tea for 22 years according to Sinh, ships their tea straight to Saigon for brewing. In Hoi An, a female friend left her career to establish a 700-hectare organic farm to promote the development of clean produce and provide employment for locals. She sends Sinh a selection of tea from cultivars in central Vietnam every now and then. "I don't dare say that my tea is the best tasting, but it's the cleanest and there's meaning behind it," Sinh claimed.
Like her Hoi An tea supplier, Giang Sinh is also part of a generation of young Vietnamese who are rejecting the office politics of the corporate world to make a name for themselves elsewhere by following their own principles. She had been working for a multi-national company for seven years before finally quitting this March to open Thương and her own social enterprise.
"I grew exhausted of the way people treat one another in the office environment," Sinh reminisced. "They're, quite frankly, cruel. And I'm someone who cares a lot about the relationship between people. I was increasingly fed up, so I decided to get out of that 'big company' ecosystem."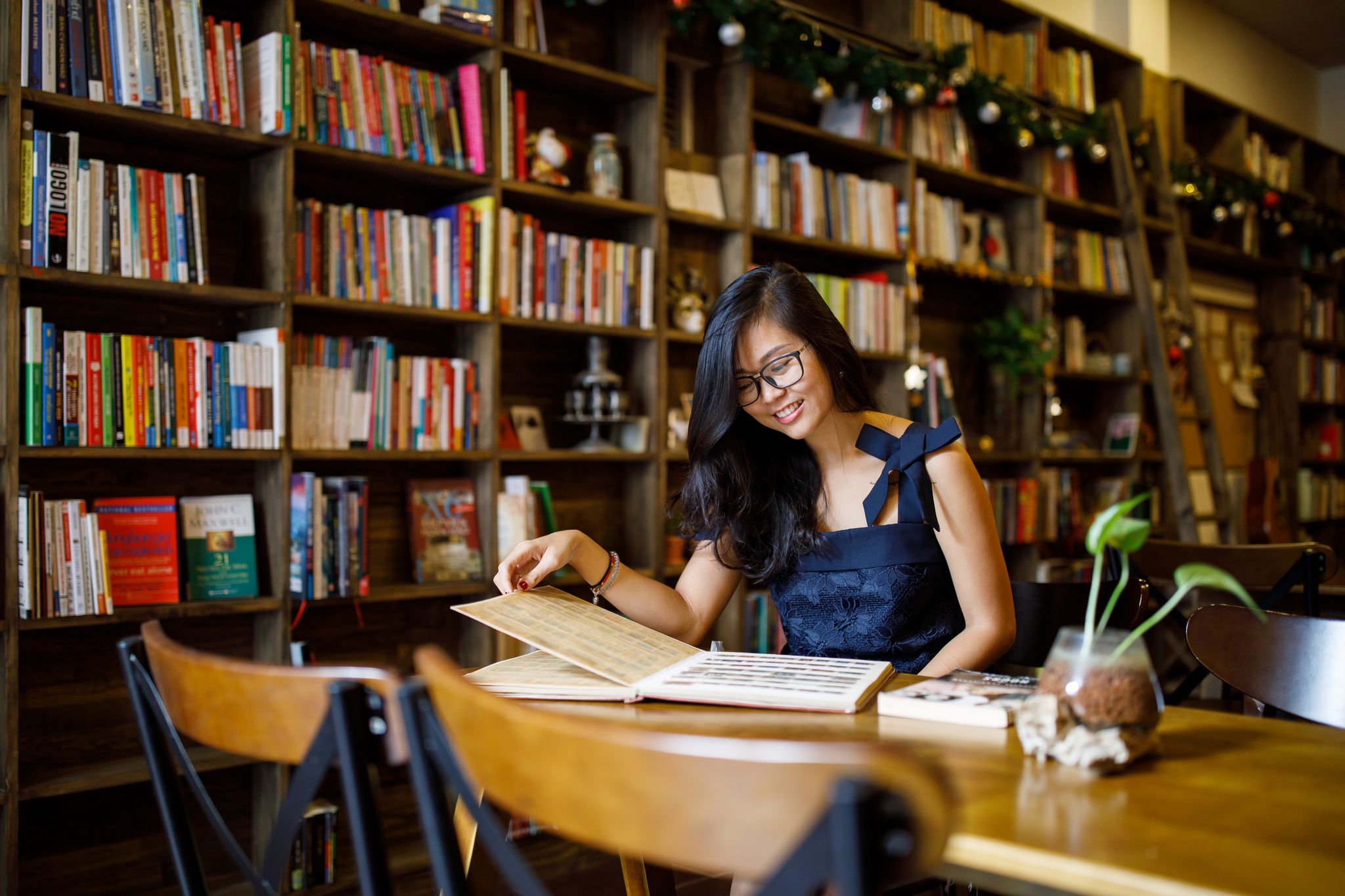 As our conversation went on, it was frequently interrupted by a throng of delivery staff dropping off beer cases, auction items and even chair orders. Thương Library would play host to its first charity event the following weekend, with musical performances, ample booze and an auction to raise money to organize city trips for disadvantaged youths. The atmosphere was filled with nervous excitement; after all, the place has only been opened for two months.
For her part, Sinh is confident that many Saigoneers would turn up to support a good cause, just like how she's also confident that they would appreciate Vietnamese tea because it's a crucial part of our cultural fabric.
"You see this wall? It's 'Hoi An' yellow," she pointed to the patch of wall behind our table. "I've lived in many places and many countries, but Vietnam is still a major part of my identity. It's one of the reasons I came back here [to Saigon] alone, as my family is all in the US. I want to preserve the cultural traits that might vanish if no one embraces them."
To sum up:
Taste: 4/5
Price: 4/5
Atmosphere: 5/5
Friendliness: 4/5
Location: 5/5
Khoi loves tamarind, is a raging millennial and will write for food.
Tea & coffee
Hẻm 12, 12T3 Nguyen Thi Minh Khai, Dakao, D1

---

Related Articles:
---