The Subcommittee for Sustainable Fishing? The Office of Dipterocarp Record-Keeping? The Directorate of Synthetic Rubber Quality Control? Ride-Share Hygiene Board? It was difficult to assess who exactly our fellow lunch diners were. Were they filling their table with empty beer bottles to escape the monotony of work or fuel creative ideas for more efficiently managing the allocation of hand sanitizer for cable cars? Unclear. What was certain, however, was the Saigoneer team had scampered up Pasteur Street to enjoy a few glasses of rice wine accompanied by northern fare with the hopes that we'd return to the office not too buzzed to actively report on the nation's latest developments in cracking down on illegal seahorse smuggling.
At night the industrial interior of the nhậu joint, unimaginatively named The Street, fills with raucous locals lifting glasses and screaming over the loud music rumbling out the speakers. Wooden tables and benches fill the large open space beside walls with spray-painted murals. While the ground floor can get a bit claustrophobic, sitting on the open-air roof offers a nice breeze. Nothing about the vibe is any different from countless neighborhood spots in the city, but what sets it apart is a section of the menu dedicated to rice wine.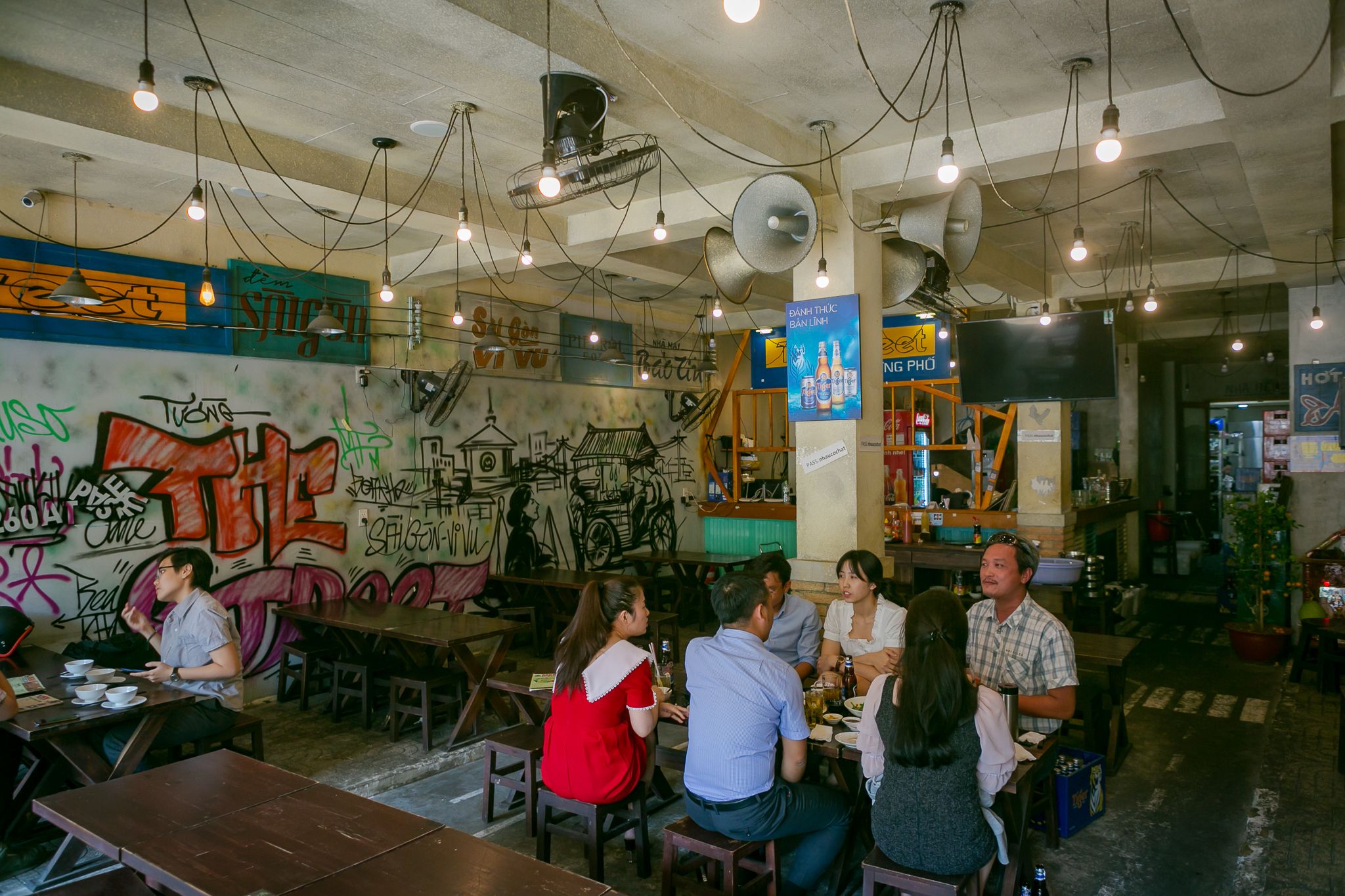 While working on a two-part article detailing the fascinating history and future of rice wine, I spoke with the team at The Street. They bring in six types of the beverage from Ha Long Bay in Quang Ninh Province, an area known for its production and sale. Locals make the rice wine according to traditional methods: they ferment regular and sticky rice and add fruits before letting the liquid steep for up to several years. In the past, I've tried their apricot, táo mèo and plain versions. While slightly saccharine, when poured in tiny shot glasses, each offered a nice alcohol buzz typically associated with long dinners in Hanoi.
It's rarely a good sign when your first choices are all sold out and its easier for the waiter to simply detail what is still available,which was the case with our rice wine selection. Our top varieties were all out of stock and we were forced to have the ba kích-infused wine. The decidedly medicinal drink made with the herb was akin to taking shots out of an unwashed Listerine bottle. Maybe it's for that reason, or because the editorial team is a bunch of weak liver Leopolds, but by the end of lunch, the bottle remained mostly full.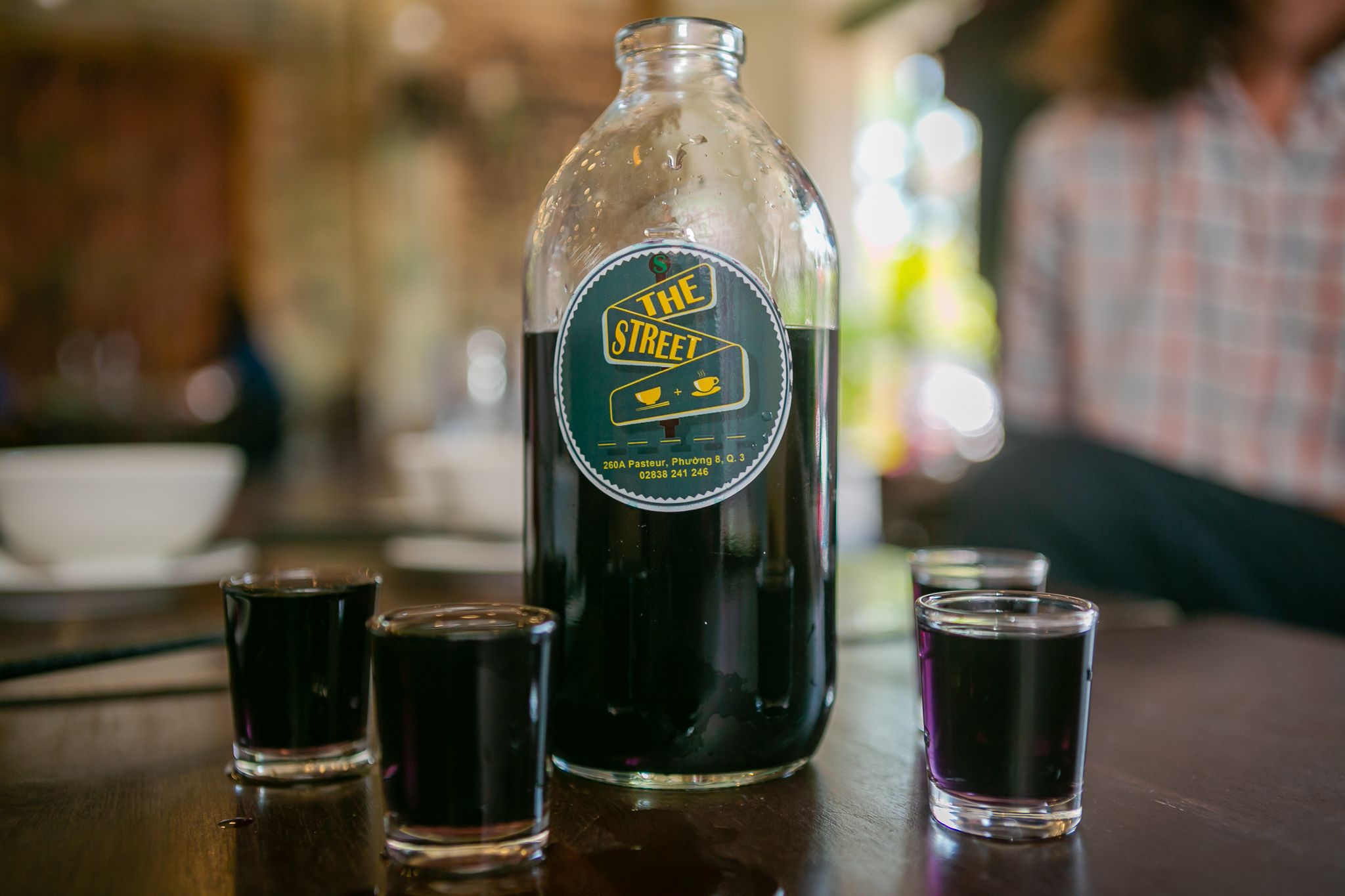 Perhaps because my co-worker Thi continues to make the suspect claim that man cannot subsist on alcohol alone, or our photographer Kevin has skills that are wasted on a series of full glasses, we ordered food. The ample menu is dedicated to northern comfort foods, most of it deep fried. We selected a sampling of several items including deep-fried phở. The puffy pillows came with stir-fried beef, onion and tomatoes. While it lost points for skimping on the rich sauce typically splashed on the items, it was a salty and flavorful complement to the rice wine.
An enoki mushroom's taste is subtle — the edible version of a whisper issued in a windstorm — which, therefore, leaves it at risk of being overwhelmed by any sauce or preparation applied to it. For example, when a cluster of enoki are battered and deep fried like at The Street, they take on the taste of grease; which isn't necessarily a bad thing if you are craving the taste of oil but kowtow to social norms regarding drinking it straight from the bottle.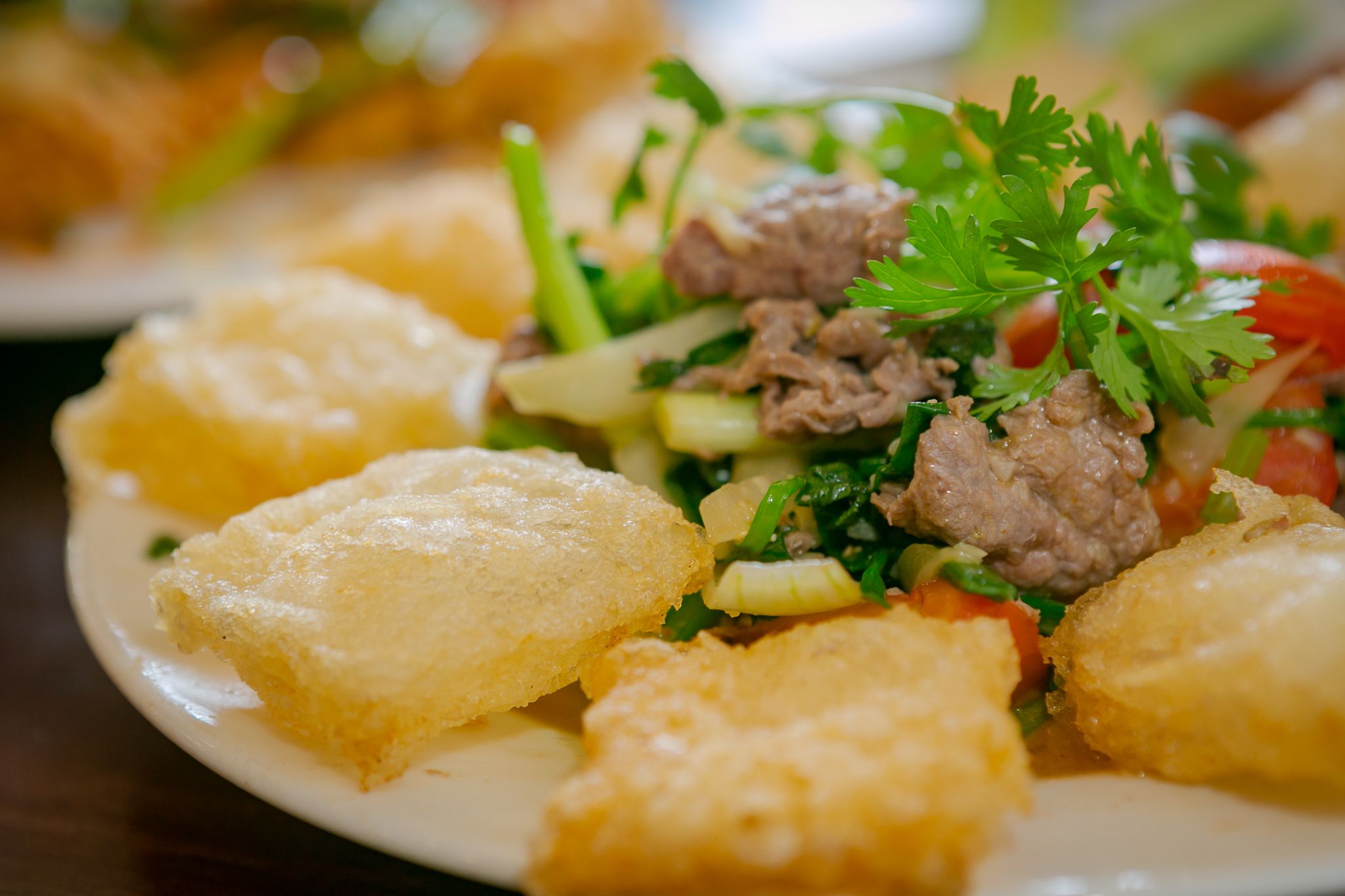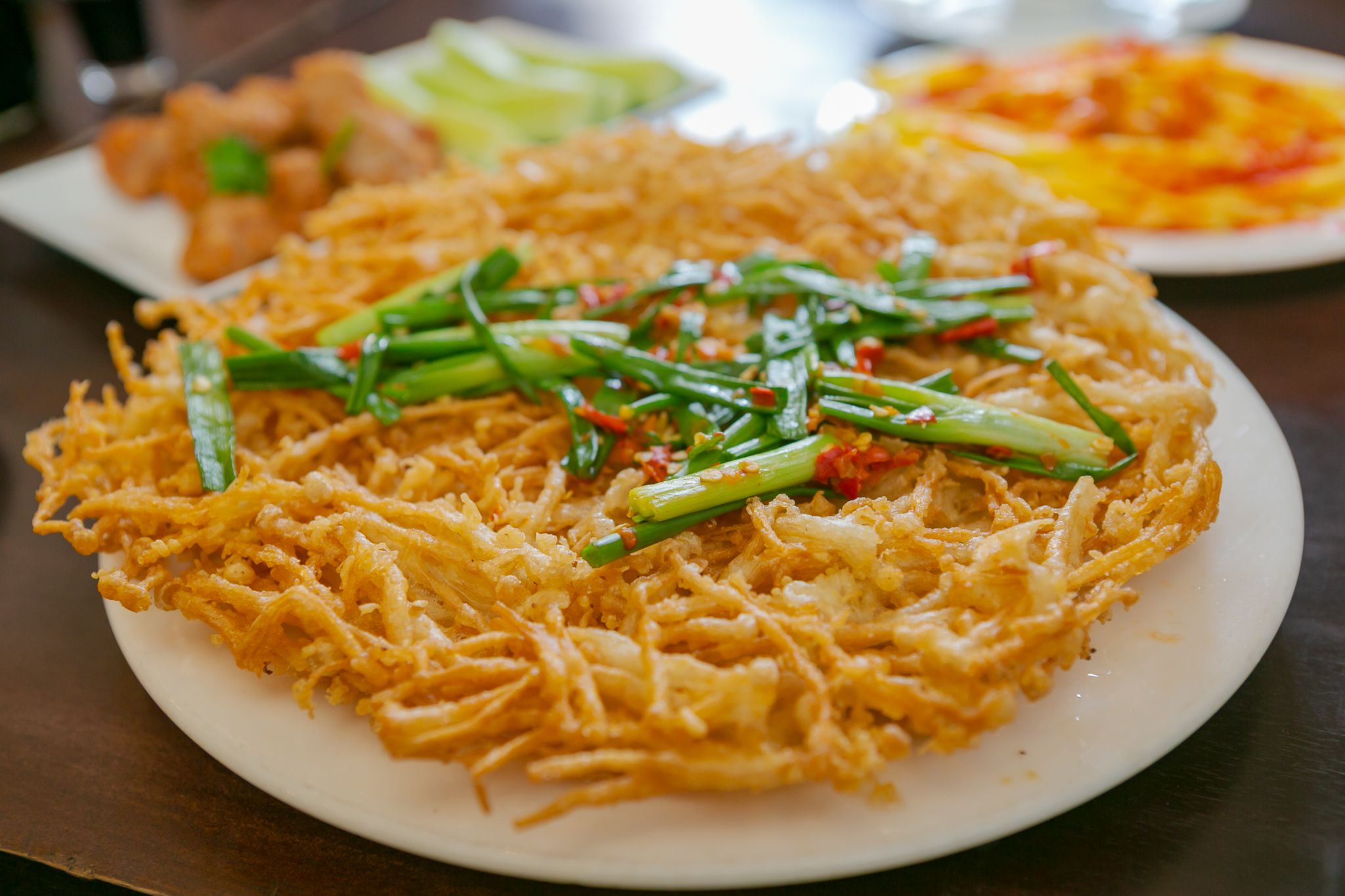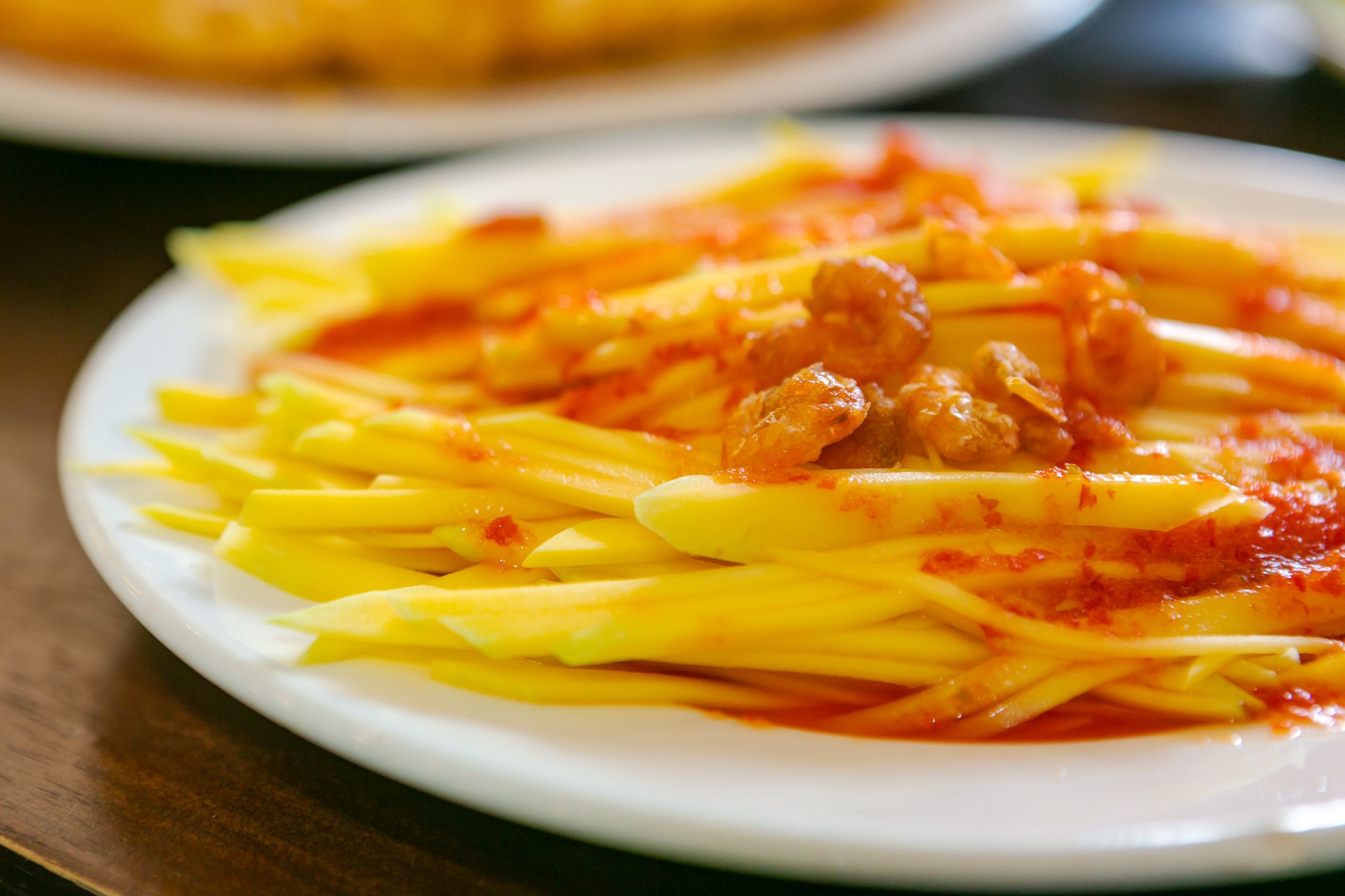 To round out our meal, we had unripe mango with a chili-and-fish-sauce dressing and nem chua rán along with cucumbers. The Street doesn't profess to serve healthy food, instead, the indulgences are perfectly at home alongside midday alcohol when it comes to making good life decisions.
The conveniently located spot can get a bit rowdy at night, but it fills the needed niche of northern food and traditional rice wine. Whether with your bureaucratic brothers-in-arms or groups of friends, the next time you are met with the frustrating task of just pick a place already, The Street is worth checking out, especially if you want to explore some fried foods you may have never had before.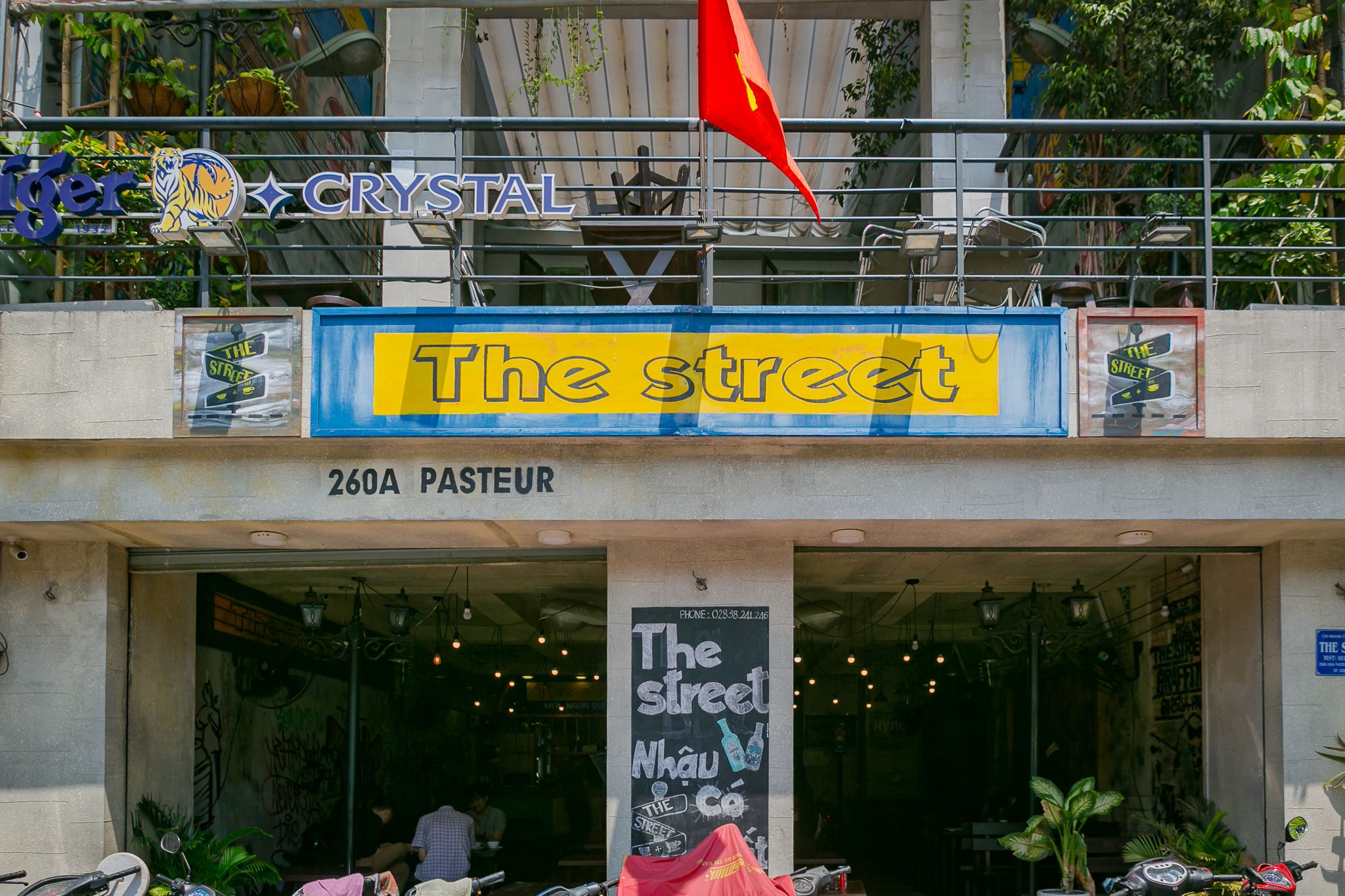 The Street is open from 10:30am to 11:30pm.
To sum up:
Taste: 3/5
Price: 3/5
Atmosphere: 2/5
Friendliness: 3/5
Location: 4/5
Paul Christiansen is a Saigon-based writer. Read more at his website.
Hanoian nhậu food
260A Pasteur, D3

---

Related Articles:
---