"Here we go, I'm gonna do it," I proclaim to a table of eight friends. On the tip of my chopsticks is a single ant egg, the "pearl of the forest" as some call it. Instead of ending in a dramatic burst like Japanese salmon roe, the egg deflates on my tongue with a distinct rich taste. The flavor of the protein is neither as pronounced as fish roe nor as unfathomably fatty as a coconut worm, but it's without a doubt something unique.
A coworker introduced us to Champa Quan a fortnight ago, a casual nhậu restaurant perched on the bank of the Nhieu Loc Canal. He dubbed it "the Laos Quan Cuu Non" and immediately caught our attention. Also by the canal and one of Saigoneer staff's favorite Hẻm Gems, Quan Cuu Non is a Greek establishment that churns out the city's best moussaka and is a prime spot for dog-spotting, thanks to local residents' affinity for walking their canine companions at dusk.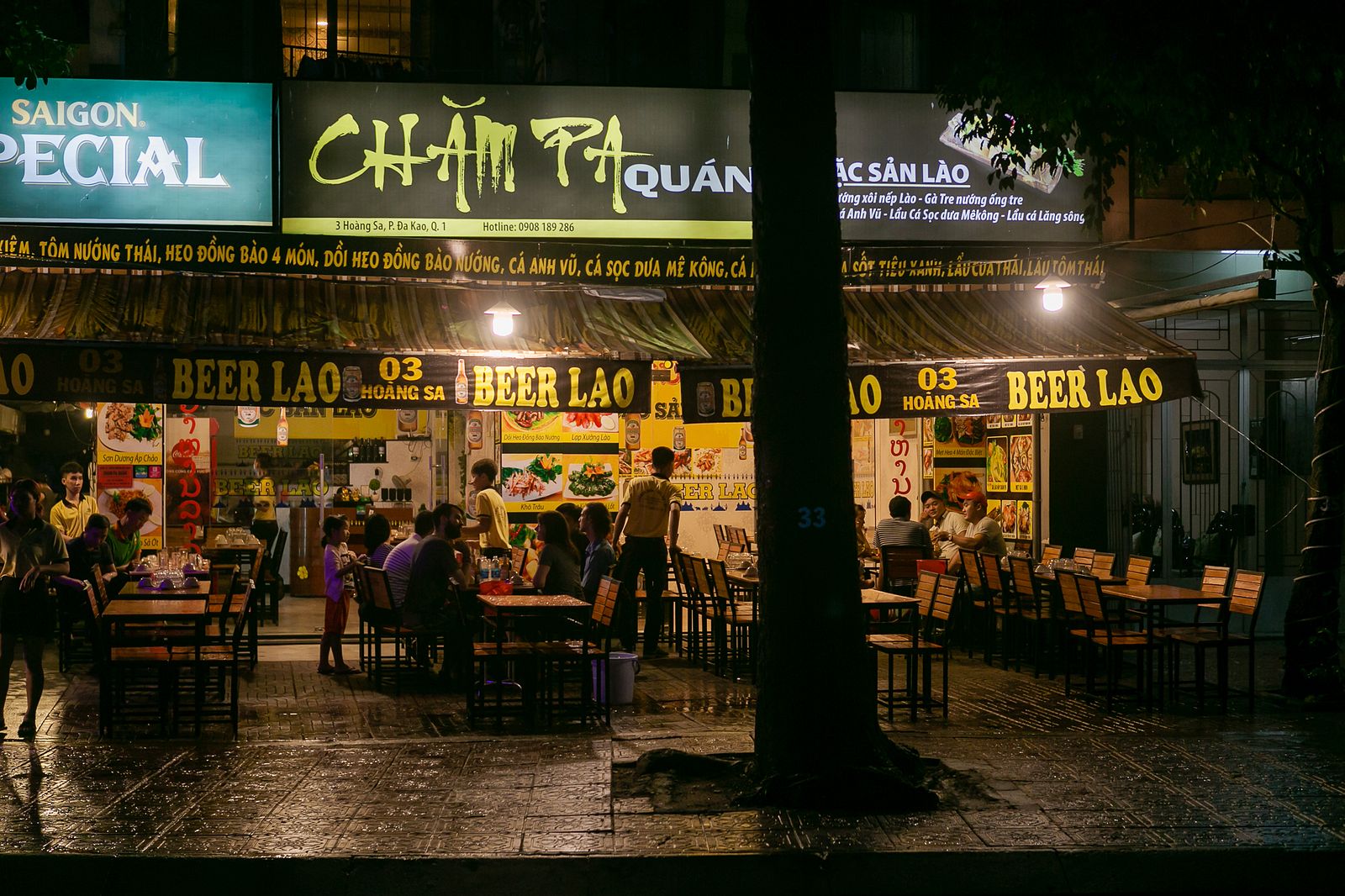 It is raining when we convene at Champa Quan, so the shop front is sparsely occupied. A few rose-complexioned middle-aged patrons are engaging in lively banter over bottles of Beerlao and rice wine while idle waiters mill about shooting the breeze. The summer shower kills any chance to make the occasion a fruitful dog-watching session, but what the spot lacks in photogenic puppers it more than makes up for in scrumptious Laotian fare.
I have to admit that my knowledge of Laotian cuisine is surface level at best prior to our visit to Champa Quan. Apart from a mediocre meal at Khao Lao a few years ago, Laos has mostly eluded my food radar in Saigon, a shortcoming that I plan to rectify by repeatedly returning to Champa in the near future. The restaurant's menu is dominated by nhậu dishes, which are grilled or fried meat and fish marinated in a generous concoction of spices, herbs and chilies — recipes carefully curated to make one thirsty and down more alcohol.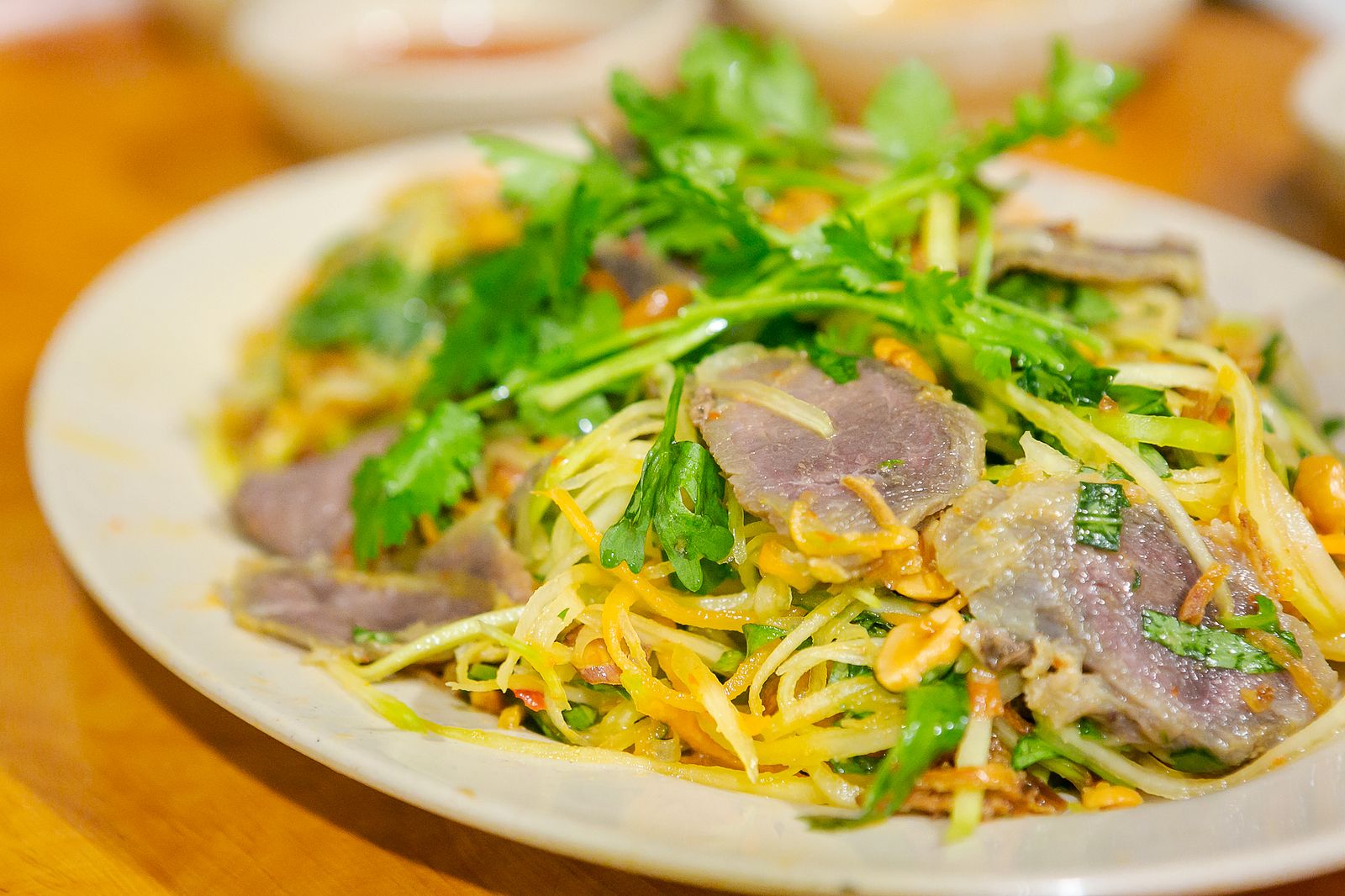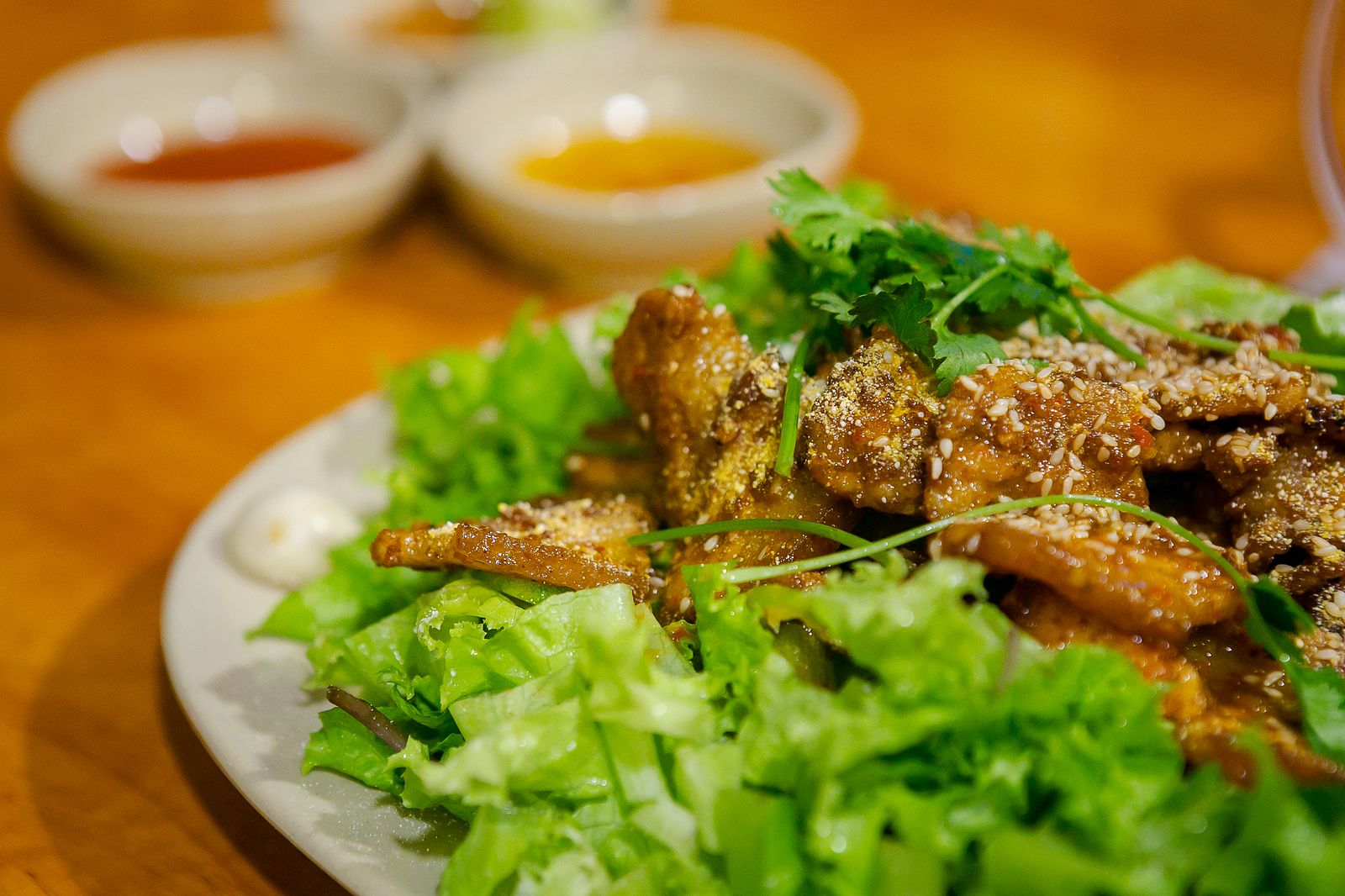 Three dishes in our order fall under this category: chili-salt grilled chicken, Champa pork salad and papaya salad with beef, all intensely flavorful with complex flavor profiles that have notes of spices, citrus and chili peppers. The pork salad, in particular, is a riot: on a nest of lettuce sit some of the best slices of grilled pork that I've tasted in my life, which surprises me because I've had my fair share of delicious Korean barbecue.
The rest of our meal is rounded out by chả giò and sticky rice with ant eggs, and a spicy braised chicken. The eggs, each the size of an oblong pea, are translucent and faintly sweet. They're the young of Southeast Asian weaver ants, which get their name from the unique way they construct their colonies: by using larval silk to piece together leaves to form massive nests on tropical trees, such as mango, rambutan and longan — all Indochinese mainstays.
According to Nam, Champa Quan's owner, he buys ant eggs in bulk when they're in season and stores them in-house to use for the rest of the year. These protein-rich ovoids are a prized ingredient in northeastern Thailand and Laos cuisine. In Thailand, ant larvae is sometimes sold at twice the price of good-quality beef because, while ant-farming is gaining prevalence, most of the time the eggs are harvested from the wild.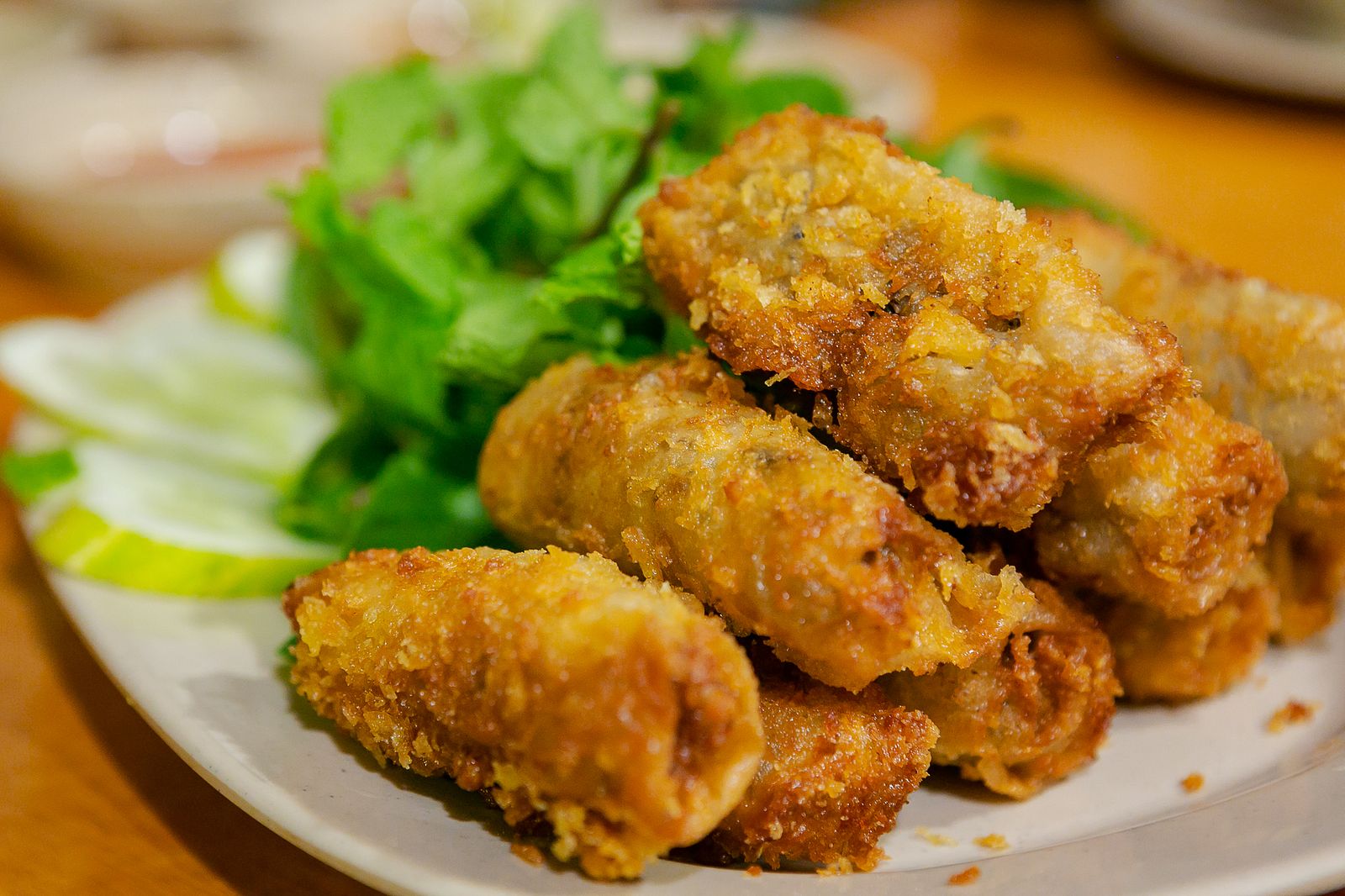 In deep-fried spring rolls with mince and other fillings, it is impossible to discern the taste of the ant eggs, but they prove an excellent topping for sticky rice. Champa Quan's xôi trứng kiến, or ant egg sticky rice, is a more exciting variation of Vietnamese xôi mặn; it comes with an accompanying sauce called jeow, a game-changing condiment that amplifies the sticky rice experience several notches. The concoction is ashy brown and grainy with notes of smokiness and umami. The owner tells me that his jeow is made of Laotian mắm, spices, and forest herbs.
Nam is a middle-aged man who speaks with a soft northern accent. His family is from the north, but he's been living in Saigon since 1978. A relative newcomer to the restaurant business, he's a mineral miner by trade, which is how he formed his connection with Laos culture and food. For more than twenty years, his job brought him to the neighboring nation's most isolated localities. Today, he still takes trips back and forth between Saigon and Laos even after founding Champa Quan.
"In Saigon, there's a restaurant for everything, but not Laotian food," Nam says of the decision to open Champa Quan. We sit down for a chat in the afternoon once the lunchtime rush has petered off. Occasionally he would yell out orders to the wait staff, who call him "bố Nam," a fatherly moniker usually observed by family members.
"Personally, even before I established the restaurant, I always had Laos ingredients in my kitchen at home. I'm so used to the flavor," he continues. "It's like it's permeated my blood."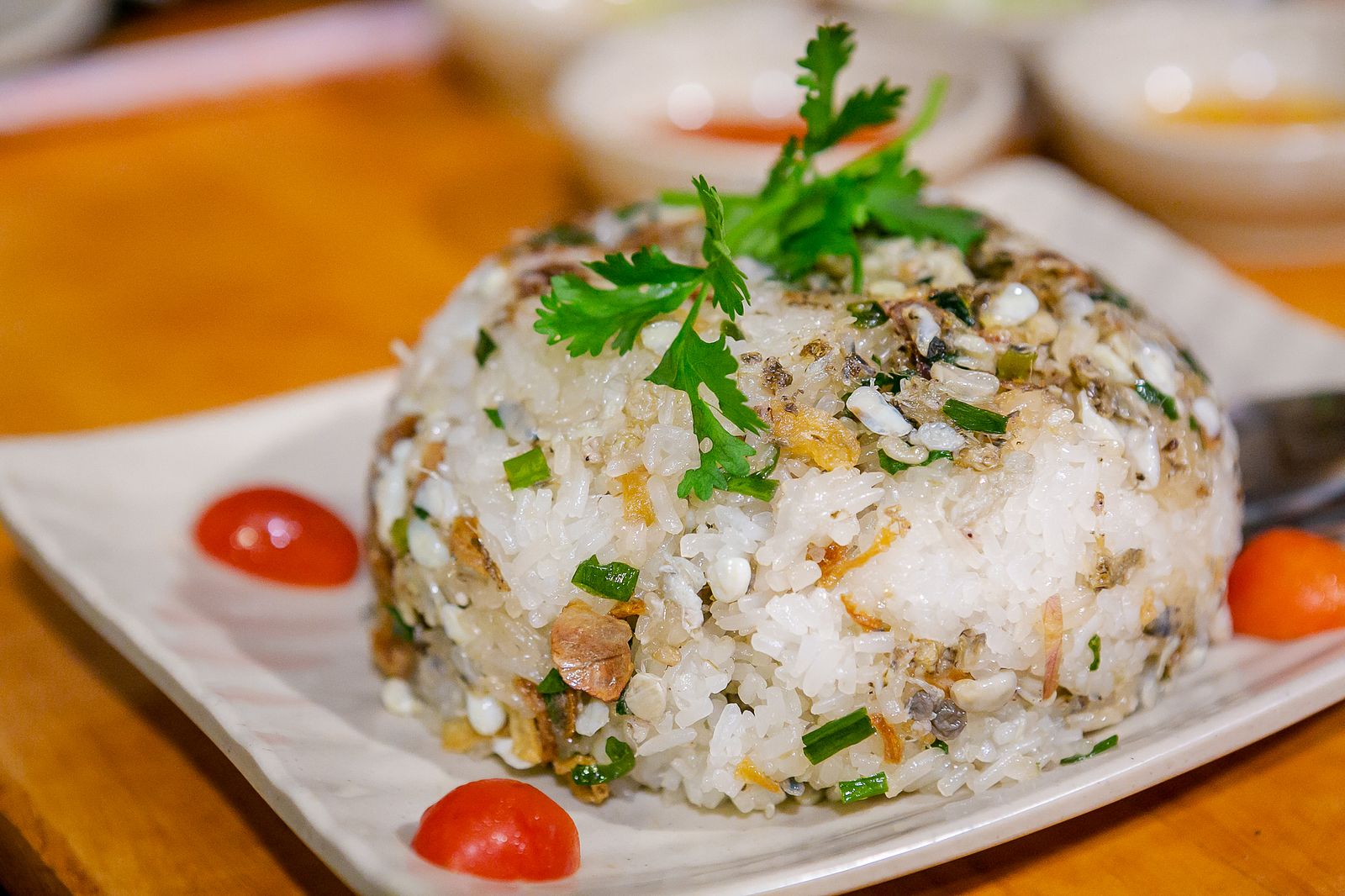 Dishes like ant egg sticky rice and chili-salt grilled chicken epitomize the Laotian approach to food. Because of the nation's lack of coastline, local cuisine is predominantly derived from the jungle and the Mekong, and that means a lot of dried and grilled dishes using a diverse range of wild spices and herbs, according to Nam.
Apart from wild spices and simplicity, another aspect that might also sum up Laotian cuisine well is sticky rice. No nationality eats sticky rice more than the people in Laos, with an annual per-capita consumption of 156 kilograms, a Smithsonian feature says. The glutinous grain takes longer to be digested by our body and thus can be unfit for those with gastric issues, but that's also why it's a beloved meal for Laotian monks. They don't usually eat after midday, so a portion of sticky rice for lunch will keep them full for longer.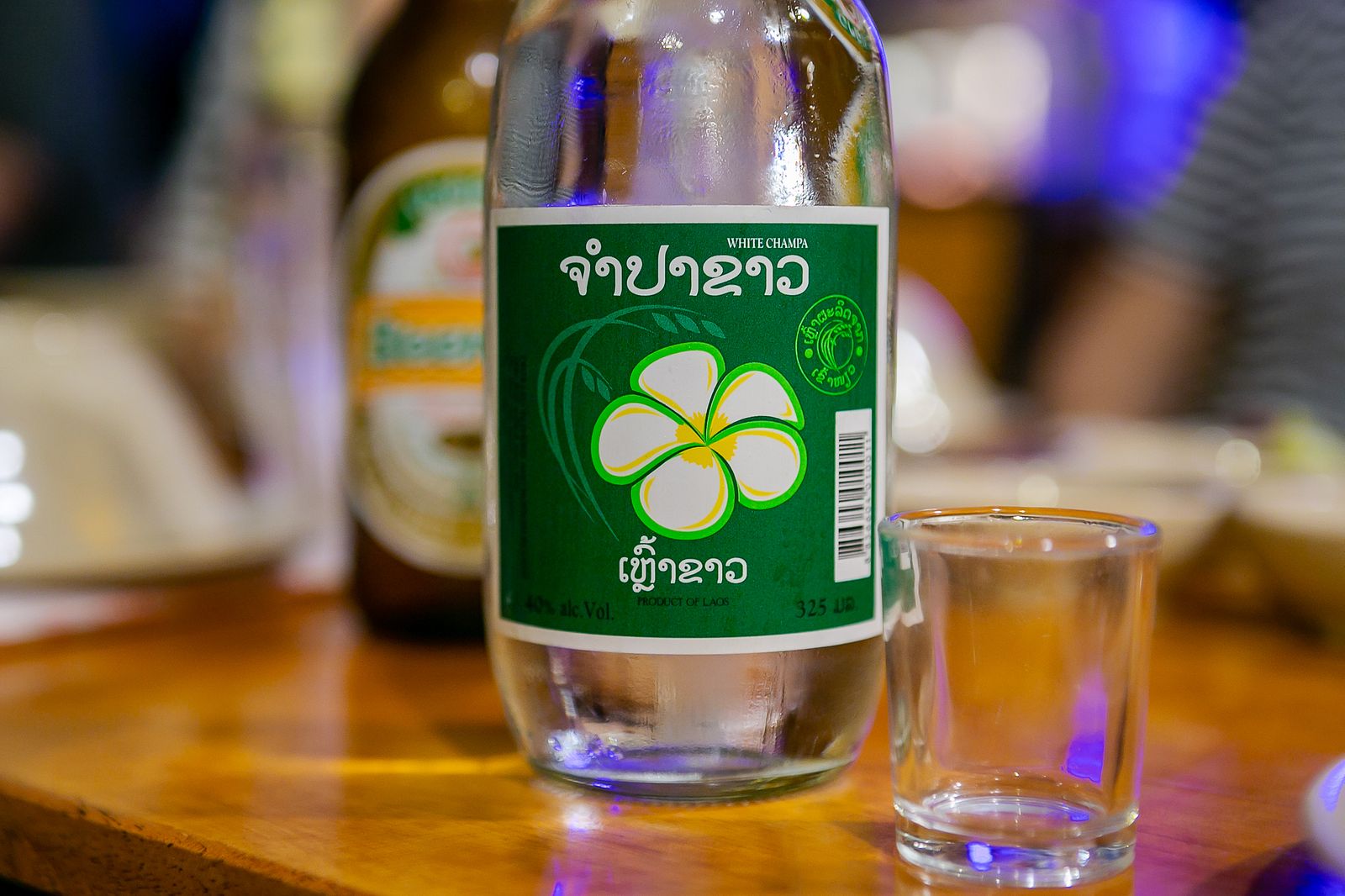 "[Laos] are not fancy eaters. Have a bit of sticky rice with jeow dipping; catch a fish or a jungle animal and grill it up — and you have a complete meal," he explains.
Nam added that traditionally, food is consumed by hand in Laos, a cultural trait that speaks volumes about the cuisine's laid-back style but didn't translate well to Saigon. When Champa Quan first opened, he made patrons eat with their fingers as well. That quickly precipitated complaints from local office workers, a population that makes up a major portion of the eatery's lunch crowd, and prompted Nam to start providing cutlery.
Champa Quan has been in business for four years, and it has undoubtedly attracted a loyal following, a testament to Nam's creativity in adapting the menu to Vietnamese palates. Coming up with the current repertoire of dishes took years: he toned down the saltiness, sourness and spiciness, as well as added well-done options for traditionally raw dishes to bring the flavor profile closer to what local diners are comfortable with. "If I hire a chef from Laos to cook here [in Saigon], people won't be able to eat it," he says. Of course, if the situation calls for it, Nam will happily provide the authentic Laos experience, such as for visitors from Laos.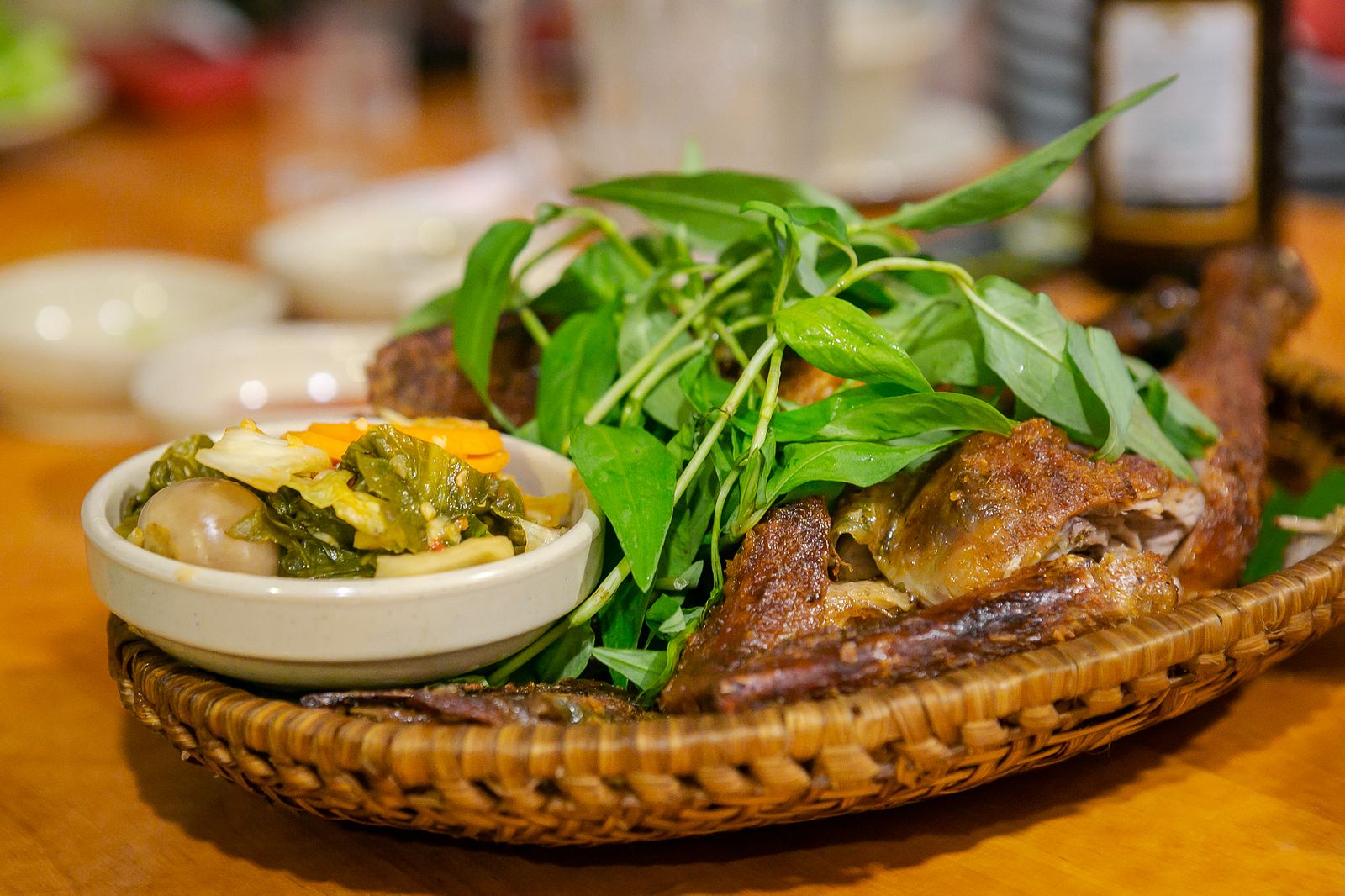 "I've served staff from the Laos Consulate," Nam proudly proclaims. Champa Quan has also welcomed Laos police officers undergoing training in Saigon, and Laos university students. First-timers are usually astonished by the place's existence; after a few visits, the initial shock mellows into comfort, thanks to the food and Laos pop music blaring from the speakers.
It's apparent that Nam has a deep connection with Laos. During the conversation, he reiterates time after time how the people he has come across are sweet, honest, content and kind-hearted.
"Say you're lost in the middle of nowhere [in Laos] and it's late. You ask a local family if you can stay with them," Nam sets up a scene. "They will let you sleep in their house. If they have any rare meat or dried stuff, they will cook up and feed you."
"You can even stay for months," he laughs.
Champa Quan is open from 10am to 11pm.
To sum up:
Taste: 5/5
Price: 4/5
Atmosphere: 5/5
Friendliness: 5/5
Location: 6/5 — amazing for dog-spotting
Khoi loves tamarind, is a raging millennial and will write for food.
Laotian cuisine
3 Hoang Sa, Dakao Ward, D1

---

Related Articles:
---