Tien, who's been up since 4am, stops for a moment, lets out a small sigh of satisfaction and wipes the sweat from her brow with the well-used towel around her neck. It's now 7:45am on another hot, humid morning in Saigon. Business has been brisk and she's just served her final customer of the day with a generously filled bowl of bún măng chay (vegetarian vermicelli noodles with bamboo shoots).
Tien works seven days except for public holidays at a small sidewalk space in Binh Thanh District. She's been making vegetarian noodles here for five years for many satisfied, loyal customers. Before that, she had a meat-based menu at another spot in Saigon. Through Nguyen Thi Mai Dung, my trusty interpreter, I ask if she switched for religious reasons.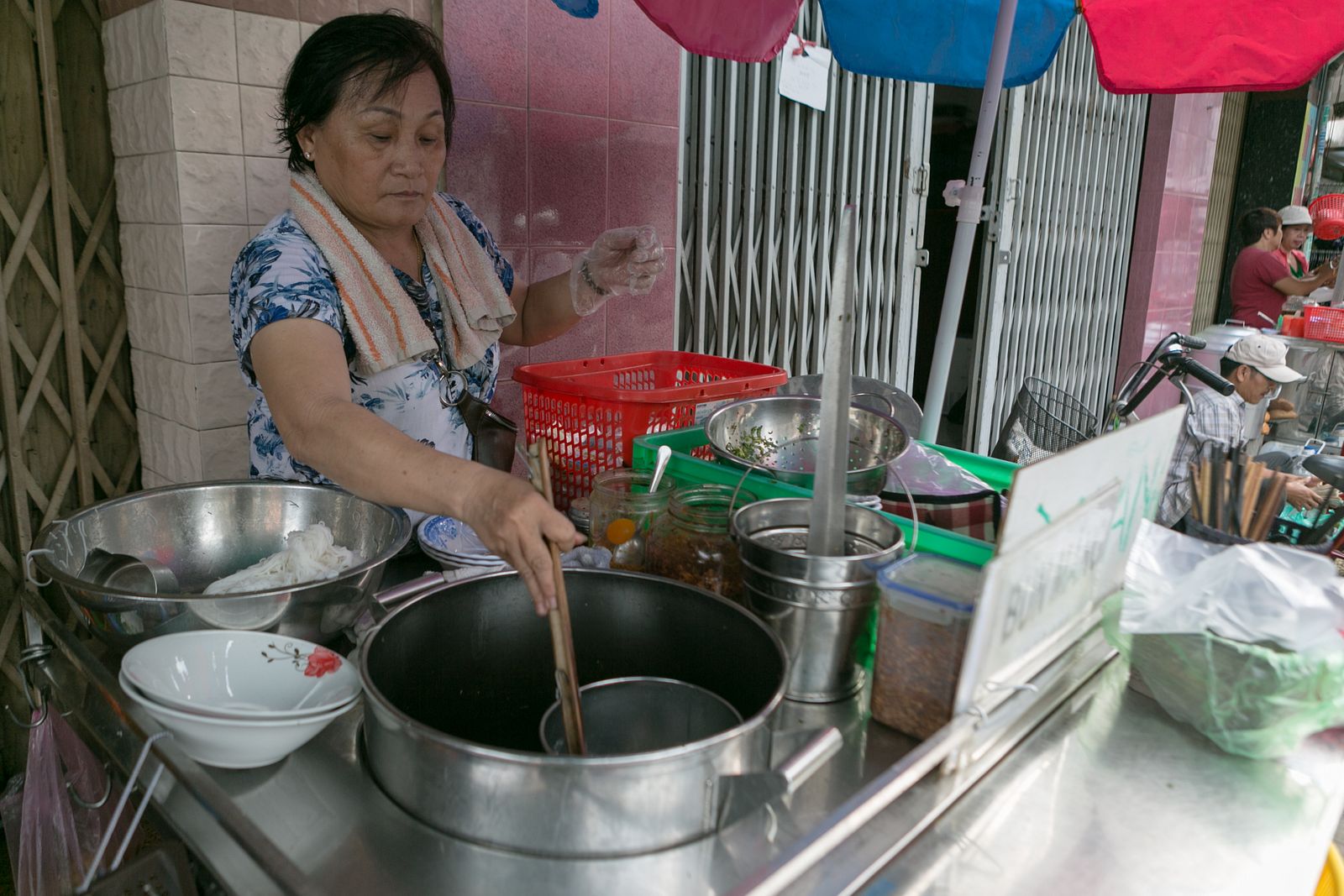 "I had to," she replies. "My aunt used to sell chay food here, but she got sick. I covered for her so she wouldn't lose customers. Then I took over when she retired."
I ask why she thinks she's so successful. "I've been cooking for a long time. My aunt and my grandmother taught me their recipes. They looked after me — my mother left when I was eight years old. I've tried to improve, step by step, adding more dishes," she explains.
Tien changes her menu every day. Highlights include bún riêu chay, bún bò chay and mì Quảng chay, a yellow noodles originating from central Vietnam. The price? Just VND25,000.
I ask her about the most challenging part of her job. "Watching out for the police," she says, without hesitating. "If too many customers park their bikes on the street or there are too many people sitting here, I'll get into trouble. The police fine my customers or they fine me."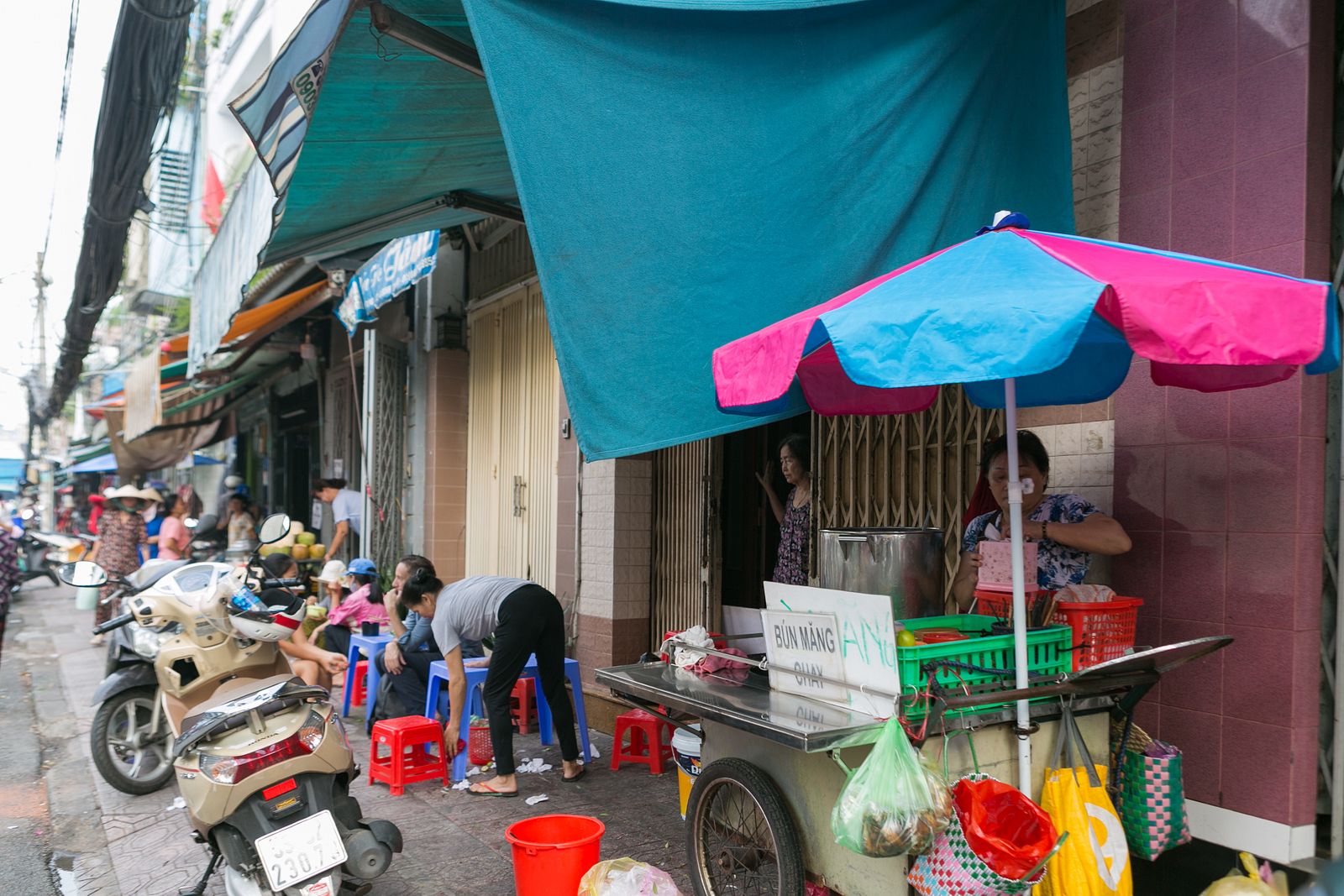 She's lost count of how many times this has happened. If you do visit her stall for breakfast, and you really should, be sure to park your bike on the sidewalk further down the street so you don't cut into her profits and add to her legal problems.
I watch Tien in action as she multi-tasks impressively. She deftly serves up her dishes: heaping noodles into bowls, sprinkling fried shallots and salt/garlic seasoning on top, then adding a ladle of vegetarian broth from her industrial-sized metal container. She manages this while also shouting instructions to her assistant (having one is a sign of her success), chatting to her customers, and, of course, keeping an eye out for cops.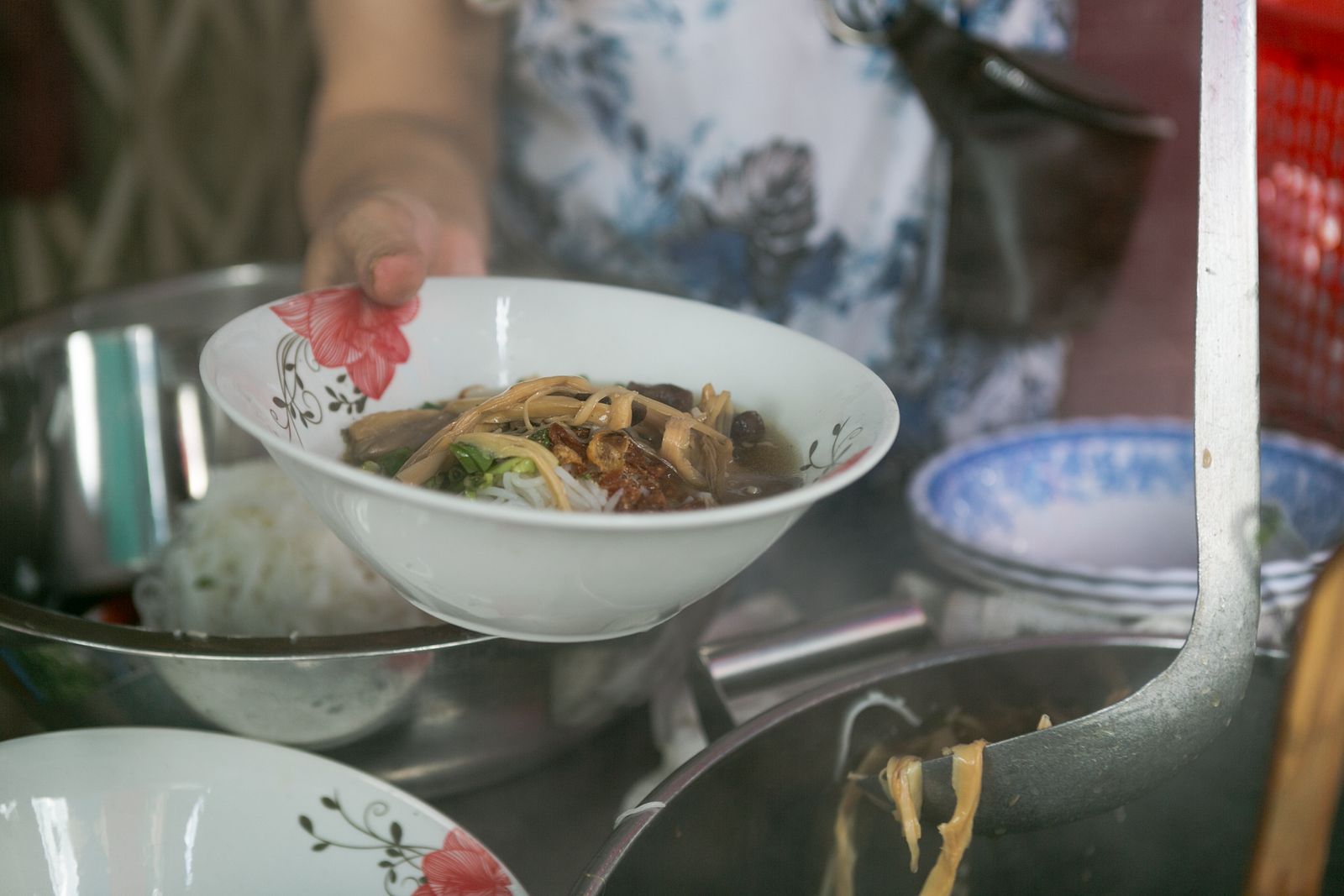 I do a quick survey of the diners around our small plastic table — a mix of young women on their way to work and older ladies returning from the wet market nearby. "How's your food?" I ask. "Delicious," everyone replies, between greedy mouthfuls of noodles, mushrooms and tofu spiced with diced chili, a generous pinch of ginger and a squeeze of extra lime.
Behind our cramped seating area, an apartment's metal gate opened narrowly, a wheelchair-bound elderly man seems to be enjoying his regular morning routine of people-watching. He gazes at us impassively while we wolf down our bún măng chay in companionable silence.
Another customer, Dung, 27, from Binh Thanh District, says she's been coming here for breakfast for two years. "People attract people. I first passed by on my scooter, feeling curious about why there were lots of people sitting here enjoying their food," she shares.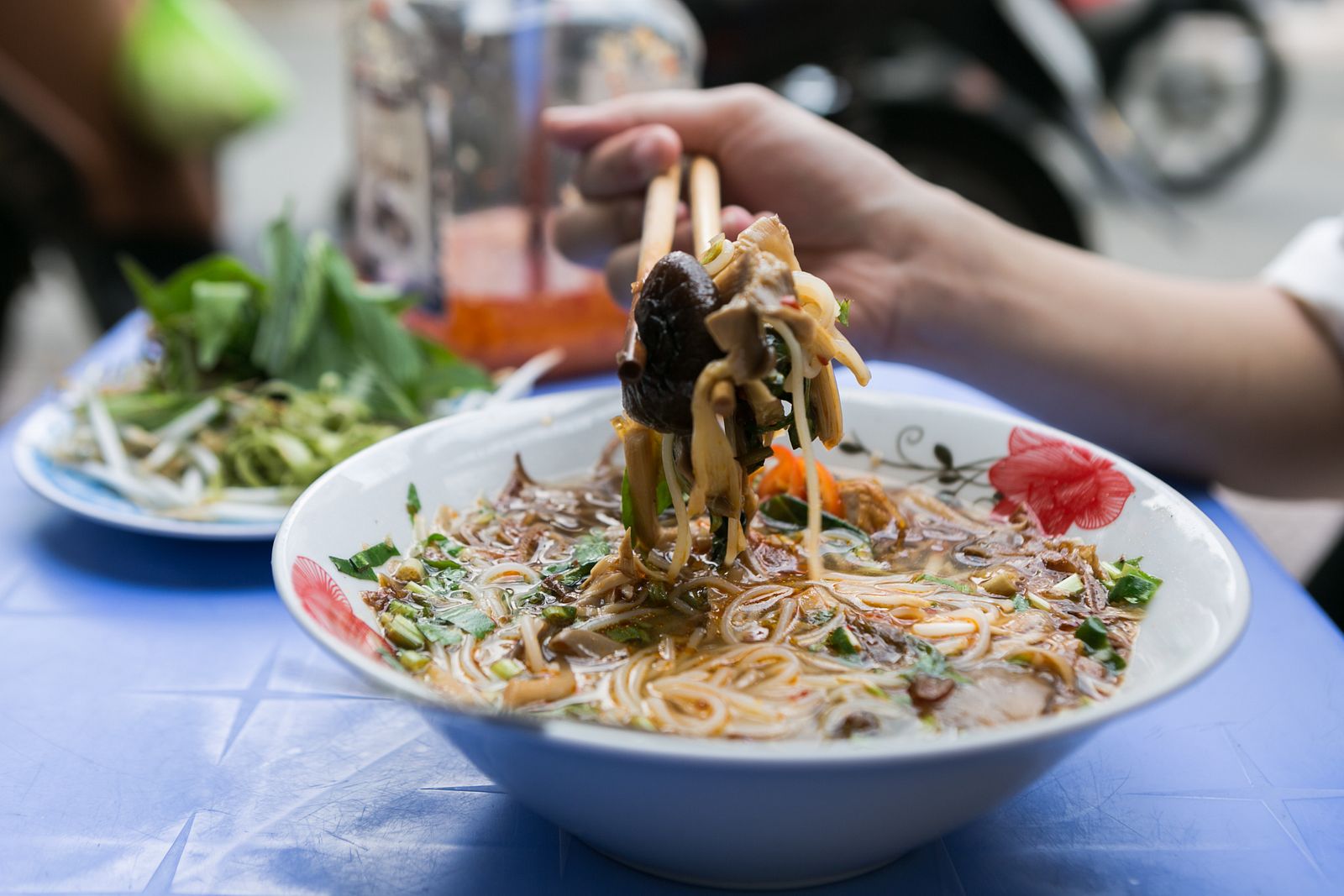 I press Tien more on why she sells out early every day: "It's experience, but also love. I like to see my customers happy by giving them a good breakfast." She plans to retire soon, though.
"I'm 58 years old. I've been cooking and selling on the street for a long time. I want to retire at 60 so I can look after my husband and watch my favorite Korean dramas on TV," she says.
Her kids won't take over the business, as they all work office jobs.
You can find her stall at 99 Vu Tung Street, Ward 14, Binh Thanh early every morning. Look for her blue-and-pink striped umbrella underneath the 'Long Van' sign. But you must be doubly quick and get there early — 7:30am at the latest. And don't delay the visit too long. Her family's generations-old chay cooking will not be around to enjoy for much longer.
To sum up:
Taste: 5/5
Price: 5/5
Atmosphere: 4/5
Friendliness: 5/5
Location: 5/5 if you live in Binh Thanh, 3/5 if you don't.
James is in Brexile from the UK. Saigon's sunshine, swimming pools and superb veggy food help to keep him sane in these maddening times.
Vegetarian noodles
99 Vu Tung, Ward 14, Binh Thanh

---

Related Articles:
---