Contemporary coffee culture in Saigon is largely one of extremes. On one end, enthusiasts at trendy shops source, grow, roast and meticulously prepare some of the finest beans in the world, and on the other, humble carts serve cheap cups on hectic street corners. And in between? Cà Phê Tám Hường. The tiny stand situated in a shaded spot on Nguyen Du Street serves coffee fit for a connoisseur at pavement prices.
Editor's note: We're extremely sad to inform our readers that as of November 2020, Cà Phê Tám Hưởng has permanently closed on Nguyen Du. We will miss its friendly barista and colorful menu board a lot. You can read our review of the place, written last year, below.
When Saigoneer moved offices last year we had to find a new go-to coffee spot to fuel our keyboard babbling. There were a few regrettable visits to overpriced chains, some dalliances with likely battery-brews, momentary considerations of keeping a French press at our desks (until we remembered the great water spill streak of 2018), and that one traumatizing day we decided to give up caffeine altogether. But then we tried the unassuming Cà Phê Tám Hường just around the corner from us; the first sip was akin to the season's first crack of thunder above a parched rice field.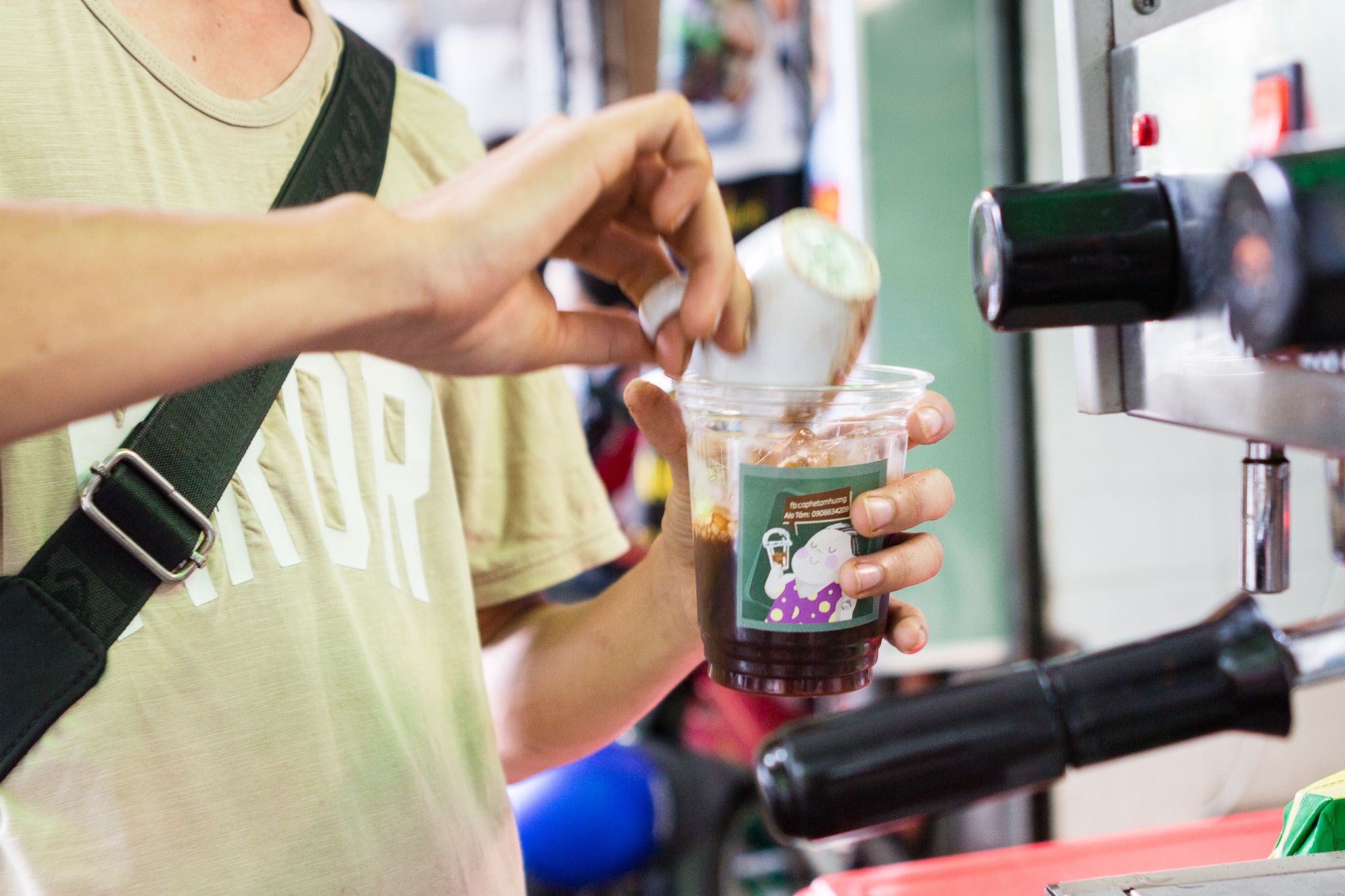 "No, no, don't take a photo of me, I'm not handsome enough for this shop, focus on our logo," the shop's owner Hieu laughs. He would rather the drawing of the smiling coffee lady be the face of the stand, as it perfectly encapsulates his business's friendly demeanor and, thanks to the subtle homage it pays to the famous 'Cô Mía' visage that graces nước mía carts, situates itself in Saigon's street beverage culture traditions. Similarly, the name Cà Phê Tám Hường is a nod to the familiar way people often refer to street vendors that don't even brand their stalls.
Hieu first remembers having coffee from Da Lat that a friend had brought back to Saigon for his father. He loved the light, floral aroma and taste, and was therefore disappointed by the burnt, sugar-laden variety sold by most vendors and small shops around town. Those versions that had been sitting around for who knows how long in plastic containers at street carts failed to capture that first, fresh-from-the-filter taste. So Hieu took to tea.
It wasn't until years later, when new boutique coffee shops started opening up in the city, that his love for the drink returned. His day job designing interiors proved fortuitous. While constructing the interior of the city's first Phuc Long location, he learned about the logistics involved in installing and operating espresso machines. This would prove especially helpful six years later when he purchased a second-hand machine.
One of Hieu's favorite hobbies is cycling to a quiet section of central Saigon and going for a stroll with camera in hand, hoping for candid shots of citizens going about their daily routines. On his walks, he realized that many of the people that he passed on their way to work or during lunch breaks likely couldn't afford the time or cost of a coffee at a fancier shop. He thus decided to open his own stand that blends elevated flavors with the price and ambiance of street coffee.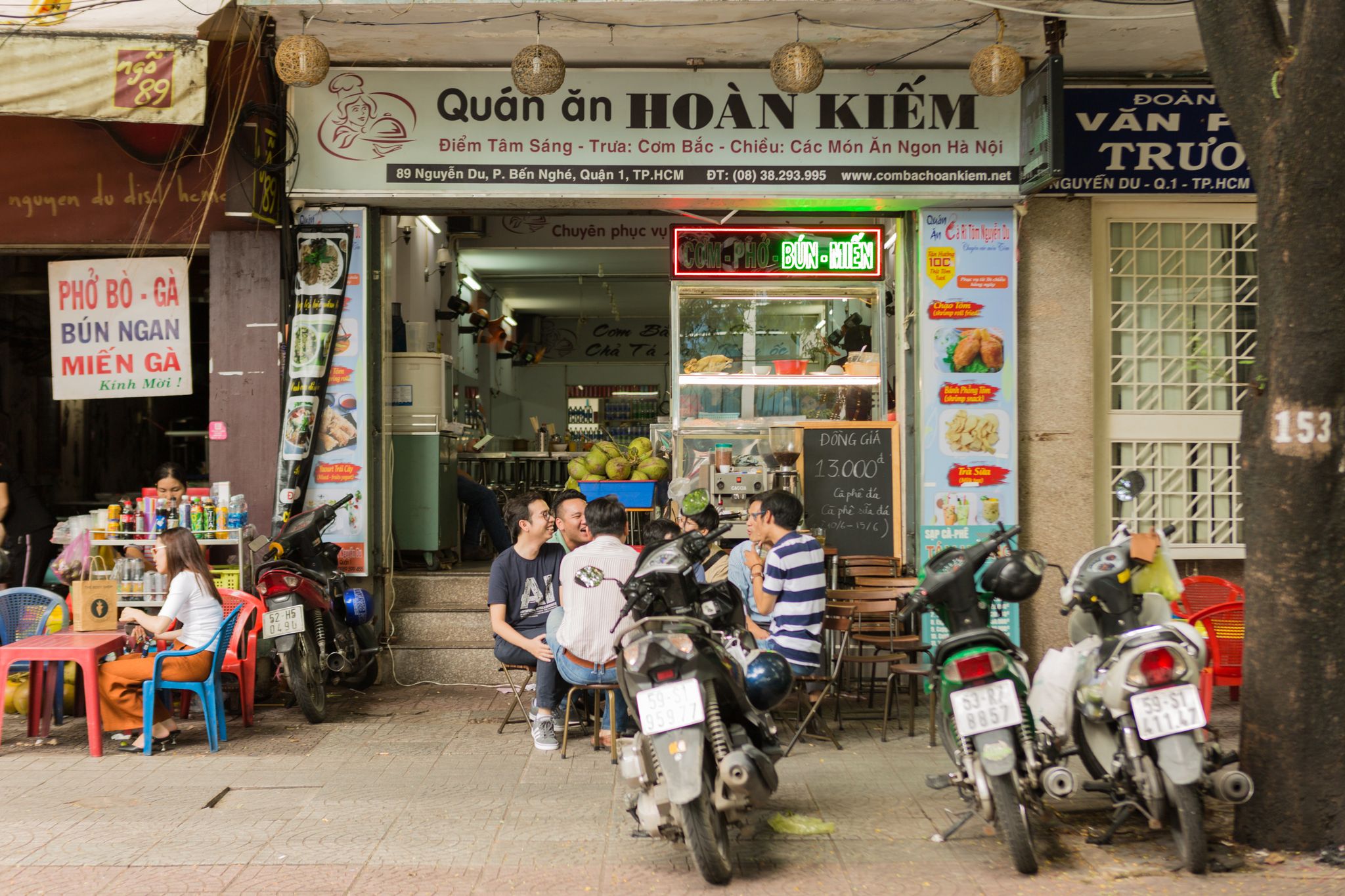 Location is critical. After an early attempt in Tan Binh District failed, Hieu relied on his pedestrian instincts to select a place to open. While on a walk in 2018, he discovered a stretch of street whose large canopy of shade trees overhead and wide sidewalks were filled with walkers, as opposed to motorbikes, which made sense for Cà Phê Tám Hường's newest iteration. All it took was a chat with the owner of the cơm trưa restaurant serving northern dishes at the nearest storefront. She wanted to provide her customers with drinks, but was too overwhelmed with cooking. It was a perfect fit, and a simple deal was struck.
Thanks to his many home experiments, Hieu knew the exact blend and roast he wanted for his coffee: 70% robusta beans from Dak Lak and 30% arabica from Da Lat. He then worked closely with a roaster to develop the exact formula he needed, while ensuring it could be replicated exactly the same each time. This reliability is key, and requires a skilled barista because, as Hieu laments, too many people make coffee for money and not love, and it shows in their product. Thankfully, Thanh, the younger brother of one of his coworkers, had recently completed his barista training course and was looking for a place to practice his passion.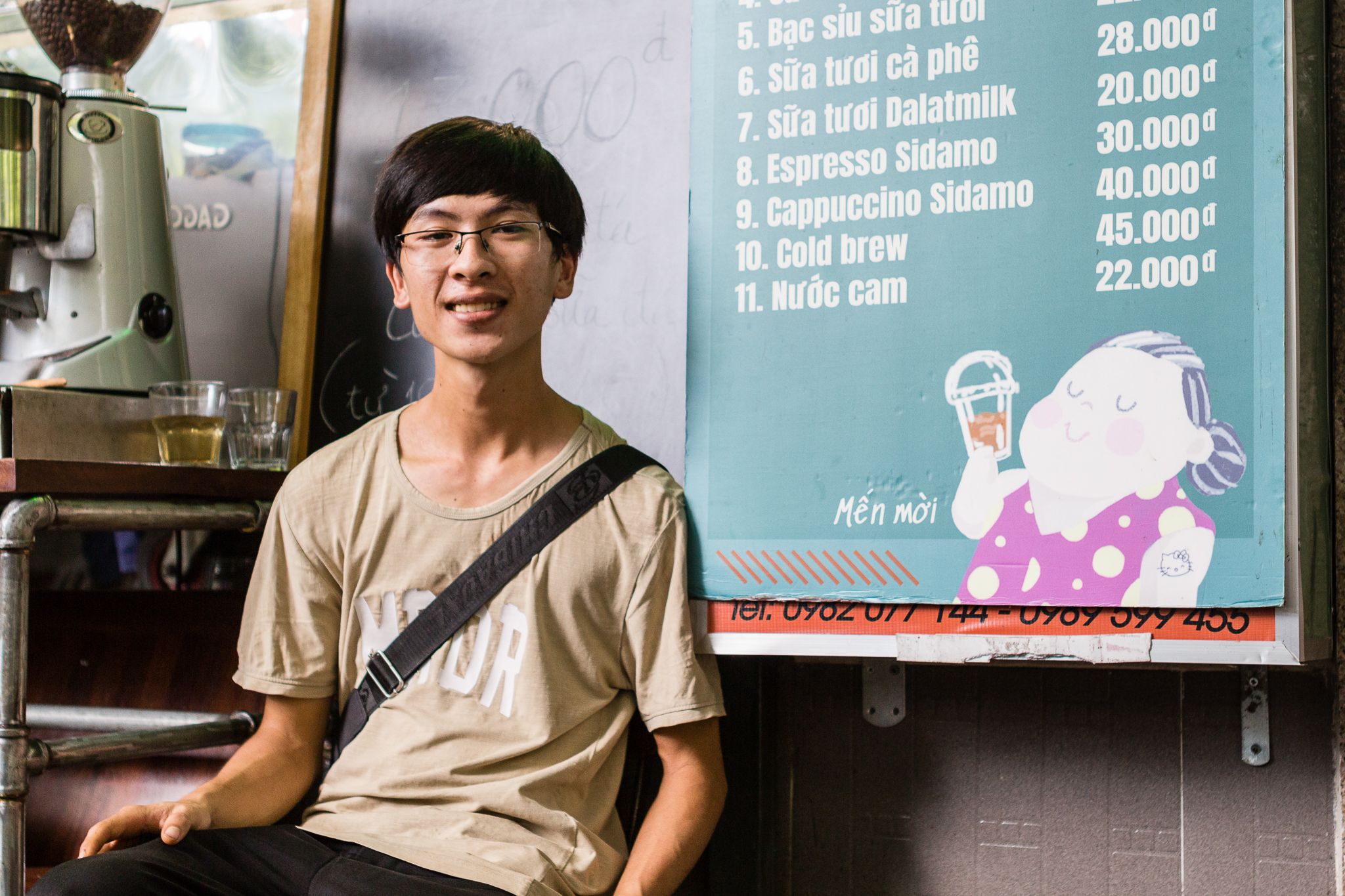 So what makes a good cup of coffee for Hieu? It should have a light, floral, perfume-esque aroma with hints of chocolate. The taste shouldn't be too brash or bitter, just a little sour. And while he does cater to his clients' desires — the cart offers sugar, fresh milk and sweetened condensed milk — Hieu's go-to cup of joe must be black and splashed over a bit of ice.
"Making coffee is not difficult, but it's not easy, you just must love it," he says. This philosophy manifests itself in each cup. Neither soft or aggressive, the complex notes harmonize like the songs of the white-rumped shama. Order to your liking, but to best appreciate the coffee, we suggest getting it black. And whether you are going to rest for a few minutes on one of the tiny tables and chairs or take it to go, make sure you take a sip when its first handed to you. It's one of the best cups of coffee in the city at a price that can't be beaten.
Cà-Phê Tám Hường is open from 7am to 2:30pm.
To sum up:
Taste: 5/5
Price: 6/5
Atmosphere: 4/5
Friendliness: 5/5
Location: 5/5
Paul Christiansen is a Saigoneer staff writer who composes poetry for the same reasons plants photosynthesize.
Coffee and cocoa drinks
89 Nguyen Du, Ben Nghe, D1