Evason Ana Mandara is one of those hidden jewels, which although they are right there in front of you, sometimes we don't realise it is there. In the case of Ana Mandara, it could not be more central: located by the beach in Nha Trang's main road, just a few minutes away from the popular Sailing Club.
Once you enter the premises, the first thing you notice is the peace and quietness of the place, regardless of the amount of people in the lobby, the way it has been built, using traditional materials with many open spaces and with feng shui in mind in the decoration and surroundings, makes you feel calm and relaxed.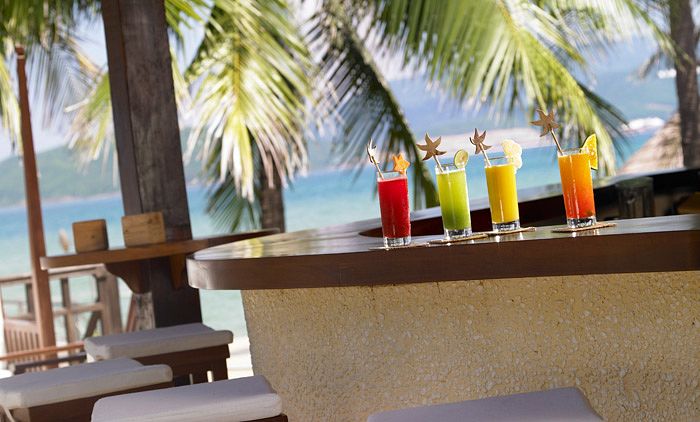 Although we did not stay in the hotel, we got a recommendation for the cocktails and Friday's seafood barbeque, so we decided to follow go for it, and we were not disappointed.
To start, Mr Chau who is the mixologist with over 15 years' experience in the trade, welcomed us, and explained that although he did most of the traditional cocktails, he added a Vietnamese touch, making them more authentic, mixing freshness with authenticity. For example, I tried the lemon grass Collins and the midori margarita, and both were awesome.
The lobster barbeque is great, for a fixed price you have access to anything in the buffet, and believe me, the selection is huge: lobsters, clams, king prawns, mussels, eight different salads, sushi, sashimi, noodle stations, carvery station, including roasted baby pork, and much more, including eight different types of dessert.
The Saint Claire oysters were very fresh and delicious, and a good way to start the evening, pairing them with a new Zealand Sauvignon Blanc from the extensive wine list. We moved into some salads, all very fresh and nice, and then we started with the lobsters, which are grilled in front of you, and were big and delicious.
We tried different types of seafood and fish available, all very fresh, to end with roasted baby pork and a selection of desserts, including a very nice crème brule.
The environment is great, as you are on the beach enjoying a mix of great food, views and live music.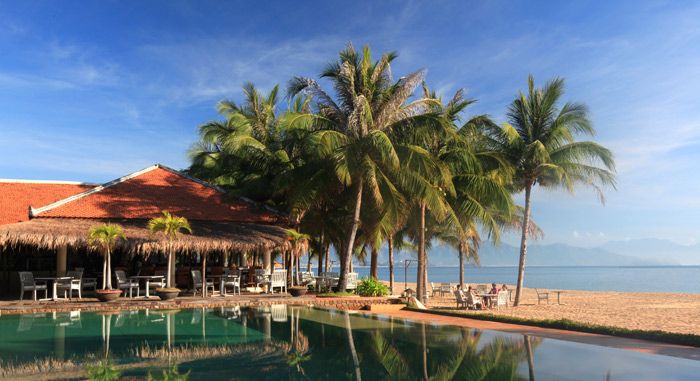 Service is outstanding, and it is an ideal place for a romantic dinner. Next time we are in Nha Trang we will visit again, and try the hotel, as everything looked ideal, an oasis in the middle of the city!
Evason Ana Mandara Beachside. Tran Phu Boulevard. Nha Trang.

Note: The author of this review, Alfredo de la Casa, is a freelance reporter specialising in food, beverage and culture, who writes for several of the top lifestyle publications, and author of 9 books, including 4 related to Vietnam; he is a wine educator and runs www.wineinvietnam.com. He has written this review independently with no influence from the restaurant or third parties. Nor he nor the photographer nor Saigoneer were paid for the review which was done totally based on the personal experience of the writer.