The revered 92-year-old Vietnamese Buddhist monk Thich Nhat Hanh sums up his teachings on food and the first meal of the day like this: "I asked some children, 'What is the purpose of eating breakfast?' One boy replied, 'To get energy for the day.' Another said, 'The purpose of eating breakfast is to eat breakfast.' I think the second child is more correct."
At Hoa Nhon, the cơm chay (vegetarian buffet) is self-service, so the portions are invariably generous and at breakfast time, you'll certainly find all the day's energy you need. But more importantly, as the famous monk alluded to, you can find joy in the simple act of eating unpretentious, lovingly prepared plant-based food here. I'd argue Thich Nhat Hanh's quote holds true for any meal, and I have a feeling he'd love Hoa Nhon. Thankfully, you can also come here at lunch and dinner time too.
The restaurant strives for a harmonious ambience, and nearly succeeds. There are homey touches: traditional oil paper umbrellas hanging above the main buffet and lotus flower paintings that symbolize purity on the walls. Gentle, chiming Buddhist melodies play in the background but these can't quite compete with the shouts from the busy wet market outside on an even busier hẻm, where the shared language of beeps and honks is unrelenting. Two resident dogs napping in the shady corner don't mind one bit though. And neither do I, once I tuck into my buffet plate.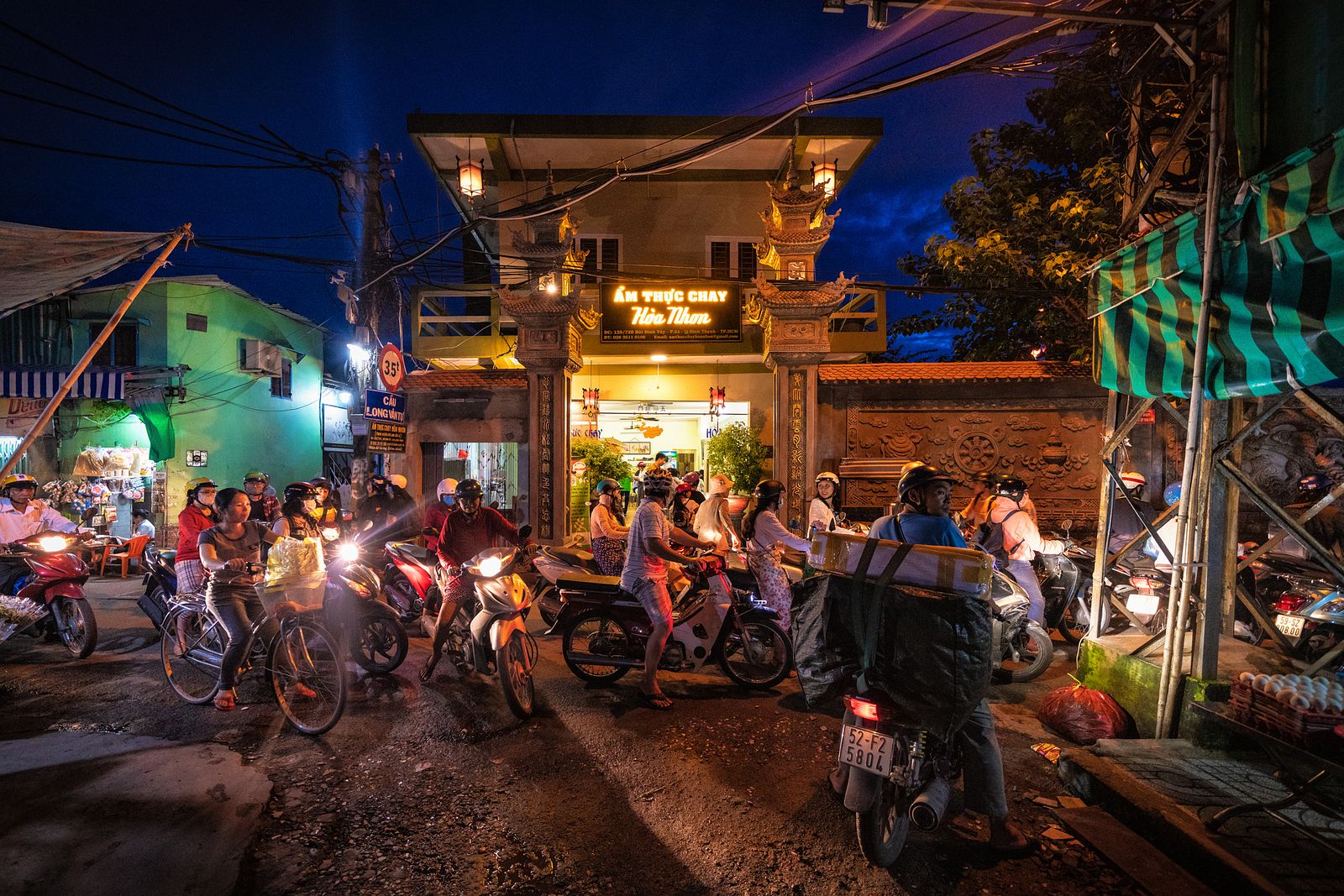 Luckily for vegetarians, there are hundreds of cơm chay restaurants in Saigon. So what makes Hoa Nhon special? Here are three things: many cơm chay places seem to take pride in having a messy floor strewn with discarded paper tissues, a sign of their popularity; Hoa Nhon, however, is virtually spotless. It also displays its dishes in lovely faded orange earthenware pots unlike their rivals' metal containers. What's more, other joints cannot match the view of a 40-foot-tall winged Buddha statue, the 3,000 year-old religious swastika emblazoned on his chest and his left hand holding a lotus flower in the pagoda next door.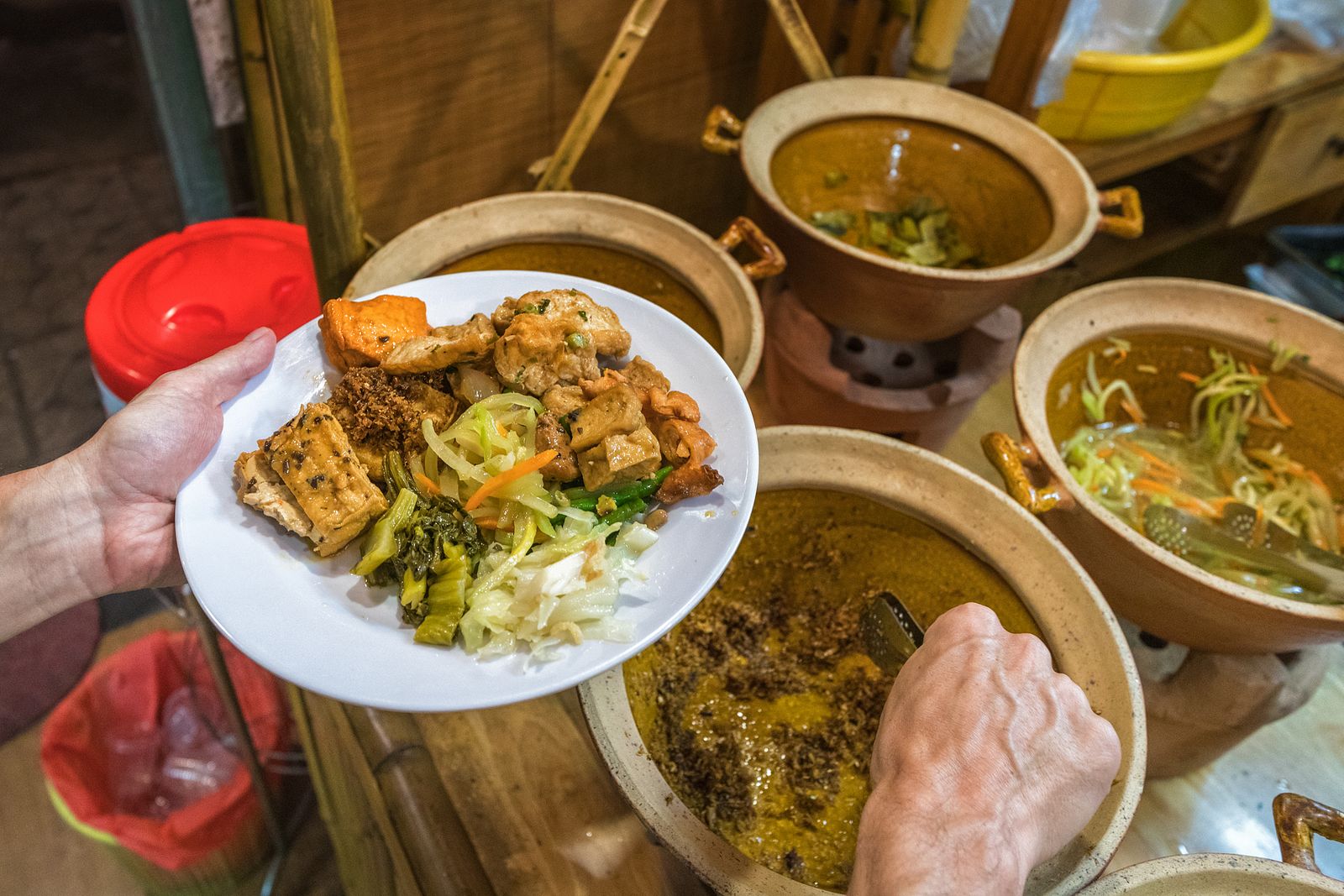 Here's a fourth reason: if you come when some Buddhists abstain from meat (on the 1st and 15th days each month of the lunar calendar), the place will be packed, but the buffet choices will be particularly fantastic. If you don't fancy the buffet, there's an eight-page monolingual menu. Highlights include mì xào giòn (supremely crispy fried noodles) and cơm gói lá sen (mixed veggie rice sitting snugly inside a lotus leaf), the latter simply yet elegantly presented. You won't find any dishes cooked with onion or garlic here, though; Buddhist monks believe these have an aphrodisiac quality, and so refrain from eating them.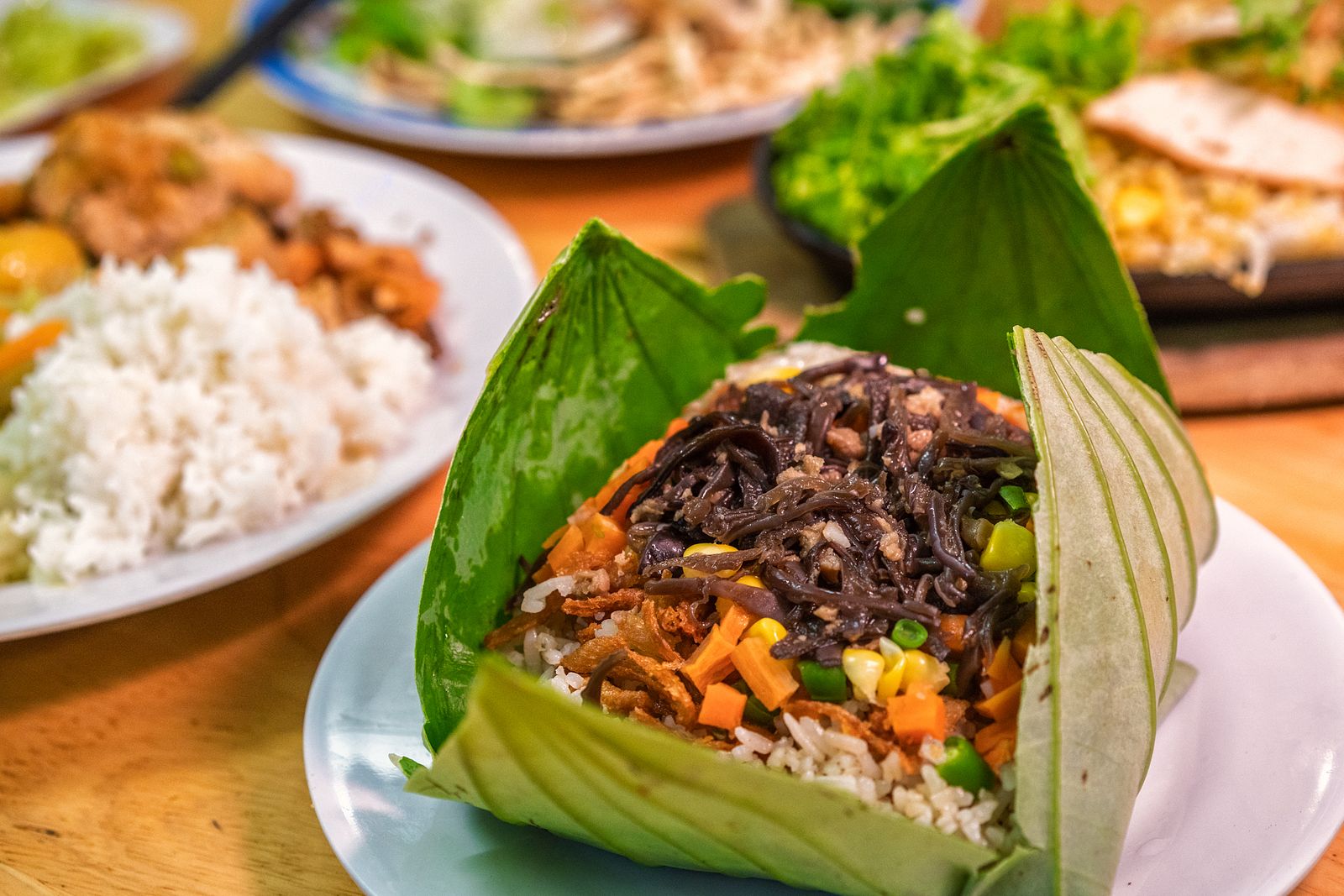 Some cơm chay places skimp on the vegetables in favor of fake meat so the meal feels unbalanced. But not here. There's bitter melon, okra, water spinach and Chinese cabbage alongside protein options like fried lemongrass tofu, eerily genuine-tasting fake ham, and tofu stir-fried with chili and tomatoes, a standout dish. The grilled eggplant is also charred perfectly, and neither too bitter nor too slimy, as sometimes is the case elsewhere. It's a testament to the skills of the cooks that seemingly every customer polishes off every vegetable, tofu chunk and grain of rice from their once-mountainous plate.
Afterwards, walk off your meal in the adjoining grounds of Long Van Pagoda, built in 1933 by a monk named Giai Minh, which Hoa Nhon raises funds for. Although not a famous Saigon temple, it looks immaculate. Red lanterns and bright pink peach flowered trees clash in color but do so prettily. You can stroll around several shrines featuring both the male and female Buddha in their main iconic postures. There's also a statue of the chubby Chinese 'laughing monk,' Bố Đại in Vietnamese, sitting cross-legged. He represents good fortune and looks like he'd thoroughly enjoy Hoa Nhon's chay cuisine. Incense sticks are available at the pagoda's entrance to make a wish, or even say a prayer.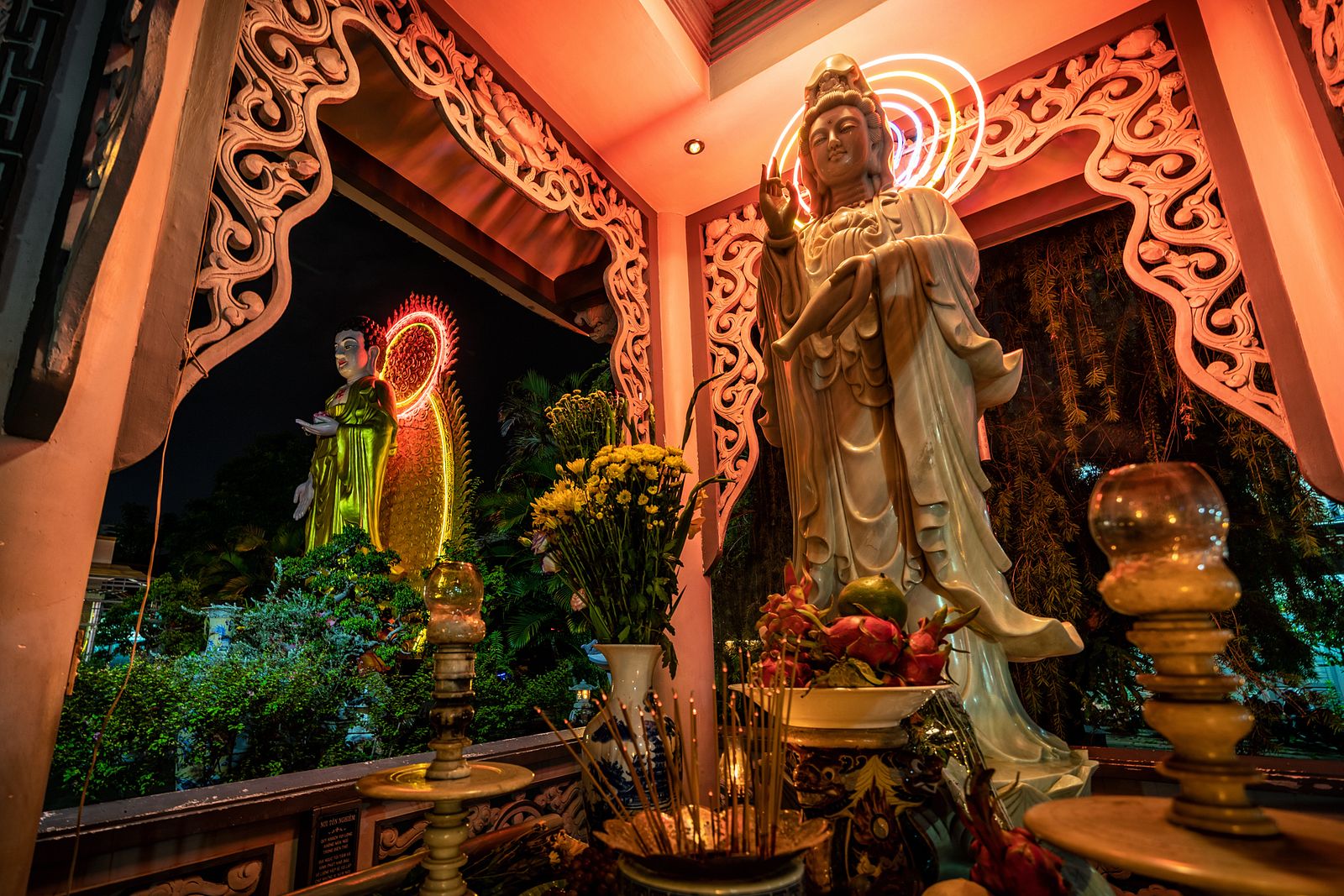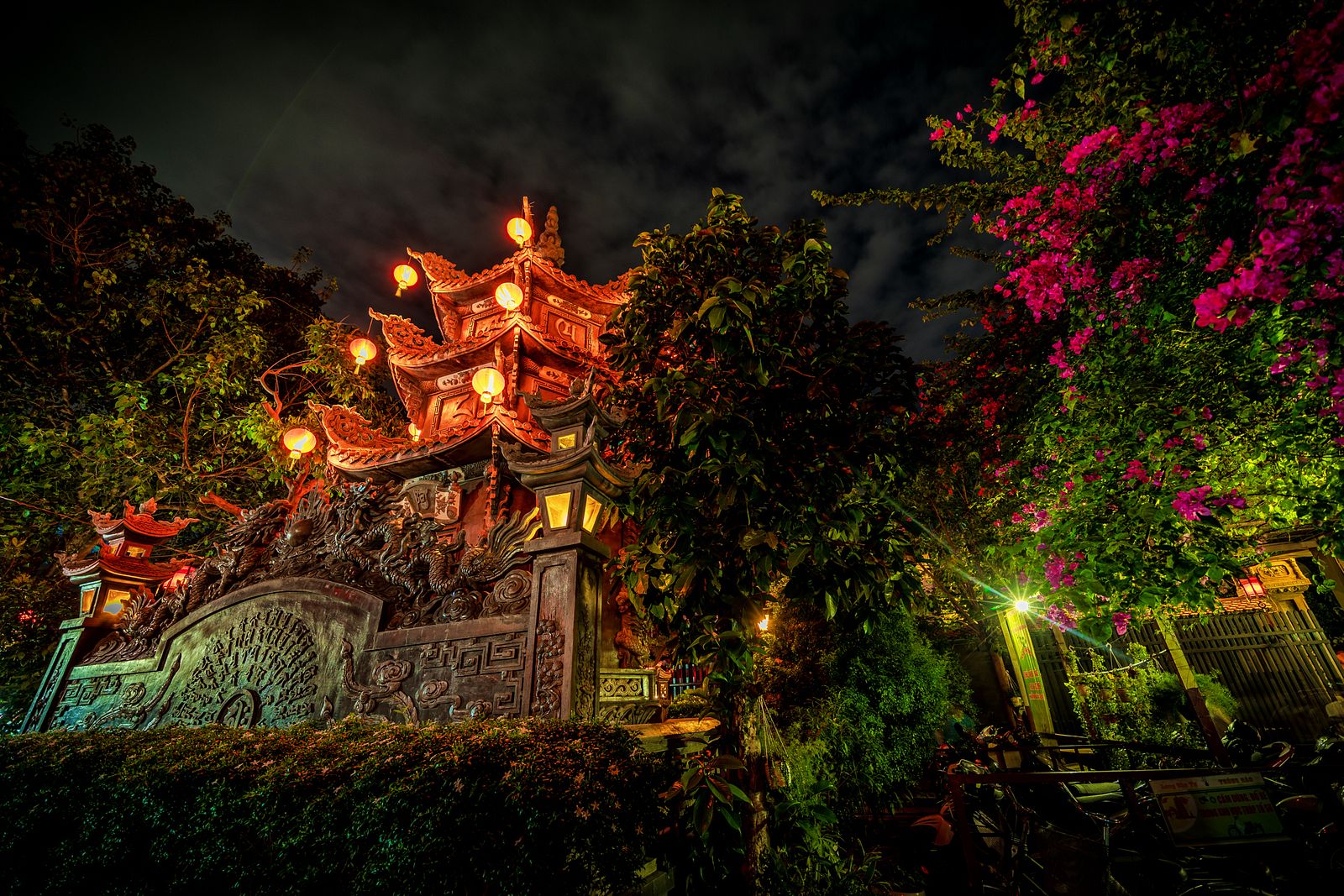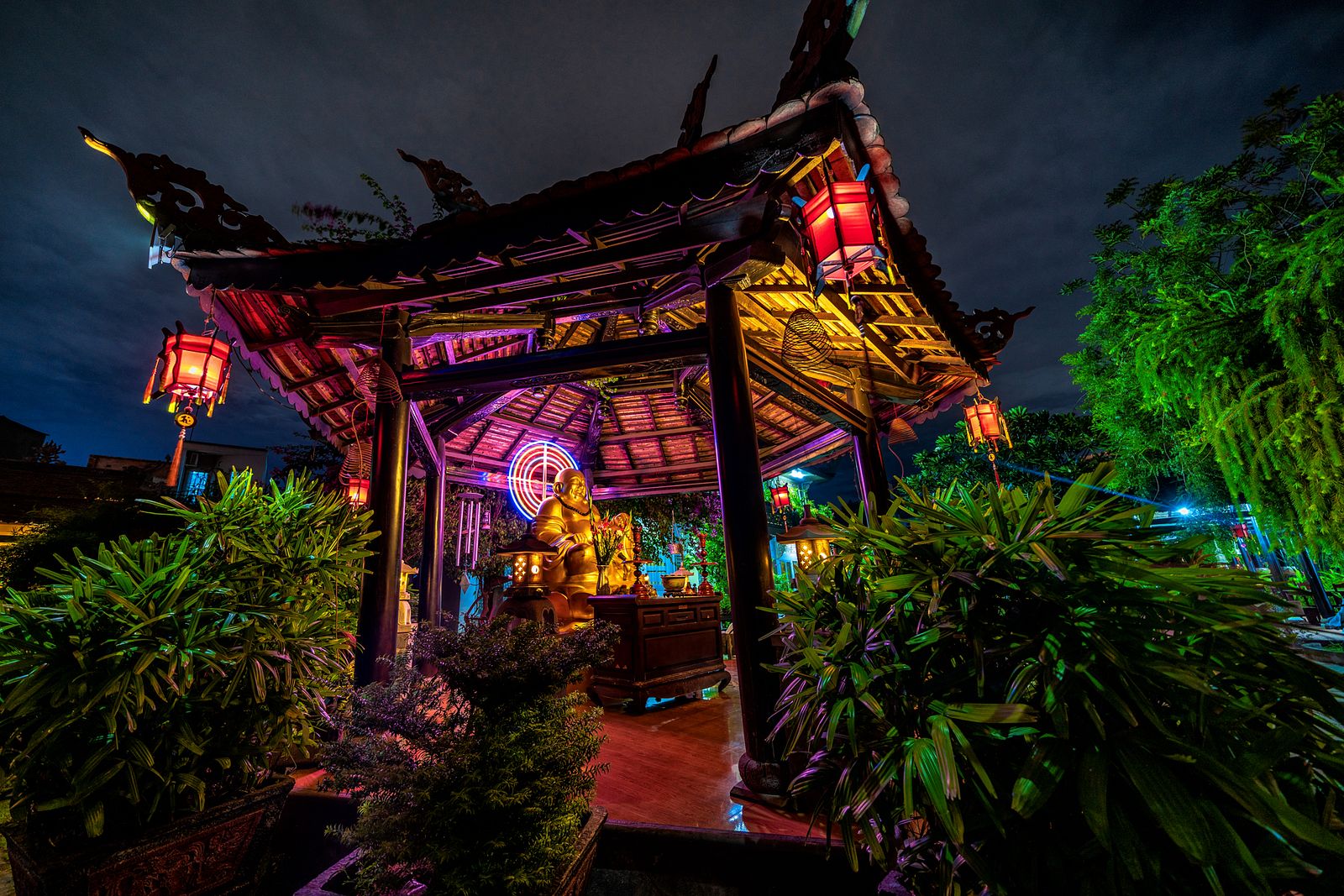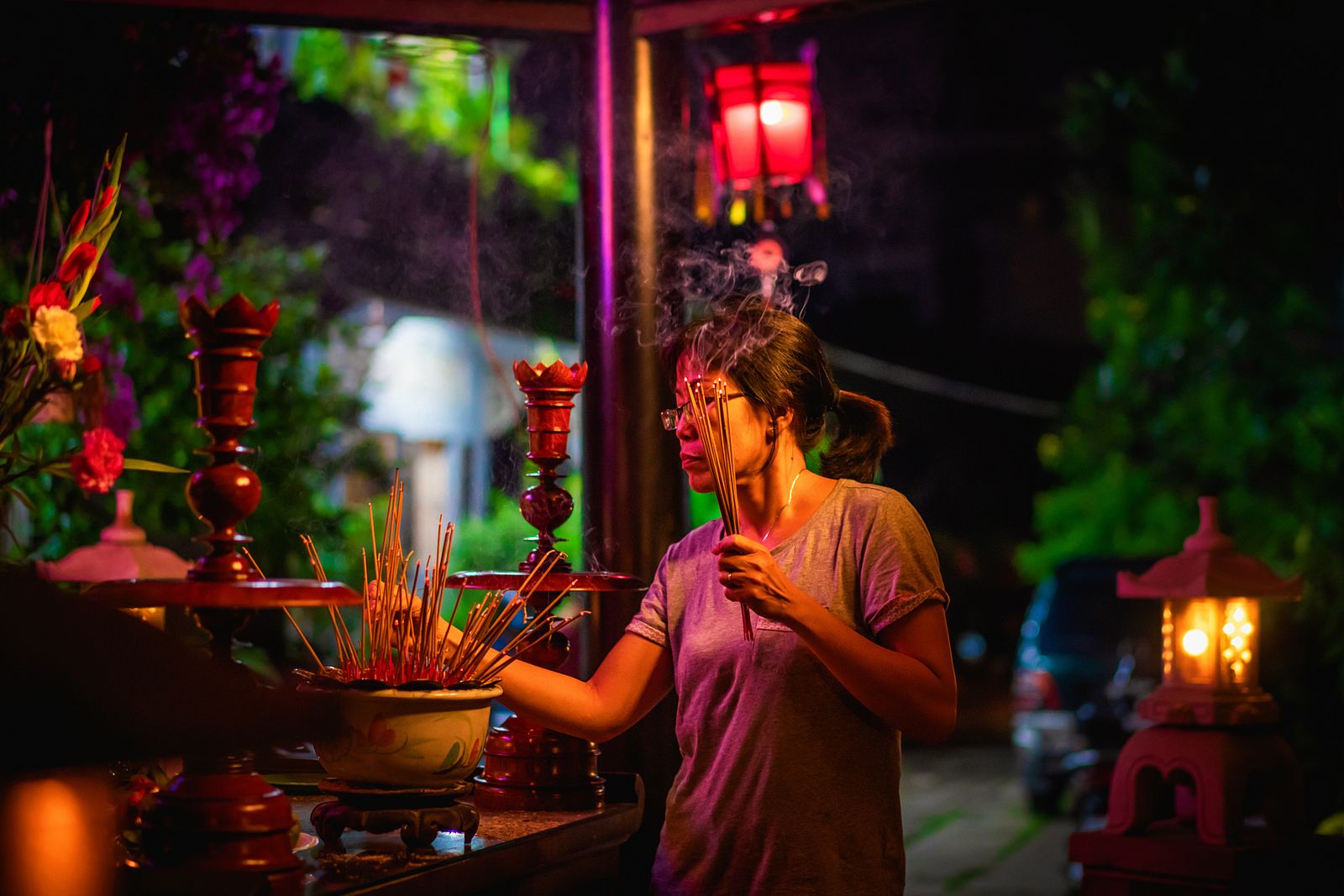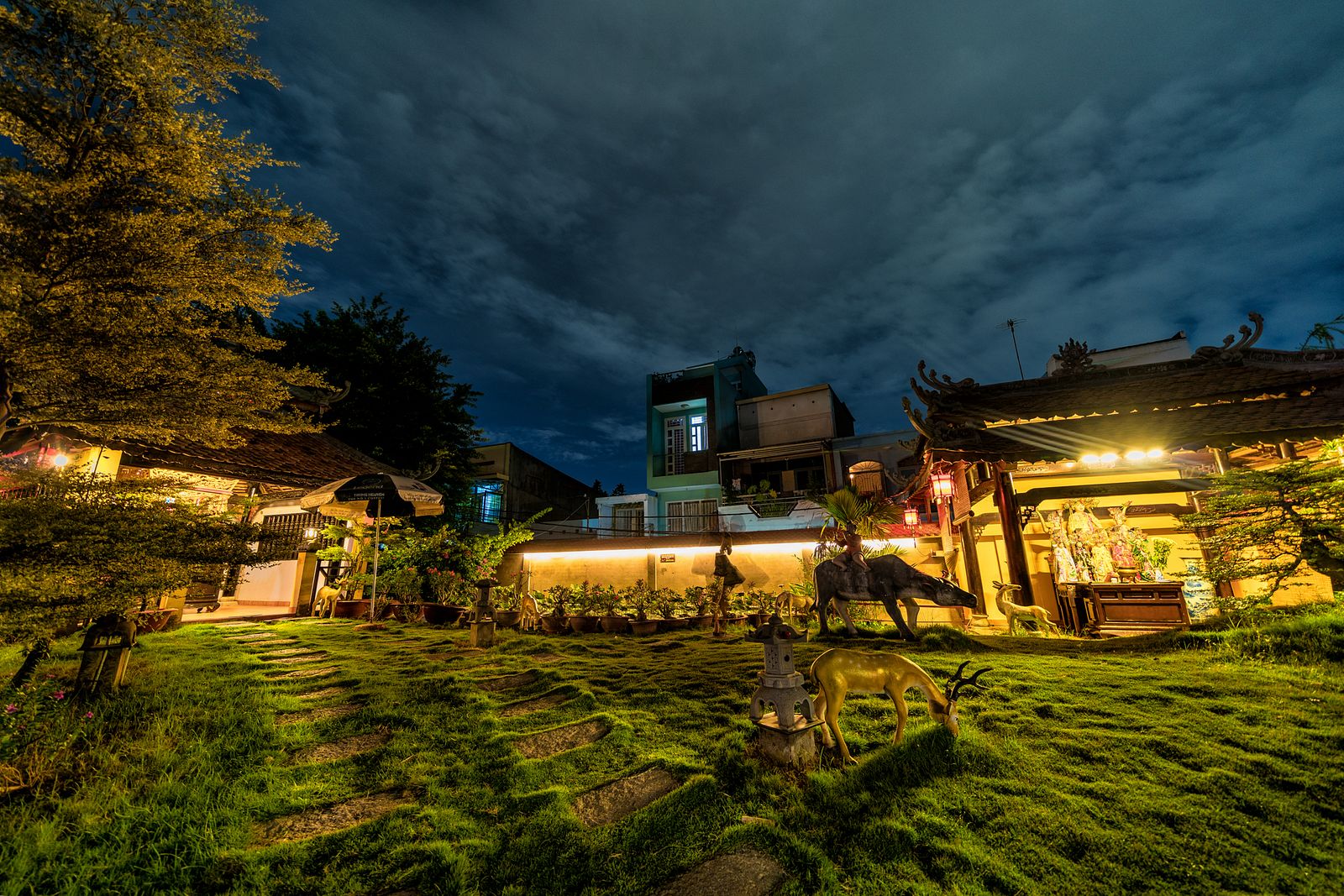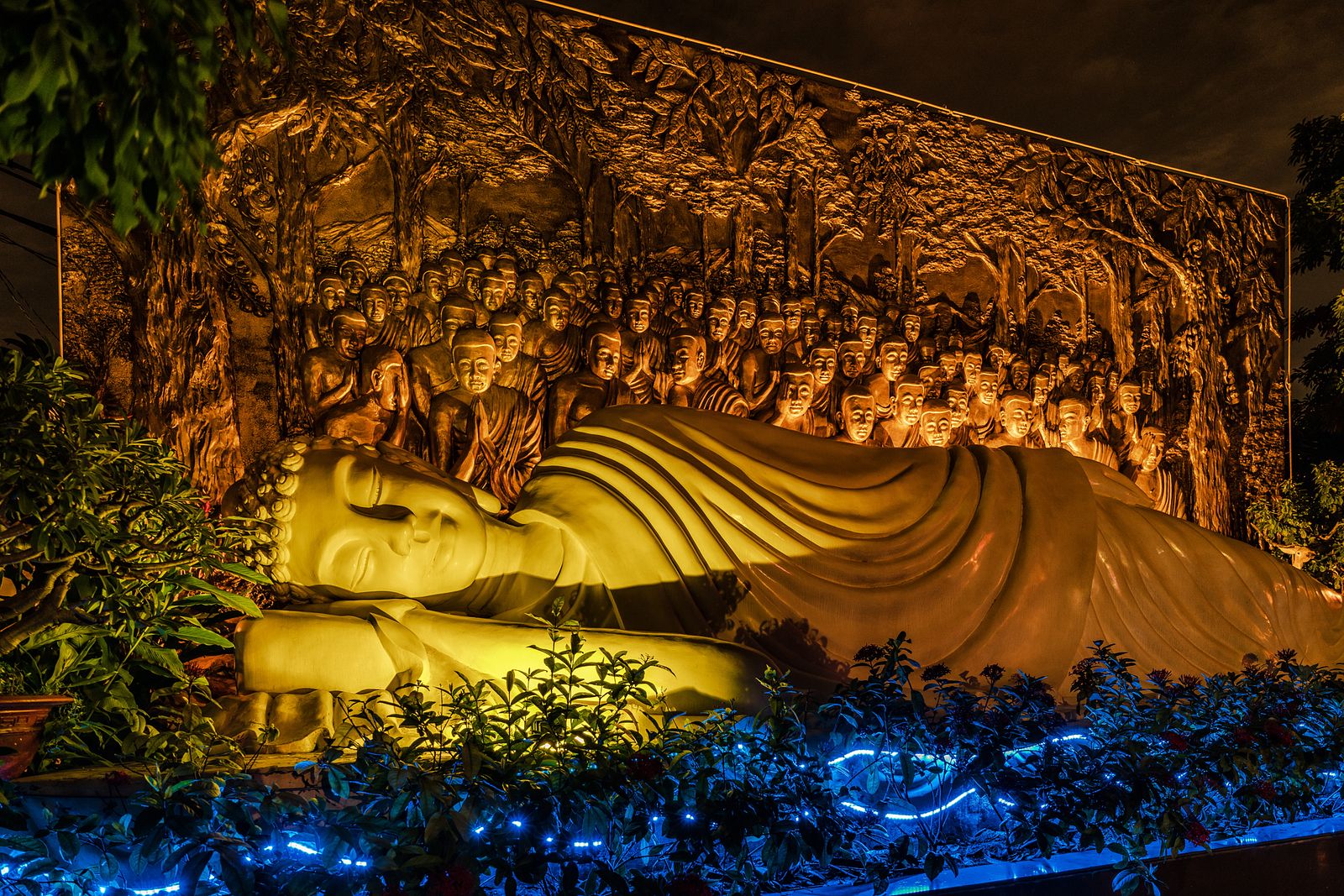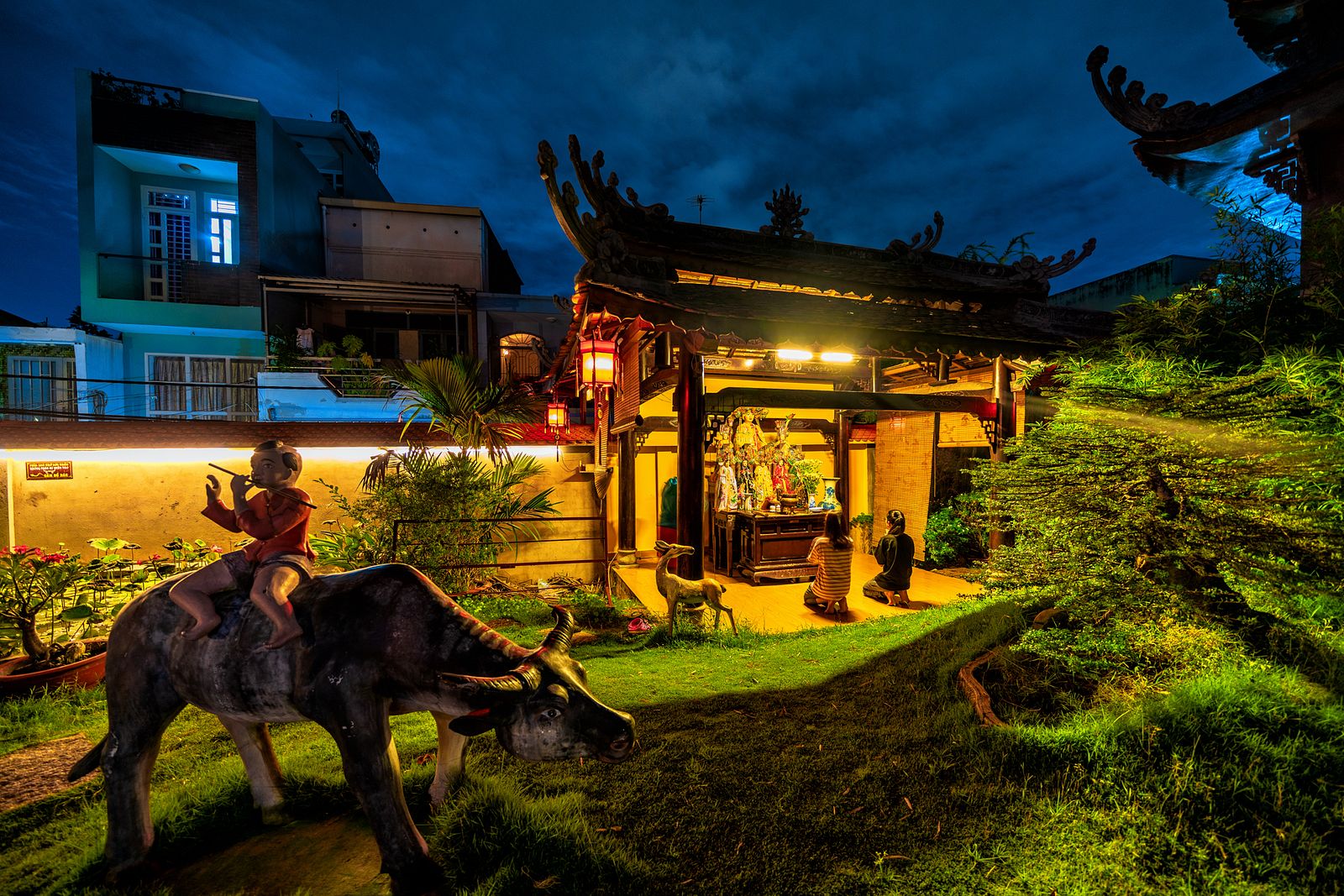 On reflection, my simple wish is for Hoa Nhon to keep doing what it does so well — making satisfying, plant-based comfort food — on this hectic hẻm in Bình Thạnh District for many years to come.
To sum up:
Taste: 4/5
Price: 5/5
Atmosphere: 5/5
Friendliness: 4/5
Location: 4/5
James is in Brexile from the UK. Saigon's sunshine, swimming pools and superb veggie food help to keep him sane in these maddening times.
Vegetarian food
125/72B Bui Dinh Tuy, Ward 24, Binh Thanh District