Vietnam Coracle is back with a list of some of the best streets in Saigon to find plentiful bounties of street food with photos and a description of each, including recommendations of particular places to eat.
Here's a brief rundown of his top picks:
1) Vạn Kiếp Street (border of Phú Nhuận & Bình Thạnh districts)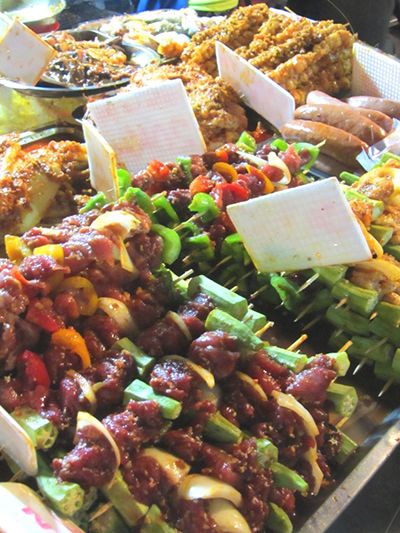 If you desire variety, look no further – this street is a cornucopia of food options, all located within a few hundred meters of one another. Phở, bánh canh cua, bánh mì, bánh xèo, bún mắm, bún bò Huế, bún chả, nem nướng, chè are just a sampling of the options.
Quán Út Lang, is a standout, offering skewered meat, seafood and vegetables, cooked to order over a huge coal-fired grill. Don't forgo the grilled octopus (bạch tuộc nướng).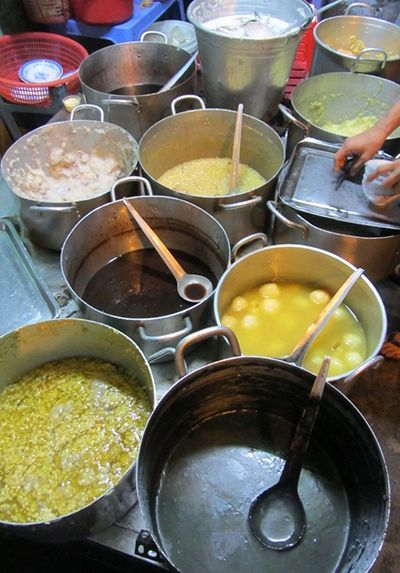 The block between Ngô Gia Tự and Nguyễn Chí Thanh on Sư Vạn Hạnh is a street food gem, especially its dozens of bánh xèo vendors. Coracle highlights the family owned 004 Lô H (literally 'Block H') which has been serving up the savory pancakes in the same spot for 14 years.
If you're a fan of chè be sure to head down to the desert stall on the Southern end of the street where you'll find 16 different varieties of the sweet soups.
---
Related Articles:
- 7 Days At Saigon's Lunch Lady
- 15 of Saigon's Best Hidden Coffee Shops
---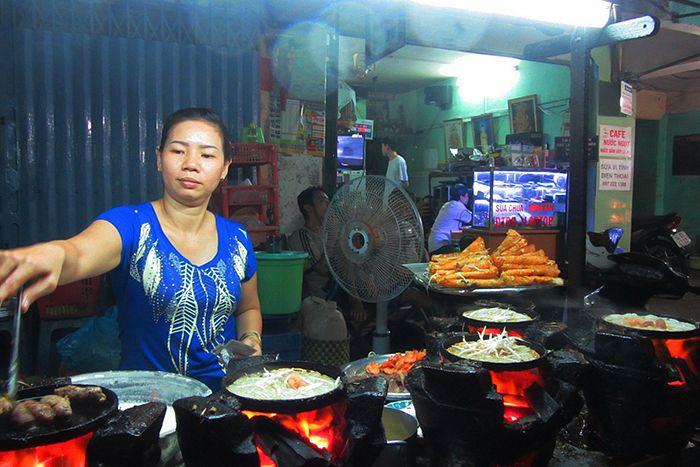 Once a favorite spot of notorious gangster Năm Cam, Vĩnh Khánh Street is an ốc paradise. The place is abuzz with hundreds of groups grubbing up on seafood. A soundtrack is provided by the curbside entertainers that include not only motorbike karaoke singers, but fire-eaters and Michael Jackson impersonators (I'd like to see MJ do the moonwalk through motorbike traffic).
The most famous joint on the strip is Ốc Oanh (534 Vĩnh Khánh Street) which is renowned for its ốc hương ràn muối ớt (fried sea snails with salt and chilli) and sò điệp nướng mỡ hành (grilled scallops with spring onions and peanuts).
If seafood's not your game, Quán BBQ Lúa (33 Vĩnh Khánh Street) offers grill-it-yourself barbecue with your choice of beef, pork, goat and fish.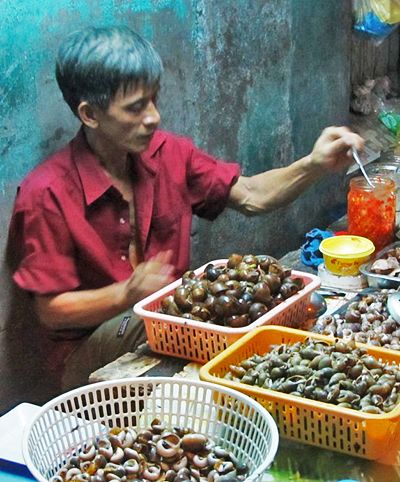 Located just across from District 1's gleaming skyline is an inconspicuous narrow street that is frequented by university students looking for a cheap meal.
Try the bột chiên at the corner of Phan Văn Hân and Xô Viết Nghẹ Tĩnh streets where the vendor has been selling the specialty for 20 years.
There's also a great noodle place, Lương Ký Mì Gia, (1 Huỳnh Mẫn Đạt Street) at the eastern extreme of Phan Văn Hân Street which serves up a number of Vietnamese noodle dishes, the best of which may be the mì vịt tiềm (fresh yellow noodles with marinated duck). But be sure to arrive early as it quickly sells out.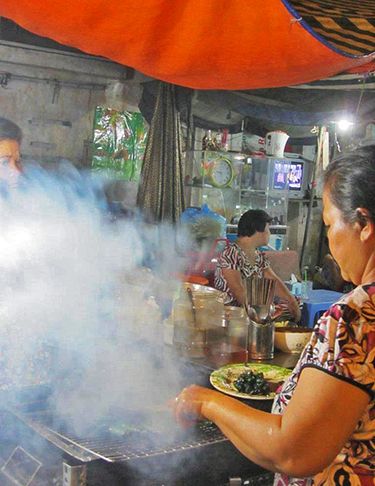 Perhaps the best collection of street food nearby the backpacker area, Cô Giang is far enough away from it to keep up its local feel. On the corner of Cô Giang and Đề Thám streets is a collection of places that specialize in hủ tiếu xào, a type of Chinese-style fried noodles.
The bò lá lốt at Hoàng Yến (121 Cô Giang Street) is not only delicious, but cheap at VND20,000 per person.
What's your favorite street in Saigon for street food?

View Best Street Food Streets in Saigon in a larger map
[Vietnam Coracle // Top photo via Kevin on Flickr]