Rice is a very serious matter in Vietnam. Sweet or savoury, steamed or fried, you do not mess with the staple of local cuisine. Hidden somewhere within District 3's charming Ban Co Market, Chef Nguyen's legendary cơm gà xối mỡ, or fried rice with fried chicken, is no joke.
---
Related Articles:
- Hẻm Gems: Bánh Bao Chiên @ Lý Chính Thắng Street Cart
- Hẻm Gems: Mì Vịt Tiềm @ Mì Gia Tân Tòng Lợi
- Hẻm Gems: Bò Nhúng Dấm @ Anh Ba

---
The chef, Nguyen Bep, as he likes to be called, is a friendly guy who speaks some English and has been cooking for over 31 years. Every day from 9am to 10pm, his kitchen is crowded with blackened woks full of fried rice and noodles. In addition to one of the best cơm gà xối mỡ in the city, the chef also does a mean cơm xào bò, or rice with stir fried beef.
Let's start on the đặc biệt side of the ring. Chef Nguyen's fried chicken is served with cơm vàng, or yellow rice, and Vietnamese kimchi.
I've always wondered how yellow rice is made so, while waiting for our meal, I ask the chef. He explains to me how hột điều màu, or annatto seeds, are slightly toasted with oil and used to give the rice a subtle flavor along with that telltale yellow tint.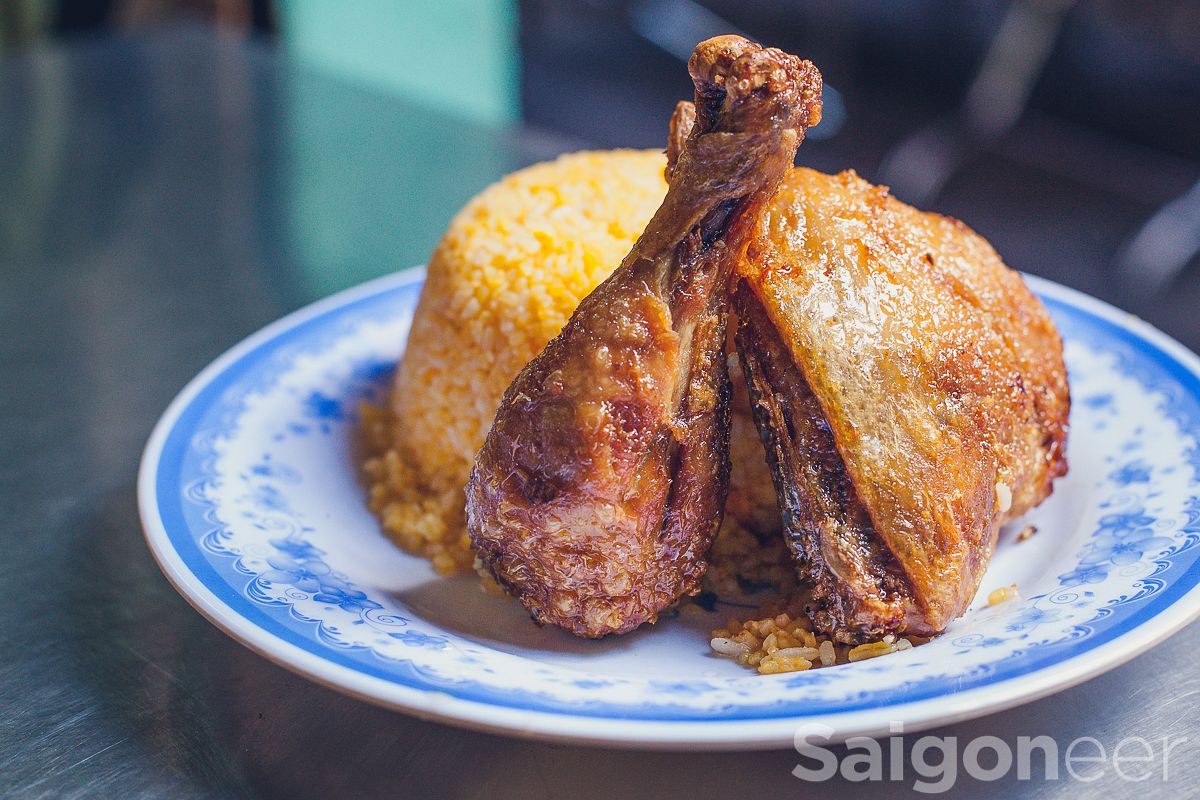 But only when Chef Nguyen's wife serves you the dipping sauce do you realize you are in front of a winning dish. The mere scent of this stuff will have you salivating: a combination of nước mắm and honey, the texture of the sauce is thick, pairing the sweetness of the honey with the salty kick of fish sauce. Chef Nguyen proudly tells us that he serves 70 kilos of chicken a day; one taste of that sauce and I know why.
On the other side of the ring is the cơm xào bò, Chef Nguyen's lesser known contender. When most people think of this dish, it's all white rice and plain meat and veggies. Simple, delicious, healthy and cheap, but not exactly a star dish. At Chef Nguyen's, however, there is nothing plain about cơm xào bò. This is a dish for big boys with big stomachs.
Chef Nguyen tosses loads of onions, thin slices of beef and a secret combination of sauces (we saw some oyster sauce go in there and ketchup, too). The result is a thick, sticky blend, begging to be mixed with the delicious yellow rice. I recommend carefully mixing everything together, and I say carefully because the rice literally covers the whole plate.
Chúc ăn ngon miệng!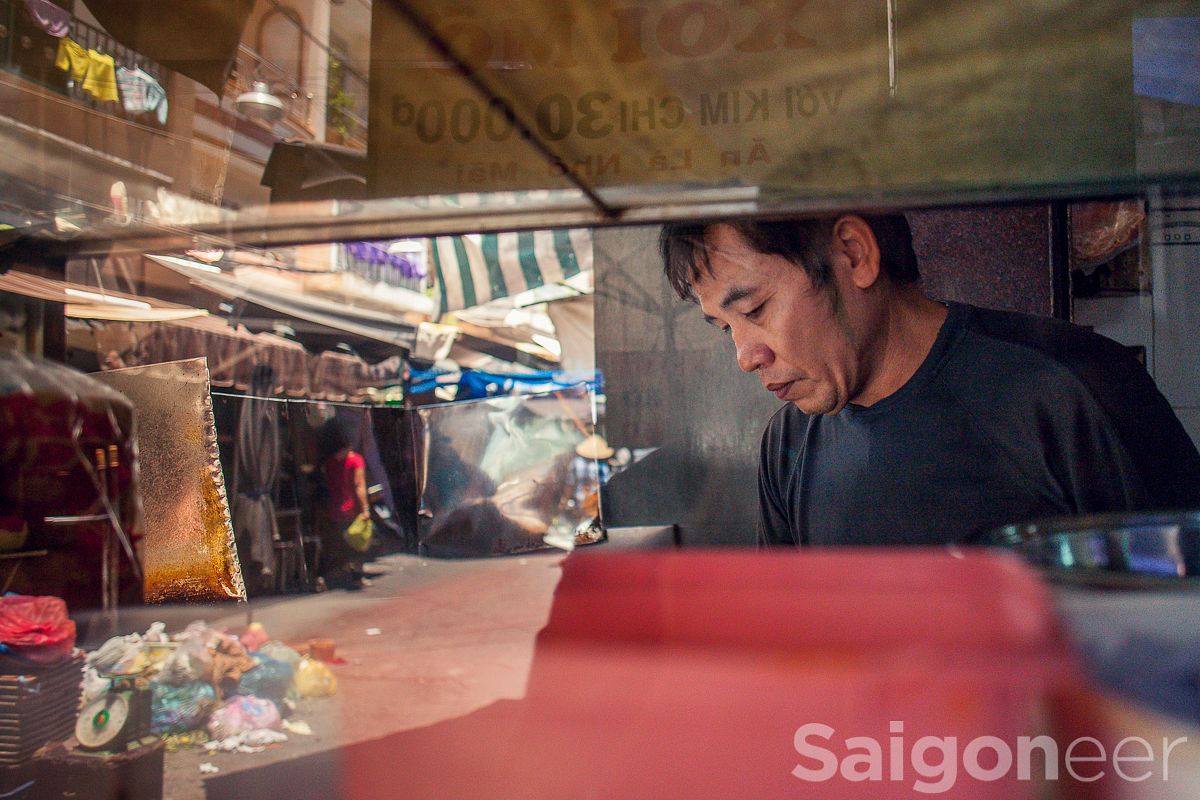 To sum up
Taste : 5/5
Price : 4/5 - about VND40,000
Location : 5/5 - The market area surrounding Chef Nguyen's is a place to get lost and try everything from chè to fruit to drinks, if you can manage to make space in your stomach after the rice.
Friendliness : 5/5
Atmosphere : 4/5
Driven by tremendous acts of passion, and after four years in Saigon, Alberto will go anywhere following his heart and his stomach.
Cơm gà xối mỡ
174/8 Nguyễn Thiện Thuật, P. 3, Q. 3