When it comes to southern urban chow, there's lots to talk about. From Go Vap to Nha Be, Hoc Mon to Binh Chanh and everywhere in between, Saigon is full of tasty snacks often hidden in plain sight. And when you stumble upon the perfect mid-afternoon treat, it is your right – nay, your responsibility – not to let that opportunity go to waste: if fate has brought you to delicious southern Vietnamese street food, you must pig out.
---
Related Articles:
- Hẻm Gems: Hủ Tiếu With A Side Of Attitude
- Hẻm Gems: Chocolate Coconut Smoothies @ Le Thi Rieng Smoothies
- [Video] The Story Of A Saigon Chè Master

---
For a perfect post-lunch dessert, you need only head to the corner of Nguyen Van Thu and Dinh Tien Hoang. Everyday from 10am to 6pm, a small food cart sets up shop by the roadside selling chuối nếp nướng, or grilled banana and sticky rice. Combined with a helping of coconut milk, tapioca pearls and crushed peanuts, the snack is a hit.
First, the whole bananas are folded into a layer of sticky rice and wrapped tightly in banana leaves. The entire package then goes on the barbecue and is slow-grilled to perfection. Right beside the barbecue sits a large pot of condensed coconut milk, warmed above a stove. After about 20 minutes, the banana leaves turn yellow, signaling that the snack is cooked.
The result is a combination of flavors that's neither too sweet nor too salty but just right. Warm coconut milk – with just a hint of salt – complements the chewy texture of the banana and sticky rice, while the peanuts add an extra crunch to the mix.
My friend is really fond of the vendor, a short, cheerful woman in a baseball cap. "Long time no see," she greets the woman, easing out of the afternoon heat and into the shade of the cart's umbrella. We order four portions to go and watch as she slices a freshly-grilled banana into sections and ladles coconut milk on top.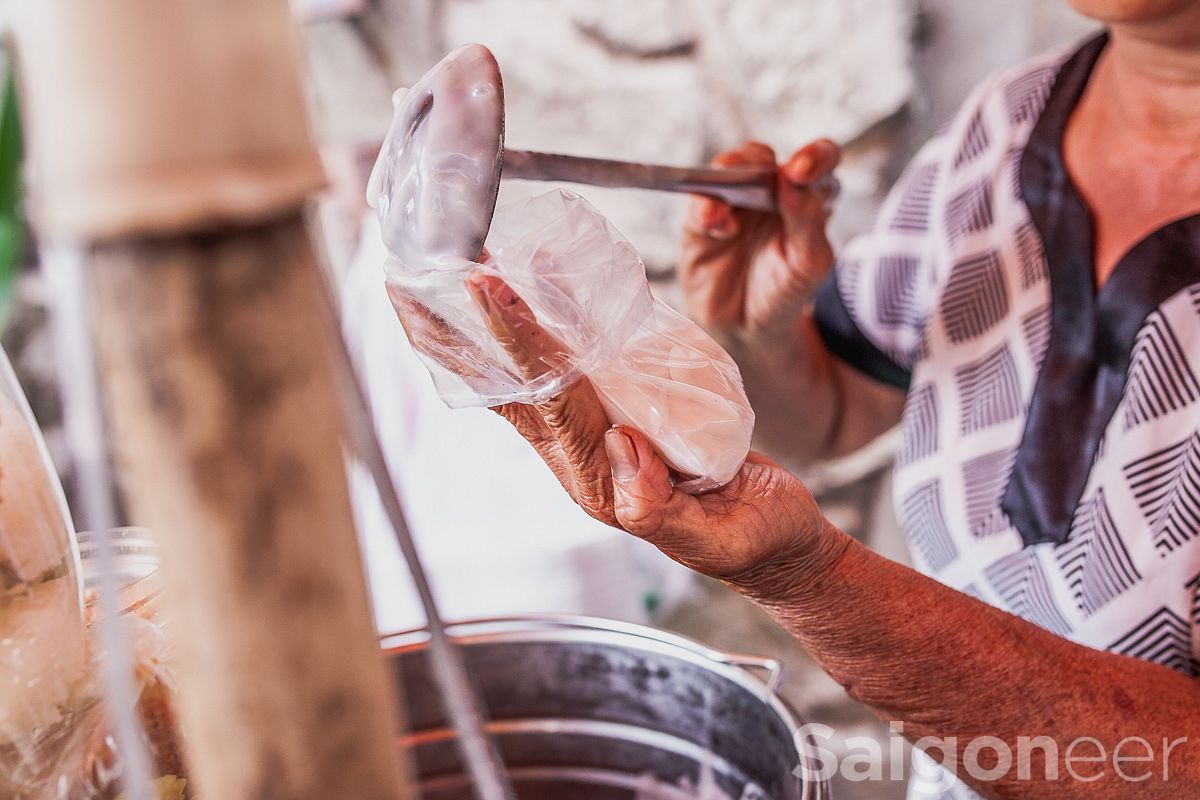 As the vendor goes about her work, she and her husband fill us in on bits and pieces of their story. Years ago, she inherited the business from her mom, who had inherited it from her sister back in their hometown of Ben Tre. When she was still a girl, her family moved to Saigon and her life has been attached to this cart ever since. "I've been doing this for 31 years now," she says, throwing the entire concoction into a plastic bag. It's funny how street vendors master their own product over a long period of time.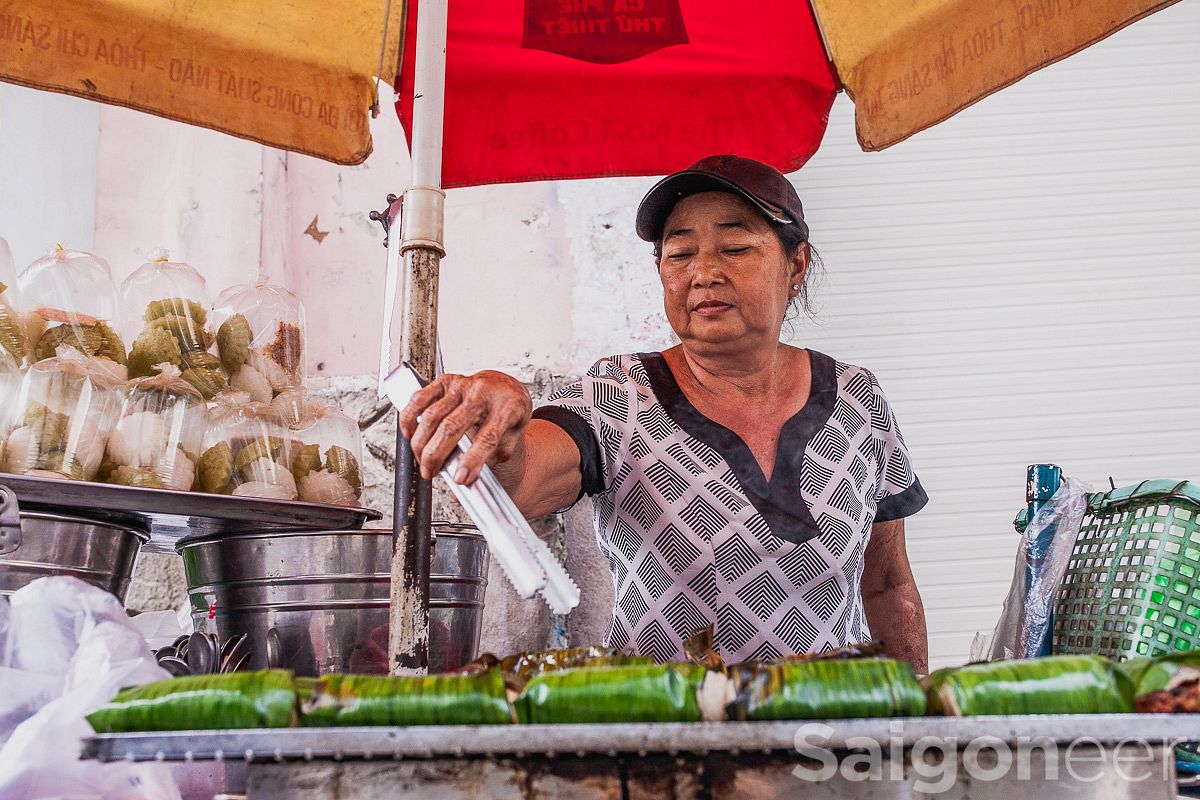 Go there, order some extra for your friends, eat them over a card game or during a movie or just to have something on a lazy evening. It's the best feeling in the world. She normally cleans up at 6pm but sometimes heads home a little earlier on busy days, so plan accordingly.
To sum up:
Taste : 5/5
Location : 5/5
Friendliness : 6/5
Price : 5/5 - VND15.000/serving
Atmosphere : 4/5
Núm is a street food addict who has been eating his way through Saigon for 25 years.
Chuối nếp nướng
Corner of Đinh Tiên Hoàng and Nguyễn Văn Thủ, Q.1