Editor's note: This review from 2015 is of a restaurant that has since closed.
Lately, we've been having these midday cravings in the office. When lunchtime hits, it's all we can do to find a spot that truly matches our gluttony. That's right: we, at Saigoneer, are devout eaters. Give us a good cơm trưa spot and we will lay waste to every kind of meat and veggies on offer. And while the options for midday dining are plentiful, we are forever in search of the holy grail of lunchtime eateries, that glorious place where you can have you pick of any and every cơm trưa dish under the sun.
At first glance, Com Tam Di Nam – located at 255 Khanh Hoi – is an average but obviously popular lunch spot. Everything feels crowded and cramped in the District 4 restaurant, like the owner wants to squeeze as many tables as possible into the one-room restaurant. This may affect their atmosphere points, but the meal that comes with it more than makes up for the 
setting.
Di Nam's massive, well-lit display case out front welcomes us with a sexy spread of cơm trưa delights. There's everything: xíu mại thịt (meatballs in tomato sauce), bò xào hẹ (beef with garlic chives), cá kho tộ (stewed claypot fish), cá luộc (boiled fish), phá lấu (pork intestines), bò xào cải bắp (minced beef and cabbage), lạp xưởng (Chinese sauage), chả ram (stewed chả), cà tím nướng (barbecued eggplant), sườn non (short ribs), gà kho ( stewed chicken), đậu hủ dồn thịt (meat-stuffed tofu), canh chua (sweet and sour vegetable soup) and so much more. The list goes on and on, but I was so caught up in a moment of lunchtime euphoria that the remaining dishes escape me. Sorry, folks.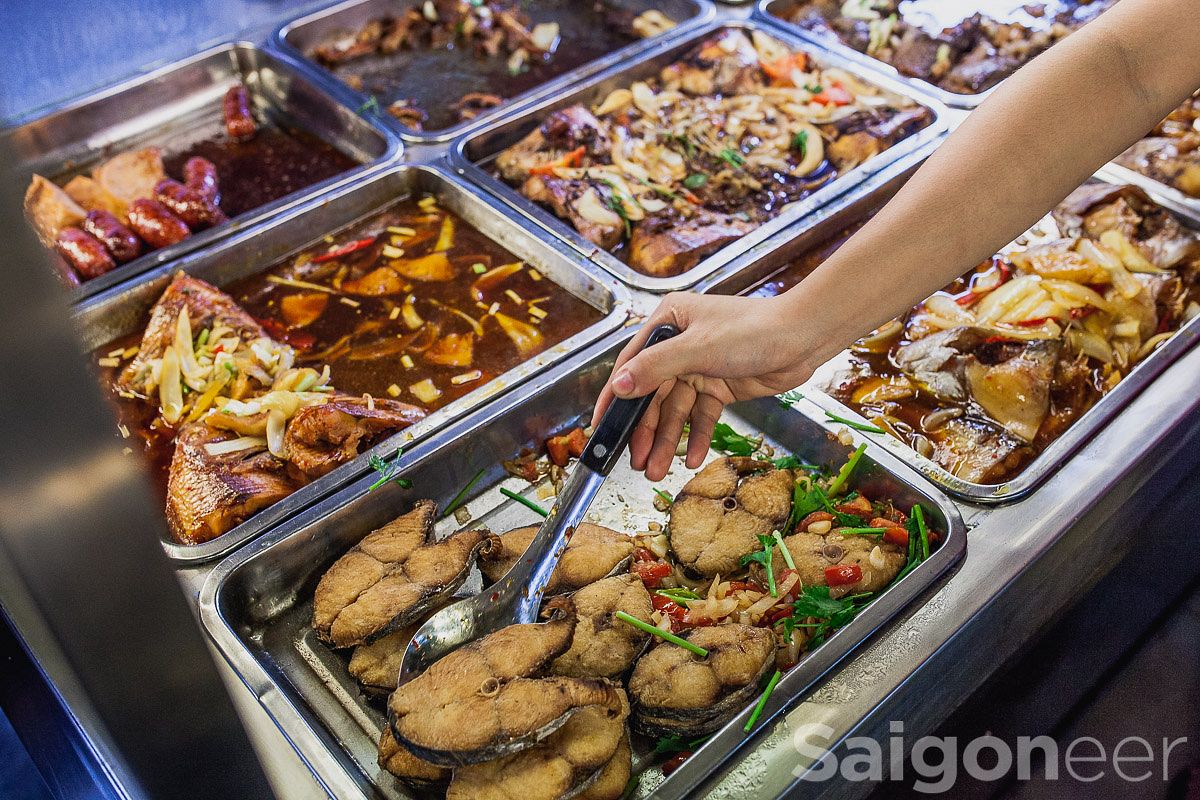 As a family-style restaurant, the waiter plunks down two big bowls of rice for the six of us to share, a couple small bowls of salad and herbs and, finally, an array of mains on separate plates. For our lunchtime feast, we had most of the options listed above, bar perhaps the tofu and the lạp xưởng. The magic of family-style is that you must share your food with everyone else at the table, so go out of your way to attack the most delicious dish you see before it's gone.
The moment it hit the table, Di Nam's sườn non caught our attention. Tender, fall-off-the-bone meat drenched in flavor-packed gravy meant that we had to order seconds shortly after the first helping arrived.
But the surprising underdogs had to be the phá lấu and xíu mại. Don't get grossed out by cooked intestines: these thing absorb flavor like a sponge! We devoured every bite, all the while dousing our steamed rice in the accompanying sauce.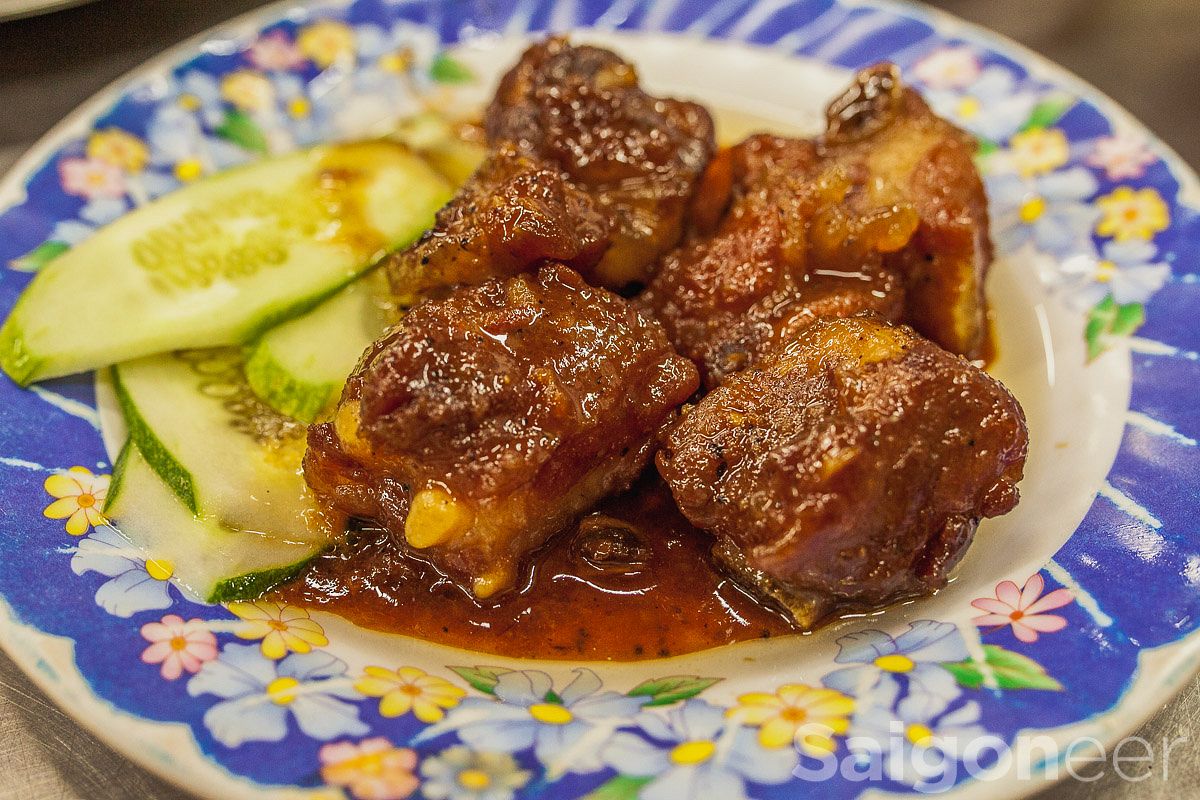 Between frantic mouthfuls of rice, we had a chat with one of the waitresses, who says the place has been open for decades. Di Nam serves food everyday, including weekends and holidays (bar Tet), from 6am to 8pm. For lunch, however, make sure you turn up by about 12:30pm, or you may find the best dishes picked over.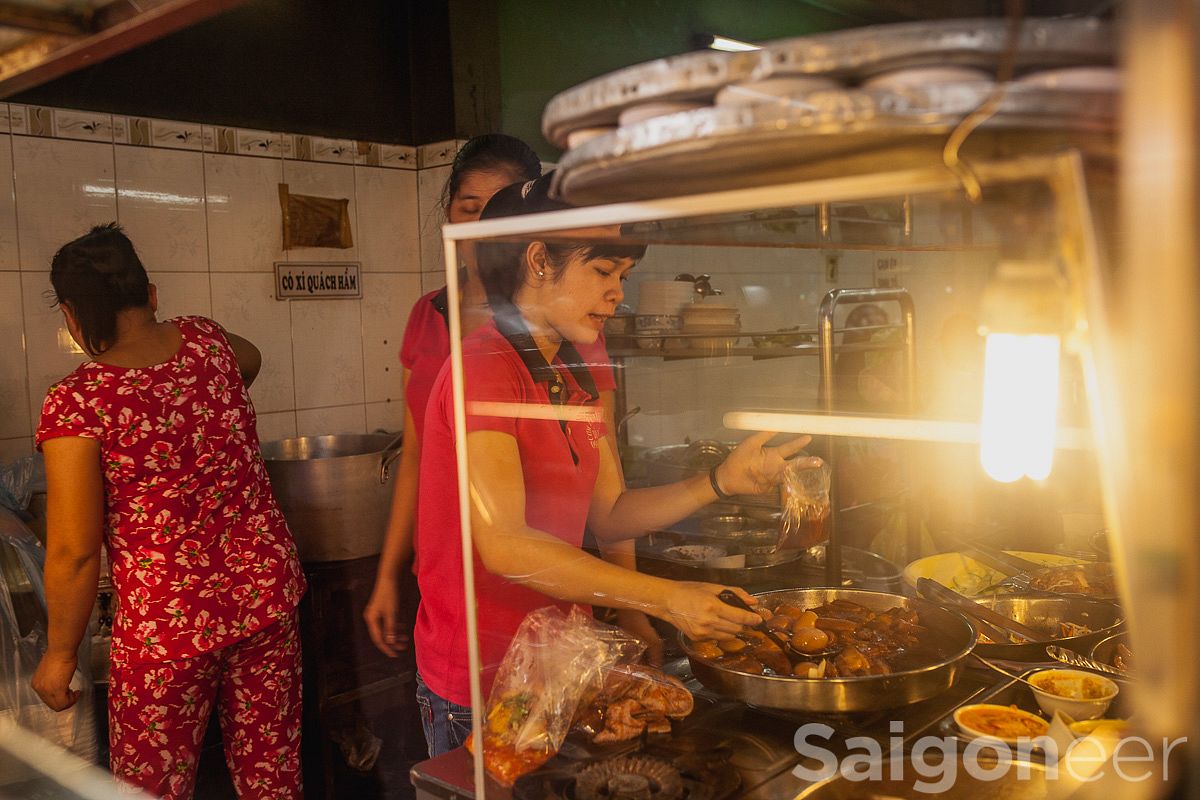 By the time we've eaten ourselves halfway into a coma, it's official: Di Nam has earned its reputation as a mecca of midday meals. And in the middle of the action, we are but a few humble pilgrims, reveling in some of the best cơm trưa Saigon has to offer.
To sum up
Taste : 5/5
Location : 5/5
Friendliness : 4/5
Price : 5/5 – 300.000 for six people, and we ate like pigs!
Atmosphere : 2/5 – old and cramped, a little too vintage for me
Núm is a street food addict who has been eating his way through Saigon for 25 years.
Cơm trưa
255 Khánh Hội, Q.4