We found a hẻm gem goldmine.
I've known for a long time about the makeshift streetside chợ off Binh Thanh's Huynh Dinh Cua, but it never occurred to me how rich this area is in delicious Vietnamese snacks.
In front of old houses with crumbling walls, women sit by the roadside slinging everything from snacks to sinh tố to full-blown meals. The air is thick with the sound of vendors' voices and the incredible, entrancing scent of barbecue and fried treats.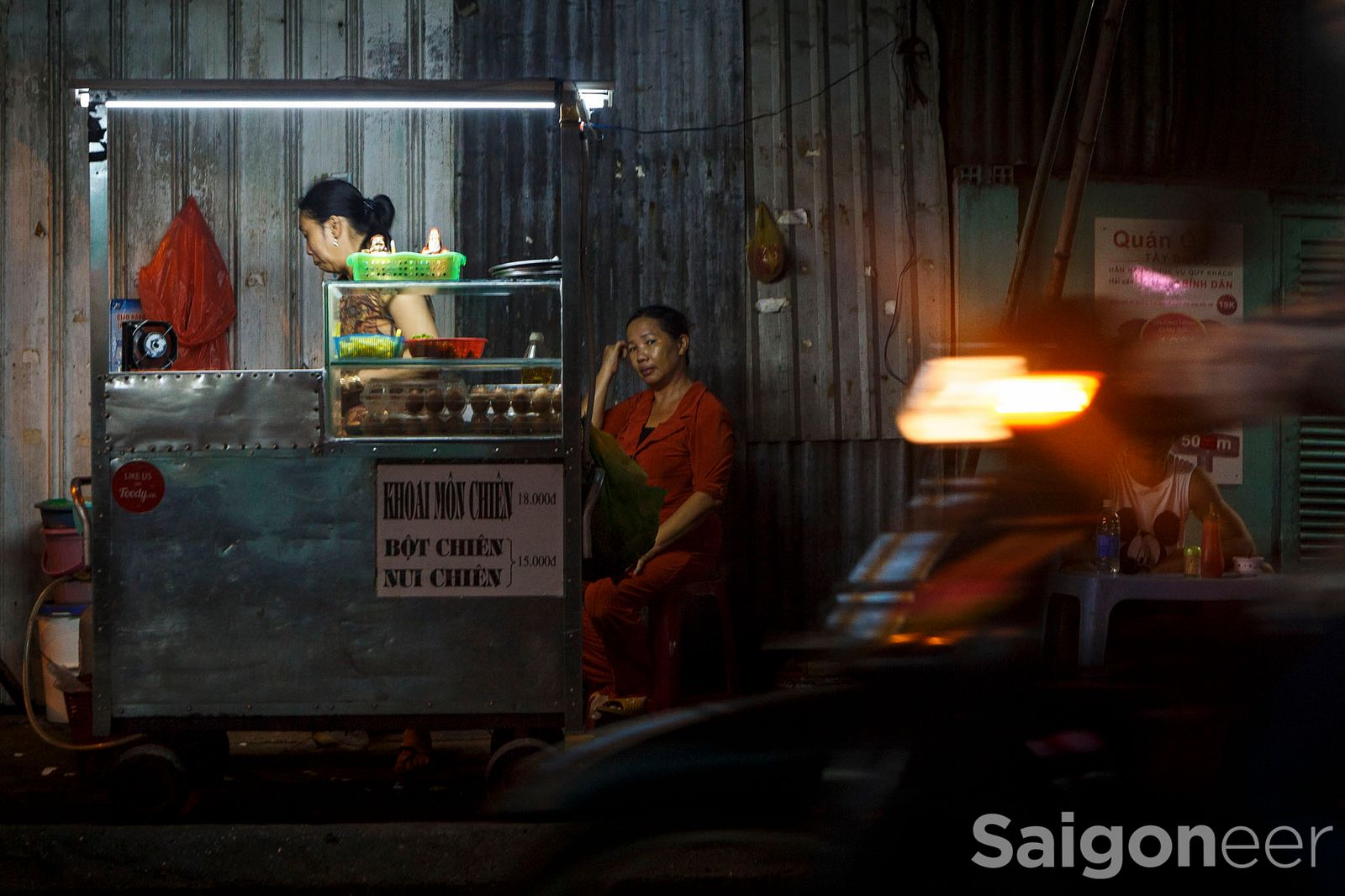 After parking our bikes in front of a run-down hallway that someone has transformed into a sidewalk restaurant, we took a seat. It was surprising how much attention my foreign friend got for taking photos; CityGarden is practically around the corner, people.
This (sort of) gracefully aging stall doesn't have a name nor an address, according to the female owner, so just look for the smoothie shop at 55 Nguyen Cong Tru, and you'll find this master of fried, doughy goodness across the street. She sells regular bột chiên, or savory fried dough, as well as two twists on the original, bột khoai môn – the same but made with taro flour – and nui, or Vietnamese macaroni.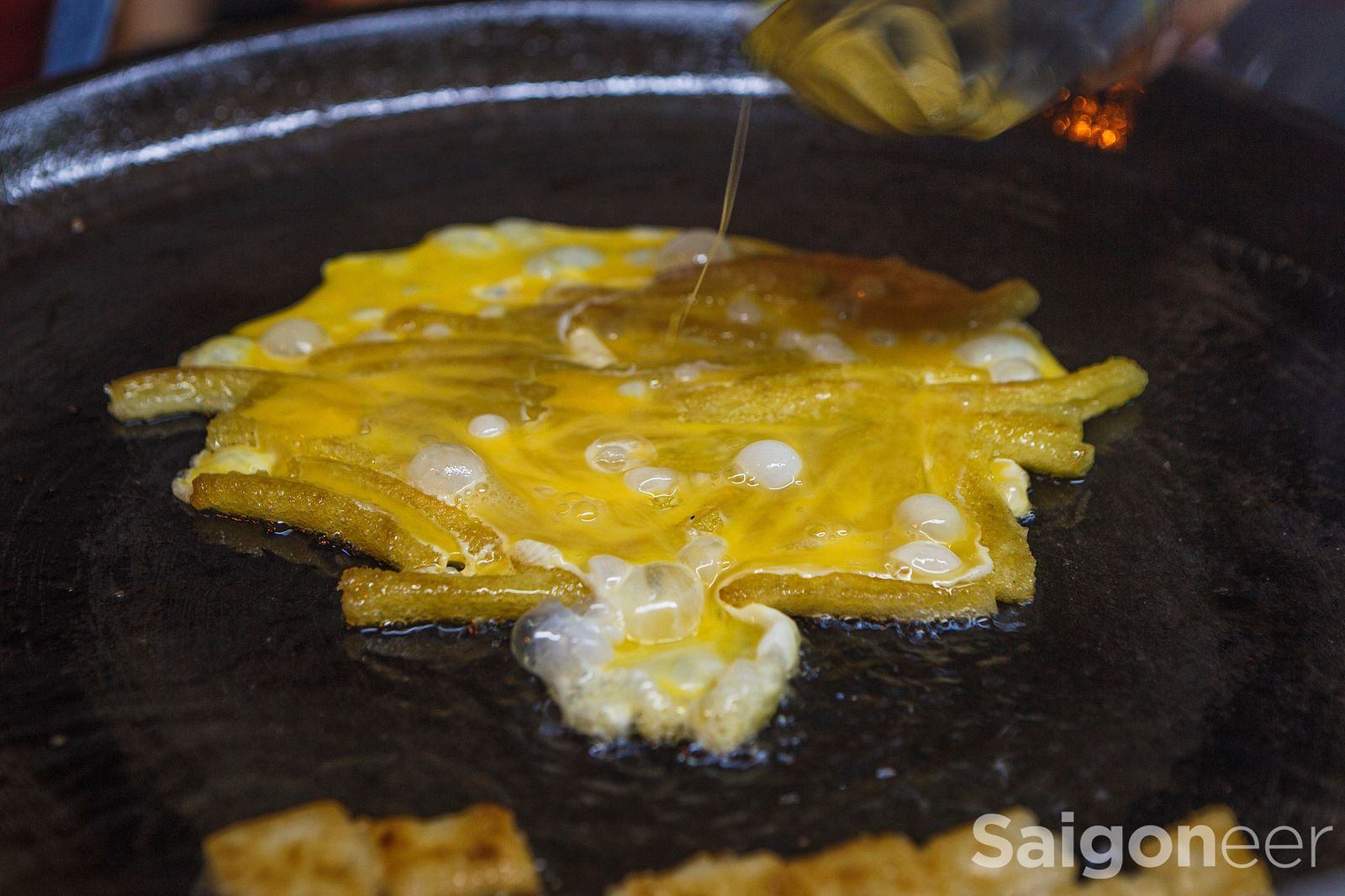 ---
Related Articles:
---
While my nomming companion is hooked on nui but I favor the taro. For me, the regular bột chiên is nice but doesn't hold a candle to the others. There's also a beautifully hand-drawn drink list that hangs near the fryer; make sure you try the drinks, if only because someone put so much effort into that menu presentation. We went for traditional trà đá, since we didn't want to confuse our tastebuds.
The recipe is simple enough: take a hot, flat surface, oil it up, throw on a few chunks of dough, stir them as they turn golden and crack an egg in the middle of that mouthwatering feast. For true perfection, sprinkle minced chives and peppers over everything and serve with sweet soy sauce and shredded young papaya. Additional table add-ons include your pick of chili sauce or sliced chilis.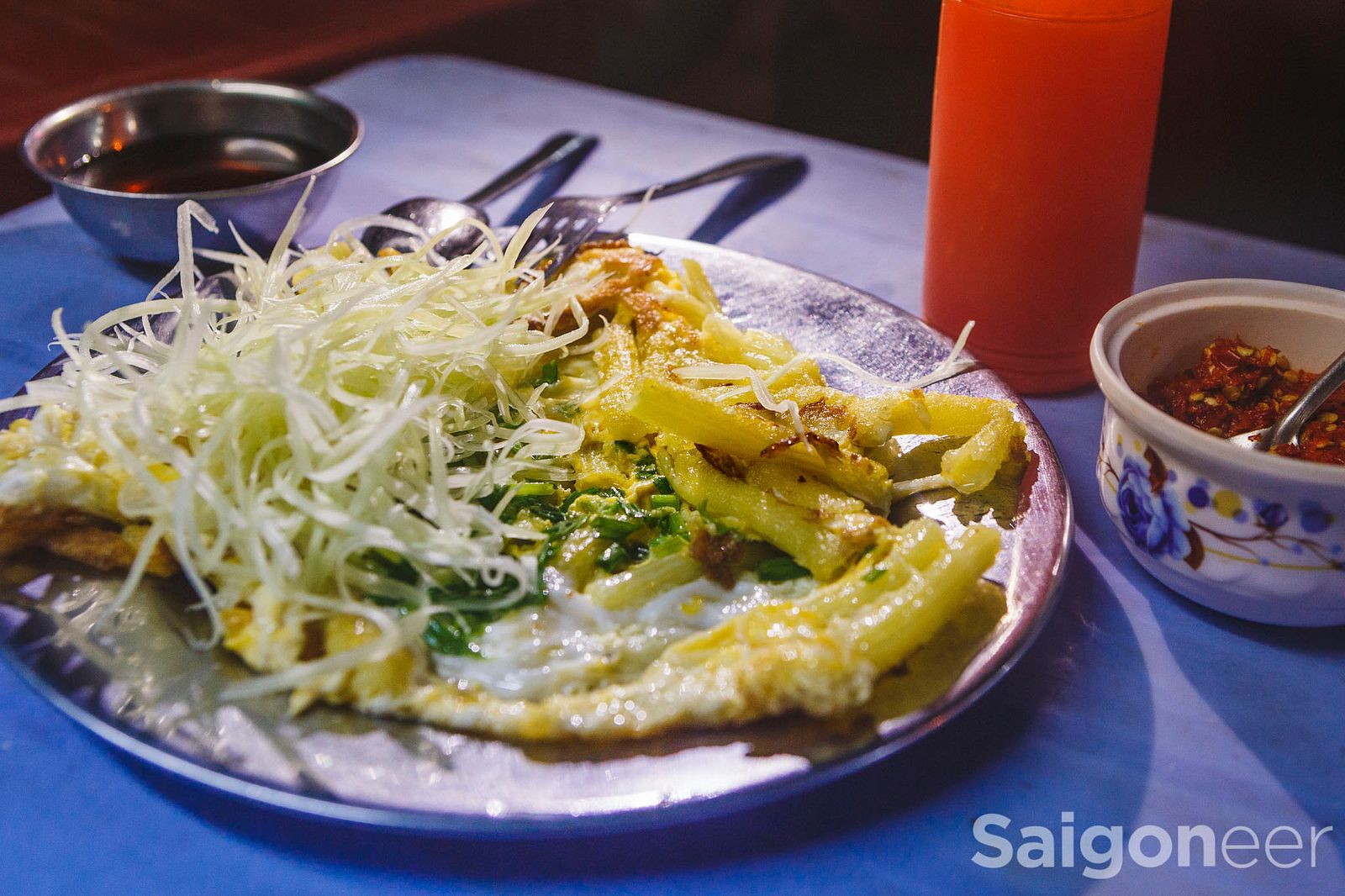 To get the best experience, either pour your soy sauce directly onto the bột khoai môn dish or cut the bột khoai môn into bite-sized pieces and dip it. Be sure to give those papaya strips plenty of sauce or they'll wind up tasteless. If you, like me, have a strong aversion toward sliced chilis, stir some chili sauce into your soy sauce but take care not to put it on the dish itself. I, for one, don't believe in having chili sauce all over my bột chiên; it's just barbaric.
All told, the damage was minimal: VND23,000 for bột khoai môn with two eggs and VND20,000 for nui chiên with two eggs. The standard dish has only one egg and goes for VND15,000, so be clear about the egg count when you order.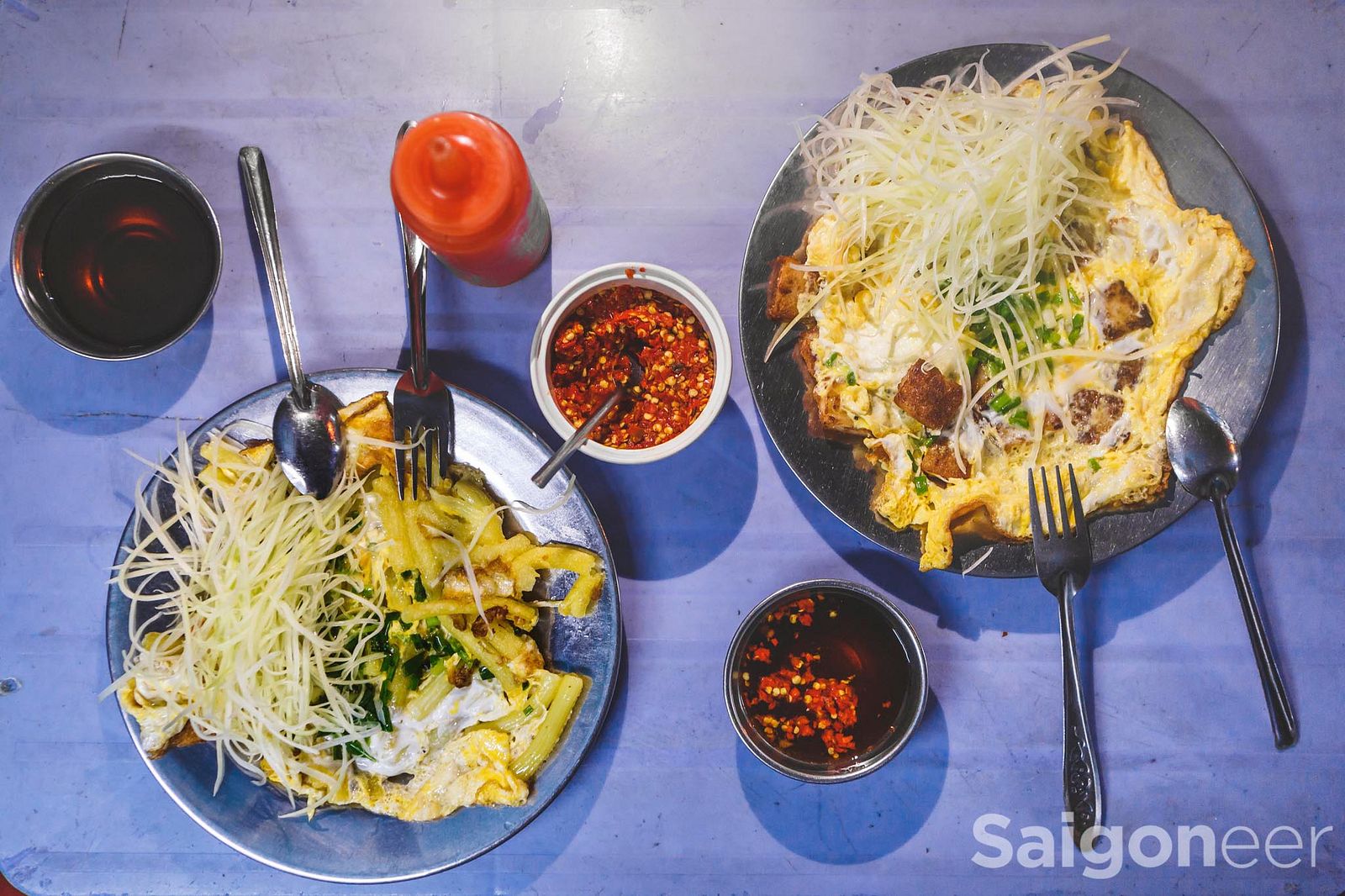 After devouring our snacks, we chatted with the owner for a bit and were surprised to find that although the stall is just 10 years old, she's the second generation to inherit it. Her mom, the original vendor, opened the bột chiên business around the same time this small market appeared, so we were speaking to a Thi Nghe veteran.
After a nice, heartfelt conversation, we said thanks, slapped a Saigoneer sticker on her cart – with permission, of course – and then headed off to sample another of the area's abundant hẻm gems. It's a tough job, but somebody's gotta do it.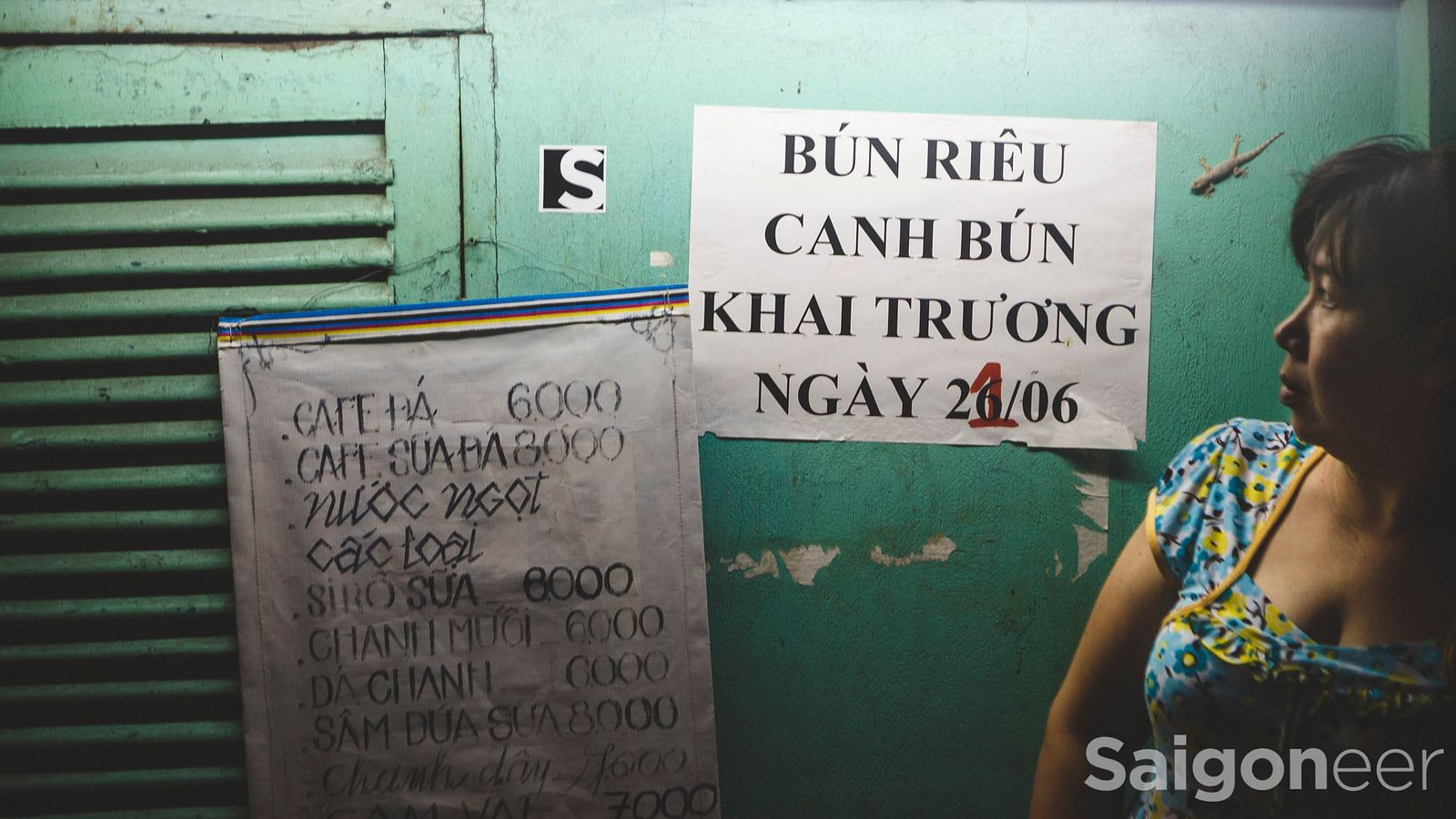 To sum up
Taste : 5/5
Location : 4/5 – A bit hidden away and run down.
Friendliness : 4/5 – She's foreigner-shy.
Price : 5/5
Atmosphere : 5/5 – You can smell the essence of Saigon in the air.
Núm is a street food addict who has been eating his way through Saigon for 25 years.
Snack Goldmine
Corner of Huỳnh Tịnh Của and Nguyễn Công Trứ Streets, Q. Bình Thạnh