In the world of hẻm gems, gritty is a good thing. The more battered the tables, the more precarious the seating, the more dubious the location, the more we feel at one with the chaos of Saigon street life.
But even though nothing beats a good street food stall, everyone needs to be pampered now and again. Sometimes, the best cure for stress and hanger is to escape from work, eat your feelings and pass out in the temperature-controlled glory of a restaurant that has windows and an indoor toilet.
This is the mindset with which we arrived at Quan Dat, a popular local spot at the end of Truong Dinh on the Thi Nghe-Nhieu Loc Canal. Featuring four walls, air-con and a framed photo of George W. Bush, this place is hẻm gem haute cuisine. There are chairs that don't fold and wooden tables, and when you ask for the bill, it comes in a check book. What can we say? Luxury.
Apart from the high-end accoutrements, there are three main reasons to visit Quan Dat and they're all on the first page of the menu (yes, there is a menu). Whatever you do, be sure to order the following: gỏi cá mai, a Vietnamese salad of fish and fresh veggies; bánh xèo Phan Rang, a smaller rendition of the Vietnamese pancake featuring seafood and bean sprouts; and bánh căn, or steamed egg-and-rice-flour cakes topped with shrimp, squid or meat.
The gỏi cá mai comes first. There is a soft spot in my heart for Vietnamese salads, mostly because they usually turn out to be far more substantial and far less disappointing than their western counterparts. This one comes with a pile of fresh young mango, coconut, greens and crispy fried onion bits in the middle, ringed by small sections of raw cá mai. Grab a sheet of rice paper, wet it and add a healthy balance of veggies and raw fish to your DIY spring roll. You can throw in a few additional greens from the share plates on the table, wrap and eat with its accompanying reddish-gold sauce. Alone, the flavors and textures of gỏi cá mai complement one another nicely, but when combined with this particularly amazing condiment, this dish is damn near perfect.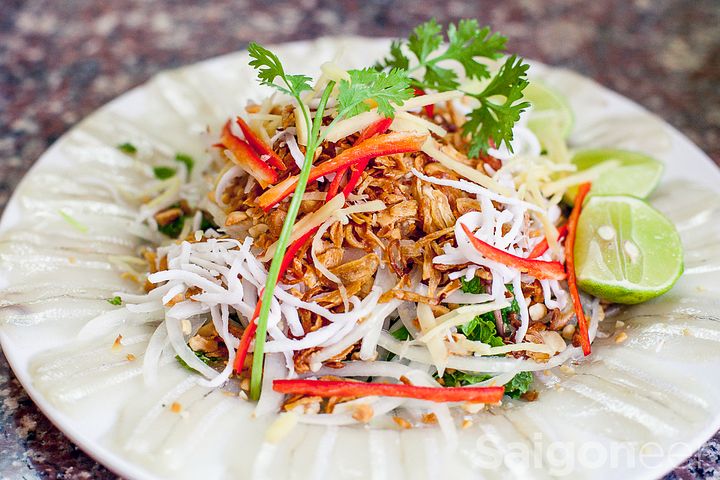 It should be noted here how much I love sauce. As any former child can attest, there is no better way to transform a meal from average to delicious than by drowning it in condiments. You name it – barbecue, ketchup, nước mắm, salad dressing – each and every one is a meal-maker. In the noble canon of sauces, however, Quan Dat's is at the top. I'm no scientist but when combined with a good peanut sauce, nước mắm may, in fact, be the elixir of life.
By the time the bánh xèo comes, it's your turn to concoct a customized version of this magical condiment. Personally, I prefer a one-to-one ratio of the two condiments but feel free to mix as you see fit. The purple nonsense in the third bowl – mắm nêm – may be appropriate for other occasions, but this dish is not one of them. Whatever you do, be generous: you can always get free top-ups on the sauce bowls.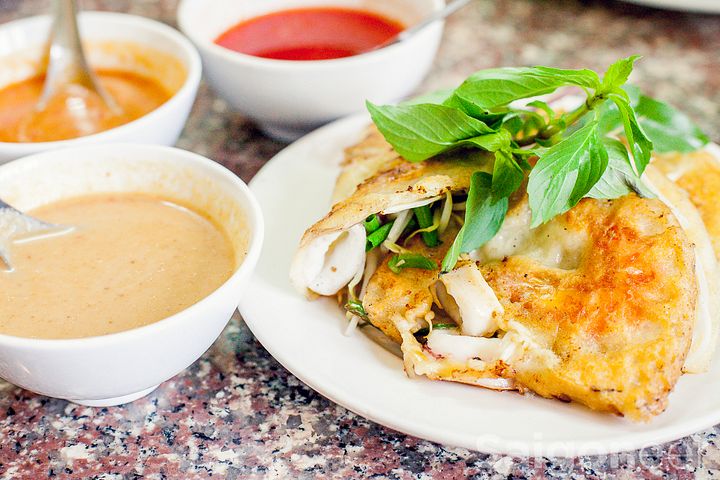 For the main event, pick your favorite lettuce leaf and add in some greens alongside the bánh xèo. These pancakes are particularly delicious for a few reasons: they're not too oily, the consistency of the rice flour is just right – neither too doughy nor too crispy – and the combination of fried goodness, seafood, fresh greens and, of course, sauce creates an excellent range of flavors.
The same goes for bánh căn, a slightly healthier, bite-sized version of Phan Rang's bánh xèo. If you've ever seen someone make bánh khọt, the Vung Tau specialty that's basically a fried bánh xèo nugget, this dish is the same idea, only steamed and with a little more egg. Before you even walk in, you'll happen upon a team of masked ladies out front manning a large outdoor stove covered with clay bánh căn molds. By the time it reaches your table, these tasty morsels are piping hot, and one taste is all it takes to appreciate the skill of Quan Dat's bánh căn team. Given the fact that they go through 10 kilos of rice flour a day on this dish alone, it's safe to say these ladies know what they're doing.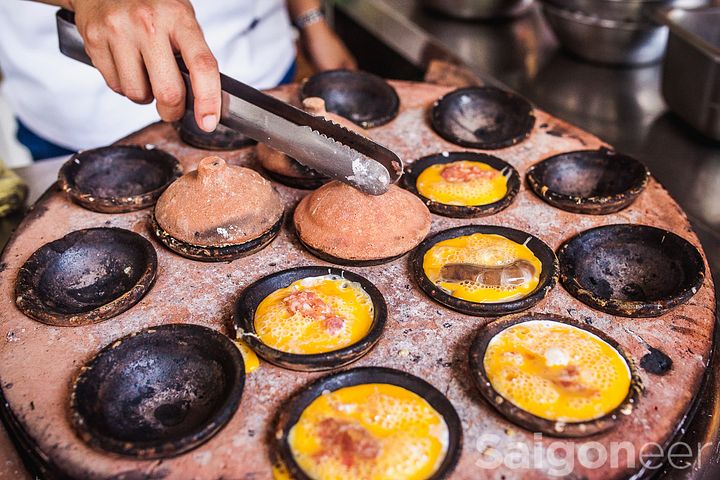 While Quan Dat makes for an incredible midday feast, lunch isn't necessarily the best time to turn up, as the deep, coma-inducing power of its dishes will put a wrap on your day. Dinnertime is a little better, as you can sit out front on the street, but also a little livelier, so be prepared to wait for a table if you prefer to be outdoors.
To sum up
Location: 3/5
Friendliness: 3/5
Atmosphere: 5/5 – Air-con and wooden chairs: 'nuff said.
Taste: 5/5
Price: 3/5 – You'll pay a bit more for the fancy atmosphere but the food makes it well worth the extra dong.
Dana is 70% caffeine, 50% fish sauce and hasn't taken a math class since 2004.

Bánh căn Phan Rang
106 Trương Định, D3, Ho Chi Minh City

---

Related Articles:
---