As my Hẻm Gem adventures continue, I have had the good fortune of stumbling upon a few happy surprises. Last week, for the first time ever, I was beaten at my own game.
It all started at a 50-year-old, 100 percent northern bún chả Hà Nội eatery that is a mainstay in my street food wheelhouse. I was sitting with two friends, indulging in one of the north's better culinary contributions, when one of my comrades began to complain about the atmosphere, the friendliness of the staff and even the food itself. Then, he did the unspeakable.
"How about we go to my bún chả place after this?" he suggested. "It's within walking distance, too."
"Sure," I scoffed. "Let's see if your place is better." Remember, I have never lost this game. Ever.
As it turns out, there's a first time for everything. By my friend's recollection, the bún chả place that is his mainstay has been around for almost 20 years, but the building never really changed from a typical house-eatery storefront, complete with gloomy fluorescent lighting and plastic stools.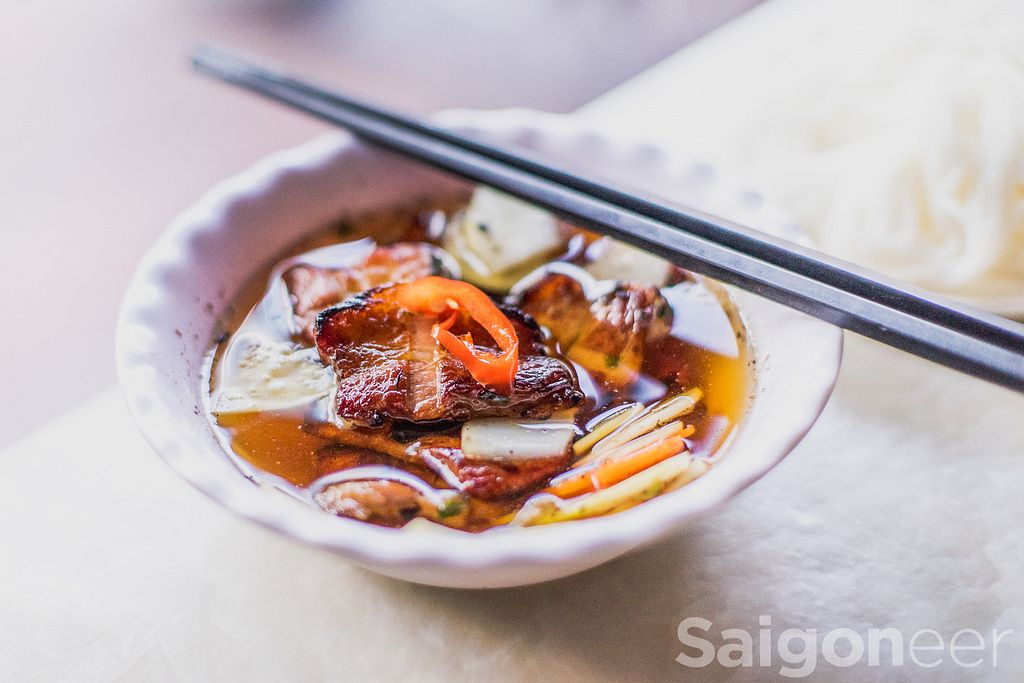 When we stopped in front of 63 Thu Khoa Huan, however, my comrade almost didn't recognize the place. These days, it's a clean and modern eatery with a pre-built kitchen area at the entrance, showing off its goods in a glass display. The chairs and tables are shiny aluminum steel. Apparently, due to an ever-growing customer volume, the owner sprung for an upgrade about two years ago. So I guess we don't have to wonder whether this place is popular or not.
Though our challenge that day focused strictly on a single item, the shop's menu is pretty diverse. The owner admits he's a legit northerner, however the restaurant showcases a variety of meals from all regions of Vietnam, mostly noodle (phở, bún, miến) dishes. Since we were competing in the realm of bún chả Hà Nội, we kept our order at just that.
There are lots of things that can affect your experience with this dish, as it arrives at the table in a somewhat piecemeal fashion. First up is the bún: if you have a funky-smelling bowl of bún then you know that at least 30 percent of your meal will be off. Then comes the fish sauce; you can call it the broth in a sense, since you slurp it with your bún. Because of this, the sauce should not be too strong a player in the taste combination or it will overpower everything else. If you get served a salty bowl of sauce water, you can be sure that that's all you'll taste.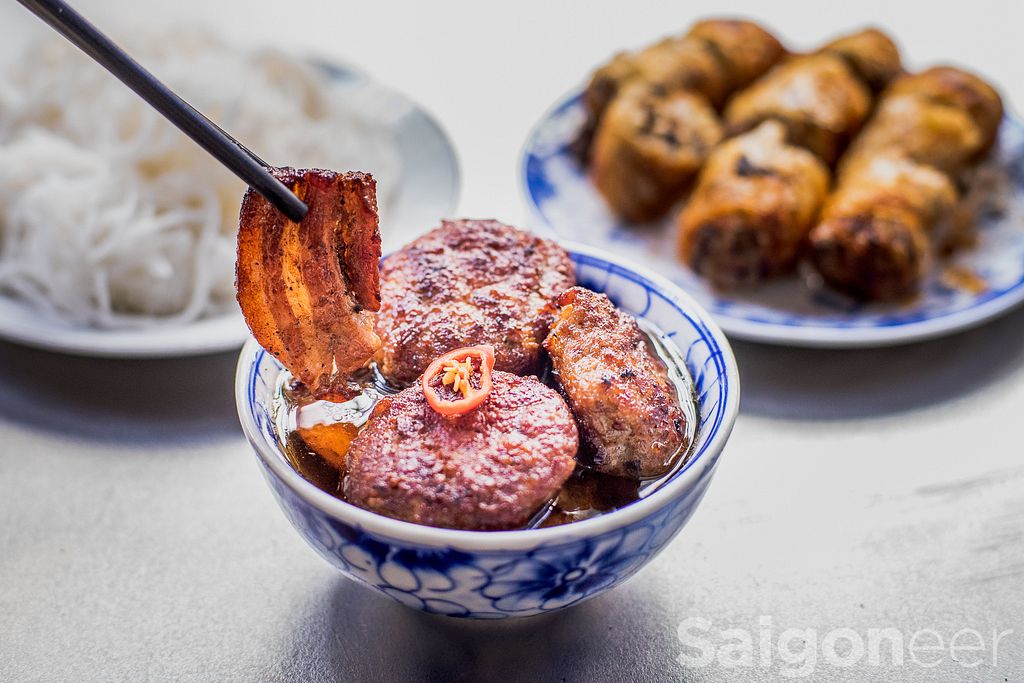 In this eatery's rendition, both the broth and the noodles come through the first two challenges with ease. After that, the meat arrives, a beautiful visual feast of chả patties and shining barbecue slices accompanied by colorful daikon and carrot. The fat chả cua bể spring rolls make an appearance like a diva who walks into an already wild party; they're thick and cut into small pieces so that their heavenly smell wafts out into that air. We tuck into the spring rolls like we haven't just been stuffing our faces with bún chả the minute before.
Here's the catch: based on the display of the store and its menu, this spot's specialty is actually boiled chicken. Random, I know. As we entered the place, I could see chicken salad, chicken with glass noodles and chicken phở; if only our stomachs were a litte more forgiving, we might have discovered another all-in-one goldmine. But this competition was about bún chả, and for the first time in my 25 years, I happily concede defeat.
To sum up:
Taste : 4/5
Price : 4/5 – 50,000/portion
Atmosphere : 2/3 – Not that romantic; just an eatery.
Friendliness : 4/5
Location : 4/5
Núm is a street food addict who has been eating his way through Saigon for 25 years.
Bún chả Hà Nội
63 Thu Khoa Huan, District 1

---

Related Articles:
---