A mellow hideaway amidst the hastening traffic near Ben Thanh Market, Tin Nghia vegetarian restaurant is a time capsule.
Little things once a common sight in Saigon are scattered throughout the humble shop. From the way you place your order, writing down each dish on the provided piece of paper, to the way the room is laid out as a home, complete with a dimly lit ancestral shrine and an engraved wooden lintel above the door frame, every facet of this 100-year-old house is infused with history. Every corner of Tin Nghia takes me back to my childhood: the plastic, floral tablecloths and brown ceramic chopstick holders are straight out of 1980s Saigon.
"My grandmother opened this place when Chu Hoa owned the street," Tin Nghia's owner, a shy, middle-aged woman who asked not to be named, tells Saigoneer. Chu Hoa, a Chinese immigrant whose mansion now houses the city's Museum of Fine Arts, is remembered as one of the wealthiest men of 19th-century Saigon.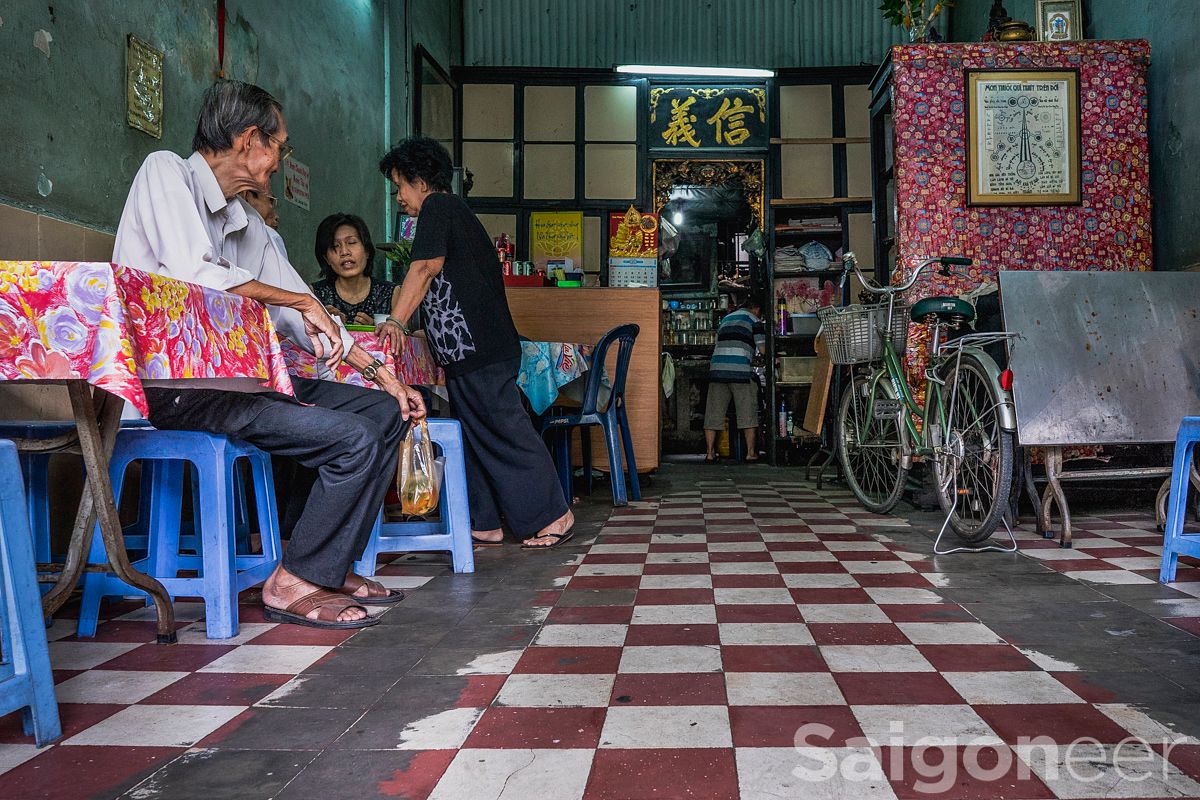 Located on the ground floor of a French colonial building, Tin Nghia owes its airy front room to "nhà cao cửa rộng" architecture, a common design in many old Saigon buildings that features high ceilings and a wide front door. The restaurant's menu offers a good variety of Vietnamese vegetarian dishes, including the standard rice and noodles as well as Vietnamese curries, soups and món mặn, or dishes served with plain rice. In the kitchen at the back, Tin Nghia's chefs don't use recipes or measuring tools to cook their dishes; they've had 100 years of practice to perfect each one.
"Most restaurants have accurate recipes," the owner says. "We just want to cook dishes the way your grandmother does everyday."
Of the place's many dishes, my favorite is Tin Nghia's vegetarian mắm chưng rau sống, a typically southern countryside dish which my grandmother used to cook when I was little. Mắm chưng is made of crushed mắm, or salted fish, steamed with egg and minced pork, and served with herbs to balance out the fish's distinctive smell. Tin Nghia's vegetarian version is a plate of fresh tofu, mashed and combined with fermented tofu, minced mushrooms, peanuts and tomato along with a plate of green herbs on the side. With a rich, spicy flavor and a soupy texture, the mắm chưng blends well with the aromatic fresh herbs and is just as smooth and full-flavored as my grandmother's dish.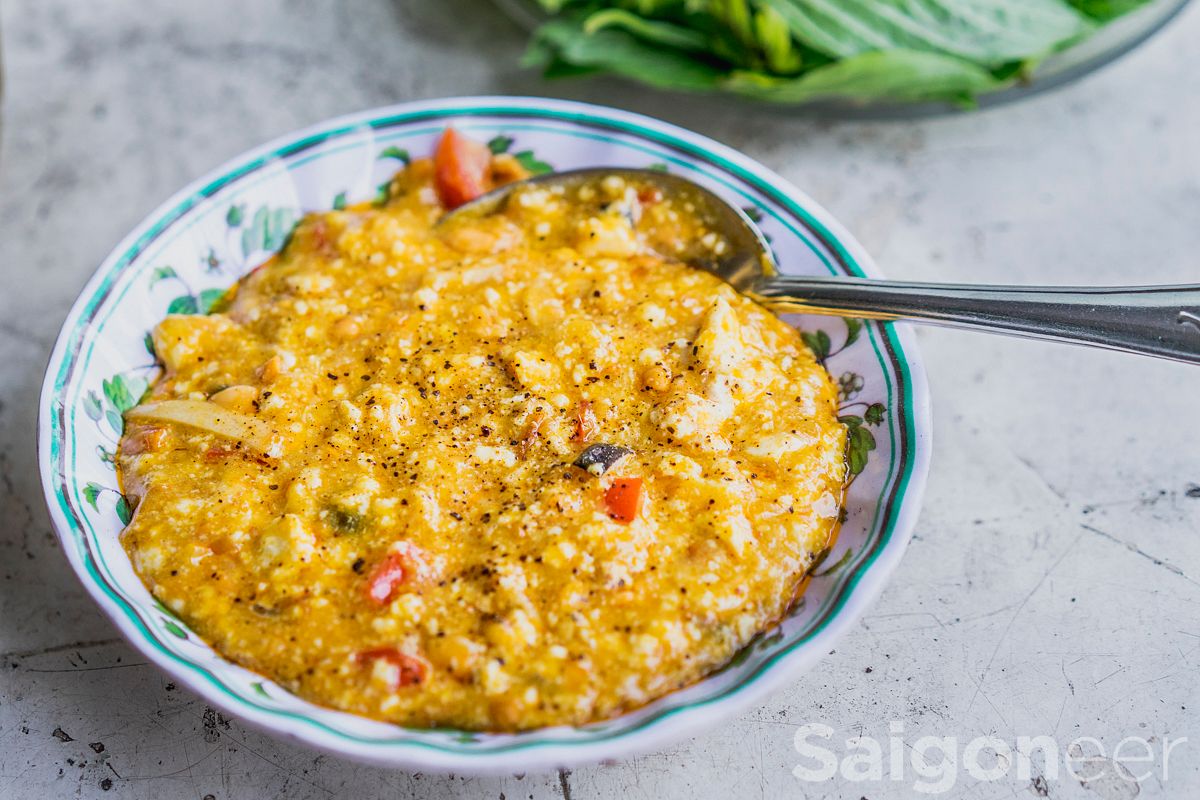 After our meal, we linger for a while, getting to know the family behind Tin Nghia. As we sit beside the front door, one family member, a cheerful 80-year-old woman, looks toward the thundering construction on the next block, where the towering One Ho Chi Minh City skyscrapers are set to go up. Metro Line 1, too, will eventually claim part of the nearby Quach Thi Trang Roundabout, as there are plans to put the line's District 1 terminus here.
For the owners of Tin Nghia, who have lived on this street for decades, the change is drastic. During our conversation, the 80-year-old woman recalls a time when trams ran the length of Tran Hung Dao, passing by the same place where McDonald's and a clutch of shiny skyscrapers now stand.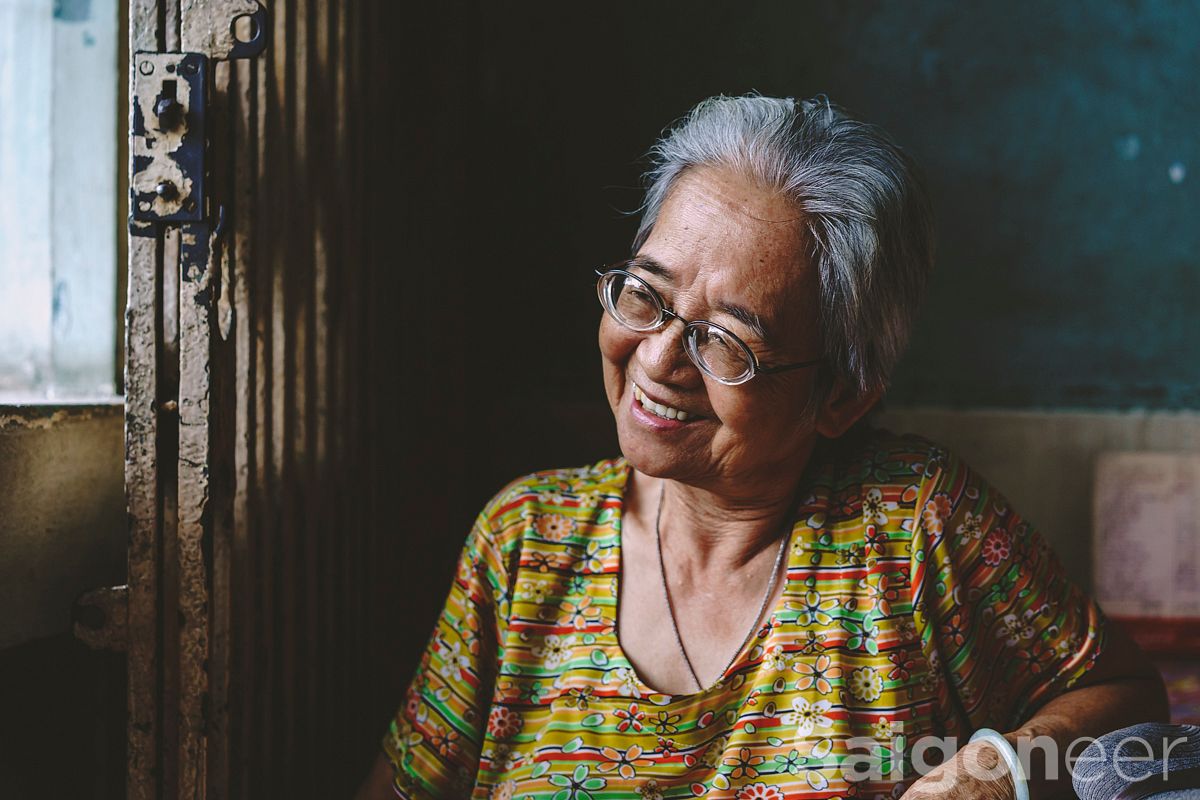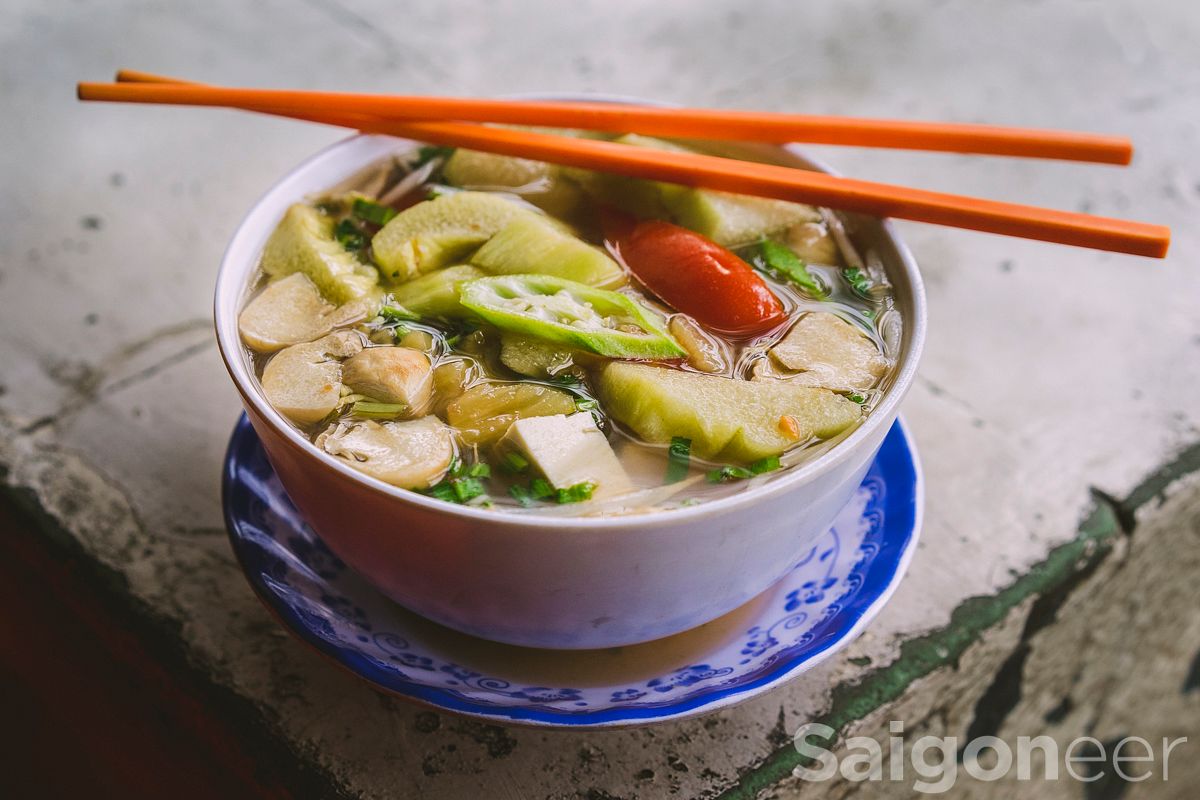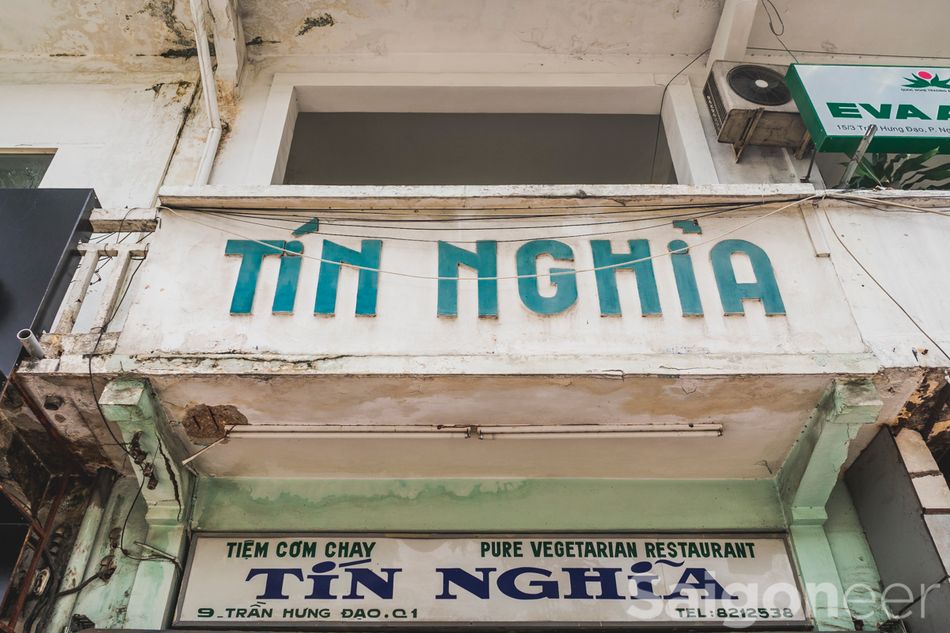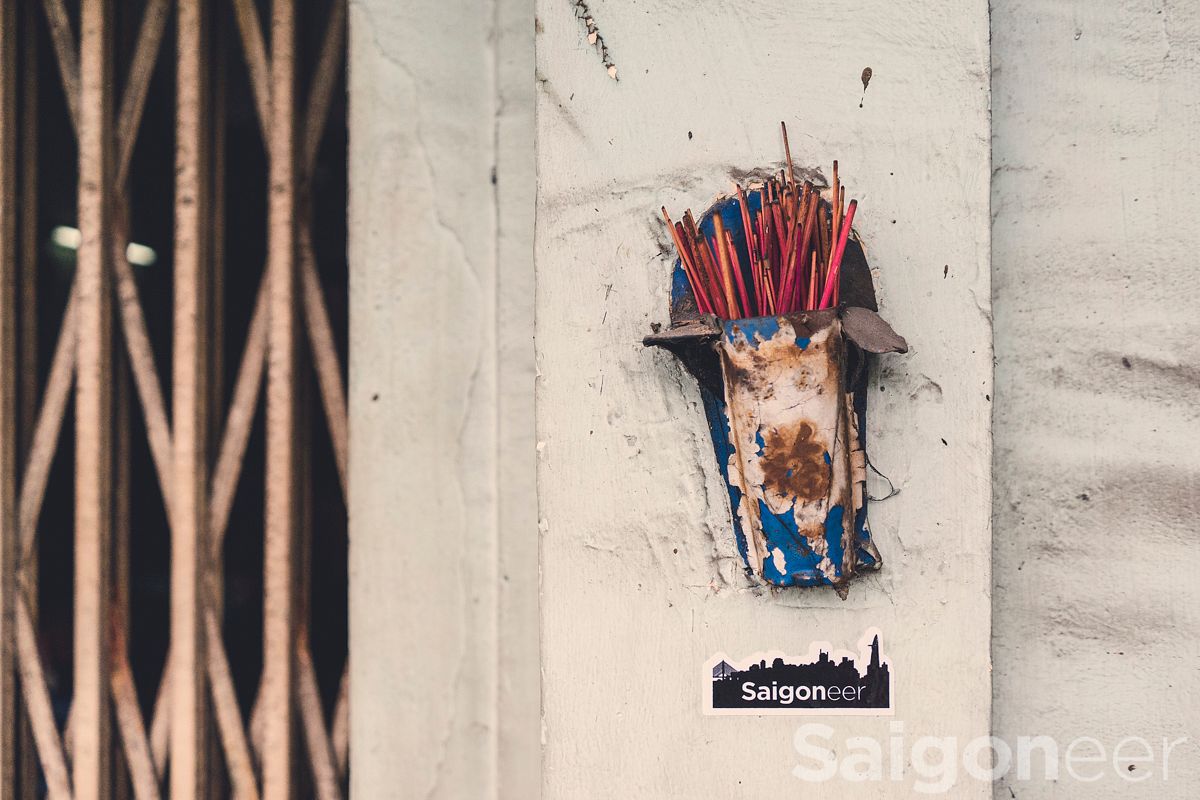 To sum up
Taste : 4/5
Price : 5/5
Atmosphere : 5/5
Friendliness : 11/5
Location : 5/5
Dang was born in the wrong era; he should have been a child of Saigon xưa.
---
Tin Nghia vegetarian restaurant
9 Tran Hung Dao, Nguyen Thai Binh Ward, D1

---
Related Articles:
---