After several readers reported that District 2's venerable Tuesday night duck taco outpost was no more, we decided it was time to launch an investigatory expedition to get to the bottom of this.
Update (2017): I pulled up to the simple eatery only to see Alberto, our intrepid foodie leader, sullenly slumped in a chair. He had been told that duck taco night no longer existed. All hope seemed lost, but miraculously a business card for Saigon Tacos, purveyor of the tortillas, was procured.
A call was placed and 40 tortillas were soon on their way. Robert Nussbaum, owner of Saigon Tacos, arrived shortly thereafter with half a bottle of tequila, the said tortillas and news that the taco night was no longer a recurring occasion due to low demand.
Instead, parties must call in advance, ideally the morning of the day they desire tacos, and arrange ingredients for that evening. The good news is that, while in the past tortillas were only available on Tuesdays, they can now be enjoyed on Thursdays and Fridays as well. Again, just call 0976 977 907 ahead of time. If you're not sure what, exactly, you're missing, our original duck taco hẻm gem is below.
Michael Tatarski
Check out our original review below:
You never know what will happen once you open a bottle of rice wine.
For instance: you might become best friends with the group of strangers sitting at a table nearby. If you share a thimble or two of that odorless, colorless liquid courage from a used water bottle, you might even become the most popular person in the room. And when a foreign man with a camera tries to take pictures in your vicinity, you might then become offended that this nobody is photographing a celebrity without permission.
No one knows exactly what's happening in our buddy Khang's* head, but he is adamant about keeping his face out of our photos.
"No!" he barks from two tables over, swaying from the effects of strong breeze only he is experiencing. A few moments later he comes over. In a wordless ceremony, he pours himself a shot of rice wine and, hand to elbow, reaches out for a toast. We drink. He smiles. As soon as the camera catches his eye, he returns to disapproving of our behavior.
It's fine, says a woman hacking apart ducks on the other side of the room. She goes back to reducing a roast bird to pieces, and we keep our camera lens pointed at the table. No offense to Khang, but his request isn't a problem: despite the guy's many redeeming qualities, we're here for the food. It's not everyday, after all, that someone who makes corn tortillas and pico de gallo gets into a side operation with the guy who roasts whole ducks by the roadside in a gritty District 2 neighborhood.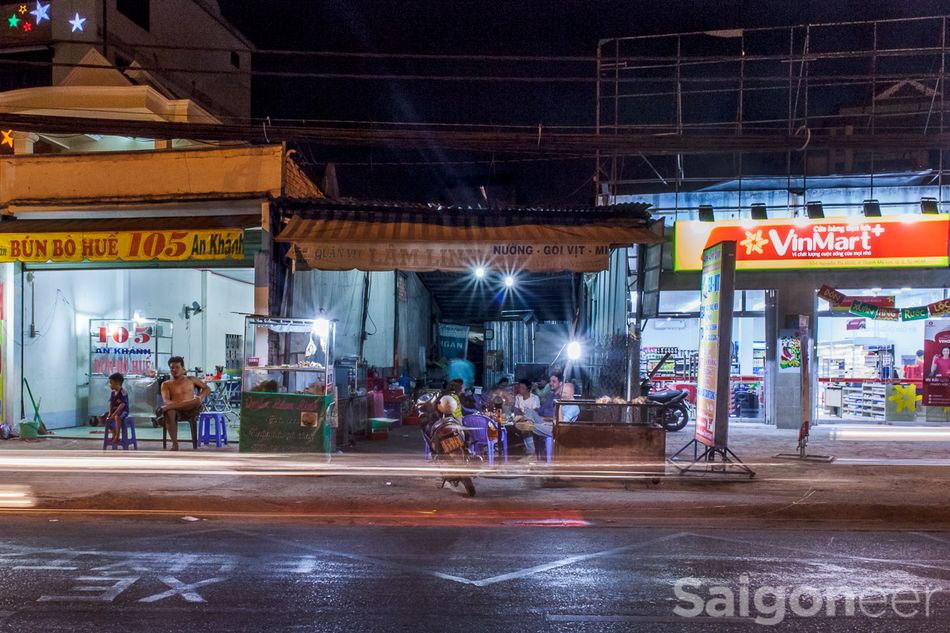 To be clear, this is not the squeaky clean, air-conditioned, gated villa, Thao Dien version of District 2. This is, for lack of a better word, the suburbs: not quite countryside but not quite downtown. You won't find skyscrapers or restaurants with non-smoking sections out here. Instead, children drive motorbikes before they've hit puberty, and you pass the occasional person emerging from a field of knee-high grass and onto the road.
The narrow shop at 544 Nguyen Thi Dinh is an eatery of dented metal tables. Despite its makeshift appearance – the floor, half-tiled, looks like someone started the job, lost interest and never finished – this duck-roasting operation has been around for three years, and thanks to a decent internet buzz, manages to pull Saigon's more adventurous foodies out beyond the downtown limits.
The story itself is one of those fascinating and painfully specific tales that is all too common in Saigon. According to the proprietor, a thin, red-faced man in a floral apron – also drinking the contents of a previously enjoyed Lavie bottle – it was two years ago when American transplant Robert Nussbaum started turning up every Tuesday, bringing with him fresh taco fixings from his Mexican food outfit Saigon Tacos, to accompany the succulent roast bird that rotates out front on a spit rigged with a bicycle chain. Both Nussbaum's wife and the restaurant owner hail from Nam Dinh province, adding another layer of connection to the partnership.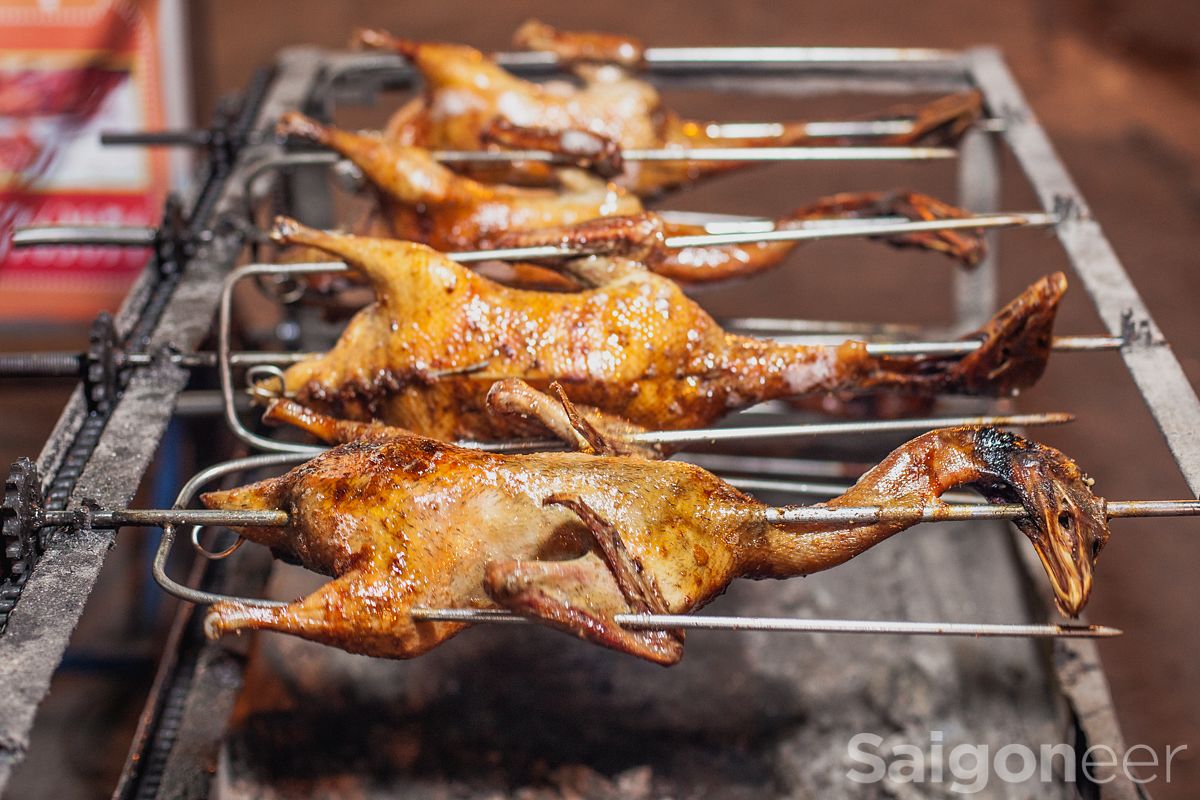 When our duck arrives, however, accompanied by a colorful array of plates laden with cucumber, cabbage and mint, refried beans, pico de gallo, fresh corn tortillas and two condiments – one a salsa roja with a mild kick, the other a Vietnamese, garlic-infused hoisin concoction – all of this becomes irrelevant. If you've ever made the pilgrimage out here, you understand.
The mere presentation is jarring – there are tortillas where the rice paper should be and refried beans instead of mắm tôm. Based on looks alone, you can see how this might work, but by the time you've assembled an actual taco it's clear that this is one of those rare fusion experiments gone right. Fatty, succulent roast duck and crunchy veggies, the bright flavor burst of pico de gallo and the gentle kick of eastern and western sauces all come together inside a thick, doughy corn tortilla. The resulting meal is neither Vietnamese nor Mexican, but it's certainly worth the half-hour drive, the flurry of traffic outside the open-front shop and Khang's repeated attempts to both befriend and scold us at the same time.
As we fall into silence, swiftly assembling and stuffing our faces with the handheld delights, a shadow falls between our table and the blinding fluorescent light out front.
"I love you guys."
Khang's back, a hand on our photographer's shoulder to keep himself upright. Eventually, he summons the courage to present me with a taco before entering into a long, awkward conversation in which the goal is to earn my phone number. While the meal alone is enough to merit this Tuesday night pilgrimage, the atmosphere is an added bonus. Everyone is a character, from the duck-chopping woman, who whips out her phone to show us videos of local celebrities dining at the same dented metal tables, to the aproned man, who may have been slightly over-served, assuring us not to worry about Khang, who has definitely been over-served.
We indulge in a few more bottles of Saigon Red ourselves before the evening winds down. Khang heads home, the aproned man disappears and the few remaining patrons congregate near the TV, picking their teeth as the evening news comes on. Nussbaum eventually turns up a few minutes before we head off, prompting another round of hellos and introductions as he orders his own helping of Vietnamese-Mexican goodness, and then we're on our way, back through the dusty, narrow streets and past open plots of land into the city. The entire evening is a casual affair: no frills, no secrets, just the kind of odd, serendipitous culinary magic that happens in Saigon's most unlikely places.
*Khang didn't want us to take his picture. He'd be really pissed if we used his real name.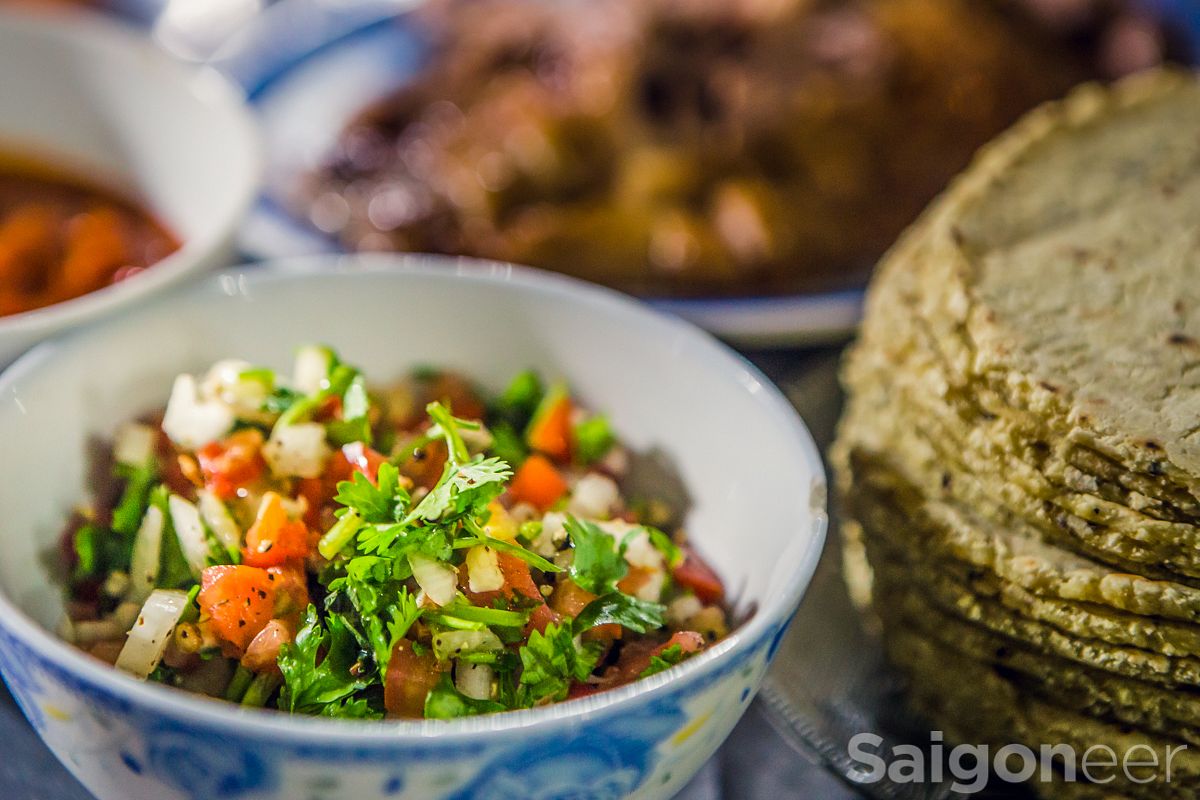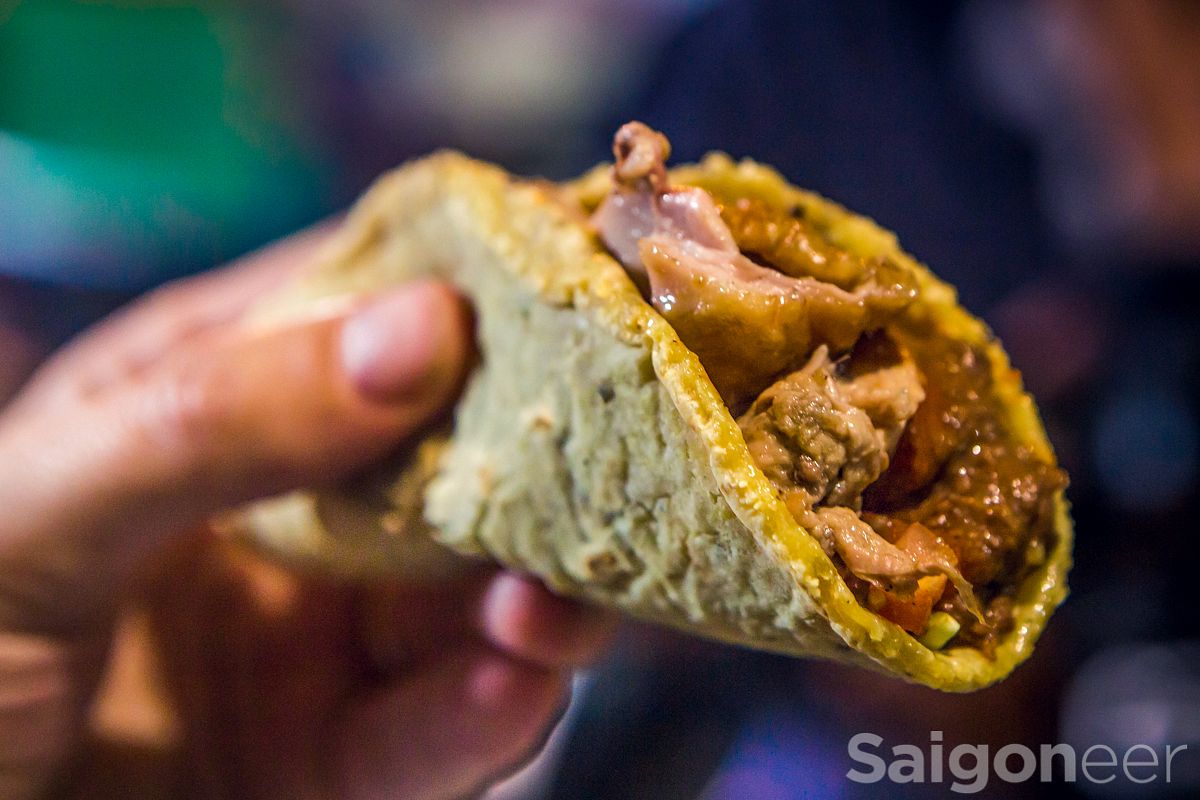 To sum up:
Taste : 5/5
Price: 4/5 – VND30,000/duck taco. Better yet, bring a crowd and spring for a half or whole duck, complete with fixings (VND250,000 and VND460,000, respectively).
Atmosphere: 4/5 – Rough around the edges but comfortable.
Location: 2/5 – A trek but well worth the effort.
Friendliness: 5/5 – Unless, of course, Khang is there and does not want you to take his photo.
Dana is 70% caffeine, 50% fish sauce and hasn't taken a math class since 2004.
Duck tacos
544 Nguyen Thi Dinh, An Phu Ward, District 2

---

Related Articles:
---