I have a confession to make: my spring roll game is embarrassing.
Say what you will about this facet of local life – maybe it's an innate gift, maybe it's a learned skill – but when it comes to turning an assortment of food into tidy, rice paper-packaged mini burritos, I am a failure. I have managed to master the art of not making a complete mess, a technique which I employ regularly or, if particularly enthusiastic about my food, not at all, however I remain ashamed of my inabilities.
Alas, fate is cruel. Despite my deep inability to create a structurally sound spring roll, I have been doomed to a long-time love affair with bánh xèo.
I could get discouraged about my food-rolling impediment, but this is Saigon: where there is a will there is always a way. So you can imagine my everlasting gratitude upon finding the one merciful bánh xèo vendor who sells a delicious, savory, coastal-style Vietnamese pancake with no assembly required.
Instead of suffering the indignity of a poorly crafted spring roll, here someone will hand you a medium-sized plastic bowl with a pool of sauce at the bottom. Made from a light fish sauce and some chili, this cloudy red-orange condiment is the crux of the meal. A pile of pre-cut greens, from lettuce to fish mint to basil to Vietnamese coriander, rounds out the accoutrements, plunked down beside your empty bowl as you await the main event.
Beneath the single, glaring overhead fluorescent above this average Binh Thanh street, a middle-aged woman works the specialty bánh xèo pan perched atop a coal stove. Fresh ingredients, each divided into spotless steel collanders, form a line along her work space. The chef douses each pancake mold with a rice flour batter before tossing on some pork fat and a few pieces of squid, green onions and bean sprouts. Your standard clay cover goes on top, she busies herself with something else and in no time the lid is removed and the pan's contents shoveled onto a plate.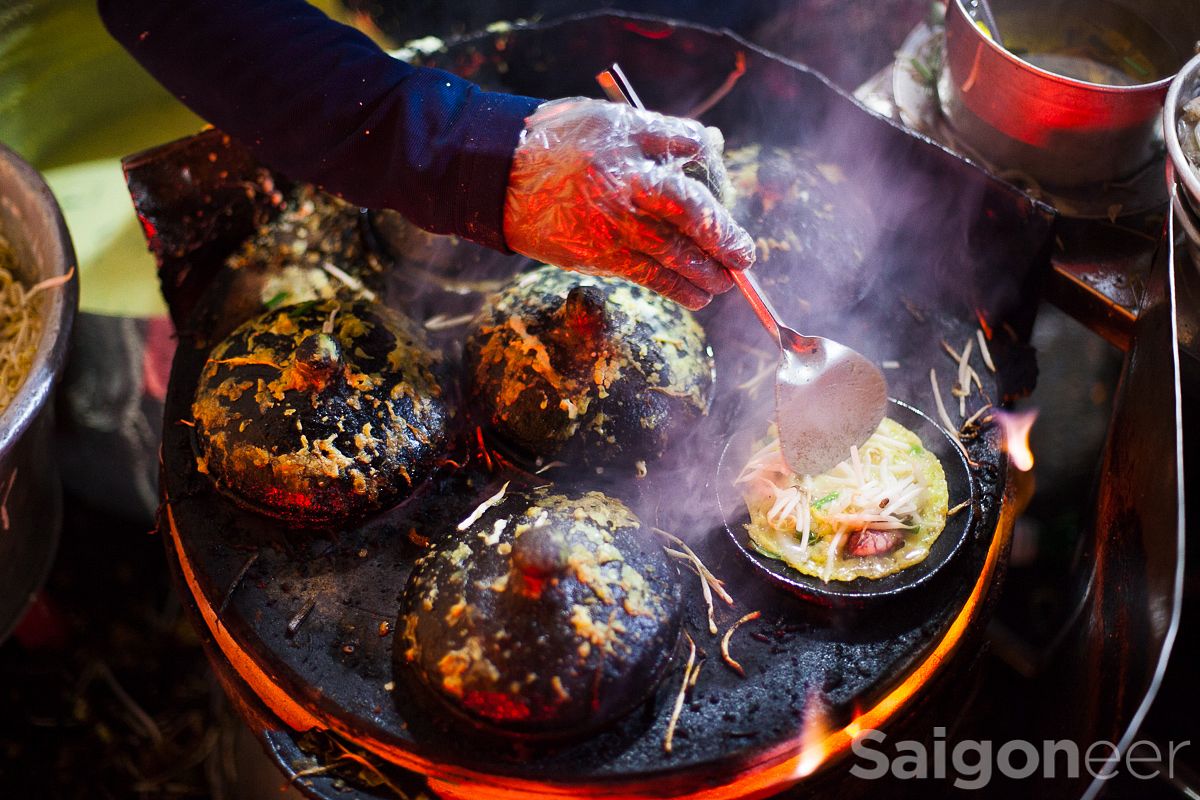 The average serving usually includes five bánh xèo, however you can pay per piece if you'd like. These are the small, southern coastal version of bánh xèo, hailing from Binh Thuan province, home to the fishing villages of Phan Thiet and the tourist strip of Mui Ne. In my several years of heavy bánh xèo consumption, I have never encountered a pancake which was not expected to fill the inside of a spring roll. Though I can't unequivocally say it, this leads me to believe the sleepy Binh Thuan stretch of the southern coast may be the Vietnamese answer to Canada; they just do things a little differently over there.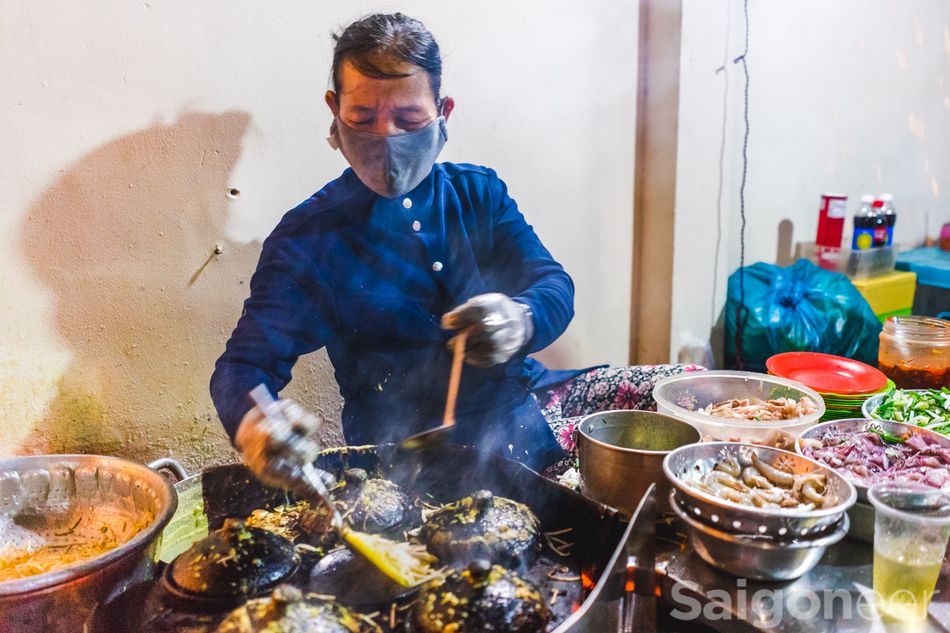 Now placed at your table, piping hot and ready to enjoy, the best course of action is to pick up one of these golden-brown bánh xèo and drop it squarely into your bowl of sauce. Add in your desired greens, stir and then eat. Rejoice in the freedom that comes from escaping society's weighty food-rolling expectations. Maybe make a mess.
While the spot is obviously well-known – its five-table spread was full when we arrived – the atmosphere isn't overly lively, meaning you can appreciate a relaxing meal here without doing shots of rice wine with your boisterous fellow diners or navigating the violent mood swings of an exasperated wait staff. Thanks to its location near a bend in the road, a steady flow of traffic roars past this sidewalk spot, but by and large its roadside real estate is cozy and feels like a proper neighborhood hangout rather than an overly frequented business.
The final kicker comes at the end. After our dining party shamelessly consumed three plates of bánh xèo and I undid the top button of my jeans, our entire meal – 15 bánh xèo and five trà đá – came to a staggering VND95,000 split among five people. Even if you're rolling game is pro-level, this kind of price tag makes the experience worthwhile.
Make sure you turn up around here in the late afternoon or evening. The Binh Thuan bánh xèo spot is open from 3:30pm to 9:30pm everyday, except for the first and 15th of the lunar month.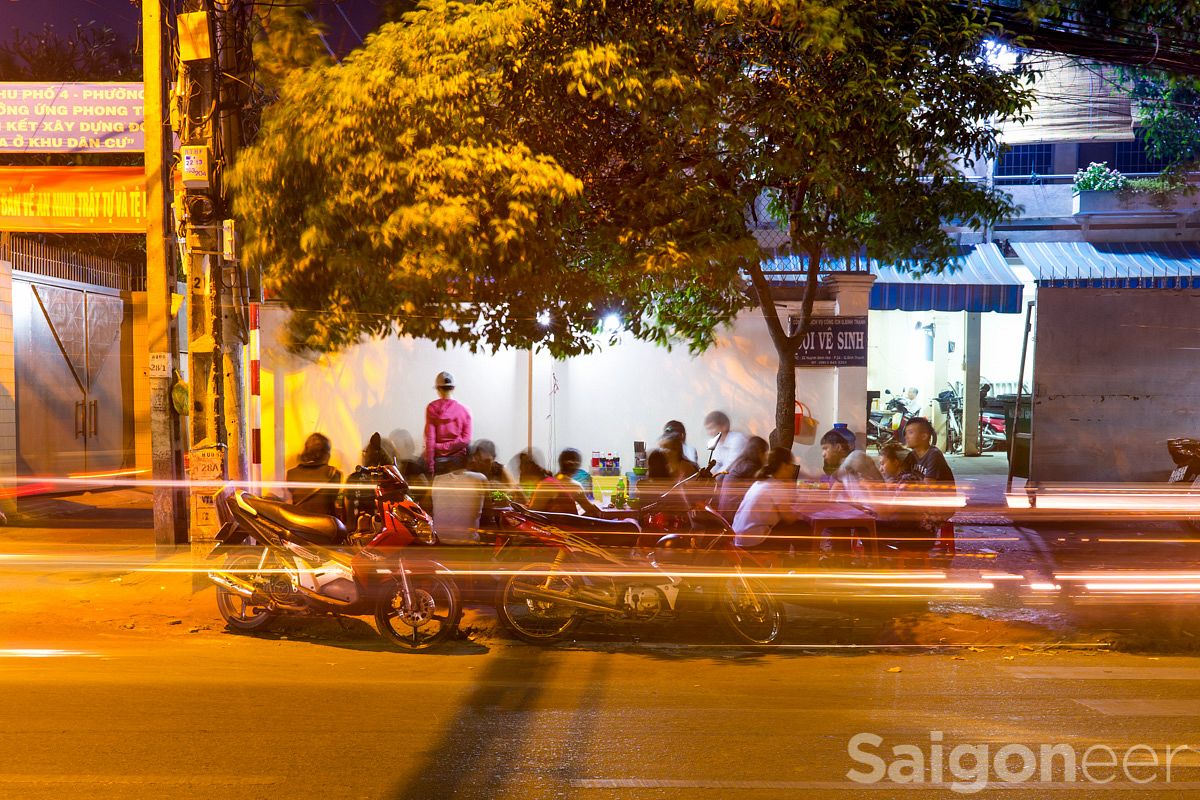 To sum up:
Taste : 4/5
Price: 5/5 – VND6,000/pancake. You cannot beat this.
Atmosphere: 4/5
Location: 3/5 – Just north of Hang Xanh in Binh Thanh District.
Friendliness: 5/5 – Couldn't be nicer.
Dana is 70% caffeine, 50% fish sauce and hasn't taken a math class since 2004.
Bánh xèo Binh Thuan
22 Huynh Dinh Hai, Ward 24, Binh Thanh District

---
Related Articles:
---