If we're being real, I would not break an appointment for chè.
Not a formal appointment, at least. Of course, a good bowl of the sweet, bean-based soup is enjoyable; if a single serving were to appear in my hands, I would eat it without thinking twice. But as someone raised in a society that values baked goods over longevity, dessert is not a bowl of beans. Dessert is a heart attack on a plate.
Except now, despite my cake-heavy convinctions, chè has weaseled its way into my heart – and stomach – by way of a dingy street corner stall in District 10.
The long-standing Che Khanh Vy, in operation for decades, is a glorious, almost dim sum-like buffet of Vietnamese sweets, from black bean and taro soups to all manner of sticky rice. It is here that I was convinced to forsake at least some of my former allegiance to baked goods in favor of the subtle sweetness of chè. Everyday from 4pm to 11pm, its gaggle of vendors haul out 12 bubbling vats of various sweet soups, laying them to rest at waist-height so that passersby can peruse the options, and proceed to make a mint off dozens of tiny, VND4,000 chén sold to couples and groups of friends, coworkers and lone, middle-aged women.
Or at least that's who was buying the night we visited Che Khanh Vy. After a quest through evening traffic, we rocked up to the dessert spot, greeted the proprietors and proceeded to ask for the specialty of this municipally famous shop.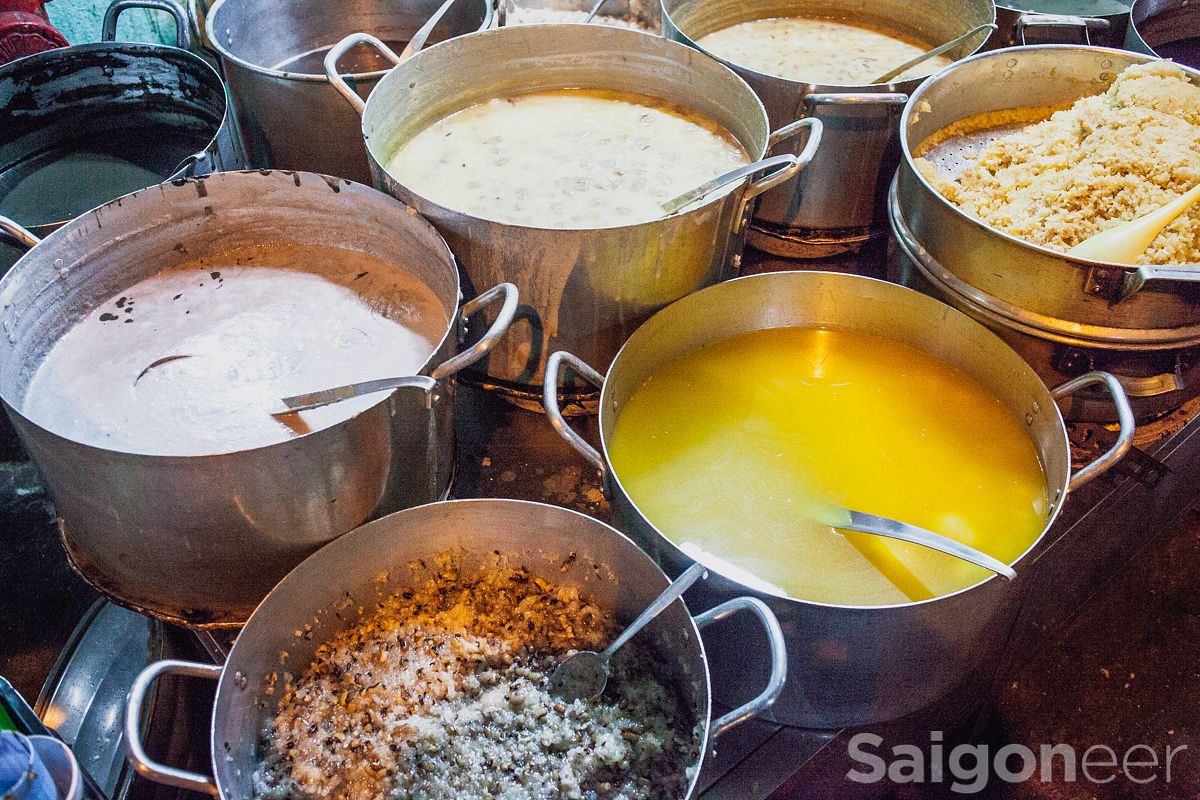 "They're all good," one vendor assured me.
She was cheerful as we entered into a longer-than-necessary conversation about which was the most delicious chè on offer but our chat ended with no concrete answer. As I watched her coworker ladle various soups into small bowls, my eyes grew bigger than my stomach and we ordered five desserts between two people.
This might sound excessive, but there are two important factors to consider: first, the bowls are small. Abroad, we call it "fun size". In our time there, I watched one woman order two bowls for herself; it seems to be common practice here. Second, I am an animal. Though I am fortunate enough to possess a high metabolism and an interest in physical exercise, my food intake is just shy of embarrassing.
Like a well-oiled machine, the ladies threw together five bowls of our preferred chè topped with coconut milk and whisked them over to our table on a metal tray. The đậu đen, or black bean soup, was average and reminded me of my university days when, rather than make an actual burrito, I would just eat the ingredients piecemeal in my kitchen. The đậu trắng – white bean soup – however, won me over with its glutinous sticky rice and coconut topping, as did the táo xoạn, an ultra-gooey, clear concoction with halved mung beans trapped inside.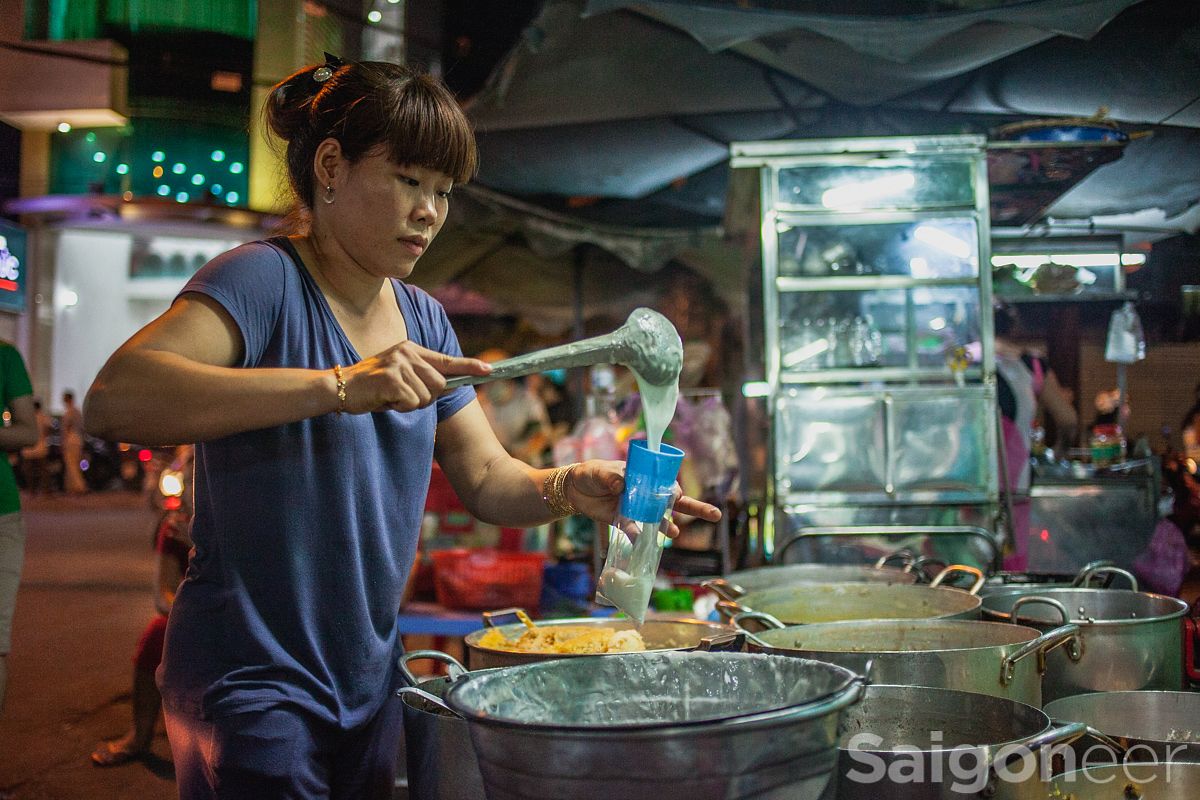 Chè thưng was perhaps the healthiest-looking item we ordered, a murky mix of several ingredients, including a green seaweed-like substance and miniature tapioca pearls.
However Che Khanh Vy's closest equivalent to the decadence of cake is chè trôi nước, a magical, Hanoian dessert which compiles all my favorite Vietnamese ingredients into one bowl. Small, mung bean-filled dumplings float in a pool of sweet broth, topped with sesame seeds and coconut plus a hint of ginger. For me, this was far and away the best of the bunch.
By the time our chè bowsl were empty, I'd eaten myself into a sugar coma. The sluggish, post-dessert state is no match for a lively Saigon street and so we headed home, now chè believers, with our bellies full and eyes ready for sleep.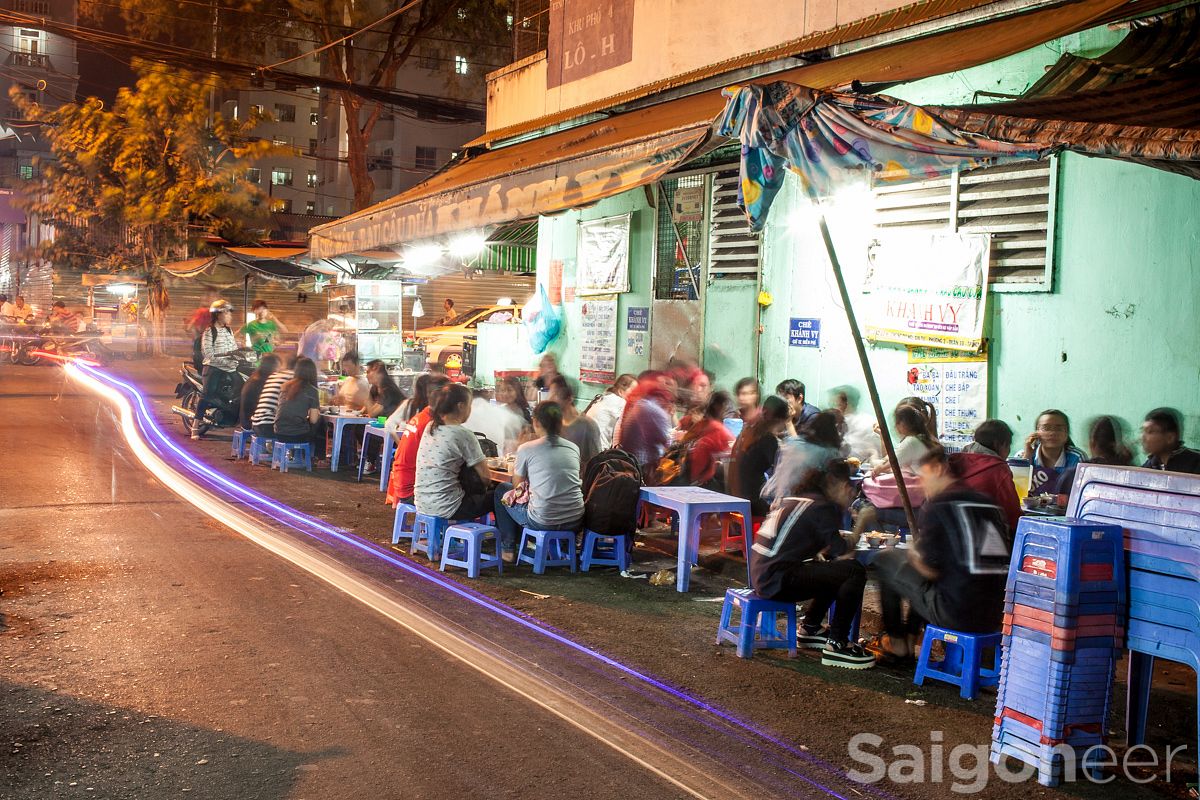 To sum up
Location : 3/5 – A bit of a drive, but then again, all good adventures are.
Friendliness : 4/5 – Busy but cheerful.
Atmosphere : 5/5 – Pure Saigon.
Taste : 4/5
Price : 5/5 – VND4,000 a bowl.
Dana is 70% caffeine, 50% fish sauce and hasn't taken a math class since 2004.
Chè mâm 12 món
242B Su Van Hanh, Ward 2, D10

---
Related Articles:
---