Nguyen Hue's heritage has been badly degraded over the years. Thanks to the city's neverending development, its older buildings have either been torn down, used as air-conditioning unit pedestals or turned into fast food joints. Beyond the ornate lost facades, these architectural changes impact locals who, like the old buildings, are swept away, never to return to the place they have called home for generations.
However, there is still a sliver of old Saigon hidden away in what, from the street, appears to be an unremarkable hẻm.
Birds chirp, traditional Buddhist ballads play over antiquated speakers and decaying – but still charming – colonial-era row houses line Nguyen Hue's hẻm 53. Many of these structures sport handsome wooden doors locked in place by slats. If not for the rows of motorbikes and a handful of neon signs, you could easily be convinced that you had traveled back in time, or at least to the more traditional enclaves of District 6.
The hẻm is occupied primarily by long-term residents who, according to one vendor, are unable to make alterations or improvements to their homes, as redevelopment plans have been in the works for decades. That suits us just fine: these plans have conserved the neighborhood, both in terms of the hẻm's architecture and its businesses.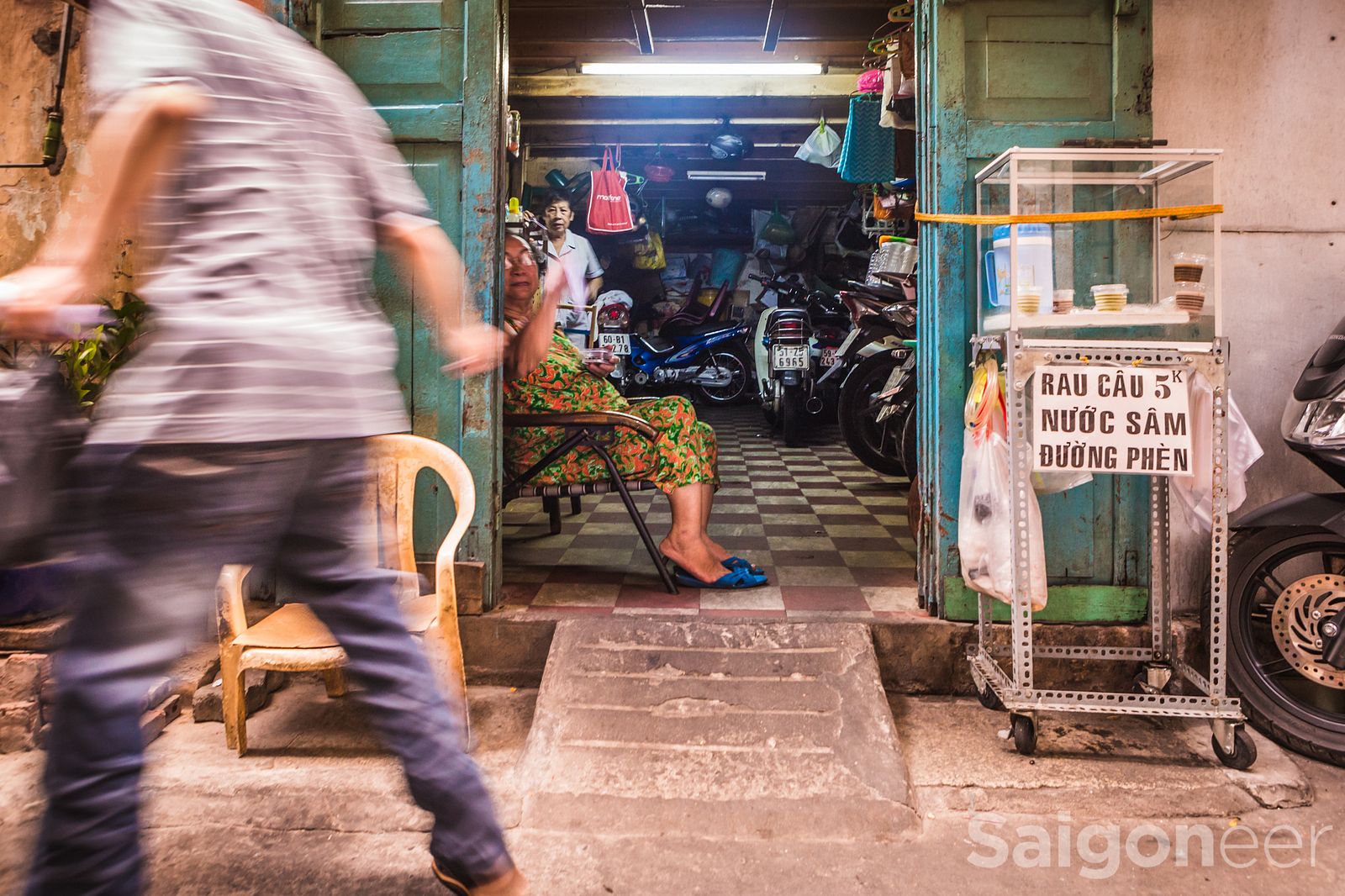 With too many options to try, we limited ourselves to the hẻm's premier chè spot. The place has been in business for over two decades, and unlike many of its counterparts, who keep their ingredients in plastic jars for days, the folks at 53/2 keep things fresh, even cooking up different jelly flavors each day.
We first sampled the thạch yogurt, an orange and yogurt-based drink with plenty of goodies, ranging from passion fruit to generous chunks of cantalope. Akin to a parfait, the ingredients were stacked in layers though a quick swirl of the spoon mixed the half-dozen ingredients together. Drink this one fast, as warm yogurt is a no-go and the melting ice cubes detract from its flavor.
Next up was their own invention, a cooling dessert called chè thạch. The glass has condensed droplets around its interior and is filled with colorful layers of brown sugar longan, milky beads of thốt nốt, or palm fruit, and white, pudding-like cubes made from soya bean and pandan leaf. It might look no different from other chè thạch, but the balanced sweetness and creative mix of ingredients are key. The soya pudding's mild flavor blended into the tender sugarcane syrup fused with sweetness from the longan and the fragrant pandan leaf jelly. Visually speaking, a little bit of every taste and color in one small glass embodies the feel of this town, not just in our minds but in our mouths.
"You won't find a second glass of this chè anywhere in Saigon," the owner told us.
Happy with our drinks, we ordered some of the hẻm's other specialties from a neighboring eatery – moist fried chicken rice and a fried hủ tiếu thập cảm laden with an assortment of meat and seafood. Both were distinctly Chinese in flavor, cheap and delicious.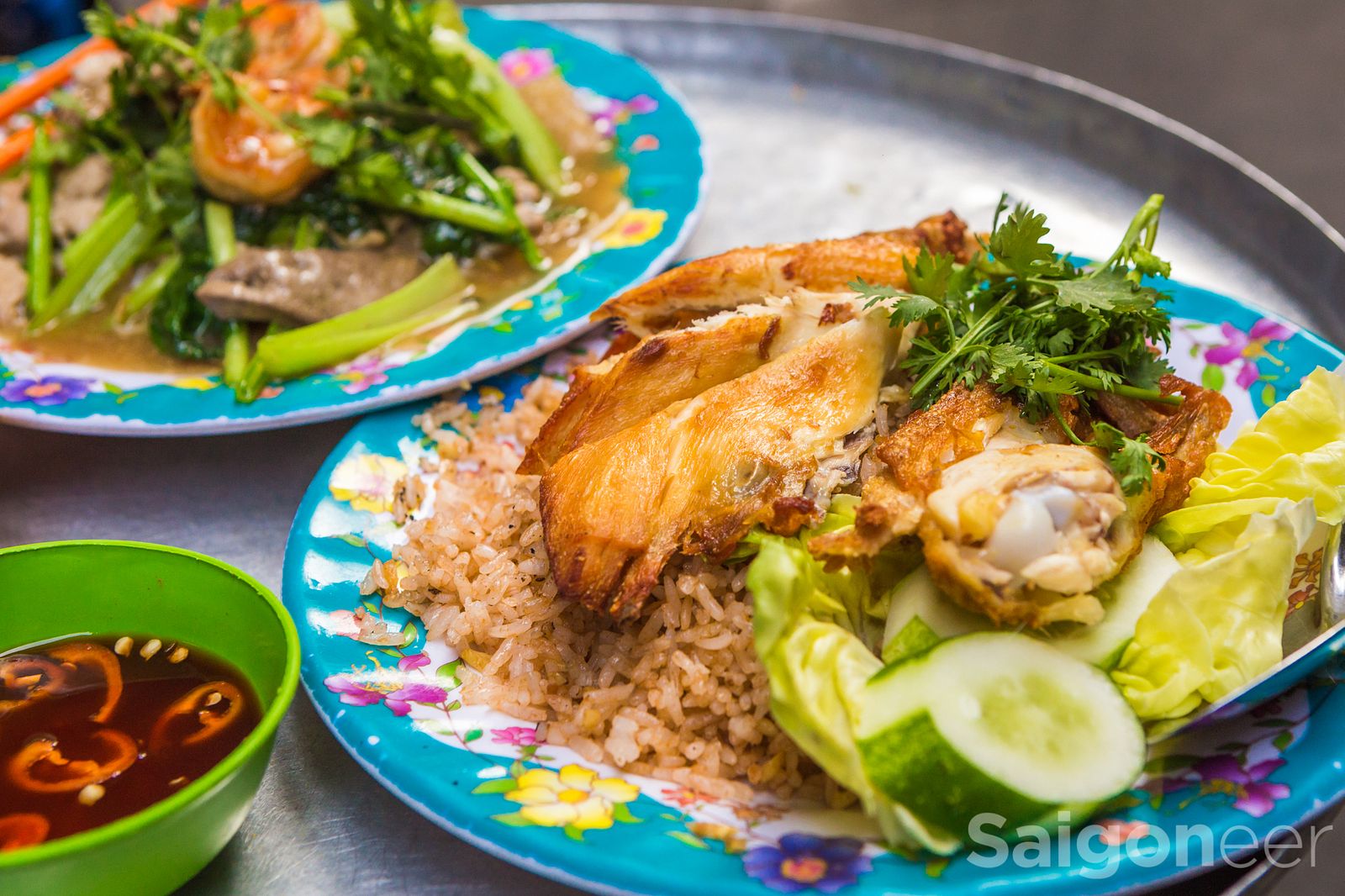 To sum up:
Taste: 4/5
Price: 5/5
Atmosphere: 5/5
Location: 5/5
Friendliness: 4/5
Dang was born in the wrong era; he should have been a child of Saigon xưa.
Brian is a New York transplant who prefers bánh chưng over pizza. You can find him meat-gazing on most days of the week.
Chè and Chinese food
Hẻm 53 Nguyen Hue, Ben Nghe Ward, D1

---

Related Articles:
---